Tue Dec 4, 2012, 09:45 PM
Catherina (35,568 posts)
Something big just happened in Egypt right now. Something very big. (Pt 2) [View all]
100s of Thousands of Tahrir Protesters are back (the last estimate I saw in a news article was 200,000+), President Morsi has fled the Palace, the Central Security Forces abandoned their posts and many removed their uniforms and joined the people to protest.
It's 3am there now but a vigilant contingent has erected tents in Tahrir and in front of the palace again.
Livestream:
ONtv Live from #Cairo. Thousands in Tahrir Sq.
http://www.livestream.com/ontveglive
#Anonymous #OSF #OO #OWS #OpGlobalSpring engaged!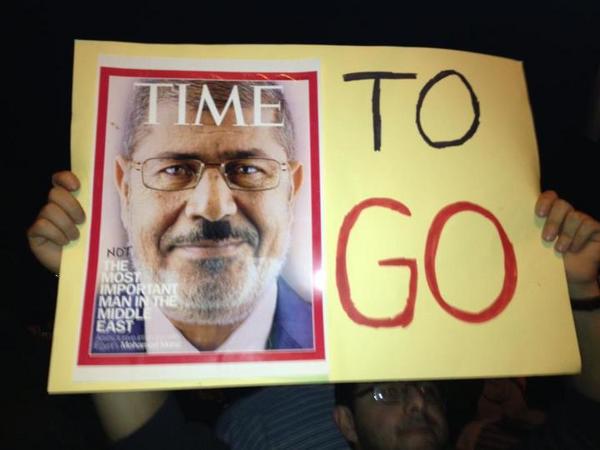 PS, Dear God, please don't let this turn into another one of those 2 week running, 1001 part threads. Please.
Link to Part 1:
http://www.democraticunderground.com/10021926897
54 replies, 8311 views
Replies to this discussion thread
54 replies
Author
Time
Post

Something big just happened in Egypt right now. Something very big. (Pt 2)

[View all]

Catherina
Dec 2012
OP
AndyTiedye
Dec 2012
#1
Catherina
Dec 2012
#3
madinmaryland
Dec 2012
#2
Catherina
Dec 2012
#4
riverwalker
Dec 2012
#5
riverwalker
Dec 2012
#6
riverwalker
Dec 2012
#7
Catherina
Dec 2012
#10
Catherina
Dec 2012
#8
Catherina
Dec 2012
#9
Comrade Grumpy
Dec 2012
#11
Octafish
Dec 2012
#12
Catherina
Dec 2012
#13
Catherina
Dec 2012
#14
Coyotl
Dec 2012
#15
Catherina
Dec 2012
#16
Coyotl
Dec 2012
#22
Live and Learn
Dec 2012
#29
slackmaster
Dec 2012
#17
Catherina
Dec 2012
#21
leftstreet
Dec 2012
#18
Catherina
Dec 2012
#19
Luminous Animal
Dec 2012
#20
UnrepentantLiberal
Dec 2012
#23
alfredo
Dec 2012
#26
Catherina
Dec 2012
#28
Catherina
Dec 2012
#27
druidity33
Dec 2012
#24
alfredo
Dec 2012
#25
Catherina
Dec 2012
#30
pinboy3niner
Dec 2012
#35
Catherina
Dec 2012
#38
pinboy3niner
Dec 2012
#39
alfredo
Dec 2012
#53
Catherina
Dec 2012
#43
Catherina
Dec 2012
#31
Catherina
Dec 2012
#32
Catherina
Dec 2012
#33
Catherina
Dec 2012
#34
Catherina
Dec 2012
#36
Fire Walk With Me
Dec 2012
#37
Catherina
Dec 2012
#41
pinboy3niner
Dec 2012
#42
Catherina
Dec 2012
#44
pinboy3niner
Dec 2012
#47
AverageJoe90
Dec 2012
#48
pinboy3niner
Dec 2012
#49
Catherina
Dec 2012
#50
pinboy3niner
Dec 2012
#51
Catherina
Dec 2012
#40
AverageJoe90
Dec 2012
#45
Catherina
Dec 2012
#46
Catherina
Dec 2012
#52
Dokkie
Dec 2012
#54