Wed Nov 14, 2012, 12:33 AM
flamingdem (37,185 posts)
Jill Kelley asks for 'diplomatic protection' from police (Updated w/Photo!) [View all]
So she thought she was immune, apparently the Generals helped her get some position at the Korean Consulate? Something like that..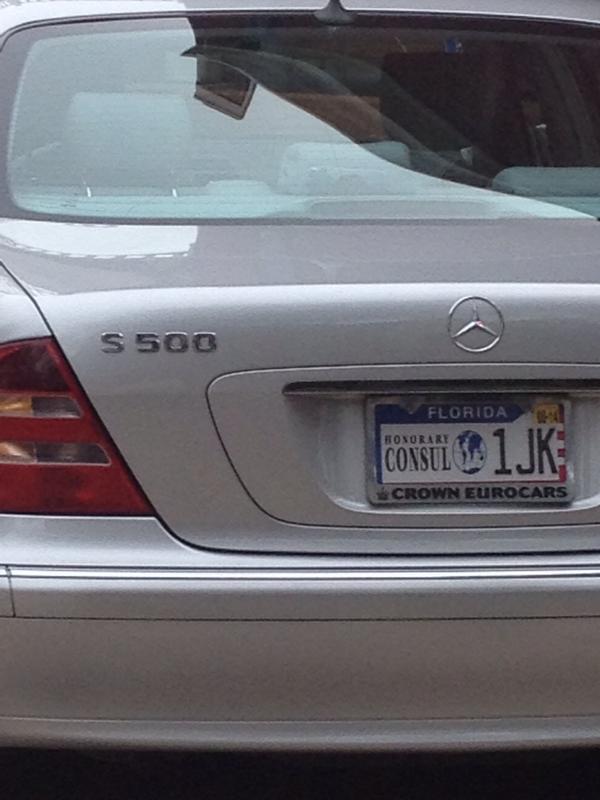 :large
http://www2.tbo.com/news/breaking-news/2012/nov/13/2/jill-kelley-asks-for-diplomatic-protection-from-co-ar-563651/
TAMPA --
Jill Kelley so treasured her association with military leaders that the special Florida license plate on her silver Mercedes-Benz reads, "Honorary Consul 1JK."
When she called police about news crews camped out in front of her waterfront mansion, she described herself as an "honorary consul general" and asked for "diplomatic protection."
---
Kelley has not spoken with reporters this week about her relationships that are at the center of the scandal. But she made her status known to Tampa police when she summoned them four times in two days to get camera crews and reporters away from her property.
"I am an honorary consul general," Kelley said in one call Sunday to a police nonemergency number. "I have inviolability. They should not be on my property. I don't know if you want to get diplomatic, uh, protection involved as well. It's against the law to cross my property. It's inviolable."
Though she has the special license plate, it remained unclear Tuesday how she qualified for it.
156 replies, 21847 views
Replies to this discussion thread
156 replies
Author
Time
Post

Jill Kelley asks for 'diplomatic protection' from police (Updated w/Photo!)

[View all]

flamingdem
Nov 2012
OP
abelenkpe
Nov 2012
#1
flamingdem
Nov 2012
#2
kysrsoze
Nov 2012
#61
flamingdem
Nov 2012
#64
calimary
Nov 2012
#104
Aerows
Nov 2012
#120
haikugal
Nov 2012
#3
2naSalit
Nov 2012
#107
Mr. Mojo Risen
Nov 2012
#148
jberryhill
Nov 2012
#4
Horse with no Name
Nov 2012
#5
MADem
Nov 2012
#101
Aerows
Nov 2012
#122
MADem
Nov 2012
#144
aletier_v
Nov 2012
#6
flamingdem
Nov 2012
#9
HangOnKids
Nov 2012
#23
blogslut
Nov 2012
#7
flamingdem
Nov 2012
#12
BlueMan Votes
Nov 2012
#8
flamingdem
Nov 2012
#10
aletier_v
Nov 2012
#11
DURHAM D
Nov 2012
#16
JimDandy
Nov 2012
#36
flamingdem
Nov 2012
#38
JimDandy
Nov 2012
#45
MADem
Nov 2012
#100
HangOnKids
Nov 2012
#13
flamingdem
Nov 2012
#15
HangOnKids
Nov 2012
#22
flamingdem
Nov 2012
#26
JimDandy
Nov 2012
#49
flamingdem
Nov 2012
#51
sabrina 1
Nov 2012
#73
DURHAM D
Nov 2012
#87
whopis01
Nov 2012
#119
Ikonoklast
Nov 2012
#137
dmr
Nov 2012
#92
2naSalit
Nov 2012
#109
HangOnKids
Nov 2012
#118
DearAbby
Nov 2012
#150
lutefisk
Nov 2012
#128
Marr
Nov 2012
#14
alcibiades_mystery
Nov 2012
#115
yardwork
Nov 2012
#121
aletier_v
Nov 2012
#17
stevenleser
Nov 2012
#18
flamingdem
Nov 2012
#21
DURHAM D
Nov 2012
#27
aint_no_life_nowhere
Nov 2012
#53
stevenleser
Nov 2012
#59
flamingdem
Nov 2012
#88
TwilightGardener
Nov 2012
#19
JimDandy
Nov 2012
#54
TwilightGardener
Nov 2012
#55
JimDandy
Nov 2012
#84
Blue_In_AK
Nov 2012
#20
DURHAM D
Nov 2012
#24
nadinbrzezinski
Nov 2012
#25
flamingdem
Nov 2012
#28
DURHAM D
Nov 2012
#30
nadinbrzezinski
Nov 2012
#31
flamingdem
Nov 2012
#35
nadinbrzezinski
Nov 2012
#39
DURHAM D
Nov 2012
#29
flamingdem
Nov 2012
#32
aletier_v
Nov 2012
#33
2naSalit
Nov 2012
#110
nadinbrzezinski
Nov 2012
#34
aletier_v
Nov 2012
#42
nadinbrzezinski
Nov 2012
#44
flamingdem
Nov 2012
#46
DURHAM D
Nov 2012
#47
pnwest
Nov 2012
#68
riverwalker
Nov 2012
#113
aletier_v
Nov 2012
#37
nadinbrzezinski
Nov 2012
#40
flamingdem
Nov 2012
#41
DURHAM D
Nov 2012
#43
flamingdem
Nov 2012
#48
Poll_Blind
Nov 2012
#70
pnwest
Nov 2012
#66
bayareamike
Nov 2012
#82
nadinbrzezinski
Nov 2012
#125
WinniSkipper
Nov 2012
#145
ForgoTheConsequence
Nov 2012
#50
flamingdem
Nov 2012
#52
stevenleser
Nov 2012
#56
DURHAM D
Nov 2012
#57
stevenleser
Nov 2012
#63
flamingdem
Nov 2012
#60
stevenleser
Nov 2012
#67
DURHAM D
Nov 2012
#72
stevenleser
Nov 2012
#76
DURHAM D
Nov 2012
#80
stevenleser
Nov 2012
#86
DURHAM D
Nov 2012
#93
davepc
Nov 2012
#79
jberryhill
Nov 2012
#129
JBoy
Nov 2012
#132
flamingdem
Nov 2012
#143
flamingdem
Nov 2012
#90
JimDandy
Nov 2012
#58
flamingdem
Nov 2012
#62
Poll_Blind
Nov 2012
#65
stevenleser
Nov 2012
#69
flamingdem
Nov 2012
#71
JimDandy
Nov 2012
#74
flamingdem
Nov 2012
#81
DURHAM D
Nov 2012
#85
JimDandy
Nov 2012
#89
coalition_unwilling
Nov 2012
#108
Oilwellian
Nov 2012
#94
Corgigal
Nov 2012
#154
bayareamike
Nov 2012
#75
Poll_Blind
Nov 2012
#77
JimDandy
Nov 2012
#96
Poll_Blind
Nov 2012
#102
dixiegrrrrl
Nov 2012
#134
BainsBane
Nov 2012
#78
Hutzpa
Nov 2012
#83
Lint Head
Nov 2012
#91
Poll_Blind
Nov 2012
#97
stevenleser
Nov 2012
#98
intaglio
Nov 2012
#95
MADem
Nov 2012
#99
Poll_Blind
Nov 2012
#103
MADem
Nov 2012
#147
Poll_Blind
Nov 2012
#149
MADem
Nov 2012
#152
DeSwiss
Nov 2012
#105
BlueMTexpat
Nov 2012
#106
2naSalit
Nov 2012
#112
Azathoth
Nov 2012
#111
stevenleser
Nov 2012
#123
Segami
Nov 2012
#114
Odin2005
Nov 2012
#116
spanone
Nov 2012
#117
Chiyo-chichi
Nov 2012
#124
DURHAM D
Nov 2012
#130
bullwinkle428
Nov 2012
#135
RogerM
Nov 2012
#126
Kaleva
Nov 2012
#127
flamingdem
Nov 2012
#133
truebluegreen
Nov 2012
#131
Marrah_G
Nov 2012
#136
lalalu
Nov 2012
#138
Blue_Tires
Nov 2012
#151
rocktivity
Nov 2012
#139
Whisp
Nov 2012
#140
joeybee12
Nov 2012
#141
hifiguy
Nov 2012
#142
Sheepshank
Nov 2012
#146
HooptieWagon
Nov 2012
#153
JimDandy
Nov 2012
#155
flamingdem
Nov 2012
#156