Tue Nov 13, 2012, 11:08 AM
cthulu2016 (10,960 posts)
Funny how the sexually attractive woman is the villain of the piece [View all]
Last edited Tue Nov 13, 2012, 12:56 PM - Edit history (9)
In terms of what is currently out there, Paula Broadwell is a conservative Republican who thinks Fox is reliable, who was unfaithful to her husband, and is probably a power-groupie. She also writes nasty emails to people.
She sounds like a lousy person, but how did she end up being the villain of the piece? She is certainly not the victim—there doesn't seem to be a victim—but I'm not sure why she is the bad guy in a play where, near as I can see,
everyone
is a villain.
Maybe she is, but a bunch of stories sourced to "friends of Petreus" ought not be taken at face value.
We have two (male) people who work for the government apparently abusing the hell out of their positions—a wing-nut FBI agent trying to use the agency to manufacture a Pre-election scandal, and a CIA director sending thousands of pleading sex-emails to Broadwell after she broke off the relationship, and probably mishandling classified information.
Oh... and we have another General in Afghanistan doing things like making subordinate women blow him or else he will kill their families.
I have little doubt that Paula Broadwell is an unstable wing-nut and a lousy wife, and her breasts are probably implants.
But it is fishy how the hot woman tends to end up as Eve, tempting the helpless man who happens to be one of the most powerful people in the world.
Why was there an FBI investigation? Because she was a stalker sending threatening emails to romantic rivals. That is what we were told, right?
Except there doesn't seem to have been a legitimate pretext for an FBI investigation since the emails were not threats
http://www.thedailybeast.com/articles/2012/11/12/exclusive-paula-broadwell-s-emails-revealed.html
...and they were not "reported" to the FBI. They were described by Ms. Kelley to an FBI agent who was trying to bed Ms. Kelley. (Pictured here with Mrs. Petreus.)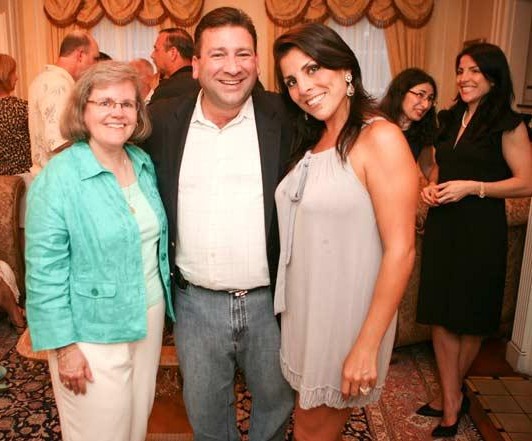 (Amusing side note—the "threatening" emails included catty comments telling 'unpaid social liason' Kelley to wear some damn clothes on base, which is funny in light of this innovative use of a négligée as a cocktail dress at a military reception.)
The first side to tell the story gets to frame the story, but I am not seeing much support for that initial framing. The initial framing sounds like what a man tells his wife. (I wouldn't be surprised if a friend fo Mrs. Petreus was a source.)
Broadwell had non-classified documents on her computer that appeared to come from Petreus. Okay? And...? Why would a biographer not have non-classified documents on her computer provided by the subject of the bio?
I am not seeing a substansial allegation of a crime on her part, while seeing five-alarm fire indications that the investigation of her may well have been a politically motivated crime.
We know that Petreus is probably lying, so why accept his camp's characterization of events? Broadwell was embeded with Petreus for a year in Afghanistan, but he told friends the affair started only after he took over the CIA? (And as a civilian where adultery was not criminal.) Sure. Whatever.
Anonymous source says he broke it off. Other anonymous source say she broke it off and that he then bombarded her with 1000s of pleading sex-mails. I wasn't there, but I don't know that we should assume that the woman must be the stalker. In Hollywood she would be. In real life, men are more typically the stalkers.
The FBI has Petreus' emails to her, so we will probably know who was stalking whom.
We have the conspiracy about her "revealing" that the Banghazi complex was a CIA prison. Except it wasn't... I know of no evidence that it was aside from a Fox news unsourced hit-piece that Broadwell, being a wing-nut, doubtless believed and repeated.
The whole story as presented to us through anonymous sources sounds a LOT like what a caught husband tells his wife... it was a brief affair, she broke it off, she was obssessed, I'm the victim.
We shall see.
Broadwell is surely a lousy person, but I am not seeing a lot of substance to the spin that she is the big problem in the scenario.
94 replies, 24235 views
Replies to this discussion thread
94 replies
Author
Time
Post

Funny how the sexually attractive woman is the villain of the piece

[View all]

cthulu2016
Nov 2012
OP
Lucinda
Nov 2012
#1
JVS
Nov 2012
#5
seabeyond
Nov 2012
#7
4th law of robotics
Nov 2012
#26
seabeyond
Nov 2012
#31
4th law of robotics
Nov 2012
#42
seabeyond
Nov 2012
#45
4th law of robotics
Nov 2012
#54
seabeyond
Nov 2012
#62
4th law of robotics
Nov 2012
#67
seabeyond
Nov 2012
#69
4th law of robotics
Nov 2012
#72
seabeyond
Nov 2012
#73
4th law of robotics
Nov 2012
#74
ismnotwasm
Nov 2012
#84
seabeyond
Nov 2012
#86
ismnotwasm
Nov 2012
#88
Chan790
Nov 2012
#57
cthulu2016
Nov 2012
#30
LisaL
Nov 2012
#36
seabeyond
Nov 2012
#40
seabeyond
Nov 2012
#38
flamingdem
Nov 2012
#53
LisaL
Nov 2012
#58
Bake
Nov 2012
#92
AngryAmish
Nov 2012
#16
LisaL
Nov 2012
#27
nichomachus
Nov 2012
#76
Lucinda
Nov 2012
#80
nichomachus
Nov 2012
#83
seabeyond
Nov 2012
#2
JohnnyLib2
Nov 2012
#10
seabeyond
Nov 2012
#19
4th law of robotics
Nov 2012
#28
seabeyond
Nov 2012
#44
4th law of robotics
Nov 2012
#47
seabeyond
Nov 2012
#49
4th law of robotics
Nov 2012
#50
seabeyond
Nov 2012
#61
4th law of robotics
Nov 2012
#66
Kaleva
Nov 2012
#91
JVS
Nov 2012
#3
MineralMan
Nov 2012
#4
ananda
Nov 2012
#9
LiberalLoner
Nov 2012
#11
seabeyond
Nov 2012
#13
MineralMan
Nov 2012
#65
seabeyond
Nov 2012
#71
MineralMan
Nov 2012
#77
seabeyond
Nov 2012
#79
Carolina
Nov 2012
#89
Eleanors38
Nov 2012
#82
HereSince1628
Nov 2012
#41
MineralMan
Nov 2012
#68
HereSince1628
Nov 2012
#81
cthulu2016
Nov 2012
#78
Avalux
Nov 2012
#6
rzemanfl
Nov 2012
#12
4th law of robotics
Nov 2012
#29
Poll_Blind
Nov 2012
#8
cthulu2016
Nov 2012
#22
BeyondGeography
Nov 2012
#14
Whisp
Nov 2012
#15
The Straight Story
Nov 2012
#17
bobthedrummer
Nov 2012
#18
Kelvin Mace
Nov 2012
#20
cthulu2016
Nov 2012
#23
Kelvin Mace
Nov 2012
#93
TwilightGardener
Nov 2012
#21
seabeyond
Nov 2012
#24
LisaL
Nov 2012
#25
geek tragedy
Nov 2012
#32
Ganja Ninja
Nov 2012
#33
bongbong
Nov 2012
#34
seabeyond
Nov 2012
#48
Avalux
Nov 2012
#52
bongbong
Nov 2012
#70
kelliekat44
Nov 2012
#35
Starry Messenger
Nov 2012
#37
nadinbrzezinski
Nov 2012
#39
Marr
Nov 2012
#43
LisaL
Nov 2012
#46
Marr
Nov 2012
#51
LisaL
Nov 2012
#55
Marr
Nov 2012
#59
LisaL
Nov 2012
#60
gang
Nov 2012
#56
deurbano
Nov 2012
#63
Springslips
Nov 2012
#64
stevenleser
Nov 2012
#75
Carolina
Nov 2012
#85
seabeyond
Nov 2012
#87
Carolina
Nov 2012
#90
LadyHawkAZ
Nov 2012
#94