Mon Nov 12, 2012, 02:56 PM
kpete (55,943 posts)
Petraeus, Rove, and Paula Broadwell: I Smell A Rat [View all]
Petraeus, Rove, and Paula Broadwell: I Smell A Rat
...................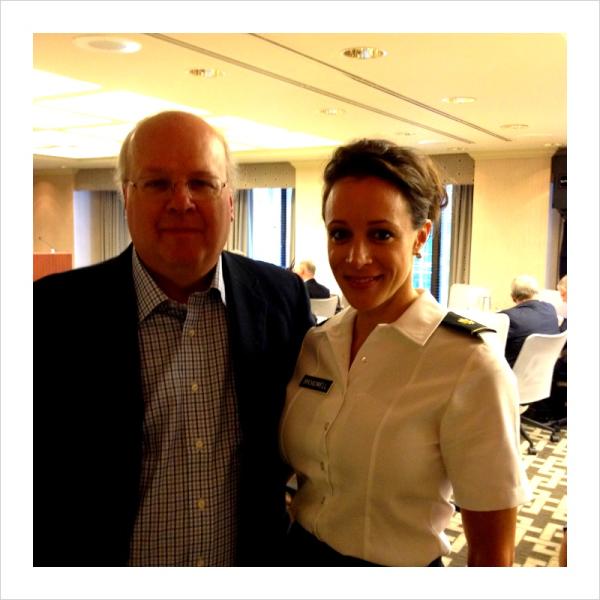 And then there's this:
As her answer continued, Broadwell seemed to speak on behalf of Petraeus: "The challenging thing for General Petraeus is that in his new position he is not allowed to communicate with the press. So he's known all of this, they had correspondence with the CIA station chief in Libya. Within 24 hours they kind of knew what was happening."

Broadwell, herself a former military intelligence officer, began her discussion of the attack by referencing an exclusive Fox News report that had run that day. But while dramatic details of that story were later fiercely disputed by government officials, she relayed only parts of that story—like the attempt to send backup from a special-operations force—that were finally confirmed.
The Fox News story referenced there is the story that spawned the "Obama lied; people died" meme they tried to smear President Obama with during the election. Their report claimed that despite requests by the CIA for backup, they were denied. That sent Fox News talkers into a tizzy about how terrible this administration was and how the blood of our diplomats was on their head.
Who else pimped that story all over Fox News, do you think? None other than Karl Rove.
ROVE: Yeah, you don't want to send people into harm's way without knowing what's on the ground. But you can at least begin to move assets to the fight -- to the conflict. You could have a C-130 gunship orbiting off of -- off of Benghazi, waiting for clarity. You can put a QRF, a quick rapid force into position. You could have them airborne. You can have them out there. The president says he ordered support to be given and, yet, support wasn't given.
Except as we know, support was given.
..........................
We have these unrelated things. Let's put them in a timeline.
June 11, 2012 - Broadwell pictured with Rove, who tweets about it in June.
June-August, 2012 - FBI receives complaint about "harassing emails" sent by Broadwell to Jill Kelley
October 26, 2012 - Fox News "Exclusive" claiming CIA requested and was refused reinforcements.
October 26, 2012 - Broadwell pimps the Fox News version of events at a University of Denver symposium
October 28, 2012 - Rove hammers and expands on it in an interview on Fox News
Approximately October 28-31, 2012 - FBI confronts Petraeus and interviews him about emails, determines no breaches of national security have taken place.
October 31, 2012 - Cantor Chief of Staff contacted by Rep. Dave Reichert about FBI 'whistleblower'. Cantor says he contacted the FBI immediately.
November 6, 2012 - Barack Obama wins re-election
November 6, 2012 - James Clapper (Director of National Intelligence) informed of FBI investigation
November 8, 2012 - Petraeus submits resignation
November 9, 2012 - Resignation accepted
I'm smelling a Rove rat.
Are you? Why the silence from Cantor? Clearly Reichert tipped Cantor off in the hopes of using this information in some way. The Petraeus/Rove relationship is real and long-standing.
Is it possible that Paula was passing Rove information to use against President Obama in his re-election bid?
.................
MORE:
http://crooksandliars.com/karoli/petraeus-rove-and-paula-broadwell-i-smell-r
63 replies, 12674 views
Replies to this discussion thread
63 replies
Author
Time
Post

Petraeus, Rove, and Paula Broadwell: I Smell A Rat

[View all]

kpete
Nov 2012
OP
seabeyond
Nov 2012
#1
Coyotl
Nov 2012
#2
aquart
Nov 2012
#3
enough
Nov 2012
#4
TwilightGardener
Nov 2012
#7
librechik
Nov 2012
#9
enough
Nov 2012
#19
sandyshoes17
Nov 2012
#5
Hutzpa
Nov 2012
#45
pacalo
Nov 2012
#54
TwilightGardener
Nov 2012
#6
loudsue
Nov 2012
#17
cliffordu
Nov 2012
#20
TwilightGardener
Nov 2012
#23
cliffordu
Nov 2012
#53
HiPointDem
Nov 2012
#29
spanone
Nov 2012
#8
liberal N proud
Nov 2012
#10
Dawson Leery
Nov 2012
#11
russspeakeasy
Nov 2012
#12
Wellstone ruled
Nov 2012
#13
Baitball Blogger
Nov 2012
#14
loudsue
Nov 2012
#18
WinkyDink
Nov 2012
#46
Baitball Blogger
Nov 2012
#50
SouthernGirl2
Nov 2012
#15
hrmjustin
Nov 2012
#16
calimary
Nov 2012
#24
renate
Nov 2012
#25
colorado_ufo
Nov 2012
#33
CoboWowbo
Nov 2012
#49
nichomachus
Nov 2012
#21
byeya
Nov 2012
#22
marlakay
Nov 2012
#28
pacalo
Nov 2012
#55
Anthony McCarthy
Nov 2012
#26
TwilightGardener
Nov 2012
#31
Anthony McCarthy
Nov 2012
#39
calimary
Nov 2012
#27
marlakay
Nov 2012
#30
glinda
Nov 2012
#32
Generic Other
Nov 2012
#36
SpartanDem
Nov 2012
#43
calimary
Nov 2012
#59
bloomington-lib
Nov 2012
#34
Hubert Flottz
Nov 2012
#35
colorado_ufo
Nov 2012
#37
JimDandy
Nov 2012
#47
WinkyDink
Nov 2012
#48
aletier_v
Nov 2012
#57
DavidDvorkin
Nov 2012
#38
Ametia
Nov 2012
#40
tkmorris
Nov 2012
#41
pacalo
Nov 2012
#56
Squinch
Nov 2012
#42
TheAmbivalante
Nov 2012
#44
phiddle
Nov 2012
#51
JimDandy
Nov 2012
#52
Cerridwen
Nov 2012
#58
JimDandy
Nov 2012
#62
The Wizard
Nov 2012
#60
hobbit709
Nov 2012
#61
condoleeza
Nov 2012
#63