Sat Nov 10, 2012, 09:18 PM
Hissyspit (45,783 posts)
Nate Silver's Best & Worst Polls of 2012: Gallup Did TERRIBLE [View all]
http://fivethirtyeight.blogs.nytimes.com/2012/11/10/which-polls-fared-best-and-worst-in-the-2012-presidential-race
November 10, 2012, 8:38 PM
Which Polls Fared Best (and Worst) in the 2012 Presidential Race
By NATE SILVER
As Americans' modes of communication change, the techniques that produce the most accurate polls seems to be changing as well. In last Tuesday's presidential election, a number of polling firms that conduct their surveys online had strong results. Some telephone polls also performed well. But others, especially those that called only landlines only or took other methodological shortcuts, performed poorly and showed a more Republican-leaning electorate than the one that actually turned out.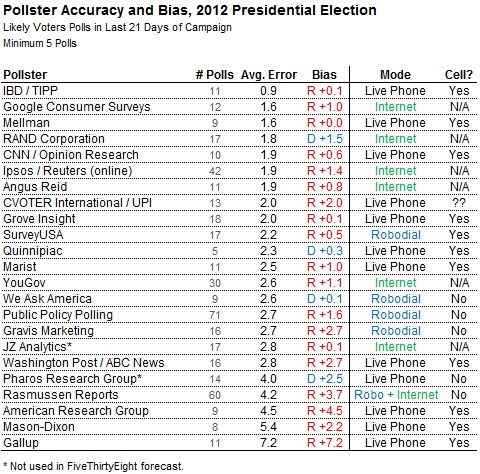 - snip -
Several polling firms got notably poor results, on the other hand. For the second consecutive election — the same was true in 2010 — Rasmussen Reports polls had a statistical bias toward Republicans, overestimating Mr. Romney's performance by about four percentage points, on average. Polls by American Research Group and Mason-Dixon also largely missed the mark. Mason-Dixon might be given a pass since it has a decent track record over the longer term, while American Research Group has long been unreliable.
FiveThirtyEight did not use polls by the firm Pharos Research Group in its analysis, since the details of the polling firm are sketchy and since the principal of the firm, Steven Leuchtman, was unable to answer due-diligence questions when contacted by FiveThirtyEight, such as which call centers he was using to conduct the polls. The firm's polls turned out to be inaccurate, and to have a Democratic bias.
It was one of the best-known polling firms, however, that had among the worst results. In late October, Gallup consistently showed Mr. Romney ahead by about six percentage points among likely voters, far different from the average of other surveys. Gallup's final poll of the election, which had Mr. Romney up by one point, was slightly better, but still identified the wrong winner in the election. Gallup has now had three poor elections in a row. In 2008, their polls overestimated Mr. Obama's performance, while in 2010, they overestimated how well Republicans would do in the race for the United States House.
MORE[p]
5 replies, 1260 views
Replies to this discussion thread
5 replies
Author
Time
Post

Nate Silver's Best & Worst Polls of 2012: Gallup Did TERRIBLE

[View all]

Hissyspit
Nov 2012
OP
StrayKat
Nov 2012
#1
ejbr
Nov 2012
#2
StrayKat
Nov 2012
#3
aaaaaa5a
Nov 2012
#4
Hissyspit
Nov 2012
#5