Fri Nov 9, 2012, 05:07 PM
Octafish (55,745 posts)
Is David Petraeus Dirty? Ted Westhusing Said So, and Then He Shot Himself. [View all]
Last edited Fri Nov 9, 2012, 06:05 PM - Edit history (1)
Col. Westhusing was in charge of training the new Iraqi army and overseeing civilian contractors.
He is remembered as a good man, a brilliant man who followed the Cadet Code:
"I will not lie, cheat, or steal, or tolerate those who do."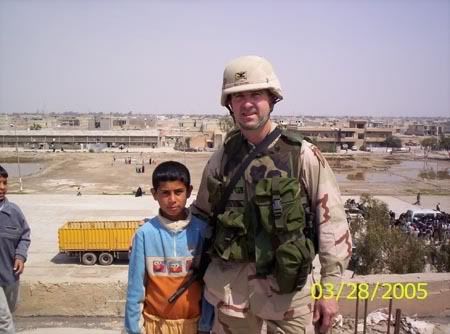 Col. Westhusing was the Army's chief ethicist and someone who suspected something was wrong with David Petraeus, way back when. Then, just when he was about to come home to his loving wife and family,
he became a suicide
.
Is David Petraeus Dirty? Ted Westheusing Said So, and Then He Shot Himself
By Melina Hussein Ripcoco, Brilliant at Breakfast
Alternet.org
April 8, 2008
Ted Westhusing, was a champion basketball player at Jenks High School in Tulsa Oklahoma. A driven kid with a strong work ethic, he would show up at the gym at 7AM to throw 100 practice shots before school. He was driven academically too, becoming a National Merritt Scholarship finalist. His career through West Point and straight into overseas service was sterling, and by 2000 he had enrolled in Emory University to earn his doctorate in Philosophy. His dissertation was on honor and the ethics of war, with the opening containing the following passage: "Born to be a warrior, I desire these answers not just for philosophical reasons, but for self-knowledge." Would that all military commanders took such an interest in the study of ethics and morality and what our conduct in times of war says about our development as human beings. Would that any educational system in this country taught ethics, decision making, or even political science that's not part of an advanced degree anymore.
Ted Westhusing, the soldier, philosopher and ethicist, was given a guaranteed lifetime teaching position and West Point by the time he had finished with his service and his education. he felt like he could do more for his country by trying to shape the minds coming out of the academy that were the ones that would be military commanders. He had settled into that life with his wife and kids, when in 2004 he volunteered for active duty in Iraq, feeling like the experience would help his teaching. He had missed combat in his active duty and it seemed like an important piece for someone who not only philosophized about war, but who was also preparing the military's future leaders.
But more than that, he was sure that the Iraq mission was a just one; he supported the cause and he bought the information that was put in front of him. Considering that vials of powder were being tossed around hearings by the highest level of military commanders how could he not? This was a man who was so steeped in the patriotism of idealistic military fervor that he barely could fit in regular society. His whole being was dedicated to this path, and he was proud to serve his country.
Once in Iraq, he found himself straddling the fence between a questioning philosopher and an unquestioning soldier. Westhusing had thought he was freeing a country in bondage, keeping America safe from a horrible threat, and spreading democracy to a grateful people. But the reality of what was happening in this out of control war was too much for him. His mission was to oversee one of the most important tasks left from the war; retraining the Iraqi military by overseeing the private contractors that had been put in charge of it.
As the assignment went on he found that everywhere he looked he was seeing corrupt contractors doing shoddy work, abusing people, and stealing from the government. These contractors were being paid to do many of the jobs that would normally be done by a regulated military, and they bore out the worst fears of those who don't believe in outsourcing such vital work. He responded to the corruption that he saw by reporting the problems up the line, but the response from his commanding officers was disappointing. He had, for much of his career, idolized military commanders, and in that assignment he found himself with some of the military's most famous faces, doing the most important job, but he was terribly disappointed and alarmed to realize that they were greedy and corrupt themselves.
CONTINUED...
http://www.alternet.org/story/81678/is_david_petraeus_dirty_ted_westhusing_said_so,_and_then_he_shot_himself
COMPLETE ORIGINAL ARTICLE:
http://www.ripcoco.com/2008/04/is-david-petraeus-dirty-ted-westheusing.html
Gee. What kind of person
would make money off war
?
79 replies, 22097 views
Replies to this discussion thread
79 replies
Author
Time
Post

Is David Petraeus Dirty? Ted Westhusing Said So, and Then He Shot Himself.

[View all]

Octafish
Nov 2012
OP
silvershadow
Nov 2012
#1
Octafish
Nov 2012
#5
sabrina 1
Nov 2012
#13
Octafish
Nov 2012
#54
reusrename
Nov 2012
#57
Octafish
Nov 2012
#73
ailsagirl
Nov 2012
#32
riderinthestorm
Nov 2012
#40
ailsagirl
Nov 2012
#45
Octafish
Nov 2012
#75
ailsagirl
Nov 2012
#76
patrice
Nov 2012
#66
patrice
Nov 2012
#67
msanthrope
Nov 2012
#9
hootinholler
Nov 2012
#2
Octafish
Nov 2012
#10
HangOnKids
Nov 2012
#23
hootinholler
Nov 2012
#41
hootinholler
Nov 2012
#44
riderinthestorm
Nov 2012
#17
TBF
Nov 2012
#38
hootinholler
Nov 2012
#42
TBF
Nov 2012
#46
flamingdem
Nov 2012
#3
Octafish
Nov 2012
#15
Judi Lynn
Nov 2012
#4
Octafish
Nov 2012
#47
Hydra
Nov 2012
#6
Octafish
Nov 2012
#74
AzDar
Nov 2012
#7
Octafish
Nov 2012
#58
snagglepuss
Nov 2012
#8
malaise
Nov 2012
#11
WinkyDink
Nov 2012
#12
riderinthestorm
Nov 2012
#16
sibelian
Nov 2012
#56
glinda
Nov 2012
#14
riderinthestorm
Nov 2012
#18
LongTomH
Nov 2012
#19
ciking724
Nov 2012
#28
Octafish
Nov 2012
#50
marlakay
Nov 2012
#60
Autumn
Nov 2012
#20
GeorgeGist
Nov 2012
#25
Autumn
Nov 2012
#26
Spitfire of ATJ
Nov 2012
#21
PowerToThePeople
Nov 2012
#22
nashville_brook
Nov 2012
#24
patrice
Nov 2012
#27
nashville_brook
Nov 2012
#55
patrice
Nov 2012
#59
marlakay
Nov 2012
#62
patrice
Nov 2012
#64
amborin
Nov 2012
#29
99th_Monkey
Nov 2012
#30
OnyxCollie
Nov 2012
#31
2on2u
Nov 2012
#33
Ikonoklast
Nov 2012
#34
Samantha
Nov 2012
#35
Missn-Hitch
Nov 2012
#36
Cracklin Charlie
Nov 2012
#37
NuttyFluffers
Nov 2012
#39
dixiegrrrrl
Nov 2012
#43
Ichingcarpenter
Nov 2012
#48
ancianita
Nov 2012
#49
OldDem2012
Nov 2012
#51
UTUSN
Nov 2012
#52
raouldukelives
Nov 2012
#53
tabasco
Nov 2012
#61
reusrename
Nov 2012
#63
patrice
Nov 2012
#65
patrice
Nov 2012
#68
proverbialwisdom
Nov 2012
#69
Octafish
Nov 2012
#72
Mojorabbit
Nov 2012
#70
MinM
Nov 2012
#71
Hey There2
Jan 2014
#77
Hey There2
Jan 2014
#78
Octafish
Jan 2014
#79