Thu Nov 11, 2021, 10:20 AM
left-of-center2012 (34,150 posts)
COVID-19 surging faster in N.M. than in any other state [View all]
In a COVID-19 update Wednesday, New Mexico health officials said the state's cases are on the rise and hospitals are filling up, again. According to
The New York Times
, COVID-19 cases are surging faster in New Mexico than in any other state in the country.
At this time, about 73% of New Mexicans 18 and older are fully vaccinated. So why is the state seeing a surge?
According to the New Mexico Department of Health, there are multiple factors contributing to the spike. Officials pointed to reduced compliance with COVID-safe practices. There is a public health order in place requiring masking indoors, but often those requirements are going to the wayside. That – coupled with the Delta variant, which is more contagious – is putting even more stress on local hospitals.
"They are seeing way more patients than they thought possible,
ICU occupancy rates are over 120%
," said Dr. David Scrase, NMDOH acting secretary. "We are struggling to try to make ends meet. I want to try and make sure people understand what this means. I don't know how many people are watching this press conference, but what it means is
if (someone) has a heart attack right now, there's a good chance we won't have an intensive care unit for that person here in New Mexico."
The NMDOH expects those hospitalizations to continue to increase.
In order to combat the surge, they are asking New Mexicans to do more in the way of personal responsibility – getting vaccinated, avoiding large crowds, wearing a mask and getting tested. State health officials plan to renew the public health order requiring masks indoors. They also said the number of breakthrough cases are increasing – another component to this surge.
https://www.kob.com/albuquerque-news/state-health-officials-plan-to-renew-new-mexicos-indoor-mask-mandate/6297309/
"Cases rise sharply in New Mexico despite a relatively strong inoculation rate."
https://www.nytimes.com/2021/11/10/us/covid-new-mexico.html
A billboard bore a warning in Rio Rancho, N.M., near Albuquerque.
Credit Susan Montoya Bryan/Associated Press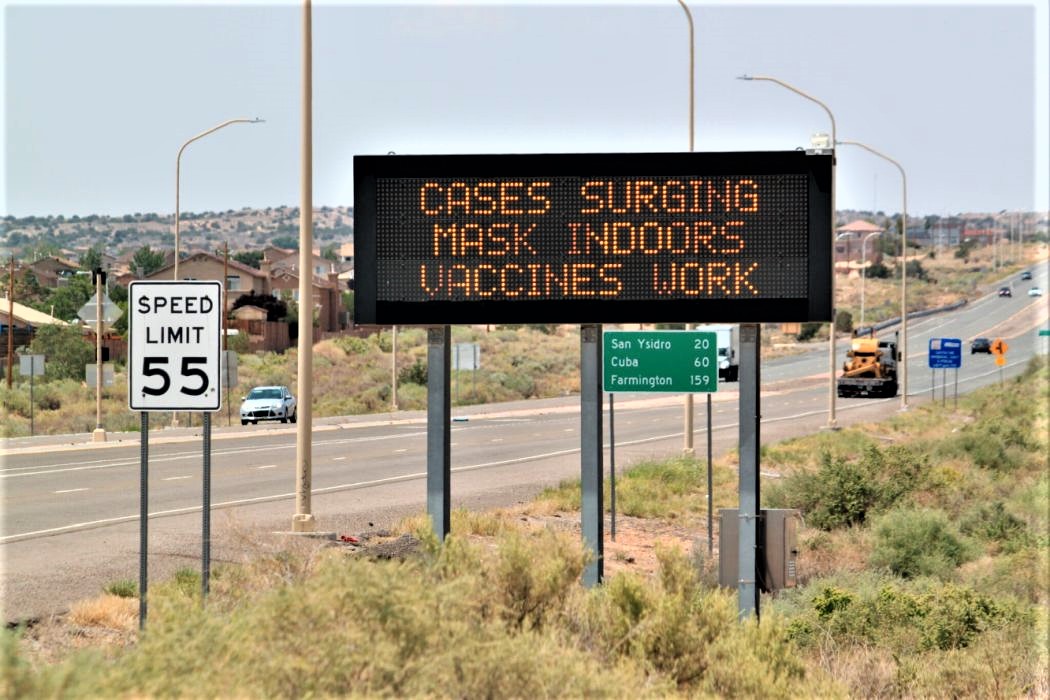 4 replies, 619 views
Replies to this discussion thread
4 replies
Author
Time
Post

COVID-19 surging faster in N.M. than in any other state

[View all]

left-of-center2012
Nov 2021
OP
JanMichael
Nov 2021
#1
Raftergirl
Nov 2021
#2
marked50
Nov 2021
#3
left-of-center2012
Nov 2021
#4