Fri Jul 16, 2021, 06:50 AM
catbyte (28,124 posts)
"You're Gonna Have a Fucking War": Mark Milley's Fight to Stop Trump from Striking Iran [View all]
Inside the extraordinary final-days conflict between the former President and his chairman of the Joint Chiefs.
By Susan B. Glasser
July 15, 2021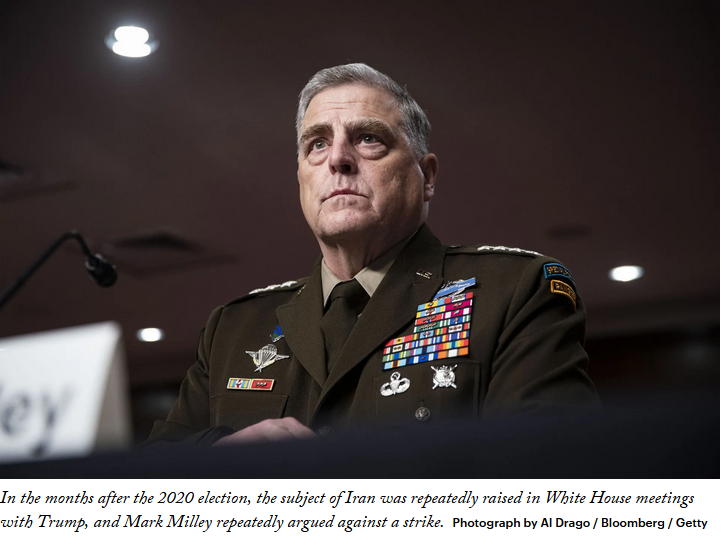 The last time that General Mark Milley, the chairman of the Joint Chiefs of Staff, spoke with President Donald Trump was on January 3, 2021. The subject of the Sunday-afternoon meeting, at the White House, was Iran's nuclear program. For the past several months, Milley had been engaged in an alarmed effort to insure that Trump did not embark on a military conflict with Iran as part of his quixotic campaign to overturn the results of the 2020 election and remain in power. The chairman secretly feared that Trump would insist on launching a strike on Iranian interests that could set off a full-blown war.
There were two "nightmare scenarios," Milley told associates, for the period after the November 3rd election, which resulted in Trump's defeat but not his concession: one was that Trump would try "to use the military on the streets of America to prevent the legitimate, peaceful transfer of power." The other was an external crisis involving Iran. It was not public at the time, but Milley believed that the nation had come close—"very close"—to conflict with the Islamic Republic. This dangerous post-election period, Milley said, was all because of Trump's "Hitler"-like embrace of the "Big Lie" that the election had been stolen from him; Milley feared it was Trump's "Reichstag moment," in which, like Adolf Hitler in 1933, he would manufacture a crisis in order to swoop in and rescue the nation from it.
Meadows, and Secretary of State Mike Pompeo, in the hopes of getting the country safely through to Joe Biden's Inauguration. The chairman, a burly four-star Army general who had been appointed to the post by Trump in 2019, referred to these meetings with his staff as the "land the plane" calls—as in, "both engines are out, the landing gear are stuck, we're in an emergency situation. Our job is to land this plane safely and to do a peaceful transfer of power the 20th of January."
This extraordinary confrontation between the nation's top military official and the Commander-in-Chief had been building throughout 2020. Before the election, Milley had drafted a plan for how to handle the perilous period leading up to the Inauguration. He outlined four goals: first, to make sure that the U.S. didn't unnecessarily go to war overseas; second, to make sure that U.S. troops were not used on the streets of America against the American people, for the purpose of keeping Trump in power; third, to maintain the military's integrity; and, lastly, to maintain his own integrity. He referred back to them often in conversations with others.
snip
https://www.newyorker.com/news/letter-from-bidens-washington/youre-gonna-have-a-fucking-war-mark-milleys-fight-to-stop-trump-from-striking-iran
22 replies, 3360 views
Replies to this discussion thread
22 replies
Author
Time
Post

"You're Gonna Have a Fucking War": Mark Milley's Fight to Stop Trump from Striking Iran

[View all]

catbyte
Jul 2021
OP
yardwork
Jul 2021
#1
Demsrule86
Jul 2021
#2
Thrill
Jul 2021
#3
wnylib
Jul 2021
#19
lagomorph777
Jul 2021
#22
Paladin
Jul 2021
#4
jimfields33
Jul 2021
#6
Tarc
Jul 2021
#7
colsohlibgal
Jul 2021
#5
bullwinkle428
Jul 2021
#8
gab13by13
Jul 2021
#9
Pepsidog
Jul 2021
#10
KS Toronado
Jul 2021
#12
Saoirse9
Jul 2021
#11
lindysalsagal
Jul 2021
#13
Wednesdays
Jul 2021
#14
colorado_ufo
Jul 2021
#16
ZenDem
Jul 2021
#15
BobTheSubgenius
Jul 2021
#17
SKKY
Jul 2021
#18
Tree Lady
Jul 2021
#20
lagomorph777
Jul 2021
#21