Sat Apr 3, 2021, 10:27 AM
bigtree (79,221 posts)
Wanna go back to Charleston for Easter? You know you do. [View all]
...a little annual indulgence of mine.
me
I REMEMBER Easter as a child. Mom would take us to Charleston, West Virginia every year to visit my grandfather for the Spring holiday.
Granddad lived in a huge two story house off of Main Street, and there, he rented out the upstairs to a few folks that I never really saw much, and a room off of his kitchen where a dapper garbage man slept. Granddad was a short, strong man, dark as night, with a hearing aid for his deafness that happened when he worked in the glass factory after WWI. He'd turn it down when my mom would lecture him about something or another, and whenever he fell asleep in his red reclining chair with the red duct tape covering the cracks while he watched the baseball game turned up way loud. He'd wake up every now and then to spit his tobacco in his brown ceramic spittoon and record the score on the margin of his TV guide. Granddad was a master of checkers and never let me win one game. I still have the wooden checkers and board that he put away for good after his last checker partner and friend died.
Bobo, his faithful mixed border collie who would bark whenever the phone rang or the door chimed, laid and slept by his side as he slept. When he thought we weren't listening, he'd call Bobo by his seedy pet name: "C'mon shitbutt, he'd say as he sneaked away to the smaller room by the kitchen where he slept (or listened to the baseball game on his portable radio) while we took over his grand bedroom with the thick, dark aged-oak furniture and the huge wooden pocket doors that separated the bedroom from the living room. Bobo would never fail to bite me almost every visit, sending me three times to the doctor for stitches, the last time after taking the other half of a cookie I gave him from my hand.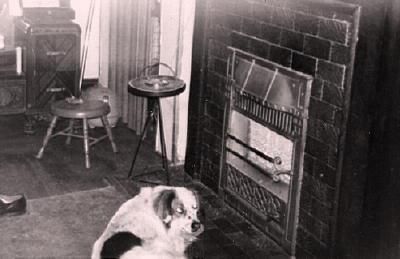 Bobo
Besides that, nothing much at all happened in that town for us young ones. The biggest thing was when the huge car carrier pulled up on the other side of the street. My sister and I would run outside on the porch and sit on that rough painted metal rocking chair and bench and watch as the man unloaded the new cars one by one until the very last.
Charleston was like a large retirement community to me, with a Dairy Queen where I sometimes got to go to by myself to get mom her butter almond, and a steaming hot, all night laundromat where we sometimes went after dark to wash our clothes and beg Mom for one of the prizes in the bubble gum machine; or, maybe a handful of stale peanuts for a nickle from the other dispenser.
There were a bevy of old relatives who Mom would take us to visit - walking for endless miles through town, in the heat, in our new spring wear. There was a lady with who had been stuck in bed for years (I never saw her get up) who was always in her nightgown and robe. Mom said she tried to get up one morning and found she couldn't walk. She was a kind woman with several pictures of Jesus on the wall. There was a lady who took care of her who had a huge goiter on her neck. The bedridden lady always gave my sister and I some change before we left.
Then, there was
Mrs. Gilmore
(a recognized civil rights leader) who lived in a huge brownstone with a funeral parlor in the basement that her husband had left her. Everyone in town brought her their business when someone passed away. She had a wide painted smile with her hair pulled back so tight that it seemed stuck on. She had long fingers with the longest nails I had ever seen and she would gesture when she spoke with the extra long cigarette holder she had delicately wedged between two of them. Mom would take us to visit and I'd fiddle with a crystal ball she had brought back from a visit to Russia to try and conjure up the flying monkeys from the Wizard of Oz in the translucent glass. Years after she died the National Park Service made her spooky home a landmark because of her work as an activist in Charleston and elsewhere.
There was Annie Joe, my mom's best friend who would do her hair with the hot combs heated on the kitchen stove, and her mom, Cousin Gussy and Uncle Moore who lived across the Kanawha bridge in one of a suite of plaster houses with sunken floors. They had two trees with white washed trunks and red mites that crawled up and down. We'd salt the slugs on the walkway for fun and climb the trees to wait for them to shrivel. The railroad tracks were just a few feet from the house and the train would barrel by occasionally. We'd leave pennies on the track and collect them flattened when the train rolled over them. Gussy would cook up a Sunday meal that I'll never forget with fried chicken, mashed potatoes, and greens that would melt in your mouth while Mr. Moore watched the ball game.
Easter Sunday was a great pain for a small kid like me. Mom was a terror as she got us ready for church. She'd scrub me, brush my hair raw, and dress me in this powder blue, Lord Fauntleroy suit with shorts and a beanie cap. She'd hustle us outside as Granddad carefully backed his gold Oldsmobile out of the garage with the shed on the side which had a ton of pipe parts, motor parts, nuts and bolts and everything wonderful. There was a shack in the back and a couple of run-down homes surrounding his three floor boarding house where poor folks improbably survived on next to nothing.
I smoked my first cigarette in that shed one Sunday before church, one of Granddad's Pall Malls without a filter . . .
Granddad's house
Granddad would stop and open the wide gate he had built at the end of the long driveway (with pipe parts) which had a pulley and a rope with a brick tied on that slowly shut the gate by itself until it clicked surely into its handmade latch. The front gate also closed by itself, but with an entirely different pulley and weight arrangement he had designed. I'd always look back out of the window of the Olds to see whether that would be the day that it failed to close. It always clicked shut, though.
We'd arrive early at the First Baptist Church and sit in the pew as the parishioners would stream in. First Baptist was a huge church with a wall of stained glass windows on both sides and a pulpit that towered above us all with room for its large choir. Martin Luther King
preached there in 1960
, the year I was born. The church on Easter Sunday was always packed full and humming from the rich, sickly perfume of the women there. The smell was unbelievable. And the hats . . . wide brimmed monstrosities with feathers and such, atop processes and wigs.
There was this one large lady who owned and lived in a dubious consignment shop along Main Street with a few dust-covered ceramic figurines and plastic flowers on the window shelf who would always arrive at the last minute. She'd saunter down the aisle with her silver tipped cane, and her hat was always the largest, most outlandish one there, with fake birds, fruits or something amazing on top. She'd make her way down to her reserved seat in the front row. She was the only holy roller I think that was allowed in First Baptist. I understood that she had been informed that she'd have to tone down her shouts of praise to the Lord which, nonetheless, still echoed through the hall at several key points in the service.
Granddad always left us to take his place up front. He was a longtime deacon who would fully memorize the passage he would get to read before the congregation. I'd be stuck on that hard bench for the full 3 hours that the service ran on Easter Sunday. Mom would do her best to keep me still and quiet throughout the service with gum, or some starlight mints and butterscotch candies. A few of the stained glass windows swung open to let in whatever breeze could be had, but it was always sweltering hot. Almost everyone (but me) had a hand fan with a wooden handle and a picture of Jesus and a lamb on the front and a picture of the church on back. You could hear the fwap, fwap of the parishioners waving them back and forth in vain attempts to ward off the heat. I always fell asleep several times throughout, taking advantage of Mom's arm, probably the only time that she didn't terrify me.
The First Baptist Church was led by the Reverend Moses Newsome, a towering, light-skinned black man with a deep baritone and kind eyes. He would lead the congregation through prayers, through acknowledgments and death and sick mentions. He would stop in between and sit as the choir belted out some rollicking gospel tune, rocking, bobbing, and clapping their hands in unison as they rocked the house. They had an unbelievable sound. And folks would rock along with them. There was nothing subtle about the choir. They were loud and righteous. Whew! The one holy-roller up front would be on her feet, shouting out. "Praise glory!" she would cry. "Thank you Jesus!"
Then came the sermon. One hour long. An eternity. I'd have a sore butt by then and the candy just wouldn't cut it anymore. Reverend Newsome would speak in a low, measured tone as he counseled the congregation on the vestiges of evil and the virtues of good. His long arms reached out from under his flowing robe and he firmly grasped the lectern on both ends as he glared down on the flock. Sweat poured off of his freckled brow while he cautioned us about the Devil and warned us to look everywhere for Christ's coming.
Somewhere near the end you would get a whiff of the food cooking in the church kitchen for after the service. The smell of fried chicken and gravy, beans, cornbread, and greens wafted uncontrolled into the great hall. Folks got restless, but they were mostly patient and still until, at once, the Reverend's voice would rise to a fevered timbre as he brought on the end of his sermon. Folks would shift in their seats and sit upright again as the Reverend boomed out his ending.
Then came the benediction, that wonderful benediction that signaled the end of the service. And then it was over. There were Easter baskets full of jellybeans and chocolate waiting at home, and the sun was shining full outside as we filed past Reverend Newsome and he grasped my small hand with his giant, coffee-colored soft ones.
"You be good now, you hear?" the Reverend would say. "I'll be good sir," I'd answer as I pushed out into the Spring air to soak up another Easter in Charleston.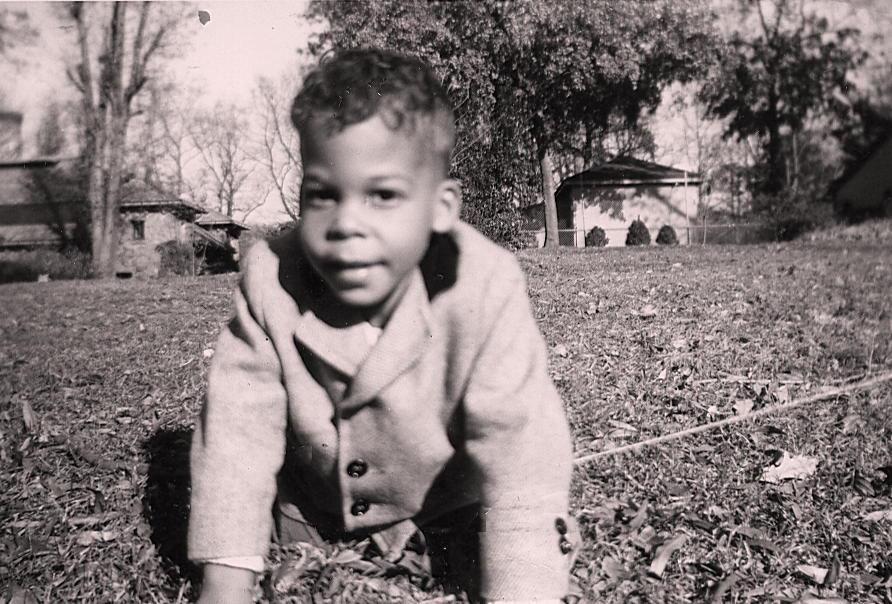 28 replies, 1957 views
Replies to this discussion thread
28 replies
Author
Time
Post

Wanna go back to Charleston for Easter? You know you do.

[View all]

bigtree
Apr 3
OP
niyad
Apr 3
#1
bigtree
Apr 3
#2
Baitball Blogger
Apr 3
#3
PortTack
Apr 3
#4
Tanuki
Apr 3
#5
Nay
Apr 3
#6
luvs2sing
Apr 3
#7
blm
Apr 3
#8
SheilaAnn
Apr 3
#9
Bristlecone
Apr 3
#10
Lonestarblue
Apr 3
#11
SWBTATTReg
Apr 3
#12
xxqqqzme
Apr 3
#13
joanbarnes
Apr 3
#14
dianaredwing
Apr 3
#15
panader0
Apr 3
#16
Phentex
Apr 3
#17
dobleremolque
Apr 3
#18
MustLoveBeagles
Apr 3
#19
Saboburns
Apr 3
#20
bigtree
Apr 3
#21
nolabear
Apr 3
#22
Nittersing
Apr 3
#23
Hekate
Apr 3
#24
GulfCoast66
Apr 3
#25
redwitch
Apr 4
#26
Raine
Apr 4
#27
bigtree
Apr 4
#28