Mon Oct 8, 2012, 06:56 PM
ProSense (116,464 posts)
Pew freak out. Nate Silver says, "Get a grip." [View all]
Pew has Romney ahead by 4 points among likely voters, tied among registered voters (updated)
http://www.democraticunderground.com/10021495453
Pew Poll states the obvious: If actual electorate is R+3, Obama loses
<...>
Well, let's look in Pew's documentation (linked above), particularly in a section entitled, "Patters of Voter Support, September-October."
Did Romney's debate performance pluck some Democratic support away from Obama? Nope. The president's lead is virtually unchanged within his own party, from 93-5 in September to 94-5 now.
Did Romney strengthen himself among Republicans? Hardly, these numbers shifted from 92-5 to 91-7.
Did Romney achieve a major breakthrough among Independents? Only if you consider a 2-3 point shift within each candidate major (from Obama leading 45-44 to Romney ahead 46-42).
<...>
In other words, we've learned something we should already have known. That if the electorate on Nov. 6 is 3 percentage points more
http://www.dailykos.com/story/2012/10/08/1141808/-Pew-Poll-states-the-obvious-If-actual-electorate-is-R-3-Obama-loses
The independent numbers are wrong there (it's actually Obama 48, Romney 47), but point taken.
PEW! ...somethin' stinks!
I know there's probably a lot of sensitivity about going into the "polls are skewed" thing, especially when approaching a respected pollster like Pew. So I won't unskew at all...I'll just present some demographic info from page 14 of the PDF of the today's poll showing Romney ahead by 4, and you can make your own judgments or calculations as you see fit in the comments:
Reps: 392
Dems: 361

50+ voters outnumber everyone else more than 2-1

White (non-Hispanic) voters surveyed: 869
Everyone else: 173 (!!!)
Note: This is from the LIKELY VOTER column.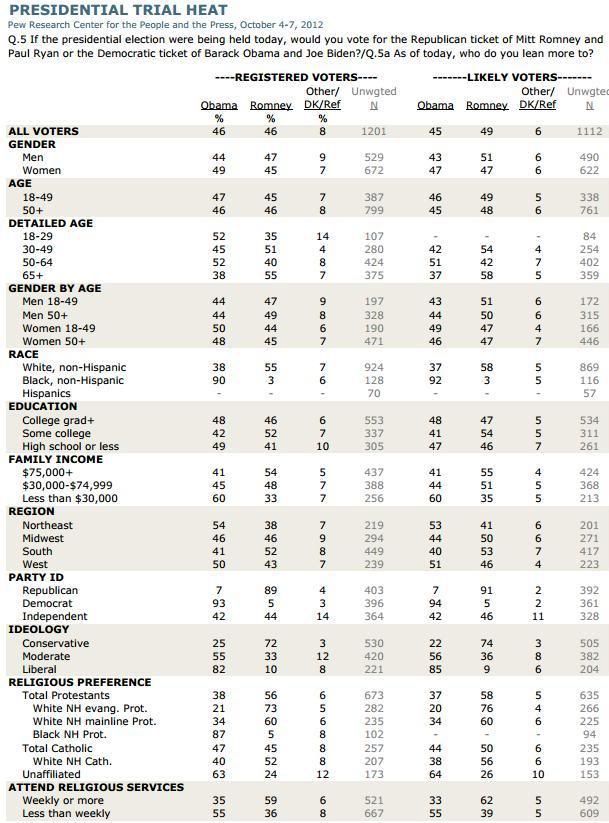 http://www.dailykos.com/story/2012/10/08/1141800/-PEW-somethin-stinks
35 replies, 5576 views
Replies to this discussion thread
35 replies
Author
Time
Post

Pew freak out. Nate Silver says, "Get a grip."

[View all]

ProSense
Oct 2012
OP
gabeana
Oct 2012
#1
patrice
Oct 2012
#24
theKed
Oct 2012
#2
The Magistrate
Oct 2012
#3
Blaukraut
Oct 2012
#4
patrice
Oct 2012
#21
spanone
Oct 2012
#5
winstars
Oct 2012
#6
nc4bo
Oct 2012
#10
ailsagirl
Oct 2012
#15
Glimmer of Hope
Oct 2012
#17
Cha
Oct 2012
#32
SidDithers
Oct 2012
#7
mzmolly
Oct 2012
#8
GoneOffShore
Oct 2012
#9
SidDithers
Oct 2012
#11
ProSense
Oct 2012
#12
Cha
Oct 2012
#30
kevink077
Oct 2012
#13
SunSeeker
Oct 2012
#19
kevink077
Oct 2012
#23
DisabledAmerican
Oct 2012
#29
meadowlark5
Oct 2012
#14
Gabi Hayes
Oct 2012
#18
meadowlark5
Oct 2012
#25
Barack_America
Oct 2012
#16
reformist2
Oct 2012
#28
Barack_America
Oct 2012
#33
patrice
Oct 2012
#20
patrice
Oct 2012
#22
hrmjustin
Oct 2012
#26
bluestateguy
Oct 2012
#27
Cha
Oct 2012
#31
Gabi Hayes
Oct 2012
#34
Gabi Hayes
Oct 2012
#35