Thu Dec 24, 2020, 08:30 PM
MrScorpio (73,473 posts)
T'was The Night Before Christmas DU Style 2020(With sincere apologies to Major Henry Livingston Jr.) [View all]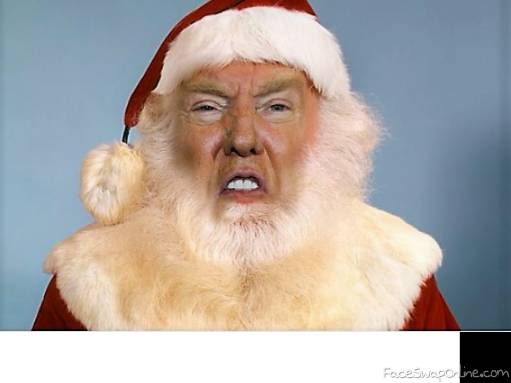 Twas the night before Christmas, when all through the town
Not a creature was stirring, all thanks to lockdown;
Many masks were hung by the entrances with care,
In hopes that there wasn't any COVID in the air;
The DUers were nestled all snug in their beds,
While visions of inaugurals danced in their heads;
And Elad in his Snuggie, EarlG in his cap,
Had just settled down for a long winter's nap,
When out on social media there arose such a clatter,
I sprang from my Craftmatic to see what's the matter.
Away to the iMac I flew, with absent my trousers,
Logged on the computer and opened the browsers.
I gazed upon my screen all manner of COVIDIOT nuttery.
To a political junkie like me, it's all tasty and buttery,
When, instead of some Karens, came the worst of letdowns,
I beheld a miniature clown car, and nine tiny clowns,
With a little old driver, so obtuse and lumpy,
I knew in a moment it must be St. Trumpy.
More vapid than baggers, these pardoned crooks they came,
And he snorted, and rambled, and called the rest by name;
"Now, Manafort! now, Kushner! now, Plemons and Stone!
On, Papadopoulos! on Hunter! on, Flynn and Van Der Zwaan!
To the top of the porch! to the top of the wall!
Now dash away! dash away! dash away all!"
As loser flags fly, fluttered by right wing hot air,
On Parler they celebrate, with nary a care.
These crooks, they were pardoned, to freedom they flew,
Trumpster rewarded his cronies, his felonious crew.
And then, in a twinkling, I heard on my iMac
The stumbling and grumbling of each political hack.
As I scrolled down the browser, I clicked on a link,
On the screen came St. Trumpy, just as my tummy started to sink.
He was dressed, all in Brooks Brothers, from his neck to his foot,
And on his scalp was glued a three-toed sloth or a dead rat to boot;
A bundle of fascistic rhetoric he had rattling in his head,
I plainly saw that he was The Monster from the Republicans' Id.
His eyes -- how they squinted! his dimples how scuzzy!
His cheeks were all swollen, his nose hairs so fuzzy!
His lipless little mouth was drawn up in a smirk,
So true, his entire countenance confirmed him a jerk;
He gritted his teeth, then he changed to a pout,
And reams of disjointed nonsense he continued to shout;
"You're all losers, I'm the best, I'll still win you will see,
I'm staying in the White House, you can't get rid of me."
Some GOPrs supported him, this horrible old elf,
And I feared for democracy, in spite of myself;
A craze of his eye and the dead rat on his head,
Soon gave me to know I had everything to dread;
He spoke endless nonsense, getting a rise out of his party;
And emptied their heads, his rhetoric oh so farty.
He swerved and bent over and let out a poot.
And the morons ate it all up, this clown for they'd all root;
But in his diatribe, however, he grew oh so tired,
Absent electoral votes, even McConnell admits he's been fired,
He slinked away muttering, "Look at them all, they're nothing but suckers.
I'll be out of office, yes, but I can still fleece motherfuckers."
The End!
I wish all of you a Happy Holiday and Joyous New Year, Everybody!
9 replies, 1162 views
Replies to this discussion thread
9 replies
Author
Time
Post

T'was The Night Before Christmas DU Style 2020(With sincere apologies to Major Henry Livingston Jr.)

[View all]

MrScorpio
Dec 2020
OP
highplainsdem
Dec 2020
#1
backtoblue
Dec 2020
#2
Wicked Blue
Dec 2020
#3
GopherGal
Dec 2020
#5
Hekate
Dec 2020
#4
grantcart
Dec 2020
#6
Karadeniz
Dec 2020
#7
niyad
Dec 2020
#8
MrScorpio
Dec 2020
#9