Tue Sep 25, 2012, 06:45 PM
Octafish (55,745 posts)
Generals mocking JFK behind his back during Cuban Missile Crisis caught on tape... [View all]
"Adversity doesn't build character, it reveals it." -- Anonymous.
So. Talking about pressure: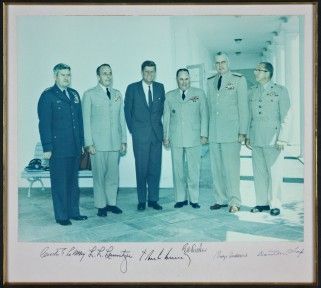 'Go in there and frig around with the missiles, you're screwed'
The moment general mocked JFK behind his back at the height of Cuban Missile Crisis caught on tape
By DANIEL BATES
The Mail
24 September 2012
It was the height of the Cuban Missile Crisis and the nation was supposed to be pulling together.
But John F Kennedy's top generals were actually bad-mouthing him behind his back - whilst standing in the White House.
When the former US President left the room Marine Corps Commandant General David Shoup said that Mr Kennedy was doing things 'piecemeal' and needed a talking to.
SNIP...
But the tapes reveal that after Mr Kennedy and Defence Secretary Robert McNamara went out the room, General Shoup launched into his own tirade - without realising the tape was still running.
CONTINUED...
http://www.dailymail.co.uk/news/article-2207946/Revealed-JFKs-stabbing-generals-mocked-President-battled-avoid-regarded-trigger-happy-Americans-lost-Berlin.html
It's almost odd that this wasn't mentioned in my hometown newspaper. They must want us to forget something important.
48 replies, 23873 views
Replies to this discussion thread
48 replies
Author
Time
Post

Generals mocking JFK behind his back during Cuban Missile Crisis caught on tape...

[View all]

Octafish
Sep 2012
OP
Trailrider1951
Sep 2012
#1
AnotherMcIntosh
Sep 2012
#5
jwirr
Sep 2012
#9
Octafish
Sep 2012
#18
Norrin Radd
Sep 2012
#2
Octafish
Oct 2012
#44
drokhole
Sep 2012
#3
hifiguy
Sep 2012
#10
Octafish
Sep 2012
#13
Octafish
Sep 2012
#19
drokhole
Sep 2012
#20
Octafish
Oct 2012
#46
truebrit71
Oct 2012
#47
AnotherMcIntosh
Sep 2012
#4
Octafish
Sep 2012
#6
AnotherMcIntosh
Sep 2012
#7
Javaman
Sep 2012
#8
loli phabay
Sep 2012
#14
Octafish
Sep 2012
#21
ArnoldLayne
Sep 2012
#11
Octafish
Oct 2012
#41
MinM
Sep 2012
#12
MinM
Sep 2012
#17
Octafish
Sep 2012
#24
MinM
Sep 2012
#34
Octafish
Sep 2012
#22
LongTomH
Sep 2012
#25
MinM
Sep 2012
#33
MinM
Oct 2012
#35
Octafish
Oct 2012
#37
Octafish
Oct 2012
#36
freshwest
Sep 2012
#15
Initech
Sep 2012
#16
Octafish
Oct 2012
#40
Blue_Tires
Oct 2012
#45
bobthedrummer
Sep 2012
#23
Octafish
Oct 2012
#42
patrice
Sep 2012
#26
Octafish
Oct 2012
#43
gopiscrap
Sep 2012
#27
loli phabay
Sep 2012
#28
gopiscrap
Sep 2012
#29
loli phabay
Sep 2012
#30
Kingofalldems
Sep 2012
#31
gopiscrap
Sep 2012
#32
MinM
Oct 2012
#38
Octafish
Oct 2012
#39
Justice4JFK
Nov 8
#48