Fri Nov 8, 2019, 01:22 AM
Demovictory9 (9,787 posts)
40 years old. never tried a case. hates women and POC. won't answer ?s lifetime judgeship for him! [View all]
Link to tweet
https://www.huffpost.com/entry/steven-menashi-senate-committee_n_5dba49cbe4b0bb1ea374715c?ehh
Senate Advances Contentious Judicial Nominee Steven Menashi
He's denounced women's rights and diversity. He refused to answer senators' questions. Republicans voted to move him forward anyway.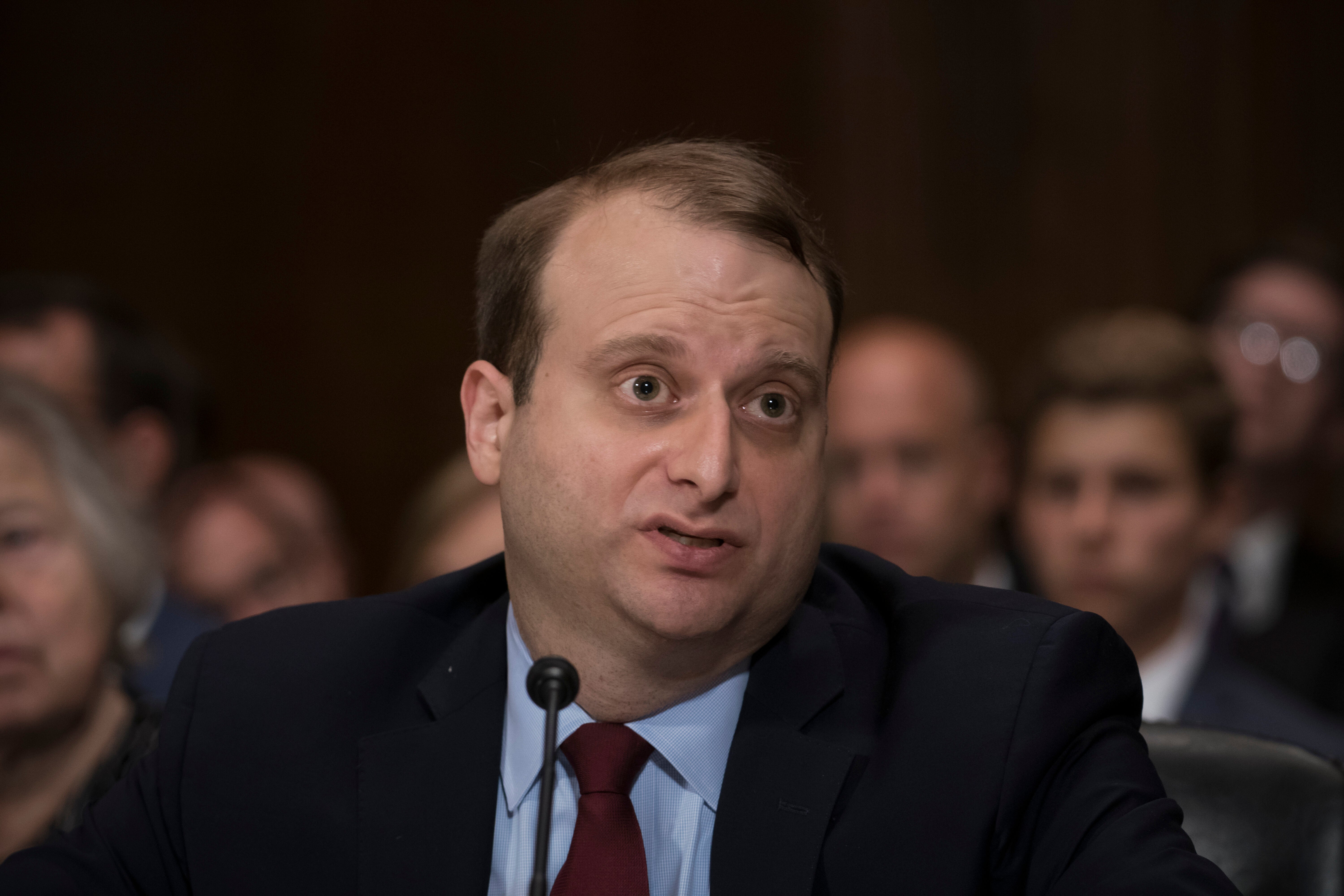 ?cache=efaw3lzowr&ops=crop_0_229_6000_3771,scalefit_720_noupscale
Menashi, who is on track to be confirmed to a lifetime seat on the U.S. Court of Appeals for the 2nd Circuit, has drawn fierce opposition from civil rights groups, Democratic senators and at least one GOP senator over his wildly offensive past writings, his lack of experience and his refusal to answer senators' questions about policies he worked on as the president's legal adviser.
In past editorials, Menashi compared race data collection in college admissions to Germany under Adolf Hitler; denounced women's marches against sexual assault; opposed the "radical abortion rights codified in Roe v. Wade;" and claimed that a Dartmouth fraternity wasn't being racist when it held a "ghetto party" attended by white students donning Afros and carrying toy guns.
He also spread the Islamophobic myth that in 1913 Gen. John Pershing executed Muslim prisoners in the Philippines using bullets dipped in pig fat.
During his confirmation hearing last month, Menashi angered both Republican and Democratic senators by refusing to give any details about his White House legal work. He conceded, however, that he worked on immigration policies with Trump's senior adviser Stephen Miller, the chief architect of Trump's ban on travelers from seven Muslim-majority countries and Trump's policy of separating migrant children from their parents at the U.S.-Mexico border.
He also served as legal counsel to Education Secretary Betsy DeVos when she rolled back Title IX protections for survivors of sexual assault on campuses.
On Thursday, Democrats on the committee took turns ripping Menashi's record,
20 replies, 1849 views
Replies to this discussion thread
20 replies
Author
Time
Post

40 years old. never tried a case. hates women and POC. won't answer ?s lifetime judgeship for him!

[View all]

Demovictory9
Nov 8
OP
sprinkleeninow
Nov 8
#1
smirkymonkey
Nov 8
#2
Hermit-The-Prog
Nov 8
#3
Demovictory9
Nov 8
#6
Hermit-The-Prog
Nov 8
#9
Ztolkins
Nov 8
#13
democratisphere
Nov 8
#4
dalton99a
Nov 8
#5
Maraya1969
Nov 8
#7
pat_k
Nov 8
#12
Celerity
Nov 8
#8
pat_k
Nov 8
#10
Nasruddin
Nov 8
#11
NBachers
Nov 8
#14
Midnight Writer
Nov 8
#15
budkin
Nov 8
#16
NCLefty
Nov 8
#17
MrScorpio
Nov 8
#18
Auggie
Nov 8
#19
rsdsharp
Nov 8
#20