Thu Jul 12, 2018, 06:23 PM
spanone (108,647 posts)
Trump says he feels "unwelcome" in London [View all]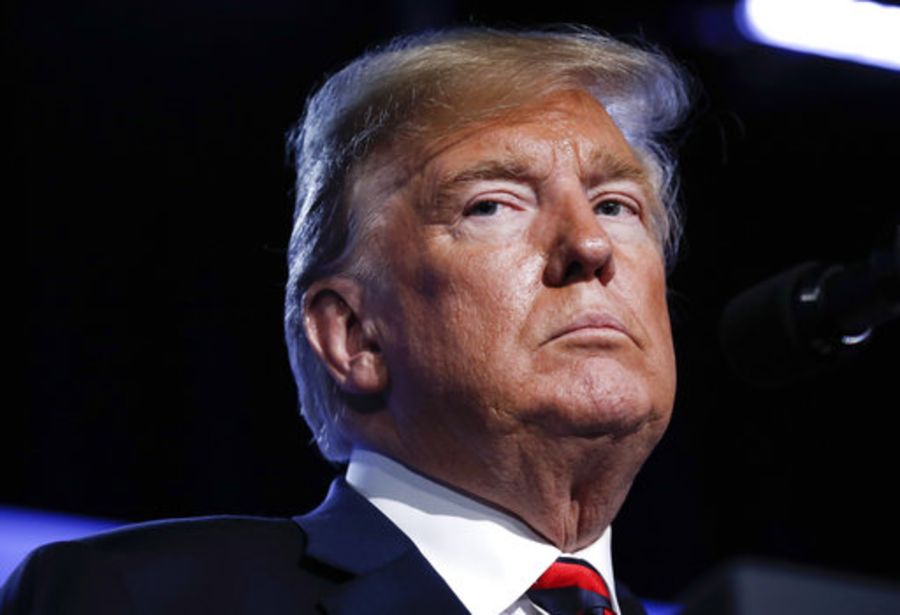 President Donald Trump listens to a question during a news conference before departing the NATO Summit in Brussels, Belgium, Thursday, July 12, 2018.
President Donald Trump said in an interview with The Sun that he feels "unwelcome" in London.

"I used to love London as a city. I haven't been there in a long time. But when they make you feel unwelcome, why would I stay there?" the President told the newspaper.

Addressing the issue of the giant inflatable "Trump baby" that will fly above London on Friday, he said, "I guess when they put out blimps to make me feel unwelcome, no reason for me to go to London."

Trump did say, however, that the British public like him and that "many people are delighted."
https://www.cnn.com/politics/live-news/trump-uk-visit-2018/index.html
129 replies, 6396 views
Replies to this discussion thread
129 replies
Author
Time
Post

Trump says he feels "unwelcome" in London

[View all]

spanone
Jul 2018
OP
milestogo
Jul 2018
#1
spanone
Jul 2018
#2
mitch96
Jul 2018
#45
RestoreAmerica2020
Jul 2018
#89
thegoose
Jul 2018
#33
Thekaspervote
Jul 2018
#34
kag
Jul 2018
#77
pangaia
Jul 2018
#104
mythology
Jul 2018
#82
yuiyoshida
Jul 2018
#86
pangaia
Jul 2018
#105
Haggis for Breakfast
Jul 2018
#110
treestar
Jul 2018
#3
tarheelsunc
Jul 2018
#4
riversedge
Jul 2018
#31
Buns_of_Fire
Jul 2018
#56
monmouth4
Jul 2018
#114
irisblue
Jul 2018
#62
pangaia
Jul 2018
#107
ecstatic
Jul 2018
#118
woundedkarma
Jul 2018
#71
SergeStorms
Jul 2018
#78
NoMoreRepugs
Jul 2018
#95
pazzyanne
Jul 2018
#103
aquamarina
Jul 2018
#5
Hekate
Jul 2018
#13
Miles Archer
Jul 2018
#32
LAS14
Jul 2018
#6
Initech
Jul 2018
#7
malaise
Jul 2018
#18
Initech
Jul 2018
#19
spanone
Jul 2018
#25
malaise
Jul 2018
#26
3catwoman3
Jul 2018
#42
NY_20th
Jul 2018
#119
Sanity Claws
Jul 2018
#8
JI7
Jul 2018
#9
LuckyCharms
Jul 2018
#11
underpants
Jul 2018
#17
thewhollytoast
Jul 2018
#28
Butterflylady
Jul 2018
#74
SammyWinstonJack
Jul 2018
#75
malaise
Jul 2018
#20
LudwigPastorius
Jul 2018
#87
gademocrat7
Jul 2018
#10
GulfCoast66
Jul 2018
#12
onecaliberal
Jul 2018
#14
Solly Mack
Jul 2018
#15
Cha
Jul 2018
#16
Achilleaze
Jul 2018
#21
EndGOPPropaganda
Jul 2018
#22
peggysue2
Jul 2018
#23
virgogal
Jul 2018
#24
OliverQ
Jul 2018
#27
trueblue2007
Jul 2018
#29
PubliusEnigma
Jul 2018
#30
Thekaspervote
Jul 2018
#35
Blue_true
Jul 2018
#36
roamer65
Jul 2018
#51
Gothmog
Jul 2018
#37
HipChick
Jul 2018
#38
AlexSFCA
Jul 2018
#39
canetoad
Jul 2018
#40
montana_hazeleyes
Jul 2018
#66
Progressive dog
Jul 2018
#41
3catwoman3
Jul 2018
#43
George II
Jul 2018
#46
3catwoman3
Jul 2018
#53
George II
Jul 2018
#80
3catwoman3
Jul 2018
#84
George II
Jul 2018
#44
LiberalLovinLug
Jul 2018
#47
Wounded Bear
Jul 2018
#61
no_hypocrisy
Jul 2018
#48
roamer65
Jul 2018
#49
OilemFirchen
Jul 2018
#83
BigmanPigman
Jul 2018
#50
Bleacher Creature
Jul 2018
#85
BigmanPigman
Jul 2018
#91
AwakeAtLast
Jul 2018
#116
sakabatou
Jul 2018
#52
Initech
Jul 2018
#123
marieo1
Jul 2018
#54
sarge43
Jul 2018
#60
cloudbase
Jul 2018
#55
sandensea
Jul 2018
#57
malaise
Jul 2018
#58
Sam McGee
Jul 2018
#59
They_Live
Jul 2018
#63
dembotoz
Jul 2018
#64
Honeycombe8
Jul 2018
#65
paleotn
Jul 2018
#67
ailsagirl
Jul 2018
#68
SammyWinstonJack
Jul 2018
#69
DFW
Jul 2018
#70
world wide wally
Jul 2018
#72
sinkingfeeling
Jul 2018
#73
keithbvadu2
Jul 2018
#76
homegirl
Jul 2018
#79
guss
Jul 2018
#81
BobTheSubgenius
Jul 2018
#88
cp
Jul 2018
#90
perdita9
Jul 2018
#92
Drake Notthesinger
Jul 2018
#93
NoMoreRepugs
Jul 2018
#94
rurallib
Jul 2018
#96
Yo_Mama_Been_Loggin
Jul 2018
#97
Renew Deal
Jul 2018
#98
Adrahil
Jul 2018
#99
Ohioboy
Jul 2018
#100
moondust
Jul 2018
#101
Marie Marie
Jul 2018
#102
LakeSuperiorView
Jul 2018
#106
Haggis for Breakfast
Jul 2018
#112
Haggis for Breakfast
Jul 2018
#113
Cha
Jul 2018
#122
Crutchez_CuiBono
Jul 2018
#108
greymattermom
Jul 2018
#109
dflprincess
Jul 2018
#111
Gothmog
Jul 2018
#115
ecstatic
Jul 2018
#117
NY_20th
Jul 2018
#120
ck4829
Jul 2018
#125
guss
Jul 2018
#129
Hassler
Jul 2018
#121
ck4829
Jul 2018
#124
Soxfan58
Jul 2018
#126
Turbineguy
Jul 2018
#127
LeftishBrit
Jul 2018
#128