Sun Aug 5, 2012, 09:09 AM
unhappycamper (60,364 posts)
Fucking Welfare Queens [View all]
During the 2008 ~ 2009 financial meltdown, my 401K dropped around 40%. In other words 40% of my retirement savings disappeared. Poof. Gone. Many of you also experienced similar involuntary reductions in your 'wealth'; some lost their jobs and homes; 99% of us have experienced cutbacks in one way or the other. Some of us work two or three jobs to feed their family. Other have just given up.
Federal aid to cities and towns has been cut, as have many, if not all social programs. Chances are the roads where you live are in dire need of repair; I know many of the roads in Massachusetts are shit. Many water systems are teetering on the point of collapse, and your school budgets have been cut. Private prisons, private public schools, private colleges and private highways throughout this country are now becoming the new norm.
Hungry kids, adults, seniors, shitty schools, roads and infrastructure, homelessness , no new taxes, and the Tea Party and has become the new hallmark of America.
St. Ronnie gave us the welfare mom driving a Cadillac as the rallying cry to cut social programs. After 30+ years of this bullshit rallying cry, I would like to introduce the 2012 version of that cry. First let's look at where that money goes in the Federal budget: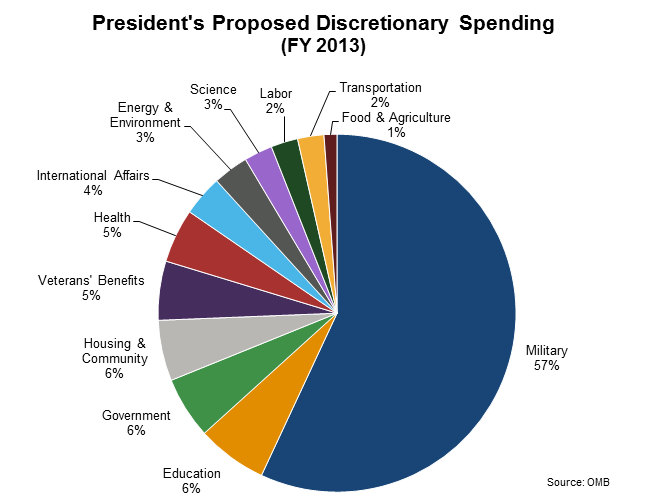 So the United States Military budget comes from the same pot as Education, Housing & Community, Veterans Benefits, Health, International Affairs, Enery & Environment, Science, Labor, Transportation and Food & Agriculture. The Military is taking 57% of all discretionary funds in the proposed 2013 budget.
So what are we getting for that 57%?
We have a fleet of 186 (or 187) $418 million dollar F-22 Raptors that were grounded for five months because the oxygen systems in those planes were causing pilots to lose consciousness. One plane actually augured into the ground in Alaska when the pilot blacked out. In a recent international war games in Alaska our $418 million dollar wonder did not do all that well:
[center]They (the military) found that the F-22, which Gates once said was supposed to "ensure U.S. command of the skies for the next generation, "was in fact evenly matched against the German Typhoons. While the F-22s excelled at fighting from beyond visual range, thanks to their sophisticated radar and long-range missiles, close-range combat was a different story.
The F-22 is bigger and heavier than the German Typhoon, putting it at a disadvantage. German pilots defeated the F-22s at close-range
; they have outlined their tactics in the latest Combat Aircraft magazine.[/center]
The Typhoon cost less than half what an F-22 does and "German pilots defeated the F-22s at close-range". So much for air superiority.
The F-35 is but another example of spending money for the purpose of spending money. Current cost for one of these bad boys is
at least
$243 million dollars a pop. And the price just keeps going up.
The United States Navy has not had much luck keeping the cost of what they buy down. $200 million dollar Littoral Combat Ships now cost $500+ million dollars each. Our Nation Security Cutters cost at least $546 million dollars a pop. $4.5 million dollar aircraft carriers have given way to the new $40 billion dollar Ford-class aircraft carrier. And we are buiding $5+
billion
dollar destroyers at Northrup Grumman's shipyard in Bath, ME.
The $1.5 billion dollar LPD ships and Austral-built ships are, in a word, crap. The USS San Antonio has been in the shop at least three times for repairs since the United States Navy took possession. A recent article surfaced about new woes for the San Antionio class of ships:
www.defensenews.com/article/20120801/DEFREG02/308010007/New-Problems-Found-Avondale-Ships
[center]A new issue involving improperly installed bolts has emerged in the latest ships built by the Avondale shipyard near New Orleans, delaying the delivery of one ship and affecting another.[/center]
The United States Army has also spent a shit load of money on useless crap. $40 to $50 billion dollars of $1 million dollar MRAPs that are no longer needed. $89 thousand dollar precision 155 mm artillery, bad helmets for the troops, bad body armor for the troops, and we are still trying to select another camouflage pattern for our troops. The $100 million dollar Osprey is an expensive helicopter that is still prone to crashes. Andthe Army is bitching about needing to replace HMMWVs, Strikers and all their wheeled and tracked vehicles.
In 2011 the United States Congress created a Super Committe to cut $1.2 trillion dollars in Federal spending. If they did not come up with $1.2 trillion dollars in spending cuts, the military would budget would cough up $600 billion dollars over ten years as would everything else in the discretionary budget.
The Super Committe failed to reach an agreement on where to cut so sequestration is now in effect. Starting in 2013, social programs AND the Military is supposed to take a $60 billion dollar per year reduction in their budgets.
democrats (small d) and Republicans are lamenting the fact that the Military is going to lose another $60 billion dollars of their annual budget because the Super Committe failed to reach an agreement. Cries of a 'hollow force', preparedness decline, 'our equipment is wearing' out and 'we-need-this-weapons-system' abound.
ds and Rs want to stop that additional $60 billion dollar a year cut to the Military budget.
A little perspective is in order:
* The annual budget of the United States Military is around $1 trillion dollars a year by time you add occupation costs, the cost of NATO (in Afghanistan and elsewhere), the cost of supporting the Israeli military, nuke weapons costs, black programs, and all sorts of other goodies to the pile.
* The Military already took an annual $50 billion dollar hit in their one trillion dollar budget. For those not strong on math, one trillion dollars is $1,000,000,000,000; fifty billion dollars is $50,000,000,000. A one followed by twelve zeros divided by five followed by ten zeros is: 1,00[s]0,000,000,000[/s] / 5[s]0,000,000,000[/s] = .05 or 5%.
* These guys (ds and Rs) are bitching about another 5+% hit on their budget and are crying 'foul'. They want the United States Military to remain the strongest in the world. Basically, fuck your jobs, fuck your homes, fuck your health, fuck your food, and fuck you.
Who are the Welfare Queens you ask? Here's just a few of them:
131 replies, 83806 views
Replies to this discussion thread
131 replies
Author
Time
Post

Fucking Welfare Queens

[View all]

unhappycamper
Aug 2012
OP
brewens
Aug 2012
#1
HiPointDem
Aug 2012
#18
LiberalFighter
Aug 2012
#45
brewens
Aug 2012
#58
Tennessee Gal
Aug 2012
#2
paradox
Aug 2012
#3
Tennessee Gal
Aug 2012
#5
happyslug
Aug 2012
#77
rocktivity
Aug 2012
#4
CrispyQ
Aug 2012
#102
marmar
Aug 2012
#6
99Forever
Aug 2012
#17
MannyGoldstein
Aug 2012
#7
Thinkingabout
Aug 2012
#8
Smilo
Aug 2012
#9
SaveAmerica
Aug 2012
#10
xtraxritical
Aug 2012
#11
SaveAmerica
Aug 2012
#15
Amonester
Aug 2012
#16
rasputin1952
Aug 2012
#12
The Wizard
Aug 2012
#21
JonLP24
Aug 2012
#68
SaveAmerica
Aug 2012
#80
JonLP24
Aug 2012
#85
SaveAmerica
Aug 2012
#112
L0oniX
Aug 2012
#13
raouldukelives
Aug 2012
#14
crimson77
Aug 2012
#19
Spitfire of ATJ
Aug 2012
#22
crimson77
Aug 2012
#23
Spitfire of ATJ
Aug 2012
#24
crimson77
Aug 2012
#28
Spitfire of ATJ
Aug 2012
#38
crimson77
Aug 2012
#41
Spitfire of ATJ
Aug 2012
#48
B Calm
Aug 2012
#27
crimson77
Aug 2012
#30
B Calm
Aug 2012
#34
sabrina 1
Aug 2012
#32
crimson77
Aug 2012
#33
sabrina 1
Aug 2012
#40
crimson77
Aug 2012
#43
sabrina 1
Aug 2012
#52
crimson77
Aug 2012
#53
sabrina 1
Aug 2012
#90
crimson77
Aug 2012
#96
sabrina 1
Aug 2012
#113
crimson77
Aug 2012
#114
happyslug
Aug 2012
#79
Post removed
Aug 2012
#47
crimson77
Aug 2012
#51
Egalitarian Thug
Aug 2012
#56
crimson77
Aug 2012
#59
Egalitarian Thug
Aug 2012
#65
crimson77
Aug 2012
#70
progree
Aug 2012
#73
crimson77
Aug 2012
#74
progree
Aug 2012
#86
crimson77
Aug 2012
#97
progree
Aug 2012
#108
crimson77
Aug 2012
#111
progree
Aug 2012
#119
crimson77
Aug 2012
#121
progree
Aug 2012
#123
crimson77
Aug 2012
#124
progree
Aug 2012
#130
JaneyVee
Aug 2012
#88
crimson77
Aug 2012
#95
sabrina 1
Aug 2012
#89
crimson77
Aug 2012
#92
crimson77
Aug 2012
#93
ejpoeta
Aug 2012
#103
crimson77
Aug 2012
#109
sabrina 1
Aug 2012
#120
crimson77
Aug 2012
#122
sabrina 1
Aug 2012
#125
crimson77
Aug 2012
#128
JonLP24
Aug 2012
#104
sabrina 1
Aug 2012
#87
Egalitarian Thug
Aug 2012
#131
knitter4democracy
Aug 2012
#62
Warren Stupidity
Aug 2012
#101
CrispyQ
Aug 2012
#105
Spitfire of ATJ
Aug 2012
#20
crimson77
Aug 2012
#25
Spitfire of ATJ
Aug 2012
#29
crimson77
Aug 2012
#31
Spitfire of ATJ
Aug 2012
#42
crimson77
Aug 2012
#44
LanternWaste
Aug 2012
#110
crimson77
Aug 2012
#118
NYC_SKP
Aug 2012
#26
indepat
Aug 2012
#35
thelordofhell
Aug 2012
#36
Honeycombe8
Aug 2012
#37
Starry Messenger
Aug 2012
#39
revolution breeze
Aug 2012
#46
99th_Monkey
Aug 2012
#49
happyslug
Aug 2012
#82
99th_Monkey
Aug 2012
#94
happyslug
Aug 2012
#115
madrchsod
Aug 2012
#50
truedelphi
Aug 2012
#54
dreamnightwind
Aug 2012
#71
Post removed
Aug 2012
#55
Ikonoklast
Aug 2012
#57
blkmusclmachine
Aug 2012
#60
Crowman1979
Aug 2012
#61
xchrom
Aug 2012
#63
Cryptoad
Aug 2012
#64
JonLP24
Aug 2012
#66
Octafish
Aug 2012
#67
lib2DaBone
Aug 2012
#69
magic59
Aug 2012
#72
MrMickeysMom
Aug 2012
#75
DonCoquixote
Aug 2012
#76
RKP5637
Aug 2012
#78
HCE SuiGeneris
Aug 2012
#81
happyslug
Aug 2012
#83
SaveAmerica
Aug 2012
#84
tex-wyo-dem
Aug 2012
#91
Egalitarian Thug
Aug 2012
#98
libodem
Aug 2012
#99
baldguy
Aug 2012
#100
allan01
Aug 2012
#106
Madmiddle
Aug 2012
#107
Stuart G
Aug 2012
#116
Initech
Aug 2012
#117
sabrina 1
Aug 2012
#127
Initech
Aug 2012
#129
cbrer
Aug 2012
#126