Sat Aug 4, 2012, 12:39 AM
boxman15 (1,033 posts)
Childish: The RNC's President Obama birthday cake [View all]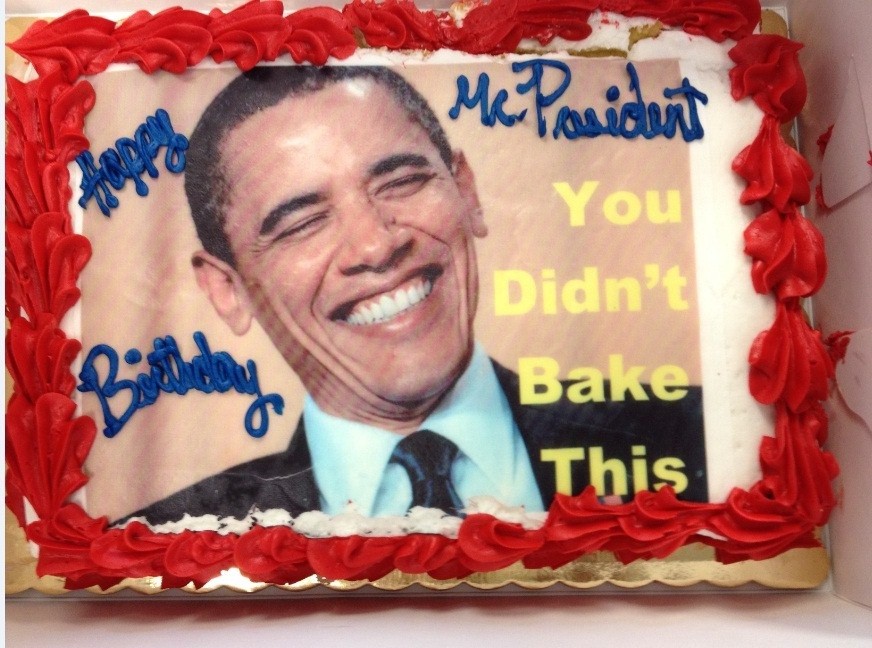 The Republican National Committee mocked President Barack Obama on Friday, sending a cake to the Democratic National Committee with a backhanded message commemorating Obama's upcoming birthday.

"You didn't bake this," reads text on the cake, which is vanilla with vanilla frosting, according to Yahoo! News. It's a reference to Obama's "you didn't build that" remark last month, which he made while talking about the need to maintain investments in domestic infrastructure for the good of businesses.

snip

Republicans have seized on the comment as proof that the president is against the principles of entrepreneurship and American innovation. RNC spokesman Tim Miller continued to make that argument in explaining the cake.

"Since President Obama's birthday is tomorrow, we actually wish him a happy 50.99726 years with this 'you didn't bake that' cake," said Miller, prodding the White House for its explanation that the unemployment rate was actually a fraction lower than the 8.3 percent figure. "We do know that hard working, smart entrepreneurs across the country join us in wishing the president a happy birthday and hoping that next year he has more time for baking so the country can get back to job creating."

snip

The cake marked the second effort by the RNC to take advantage of the president's approaching birthday. Earlier in the day on Friday, they unveiled baracksbirthdaycards.com to showcase fake cards featuring pictures of the president with various celebrity supporters and political figures alongside political attacks on a number of issues.
http://www.huffingtonpost.com/2012/08/03/rnc-birthday-cake-to-dnc-obama_n_1739263.html
The GOP disgusts me. The cake is one thing, but their comments and the "Barack's Birthday Cards" website just shows the lack of respect they have for the president. I cannot stand this lunatic party.
Also, President Obama didn't bake that cake, but the Republican Party certainly cooked up this mess we're in right now. And they have a recipe for disaster if they get their man in the White House.
16 replies, 3785 views
Replies to this discussion thread
16 replies
Author
Time
Post

Childish: The RNC's President Obama birthday cake

[View all]

boxman15
Aug 2012
OP
gateley
Aug 2012
#1
inthemiddle2
Aug 2012
#14
gateley
Aug 2012
#16
JI7
Aug 2012
#2
ProSense
Aug 2012
#3
part man all 86
Aug 2012
#7
GoCubsGo
Aug 2012
#13
Marr
Aug 2012
#4
Marie Marie
Aug 2012
#5
Kalidurga
Aug 2012
#6
lame54
Aug 2012
#8
Archae
Aug 2012
#9
LeftofObama
Aug 2012
#10
Jeffersons Ghost
Aug 2012
#12
inthemiddle2
Aug 2012
#15
malaise
Aug 2012
#11