Welcome to DU!
The truly grassroots left-of-center political community where regular people, not algorithms, drive the discussions and set the standards.
Join the community:
Create a free account
Support DU (and get rid of ads!):
Become a Star Member
KS Toronado
KS Toronado's Profile

KS Toronado's Profile
Profile Information
Real name: Mike
Gender: Male
Hometown: Hays KS

About KS Toronado
Ornery, before getting upset with something you didn't understand where I was coming from, consider that I was probably teasing or pulling your leg. Apple doesn't fall far from the Ornery Tree.
Avatar Image
Signature Line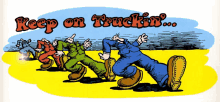 Statistics
Account status: Active
Member since: Wed Mar 25, 2020, 12:07 AM
Number of posts, all time: 14,732
Number of posts, last 90 days: 1233
Favorite main forum:
General Discussion
, 568 posts in the last 90 days (46% of total posts)
Favorite topic forum:
Humor
, 94 posts in the last 90 days (8% of total posts)
Last post:
Thu Nov 30, 2023, 06:33 PM
Jury
Willing to serve on Juries: Yes
Chance of serving on Juries: 100% (
explain
)
Hosting
KS Toronado is not currently hosting any forums or groups.
Latest Recs
Ben Carson supposedly atop Trump's VP list. Perfect bland replacement of Pence.
Thu Nov 30, 2023, 10:31 AM

Senate GOP stages hearing walkout to protest Supreme Court-related subpoenas
Thu Nov 30, 2023, 02:55 PM

Liberal Redneck - School Voucher Scams
Thu Nov 30, 2023, 08:23 AM

Republicans faceplant in embarrassing impeachment press conference - Pondering Politics
Wed Nov 29, 2023, 04:27 PM

'Hit job': Trump says government should 'come down hard' on 'illegal' activity by MSNBC
Wed Nov 29, 2023, 03:35 AM


Latest Poll Votes
P01135809 Prison Memes
Wed Oct 18, 2023, 10:10 AM


Wed Dec 31, 1969, 07:00 PM

***Photo contest finals***
Sat Oct 14, 2023, 11:18 AM

***Photo contest thread 3***
Wed Oct 11, 2023, 10:25 AM

***Poll #2--September Photo Contest: Summer***
Fri Sep 15, 2023, 03:02 PM