Page: 1
bluewater
bluewater's Journal
Profile Information
Member since: Fri Jun 7, 2019, 03:43 PM
Number of posts: 5,376

Journal Archives
Someone actually said to me in a thread here on DU that Ukraine was "not really" our ally and hence we are under no moral obligation to intervene directly militarily to stop the Russian invasion of Ukraine.
Well, read this:
Press release
UK signs agreement to support enhancement of Ukrainian naval capabilities

In a trilateral agreement signed onboard HMS Defender, which was in Odesa as part of the Carrier Strike Group deployment, the UK, Ukraine and industry will collaborate to boost Ukraine's naval capabilities.

From:
Ministry of Defence and Jeremy Quin MP
Published
23 June 2021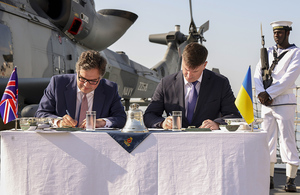 Defence Minister Jeremy Quin and Ukrainian Deputy Defence Minister Oleksandr Myroniuk sign the MOI © Crown Copyright
Minister for Defence Procurement Jeremy Quin and First Sea Lord Admiral Sir Tony Radakin were joined by Deputy Minister of Defence of Ukraine, Oleksandr Myroniuk and industry representative David Lockwood from Babcock on the Type 45 Destroyer, where the Memorandum of Implementation (MOI) was signed.
Building on the agreement signed on HMS Prince of Wales in October 2020, the two nations and their industrial partners will Ukrainian naval capabilities enhancement projects (UNCEP) forward.
These projects will include; the introduction of new capabilities through the delivery of new naval platforms and defensive shipborne armaments, the training of Ukrainian Navy personnel, the creation of new naval bases, and the purchase of two Sandown class mine countermeasure vessels.
Signing the MOI on behalf of the UK, Minister for Defence Procurement Jeremy Quin said:
The UK and Ukraine have a close defence relationship, and we continue to strengthen this partnership to help deter shared threats.
I am delighted that British and Ukrainian industry will work together on these projects, which will provide world-leading capabilities and provide opportunities for both our nations to boost our shipbuilding enterprises.
Babcock International will lead British and Ukrainian industrial partners to assist the Ukrainian Ministry of Defence in delivering these projects, with funding made available by UK Export Finance (UKEF).
The Ukrainian Ministry of Defence said:
Ukraine and the UK are good friends and allies. Today's Memorandum gives a new impetus to our co-operation in naval industry and will facilitate further development of the Ukrainian Navy. We appreciate the British support and value your experience.
https://www.gov.uk/government/news/uk-signs-agreement-to-support-enhancement-of-ukrainian-naval-capabilities
That's an official press release from the UK government from June of 2021, that's eight months ago.
EDIT: The US has made similar military commitments and has stated unequivocally that Ukraine is indeed our ally too.
U.S. Department of State
U.S. Security Cooperation With Ukraine
BUREAU OF POLITICAL-MILITARY AFFAIRS
JANUARY 20, 2022
Ukraine is a key regional strategic partner that has undertaken significant efforts to reform its military and increase its interoperability with NATO. Our policy is centered on supporting Ukraine as it advances reforms to strengthen democratic institutions, fight corruption, and promote conditions for economic growth and competition. The United States has offered further support to Ukraine in response to Russia's aggression in eastern Ukraine and its occupation following the unlawful seizure of Crimea. The United States does not, and will not ever, recognize Russia's attempted annexation of Crimea, and continues to work with our partners to seek a diplomatic solution to the Russia-instigated conflict in eastern Ukraine.
The United States remains dedicated to assisting Ukraine to advance its Euro-Atlantic aspirations in support of a secure, prosperous, democratic, and free Ukraine.
The U.S.-Ukraine Charter on Strategic Partnership highlights the importance of the bilateral relationship and the continued commitment of the United States to support enhanced engagement between NATO and Ukraine
. Additionally, Ukraine has undertaken significant efforts to reform and modernize its defense sector in line with NATO principles and standards. The United States and its Allies have established a Multinational Joint Commission and Joint Multinational Training Group to coordinate international efforts and help build Ukraine's defense capacity to deter further Russian aggression.
Since 2014, ​the U.S. Departments of State and Defense have committed over $2.7 billion in training and equipment to help Ukraine preserve its territorial integrity, secure its borders, and improve interoperability with NATO
. This includes $721 million in State Department-funded Foreign Military Financing (FMF) and $1.35 billion under DoD's Ukraine Security Assistance Initiative. Ukraine also received about $19.7 million in IMET assistance between 2014 and 2021 to support professional military education for approximately 370 junior, mid-level, and senior military officers at Department of Defense (DoD) schools in the United States. In December 2021, the President authorized a $200 million drawdown for the immediate transfer of DoD stocks to Ukraine. We are in close touch with our Ukrainian partners and NATO Allies to authorize and facilitate additional assistance to Ukraine, as well as employing all available security cooperation tools available to us.
https://www.state.gov/u-s-security-cooperation-with-ukraine/
Democratic Ukraine is indeed our ally and we should stand by them and directly support them in this, their hour of need.
Source:
NY Times
A phone conversation between President Emmanuel Macron of France and President Vladimir V. Putin of Russia on Thursday offered little hope that the fighting in Ukraine would abate any time soon, with the Kremlin saying it had no intention of backing down from a war that "is going according to plan" and the French presidency warning that Mr. Putin appeared determined to invade the entire country.
"Our analysis of the military operations is that the Russian ambitions are to take control of all of Ukraine," said a senior official in the French presidency, who briefed reporters on the 90-minute conversation between the two leaders and said Mr. Macron expressed "pessimism" after the call.
Nothing is certain about the success of Russia's operations, but "we have to expect that the worst is to come," said the official, who spoke on the condition of anonymity in keeping with French government practice. "There is nothing in what President Putin said that should reassure us," the official added.
The call, which the French presidency said came at the Kremlin's request, was the third discussion between the two leaders since the start of the war. Mr. Macron, who was expected to announce his candidacy for re-election in April later on Thursday, has positioned himself at the center of the diplomacy in Europe, burnishing his stature in France and abroad by becoming an interlocutor with Mr. Putin.
Read more:
https://www.nytimes.com/2022/03/03/world/europe/putin-macron-call.html
---
This tragedy is unfolding before our eyes.
We need to do more to save Ukraine.
Please contact your Senators, members of Congress and the White House to express your concern and support for our democratic ally.
KYIV, Ukraine (AP) — Russian forces captured a strategic Ukrainian port and besieged another Thursday in a bid to cut the country off from the sea, as the two sides met for another round of talks aimed at stopping the fighting that has set off an exodus of over 1 million refugees.
Meanwhile, Ukrainian media reports said Russian troops had entered the southern city of Enerhodar, a major energy hub on the Dnieper River that accounts for about one-quarter of the country's power generation. It is the site of the Zaporizhzhia nuclear plant, the biggest in Europe.
Moscow's advance on Ukraine's capital has apparently stalled over the past few days, with a huge armored column north of Kyiv at a standstill, but the military has made significant gains in the south as part of an effort to sever the country's connection to the Black and Azov seas.
The Russian military said it had control of Kherson, and local Ukrainian officials confirmed that forces have taken over local government headquarters in the Black Sea port of 280,000, making it the first major city to fall since the invasion began a week ago.
Heavy fighting continued on the outskirts of another strategic port, Mariupol, on the Azov Sea, plunging it into darkness, isolation and fear. Electricity and phone service were largely down, and homes and shops faced food and water shortages.
Without phone connections, medics did not know where to take the wounded.
Cutting Ukraine's access to its Black Sea and Azov coast would deal a crippling blow to the country's economy and allow Russia to build a land corridor stretching from its border, across Crimea, which has been occupied by Russia since 2014, and all the way west to Romania.
https://www.huffpost.com/entry/russian-forces-seize-key-ukrainian-port-pressure-others_n_6220e3f5e4b0b533818818a5
While world attention seems focused on the heroic Ukrainian defense of its capital, the Russian invasion continues its seizure of Ukraine's vital coastline on the Black Sea.
The US and NATO need to do more to change the military balance before it's too late. The Russians seem to be surrounding the major Ukrainian cities and picking them off one by one. Something more needs to be done to support the Ukrainian reistance.
The Black Sea port of Kherson, in the southern region of Ukraine, became the first major city to come under full control of Russian forces on Wednesday.
"There is no Ukrainian army here," said Igor Kolykhaev, the city's mayor. "The city is surrounded."
Russian troops first approached the city on Friday and met heavy resistance. On Saturday, they destroyed a dam in the region that Ukraine had built in 2014 in order to cut off an important water source to Crimea.
Ukrainian forces retreated west toward Mykolaiv, Mr. Kolykhaev said. Russian forces are likely to head there in their drive to Odessa.
Gennady Trukhanov, the mayor of Odessa, backed by assessments from Ukraine's military, said on Wednesday that Russia's goal was likely to surround Odessa with land and naval forces, cutting off Ukraine's access to the Black Sea and the country's primary link to the global economy.
"My sense is that they will encircle Odessa and hold that position while they continue their assault on Kyiv," Mr. Trukhanov said.
About 260 miles to the east of Kherson, Russian forces also have surrounded the port city of Mariupol by land and sea, and have been bombarding critical infrastructure and civilian targets, according to the Institute for the Study of War. Capturing Mariupol would allow Russian forces in the south to join with Russian-backed separatists in the east, isolating Ukrainian troops in the region.
https://www.nytimes.com/interactive/2022/world/europe/ukraine-maps.html
The Russians seem to be surrounding and blockading the major Ukrainian cities and picking them off one by one.
The US and NATO need to drastically change the military balance in Ukraine to stop this piecemeal Russian take over.
Brave Ukrainian resistance can only hold off the Russians for so long with hand-held weapons, no matter how advanced.
Please contact your Senators and Congress members and the White House to express your concern and support for our ally, democratic Ukraine.
But object to the US and NATO being directly involved militarily.
Sad but true.
The US and NATO should intervene militarily to save Ukrainian lives and Ukrainian democracy now, before it's too late.
And, please, don't try the "but Ukraine is not in NATO" excuse.
NATO has intervened militarily to save innocent lives in non-NATO countries like Libya and Serbia. In fact, in the case of Serbia, NATO served to change the map of Europe by facilitating the Kosovo province breaking away from Serbia and recognizing it as an independent country.
Does NATO only stand up to little countries?
Are we that afraid of Russia?
Source:
CNN
A Western intelligence report indicated that Chinese officials, in early February, requested that senior Russian officials wait until after the Beijing Olympics had finished before beginning an invasion into Ukraine, US officials said Wednesday.
US officials broadly view the report as credible, but its particulars are open to interpretation, according to one source familiar with the intelligence. Although the request was made around the time that President Vladimir Putin visited Beijing for the opening ceremony of the Olympics — where he met with Chinese President Xi Jinping — it is not clear from the report whether Putin addressed the matter with Xi directly, the source said.
Western intelligence officials warily watching Putin's buildup on the Ukrainian border at the time had anticipated that Putin might delay any military action until after the Olympics to avoid angering China.
After Putin and Xi's meeting, Moscow and Beijing issued a joint statement declaring that their partnership had "no limits" and condemning NATO expansion — a key pillar of Putin's justification for attacking Ukraine.
That statement has elevated Western concerns about a burgeoning alliance between China and Russia.
Read more:
https://www.cnn.com/europe/live-news/ukraine-russia-putin-news-03-02-22/index.html
---
What drove these two enemies into each other's arms?
China's population and economy with Russia's nuclear arsenal and natural resources are a formidable combination.
US officials warn Russia will increasingly hit civilian targets and seek 'slow annihilation' of Ukraine's military
Russia's strategy in its war on Ukraine is shifting toward a "slow annihilation" of the Ukrainian military, US and other Western officials tell CNN, warning that Russia could focus on a bloody and deadly bombardment of cities and civilian targets as the conflict becomes a grinding war of attrition.
Ukrainian forces have so far been able to stave off Russia's initial push, maintaining control of Kyiv and other major cities. But they remain massively outgunned and outmanned. And Russia is now bringing in heavier, more destructive weaponry and increasingly striking civilian infrastructure, after an initial focus on military targets, the officials said.
The shift in strategy likely reflects a recognition by Russian President Vladimir Putin that his initial plan to quickly topple Kyiv has failed, said one senior Western intelligence official -- in part because the Ukrainians have put up a stiffer than anticipated fight and in part because logistics and supply missteps have slowed the Russian advance.
But Western officials now expect that Russia will ramp up heavy weapons bombardment of Ukraine's cities and potentially march in "tens of thousands" of troops, one US official said. Eventually, officials caution, Ukraine's military will likely run short of supplies needed to keep up the fight.
...
'Cruel military math'
Ukraine's will to fight "is extending this," said the senior Western intelligence official. "But the cruel military math of this will eventually come to bear, absent some intervention, absent some fundamental change in the dynamic."
For Ukraine, whose military forces and civilian population have shown no signs of capitulating, the war appears poised to become a grim struggle for survival over a protracted, uncertain future.
The numbers are already bleak: Russia has lost roughly 3% to 5% of its tanks, aircraft, artillery and other military assets inside Ukraine — compared with Ukrainian losses of roughly 10% of its capabilities, according to two US officials familiar with the latest intelligence.
https://www.cnn.com/2022/03/02/politics/us-russia-ukraine-civilians-warning/index.html
We, the US and NATO that is, must either intervene directly immediately with our superior military might to back Ukrainian forces or de-escalate tensions somehow.
Anything else seems to be using the brave Ukrainian resistance as cannon fodder in a losing cause in a proxy war with Russia.