Page: 1
KY_EnviroGuy
KY_EnviroGuy's Journal
Profile Information
Name: Pet Rock
Gender: Male
Hometown: TN, KY
Home country: USA
Current location: KY
Member since: Thu Jul 6, 2017, 06:43 PM
Number of posts: 13,215

Journal Archives
Chick-fil-A faces rightwing backlash after cutting ties to Christian groups
Ted Cruz and Mike Huckabee condemn restaurant chain that also donated to civil rights group Southern Poverty Law Center
Link:
https://www.theguardian.com/food/2019/nov/30/chick-fil-a-conservative-ted-cruz-mike-huckabee
(snips)
Leading US conservatives have turned on the fast-food restaurant chain Chick-fil-A after the company decided to cut its ties to two Christian groups that have long opposed same-sex marriage.

To compound rightwingers' fury, it has also emerged via tax filings that Chick-fil-A donated to the Southern Poverty Law Center (SPLC), a civil rights advocacy organization, in 2017. The SPLC has a lengthy record of supporting LGBTQ+ and abortion rights.

Chick-fil-A, previously best known for its chicken sandwiches, was embraced by conservatives due to its foundation's funding of the Salvation Army and the Fellowship of Christian Athletes, which oppose same-sex marriage. This adoration has now turned sour, however.
and
A spokeswoman for Chick-fil-A said the company had fulfilled its obligations to the two Christian organizations and would now focus its donations to "education, homelessness and hunger".
When will retailers ever learn it's best to try very hard to stay neutral on sex, politics and religion (the gentleman's creed) and leave their sectarianism, hatred, biases and racism at the house?
Is this Chick-fil-A's come to the Flying Spaghetti Monster moment?......
You're being robbed of your moral right to be a part of your grandchildren's life and upbringing, as is traditional in most civilized cultures. Let's start with that as a foundation.
Further, you
own
a level of moral authority that is above your daughter because you gave birth to her and raised her.
My suggestion is thus: find out the organizational structure of the church they attend and request a meeting with one of the high-level officers of that organization, whom I assume would also be a minister. Lay out your dilemma to him or her from a
humanist moral standpoint
, and not from a doctrinal viewpoint of any church because you would just get in a pissing match over secular doctrine. You wouldn't even need to reveal you daughter and son-in-law's name, just say "one of your churches".
Just explain to him/her you feel you should not be rejected from participating in that family simply because you don't attend their church or share their politics. If they reject your argument and are willing to quote the basis for that, I would be tempted to let them know there's consideration of either taking it to a higher level of authority within that church OR exposing that practice to public media such as state-level newspapers.
Further, if they are making an official pronouncement that the
church
says they must reject you because of your political beliefs, I would be having a chat with the ACLU or SPLC.
However, should you get lucky and the higher-ups agree with you, get them to write a letter of proclamation you can present to your kids to consider, and hopefully you can reunite with your daughter.
Often, these local pastors execute doctrinal practices they have designed to satisfy their ego which are not in compliance with the official doctrine of that organization.
You deserve to know
if that's the case here. After they are ordained, many of these dime-store preachers seem to think they are saints and have the right to declare what (their) god wants and does not want as if they have a direct line to heaven. Such proclamations in my view are human creations and are 100% false.
Something to think about and best of luck........
Received an email from one of my favorite herb and essential oil companies this morning inviting me to participate in Buy Nothing Day.
To avoid any suggestion of my advertising for that company, I'll just post the body text of the email which I feel is appropriate for those of us that are anti-consumerism and pro-earth:
and..
Share your Buy Nothing Day activity with us! #BuyNothingDay
We could say it's an effort to turn Black Friday into Green Friday for planet earth.
I'm totally into that game today........
For many of us, our Thanksgiving will be consumed by huge amounts of food and drink - much of which in this nation will be wasted, but still consumed to a point of misery and danger to our health. That along with sleepy-eyed consumption of gladiator-style entertainment afterwards. Thanksgiving for many in America entails a large dose of gluttony and consumerism, along with rage and fear should politics be mentioned at our table.
Either alone or with others, there certainly are other ways to spend this day. Today, let us think of those less fortunate and make our commitments to helping them and to show gratitude for the basics of life this earth provides to us. Unfortunately for millions of Americans, misery and suffering are on today's menu.
In our own way, I feel it's healthy to humble ourselves every so often and perform a gratitude list, either by writing it down or saying it in a meditation or prayer. For me, it is very refreshing and a stress-reliever to write down things most precious and sustaining in my life. I wonder how many of us truly do that on Thanksgiving rather than worry about the trials of Black Friday.
I lost both my wife of 54 years and my very best friend outside of family this year. Having depression, it's easiest to slip into self pity and isolation but I have a lot to reflect on with regard to the things they both brought into my life (including two great children and a beautiful granddaughter) and in some ways saved my life. Along with sanity and sobriety, basic food and shelter and not yet having extreme health problems, I have quite a list to compile.
A few I've known in this mid-size city do a ritual of helping to serve food in a homeless shelter or recovery center as a way of expressing humility. Any anonymous act of kindness is good for our soul, but that applies to any day. I enjoy carrying a needy friend to the grocery store and paying the bill. We can all find a means of charity and winter amplifies the need for food, shelter and clothing. Over the years, I've collected enough clothes for a small army and I've overdue for a trip with boxes full for one of our shelters.
Thanksgiving day should be a day of quiet reflection and humility, either visiting or calling and thanking those who have helped us throughout the year and committing to be a better, more humble and more sharing member of the human race. Big hugs are in order all day long!
Thanks go out from here to all DU members who have been here every day to help relieve the stress of modern life - with solid facts and thoughtful opinion along with large doses of humor and progressive brotherly love.
KY..............
...........
Report: US lacked technology to track separated families
By ASTRID GALVAN, Associated Press Nov. 27, 2019
Link:
https://www.houstonchronicle.com/news/texas/article/Report-US-lacked-technology-to-track-separated-14867320.php
(snips)
PHOENIX (AP) — The U.S. government separated thousands of families despite knowing it lacked the technology to document and track their whereabouts, according to a report released Wednesday by an internal government watchdog.

The problem resulted in some parents languishing in custody for weeks without knowing the location of their children.

The report by the Department of Homeland Security's Office of Inspector General found the agency lacked proper systems when Border Patrol agents took children from parents set to be criminally prosecuted for illegal entry.
Every politician, agent and official that participated in this crime against humanity should have to spend the entire rest of their lives making
direct amends
for this horrible action. That includes Miller and tRump.
KY.........
Email text from Americans United (AU):
Congratulations to AU's legal team led by Legal Director Richard Katskee! Today a federal court in California ruled in favor of AU's clients and became
the third court to block Trump's Denial of Care rule
from taking affect on Friday. The Denial of Care rule would allow health care providers to refuse to care for people based on their religious views. This means providers could refuse to care for LGBTQ patients, religious minorities, patients in interfaith relationships, patients who are pregnant outside of marriage and more. And the rule didn't just cover doctors and nurses. Housekeeping staff could refuse to clean rooms occupied by people they disagree with on religious grounds. Schedulers could refuse to schedule critical medical procedures. Admissions staff could refuse to process hospital admissions. Ambulance drivers could refuse transport.
AU's President and CEO, Rachel Laser, issued this statement: "Today, Judge Alsup threw out the Trump administration's Denial of Care Rule in its entirety. One after another, three judges across the country have now made it crystal clear that it was unlawful for the Trump administration to misuse religious freedom to justify harming patients. These decisions, coupled with Congress' introduction of the Put Patients First Act, should send an emphatic message to President Trump that no patient should ever be discriminated against or denied health care based on who they are, who they love or what they believe."
Congratulations to AU's plaintiffs, the County of Santa Clara, which runs an extensive health and hospital system that serves as a safety-net provider for the county's 1.9 million residents; the health providers Bradbury-Sullivan LGBT Community Center in Allentown, Pa., Center on Halsted in Chicago, Hartford GYN in Connecticut, Los Angeles LGBT Center, Mazzoni Center in Philadelphia, Trust Women Seattle and Whitman-Walker Health in Washington, D.C.; the associations AGLP, GLMA and Medical Students for Choice; and five doctors, on this important victory!
Read the Court's decision here:
https://www.au.org/sites/default/files/2019-11/District%20Court%20Order%20Santa%20Clara%20v.%20HHS%2011.19.19.pdf
This is typical of the Trump administration's work behind the scenes to destroy all American social progress of the last 70 or so years by any means they can immorally capture, while distracting us with their criminal enterprises.
It is pure evil to adulterate and abuse the meaning of the term "religious freedom" for raw political purposes.
Please excuse the lengthy post, but this news gave me an emotional boost today.......
Doctors warn of danger of 'feather duvet lung'
Medical team say people's unexplained breathlessness could be down to bedding dust
Nicola Davis
@NicolaKSDavis
Mon 18 Nov 2019 23.30 GMT
One of the report's authors said many cases of feather duvet lung could go undiagnosed
Link:
https://www.theguardian.com/science/2019/nov/18/doctors-warn-of-danger-of-feather-duvet-lung
(snip)
As winter approaches it might be tempting to curl up under a thick feather duvet, but experts have warned it might lead to more than just warm toes. Doctors have reported a case of "feather duvet lung" – a lung inflammation caused by breathing in dust from the feathers in bedding – and have called for medical professionals to be on the alert if patients turn up with unexplained breathlessness.
+++
The condition, they say, is a rare subgroup of "bird fancier's lung" – itself a form of hypersensitivity pneumonitis – which is caused by exposure to feathers and droppings. Other forms of hypersensitivity pneumonitis include "farmer's lung" , "bagpiper's lung", "paprika slicer's lung" and even "mummy-handler's lung", reflecting the wide range of activities that have been linked to breathing in substances that can cause serious lung inflammation.

"There are several hundred different types of hypersensitivity pneumonitis," said Dempsey. "For medical professionals it is really important to be nosy and take a meticulous history and ask people about exposures because there are lots of things people do that we don't always appreciate when we are sitting in a clinic or surgery."
Perhaps folks should think twice before ordering that comfy comforter as a gift for friends.
My big issue is more brain related, a clear case of contamination from tRump detritus every day.......
We're Losing Trump's Trade War
Despite Tariffs, the U.S. Trade Deficit Continues Rising
"Trump's tariffs are a tax on Americans, paid by companies who import goods and then either passed on to consumers or absorbed as reduced profits."
By David Cay Johnston, DCReport Editor-in-Chief
Link:
https://www.dcreport.org/2019/11/12/trade-deficit-up-were-losing-trumps-trade-war/
(snips)
Candidate Donald Trump railed against America's chronic trade deficits, vowing to eliminate them if he became president.

So, how's Trump doing? Awful. Trade deficits are growing on his watch. The overall trade deficit in September was 21% larger than during his first full month in office.

In 2016, under President Barack Obama, America imported $502.9 billion more in goods and services than it sold in exports.

In 2018, under Trump, that ballooned to $627.7 billion, an increase of $124.7 billion, and the deficit is on pace to run even deeper in 2019. For the nine months ending in September, the overall trade deficit was $481.3 billion, up $24.8 billion for the same period of 2018.
Sooo much winning - how in hell do we stand it?........
KY..............
Annual
Bird of the Year
election and award:
Link (with
beautiful bird photos
):
https://www.birdoftheyear.org.nz/
(sample)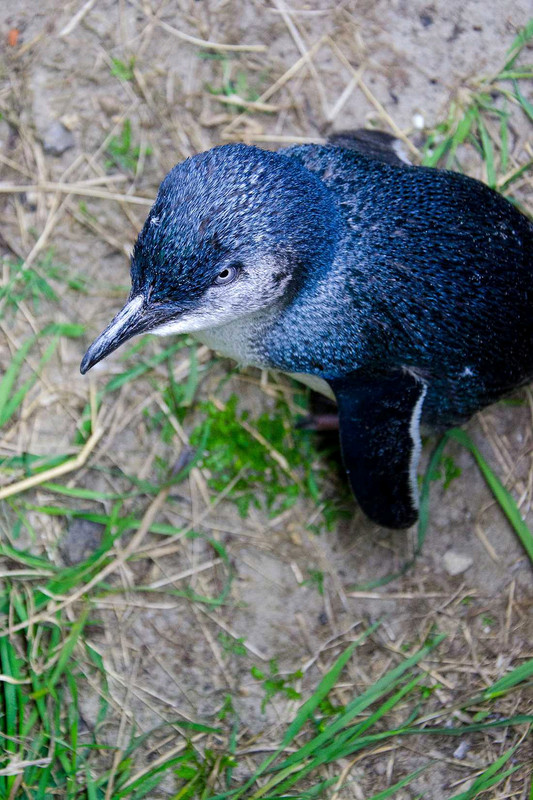 Kororā - Little Penguin

(snip)
New Zealand's birds are wonderful. It's difficult to pick just one favourite, so this year you can vote for up to five birds. Just rank your favourite birds from one to five.

Voting opens at 9am on Monday 28 October and closes at 5pm on Sunday 10 November.

Sadly, many of New Zealand's native birds are in crisis. Two thirds of our birds are threatened with extinction. Forest & Bird's Bird of the Year celebrates our unique birds and with each vote you help give them a voice.
Great Guardian article on the subject of the contest:
New Zealand's bird of the year: the most important election – aside from the real one
What started as innocuous good fun has evolved into a national obsession, complete with voter fraud, skulduggery and high passions
Link:
https://www.theguardian.com/environment/2019/nov/05/new-zealands-bird-of-the-year-2019-the-most-important-election-aside-from-the-real-one
(snip)
......Of course, by then – the 13th year of the competition – organisers knew to expect dodgy dealings in New Zealand's bird of the year poll.

If a nationwide vote to name a favourite native bird sounds like innocuous good fun – a creative means of celebrating unique, threatened fauna – you may be underestimating bird of the year. Coordinated by the Royal Forest & Bird Society, an environmental nongovernmental organisation, it is often described as the country's most important election – second only to, you know, the actual elections. Since 2017, too, it has had the same validation as two other Kiwi creations, pavlova and Russell Crowe: Australia has tried to pass it off as its own.
Heartbreaking to see so many of their birds seriously endangered........