Page: 1
Just reading posts
Just reading posts's Journal
Profile Information
Member since: Sat Jun 4, 2016, 06:00 AM
Number of posts: 688

Journal Archives
Source:
Chicago Tribune
At least 33 people have been shot in Chicago so far this Fourth of July weekend, most of them in traditionally violent neighborhoods on the South and West sides despite stepped-up police patrols in those areas.
Between Sunday afternoon and early Monday, 13 people were shot over 17 hours in the city. They included a 15-year-old boy shot in the foot, a 16-year-old hit in the elbow, a 17-year-old wounded in the thigh, and a woman hit in the chest by a bullet fired through the window of a home.
Many of those shootings occurred in Little Village, Roseland, Gresham, Lawndale, East Garfield Park and Englewood — neighborhoods with troubling rates of gun violence, according to data collected by the Tribune.
Last week, Chicago's top cop announced that thousands more law enforcement officers would hit the streets over the weekend, saying he was "sick and tired" of the violence plaguing the city. He made the announcement Friday after three people were killed and 21 more were wounded over 24 hours.
Read more:
http://www.chicagotribune.com/news/local/breaking/ct-chicago-july-4th-shootings-violence-20160703-story.html
Source:
USA Today
The House of Representatives shouted its way into recess last month with a battle over gun control that will resume this week as the chamber prepares to vote on a bill that Democrats call an empty gesture.
The fate of the legislation — which would create a process to prevent people on no-fly lists from buying guns — seems certain: It is going nowhere. A similar measure has already been defeated in the Senate.
What is uncertain is whether Democrats will again try to shut down the House to demand votes on other gun control proposals.
House Democrats led by civil rights icon Rep. John Lewis, D-Ga., staged a sit-in on the House floor June 22, saying they would not leave until Republicans scheduled a vote on gun control legislation. After a nearly 12-hour standoff, Speaker Paul Ryan, R-Wis., simply reconvened the House and called a vote on unrelated matters over the shouts of the Democratic protesters. Republicans ultimately voted to adjourn for the July Fourth holiday, and Democrats remained in the chamber for several hours to continue their appeal for a gun vote.
Read more:
http://www.usatoday.com/story/news/politics/2016/07/04/house-returns-resume-bitter-fight-over-gun-control-republicans-ryan-democrats/86669656/
BOYNTON BEACH (CBS12) — A Boynton Beach grandmother was home alone when three burglars entered her house. But what she did next may surprise you. "It was really scary. It was a very, very scary situation. 'Cause I had no idea what they were gonna do," said the woman, whom we agreed not to identify. About 12:45 Tuesday afternoon she went to the peephole and saw a man was at her front door, banging on the door, ringing the bell.
He left but came back a few minutes later, with a T-shirt over his head, and putting on gloves, so she ran to the bedroom to get a handgun from the dresser beside her bed. "I heard something, glass breaking and then I was freaking out," she recalled. Three men, three burglars---- were in her living room, and she was in the bedroom standing just inside the doorway ready to shoot them if they entered. "I decided that it's either them or me, you know. I had to save my life. One of them came to the door here and opened it and when he did I had the gun in his face," she said. She had a gun and she was ready to use it.
"I raised the gun and pointed it at his face," she explained. She says the three guys were mortified and shocked to see a woman aiming a gun at them. "I called them bastards and I said I'm gonna kill you! All three of them started running for the door," she told CBS12. You can still see the damage they did to the front door, where they broke it down when they came in. She says they were in the house for maybe 30 seconds. They didn't steal anything.
"I think it was the worst day of my life. It was the most horrifying day of my life. I couldn't believe it, I thought it was a bad nightmare," she said. She's just relieved she had a handgun to defend herself with. "I think it's wonderful. I think it's the only thing that saved me. It was my Godsend. I don't know what I would've done without it. I've never experienced anything like that before in my life. It was horrible, to have three strangers in your house and ransacking it. I was very angry. It's like, how dare you do this! You know. This is our home," the woman said.
Because of this incident she's telling her neighbors if they don't have a gun, they should think about getting one. She and her husband also intend to get a bigger, more powerful handgun to replace the .22 that she now has. She plans to go to a shooting range and practice to make sure she's ready if it happens again.
Link
....a 10-year-old was raped in an Austrian swimming pool by an Iraqi migrant. The asylum seeker, who had not had sex for four months, said it was a medical emergency when he raped the boy in a swimming pool changing room. The 20-year-old, who had been taken to the Austrian swimming pool Theresienbad, pictured, to be taught how to integrate into his now community, was found guilty of serious sexual assault and rape of a minor and was sentenced to six years in jail.
The man, who had fled to Austria through the Balkan refugee route in September last year, hung his head in shame before he was sentenced for the horrific crime which left his victim suffering post-traumatic stress. The migrant had been taken to the pool in December 2015 with a 15-year-old helper and translator who was helping him to integrate into life in the Austrian capital Vienna. But while there, the 20-year-old man dragged a boy, 10, into the change rooms and attacked him. The boy, known only as Goran, was also the son of an immigrant family from the Balkans who grew up in Austria with his Serbian mother.
The horrific attack was so violent that the young boy needed to be treated at the Children's Hospital, and is now plagued by massive post-traumatic stress disorder. Goran went to a lifeguard in tears after the attack but the Iraqi involved in the attack was so brazen that he had not even left the swimming pool. Instead, he was jumping off a three-metre diving board when police arrived to arrest him. He told police the attack was a sexual emergency as he had not had sex for four months after leaving his wife behind and coming to Austria as an asylum seeker in September 2015.
Court Psychiatrist Gabriele Woergotter confirmed the 10-year-old victim now suffers frequent panic attacks. The courts awarded the victim 4,730 EUR (3,750 GBP) compensation. The man faced up to 15-years in prison under Austrian law - but was given a lower sentence apparently due to his young age, and previous good behaviour. The court also took into account the man's 'adverse living conditions' when deciding on the sentence. Refugee officials have pleaded for calm after the publication of the Duesseldorf memo and have stressed they are making more efforts to educate young immigrant men about the rights of women and children in Germany.
Link
Fifty or so gun activists gathered Saturday morning at Sacramento's Cesar Chavez Plaza to protest Gov. Jerry Brown's signing of six gun control measures they said would turn "law-abiding citizens into criminals." One bill Brown signed will expand the state's assault weapons ban to include "bullet-button" rifles, which allow users to quickly dislodge a magazine of ammunition by pressing a button. Others prohibit citizens from possessing magazines that hold more than 10 rounds and require background checks on people purchasing ammunition. These stricter measures come as pressure grows nationwide to do something to rein in the proliferation of guns following a string of mass shootings, including one last month that left 49 people dead in a Florida gay nightclub.
Protesters from cities across Northern California gathered at the intersection of 10th and J streets 9 a.m. Saturday. They hoisted a banner that listed the bills signed by Brown, next to the phrase: "WE WILL NOT COMPLY." Cory Gwathney, a co-organizer of the protest who lives in Chico, said the rally had been in the works for over two months. The initial goal was to prevent Brown from signing the bills, Gwathney said, but because the laws were signed prior to the protest, the activists changed their message to one of noncompliance. "He passed them yesterday before we could get out here, which sort of threw a wrench in the plans," said Gwathney. "Now we're just trying to send the message that we're probably not going to comply. They're infringing on our rights, and we're not going to stand for that."
Gwathney said it's unlikely people will actually register their bullet-button rifles or turn in their large-capacity magazines as the laws require. People have invested thousands of dollars in bullet-button rifles, ammunition and magazines, Gwathney said, joking that his guns are his 401(k) plan. Protester Steve Sarvar traveled from San Jose to participate in the rally. Sarver is a member of American Patriot the III% California, a group that takes its name from the claim that only 3 percent of colonists during the American Revolution fought on the battlefield against Great Britain. Due to last Sunday's neo-Nazi protest at the Capitol, at which 10 people were injured, including five who were stabbed, law enforcement kept a close watch on Saturday's event, Sarvar said, but there was no violence.
"I went over to the officers and asked them, 'Do we look like criminals to you?' And they all said that no, we didn't," Sarvar said. "But then I told them that this legislation that's just been signed into law is going to turn ordinary people into criminals." Jorge Riley, president of the Sacramento chapter of the conservative California Republic Assembly organization, also traveled from Chico for the protest. He said people need to work through the legal system to try to stop the new laws. "There needs to be a complaint filed with an injunction because these are an unconstitutional set of laws that have been passed, and they shouldn't be able to become laws until they are reviewed by a judge," Riley said. "It's unconstitutional, that's why we have judicial review."
Complete article
After recent mass shootings in San Bernardino, California, and Orlando, Florida, members of both parties in Congress have called for "no fly, no buy" — a bill that would allow the federal government to bar people on the Transportation Security Administration's no-fly list from purchasing guns. To supporters, the proposal seems straightforward: If you're a "known or suspected terrorist" who's too dangerous to board a plane, you're too dangerous to buy a gun. To critics, it's a reminder of the problems with the no-fly list itself. be Mashal, a 36-year-old veteran and dog trainer, knows those problems all too well.
You're on the no-fly list," the woman at the kiosk told me. It was a Wednesday, six years ago, at Midway Airport in Chicago. I was traveling to Spokane, Washington, for my job as a dog trainer. I had absolutely no idea how I could have ended up on the no-fly list. I waited for Ashton Kutcher to come out and tell me I was being Punk'd. No luck. At least 30 federal agents swarmed me. They didn't handcuff or manhandle me, but the sheer number of them was intimidating. I was in a state of shock, looking at them confusedly. Their expressions turned puzzled, too, when they noticed my Marine Corps shirt.
But being a veteran didn't save me: The mob of agents led me into a private room for questioning. I was certain there was a mix-up, and I wanted answers. How did this happen? When could I fly again? How did I end up on the list? "Even if I knew the answers, I wouldn't be able to tell you them," said one FBI agent. The questioning at the airport was brief, and they eventually let me go. But it was just the beginning of a hellacious four years of anxiety and uncertainty.
I drove home to tell my wife the awful news that I'd been added to the no-fly list for some reason unknown to me. A mere 15 minutes later, I got a phone call. It was two federal agents asking if they could stop by my house to talk. I couldn't really refuse. That's when the real interrogation began. Who is your mother? Who is your father? What's your religion? My mom is Italian, and my father is Palestinian. You can guess which parent they were more concerned with. I'm Muslim, which opened up a whole other line of invasive questions, including whether I used social media, whether I communicated with people outside of the United States frequently, and the number of bank accounts I had. What only lasted for an hour and a half felt like an eternity.
For a few months, there was radio silence from law enforcement. Then, out of the blue, I got a random phone call again from the same two agents. They invited me to Chicago for lunch and to answer any questions I had. The only question I had was if I was off the list. The conversation seemed hopeful, so I agreed to meet them. They met me in their hotel lobby and invited me upstairs. There was no lunch. "We can get you off the list today," they said. One caveat — they could get me off the list if I agreed to become an informant at mosques.
Complete article
into effect a few days ago.


BOULDER, Colo. (AP) -- Boulder residents will no longer be able to cool off with an ice cream cone by the pool because the city has discontinued the sweet treat as a vending option at all Parks and Recreation facilities. The city dropped ice cream cones, bars and sandwiches in an effort to cut down on sugary, unhealthy snacks, The Daily Camera reported. City-run facilities can only sell treats that satisfy a series of nutritional standards, meaning chips and other junk food also left snack stands this year.
The change hasn't been welcomed by everyone. Andrew Gafford, 8, said he has always spent his summers enjoying a Neapolitan ice cream sandwich at the pool. "I'll get over it, but then it brings back a lot of memories of me getting ice cream sandwiches," Andrew said. "Like this one time, when I was eating one very slowly, so it melted all over me. It makes me feel sad to say."
In a letter to the editor, which he wrote with the editorial guidance of an adult and his 6-year-old brother Thomas, Andrew said new restrictions take away teachable moments. "Boulder can't tell the parents what to do," he said, "because the parents are doing a good job of helping us grow up and telling us the rules. I say leave it up to the moms, the grandparents, the great-grandparents."
Boulder District Services Manager Alison Rhodes said the aim is to give kids healthy choices, but that all facilities allow outside food to be brought in - including ice cream.
http://hosted.ap.org/dynamic/stories/U/US_ICE_CREAM_BAN_COOL-?SITE=AP&SECTION=HOME&TEMPLATE=DEFAULT&CTIME=2016-07-01-14-55-46
I scream.
You scream.
We all scream.
For ice cream!
Spoilsports.
HARRISBURG, Pa. (WHTM) – Confederate flags and the soldiers carrying them came to Gettysburg on July 1-3, 1863. The history books tell us it was the bloodiest battle of the Civil War. Historians tell us it was the turning point for the North. Every year, participants from around country flock to Gettysburg to reenact the famous battle. There's the blue. And the gray. The flag of the North. And the South, which has state Rep. Vanessa Lowery Brown (D-Philadelphia) fighting mad.
"I've been to a lot of reenacting and the reenacting does not tell the stories accurately," Brown said.
Brown recently protested a Confederate flag in a display at the state Capitol and Gov. Tom Wolf ordered it removed. Brown says it's a symbol of hatred and murder which wasn't mentioned in the Capitol display and likely won't be on the battlefield reenactment. "If they're not going to tell the story properly, then they should not be displayed and they should not be reenacted unless they're going to tell the truth," she said.
"Well, I'm not so sure that trying to rewrite history is where we want to go," state Rep. Dan Moul (R-Adams) said. "We're going to have people there reenacting Confederate soldiers as well as Union soldiers. Are we going to take all the Confederate soldiers off the battlefield and just have the reenactment one sided? Of course not, that would be crazy. Rewriting history is crazy."
Moul represents Gettysburg and concedes bad things happened under that flag but happen they did.
"It was still America's history and to deny history at this point is something we shouldn't do," he said. But Brown insists that to deny the hurtful nature of that flag is also something we shouldn't do. "I've been to many reenactments and there hasn't been many that have really told the story about the oppression of the Confederate flag. I've not seen it and I enjoy those reenactments," she said.
http://abc27.com/2016/06/30/pa-lawmaker-questions-use-of-confederate-flags-in-battle-reenactments/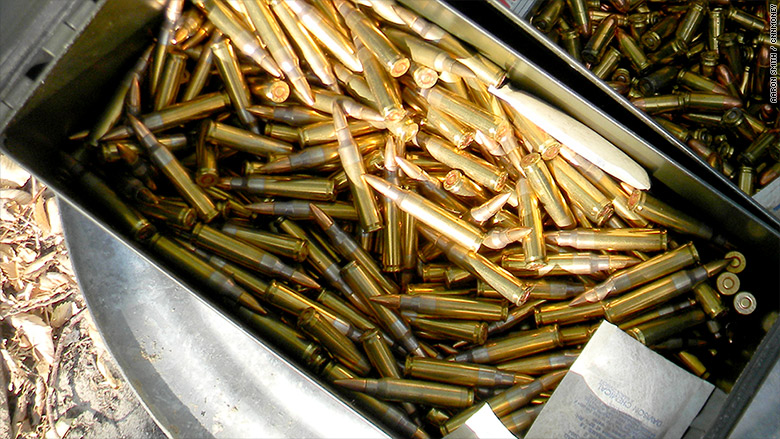 Ammunition imports rose 48.9% in the 12 months ended May 2016, according to a report from Panjiva, a research company that tracks global trade by compiling data from bills of lading. Panjiva research analyst Chris Rogers, who is based in London, said the top countries of origin were Italy, Peru, Serbia, South Korea and Spain, in that order. "What's surprising is how diverse the production base actually is," he said. "It's actually a global business."
Panjiva said the top exporter was an Italian ammunition company called Fiocchi Munizioni, based near Milan. The second biggest exporter to the U.S. was a Peruvian ammunition manufacturer called Industrial Surquillo, based in Lima. The third, Prvi Partizan, is Serbian. Italy, home to the gun maker Beretta, has a thriving gun industry. Of the top 10 companies exporting ammunition to the U.S., six of them were Italian.
The Panjiva report on ammo imports only counts shipping. It does not include any ammo trucked into the country. The increase in bullet imports is being driven by Americans' desire for guns, which has increased dramatically along with a relentless series of mass shootings and an ongoing push for more gun control. "Firearms sales are very healthy and ranges are reporting they are busier than ever," said Michael Bazinet, spokesman for the National Shooting Sports Foundation, the gun industry group. "So, demand for ammunition is brisk."
The surge in gun purchases started in 2012, with the mass shootings at a movie theater in Aurora, Colorado, and at Sandy Hook Elementary in Newtown, Connecticut. Since then, background checks conducted by the Federal Bureau of Investigation have hit record levels as lawmakers in some states pass more restrictive gun control laws. Gun owners and retailers ran into ammo shortages in the months following the Newtown massacre. The .223 ammo used in assault rifles and the once-ubiquitous .22 ammo popular with target shooting, or plinking, became particularly hard to find. But the imports seem to have helped alleviate the shortage. "Ammunition shortages at this point are on a spot basis, not national," said Bazinet, whose organization is based in Newtown.
Link
This story can't be right. I keep hearing that fewer people than ever own guns.