Welcome to DU!
The truly grassroots left-of-center political community where regular people, not algorithms, drive the discussions and set the standards.
Join the community:
Create a free account
Support DU (and get rid of ads!):
Become a Star Member
grossproffit
grossproffit's Journal

grossproffit's Journal

August 18, 2018

The Labour Party has suspended councillor and former MP Jim Sheridan after an outburst on Facebook over the anti-Semitism row.

The 65-year-old, who has not commented since his social media rant, had written:

"For all my adult life I have had the utmost respect and empathy for the Jewish community and their historic suffering. No longer due to what they and their Blairite plotters are doing to my party and the long-suffering people of Britain who need a radical Labour government."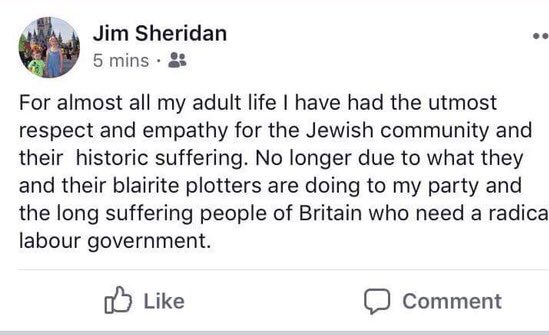 The Facebook post has since been removed.

https://news.sky.com/story/labour-suspends-councillor-jim-sheridan-after-anti-semitism-rant-11475559
Profile Information
Gender: Do not display
Current location: California
Member since: Wed Aug 20, 2014, 06:31 PM
Number of posts: 5,591