Page: 1
sheshe2
sheshe2's Journal
Profile Information
Member since: Sat Oct 13, 2012, 08:33 PM
Number of posts: 76,704

Journal Archives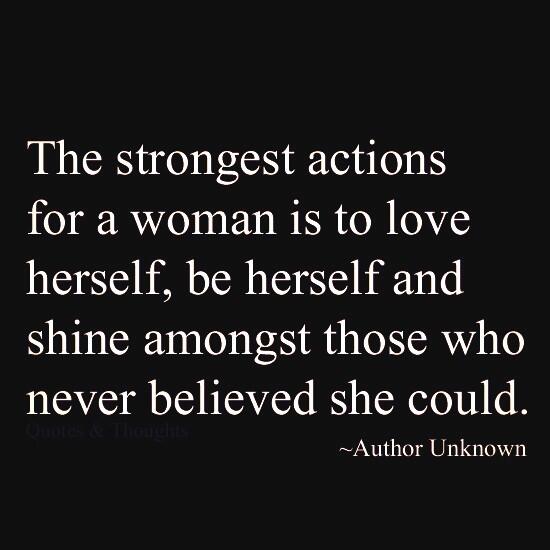 We come in many shapes and sizes~
Our color may differ yet we stand as One Woman~
Two feet firmly planted...will be joined with others~
Now we are many voices standing for our rights~
Together we sing and our voices rise in harmony ~
We are Strong. We are invincible. We are Women~
And~
We are Women- Watch us Soar~
Truth!~
I Am Woman
I am woman, hear me roar
In numbers too big to ignore
And I know too much to go back an' pretend
'Cause I've heard it all before
And I've been down there on the floor
No one's ever gonna keep me down again
Oh yes, I am wise
But it's wisdom born of pain
Yes, I've paid the price
But look how much I gained
If I have to, I can do anything
I am strong
(Strong)
I am invincible
(Invincible)
I am woman
You can bend but never break me
'Cause it only serves to make me
More determined to achieve my final goal
And I come back even stronger
Not a novice any longer
'Cause you've deepened the conviction in my soul
Oh yes, I am wise
But it's wisdom born of pain
Yes, I've paid the price
But look how much I gained
If I have to, I can do anything
I am strong
(Strong)
I am invincible
(Invincible)
I am woman
I am woman watch me grow
See me standing toe to toe
As I spread my lovin' arms across the land
But I'm still an embryo
With a long, long way to go
Until I make my brother understand
Oh yes, I am wise
But it's wisdom born of pain
Yes, I've paid the price
But look how much I gained
If I have to, I can face anything
I am strong
(Strong)
I am invincible
(Invincible)
I am woman
I am woman
I am invincible
I am strong
I am woman
I am invincible
I am strong
I am woman
Read more: Helen Reddy - I Am Woman Lyrics | MetroLyrics
This is for seabeyond and bainesbane who seem to be IMHO alert stalked here. And for the loss of redqueen, you too Whisp. Stop silencing our voices. There is no need to talk over us. There is no need to shut us up or shut us down. Our voices and our goals are for our future, our childrens future. Why are you so afraid of us?
This is for every Woman on DU and beyond. This is for all the men that love us and fight for us every damn day. We are Women and we will not sit down and shut up. Some try to make us. Funny thing is, they have no clue who they are dealing with.
What would you do if you were old, disabled or ill - and the person feeding you put down the spoon and said that you are going to hell unless you change your sexual preference?
Sound absurd?
Social workers around the world say it's happening every day.
Gen Silent is the critically-acclaimed documentary from filmmaker Stu Maddux
(Bob and Jack's 52-Year Adventure,
Trip to Hell and Back) that asks six LGBT seniors if they will hide their friends, their spouses- their entire lives in order to survive in the care system.
Their surprising decisions are captured through intimate access to their day-to-day lives over the course of a year. It puts a face on what experts in the film call an epidemic: gay, lesbian, bisexual or transgender older people so afraid of discrimination by caregivers or bullying by other seniors that many simply go back into the closet.
Many who won the first civil rights victories for generations to come are now dying prematurely because they are reluctant to ask for help and have too few friends or family to care for them.
snip
As we watch the challenges that these men and women face, we are offered new hope as each person crosses paths with impassioned people trying to change LGBT aging for the better.
http://stumaddux.com/gen_silent_about.html
[link:
http://stumaddux.com/gen_silent_about.html
|Read More
]
How about Republicans respect the president and the process by which he was elected? That appears to be too much to ask for, apparently -LS
From Snarky Democrat
[url=
http://postimage.org/
][img]
[/img][/url]
https://www.facebook.com/ILIWIWUITMABOIP/photos/a.149730225061403.24294.125955227438903/842459922455093/?type=1&theater
Yes, I found this posted about Republicans....so why are some on DU doing the same? You don't like him, that's fine, you disagree with him, that is fine too. However on a Democratic board the disrespect and name calling is not okay for our duly elected Democratic president. What is wrong with people?

Have we lost our way? Women and LGBT and AA are bashed and ridiculed here. They are being chased off this damn site. These groups are huge voting blocks for Democrats, why are they being chased off a Democratic board?

Is this what we have become? Are we the party of no tolerance. Have we become the party of me or do we still believe in blessed equality for each and every person, no matter their color or their sexual orientation or their gender.

Goddess help us, I thought the Republicans and the TeaParty were the antiquated ones in their death throes. Here I see a Democratic party that wishes to divide and conquer. That is no way to win, we will only make change together, united as one. It is not about you, it is not about me, it is about us.
We can do this, yet we have to do it together.
GOTV 2014
To Obama Haters: The Actual Evidence of Obama's Achievements Shows You're on the Wrong Side of History— Again
November 19, 2013 by Frank Schaeffer
There are Obama haters aplenty, have been from Day One: Snooty left wingers have offered advice he should have, could have, would have followed to success if the president had just listened to his white betters in the media. Hate-filled right wing bigots have jostled to be the loudest claiming Obama isn't a "real American," not one of us, from somewhere else, a liar, a communist, a Muslim, the anti-Christ… and that's just a start.
Economists have lined up on all sides to predict his policies would fail, that we were headed for depression, world economic collapse, and higher unemployment.
Hawks told us the president was giving in to terror, maybe he was a terrorist himself. Doves told us he's a mass murderer, using drones to target the innocent.
snip
The Religious Right also tells us that the president is a baby-killer, wants to destroy marriage, hates families, and is in league with a global gay conspiracy to coddle pedophiles. Speaking of pedophiles, the Roman Catholic bishops – when not busy with settling lawsuits on behalf of abused children their priests raped – have told us that the president is anti-religion, anti-Catholic and anti-religious freedom, all because he hasn't kowtowed to them and insisted that women are given full health coverage, including access to contraception.
The president has only been forced to tell one untruth, and it's not that everyone could keep their coverage irrespective of how bad their so-called insurance was. That was a misstatement.
It's this: He's never been able to say that the bitterness of his opponents stems from the fact he's black. Not everyone who opposes the president is a racist. But race embarrasses us. We try not to mention it. We pretend we're a less race-divided country than we are.
Read more:
http://www.patheos.com/blogs/frankschaeffer/2013/11/to-obama-haters-the-actual-evidence-of-obamas-achievements-shows-youre-on-the-wrong-side-of-history-again/#ixzz3CxEDxumA
That goes for Tavis Smiley, Cornell West:
Cornel West, Tavis Smiley and the Cattiness of Slandering President Obama
As a black academic at a fine institution of higher learning, I have constantly tried to overlook the repeatedly blatant verbal shots thrown at President Barack Obama. Many Republican politicians and conservative media critics have taken to attacking almost everything about Obama from his ethnicity, scholarship and ethics to his wife and children. And while many of these remarks can cross racially insensitive boundaries, there has been a trend of spotlighting black scholars who criticize the president and this often creates buzz. But more often than not, the two black intellectuals who stand to grasp the most limelight for taking spiteful jabs at President Obama are Cornel West and Tavis Smiley.
http://www.huffingtonpost.com/ernest-owens/cornel-west-tavis-smiley-_1_b_3649934.html
Now Michael Moore who claims Obama will only be known for being President while Black. Yes a lot of Obama hate out there, nothing the black man does is ever good enough. This is what is coming from the left. No need to say what the right is saying, it's just as bad, if not worse.
Today in Estonia, I believe President Obama was speaking to all of us.
In the face of violence that seems intractable and suffering that is so senseless, it is easy to grow cynical and I think tempting to give in to the notion that peace and security may be beyond our grasp. But I say to all of you here today, especially the young people, do not give in to that cynicism. Do not lose the idealism and optimism that is the root of all great change. Don't ever lose the faith that says if we want it, if we are willing to work for it, if we stand together, the future can be different. Tomorrow can be better...
snip
Dignity will win, because every human being is born equal, with free will and inalienable rights, and any regime or system of government that tries to deny these rights will ultimately fail and countries that uphold them will only grow stronger.

Justice will win, because might does not make right. And the only path to lasting peace is when people know that their dignity will be respected and that their rights will be upheld. And citizens, like nations, will never settle for a world where the big are allowed to bully the small. Sooner or later, they fight back.
snip
And freedom will win – not because it's inevitable, not because it is ordained, but because these basic human yearnings for dignity and justice and democracy do not go away. They can be suppressed, at times they can be silenced, but they burn in every human heart, in a place where no regime can ever reach, a light that no army can ever extinguish. And so long as free peoples summon the confidence and the courage and the will to defend the values that we cherish, then freedom will always be stronger and our ideas will always prevail, no matter what.
READ MORE:
http://immasmartypants.blogspot.com/2014/09/the-yearnings-that-burn-in-every-human.html
So many lament the return of Howard Deans '50 State Strategy', yet seem clueless to what President Obama and his team did.
From one of the links:
http://www.huffingtonpost.com/zack-exley/the-new-organizers-part-1_b_132782.html
The New Organizers, What's really behind Obama's ground game
Inside the Obama campaign, almost without anyone noticing, an insurgent generation of organizers has built the Progressive movement a brand new and potentially durable people's organization
, in a dozen states, rooted at the neighborhood level.
The "New Organizers" have succeeded in building what many netroots-oriented campaigners have been dreaming about for a decade.
Other recent attempts have failed because they were either so "top-down" and/or poorly-managed that they choked volunteer leadership and enthusiasm; or because they were so dogmatically fixated on pure peer-to-peer or "bottom-up" organizing that they rejected basic management, accountability and planning.
The architects and builders of the Obama field campaign, on the other hand, have undogmatically mixed timeless traditions and discipline of good organizing with new technologies of decentralization and self-organization
.
Neighborhood team leaderWin or lose, "The New Organizers" have already transformed thousands of communities—and revolutionized the way organizing itself will be understood and practiced for at least the next generation. Obama must continue to feed and lead the organization they have built—either as president or in opposition. If he doesn't, then the broader progressive movement needs to figure out how to pick this up, keep it going and spread it to all 50 states.
For any of that to happen, the incredible organizing that has taken place this year inside Obama's campaign—and also here and there in Clinton's—needs to be thoroughly understood and celebrated. Toward that end, here are glimpses from several days of observations and interviews in Central and Southwest Ohio. This article focuses on the field program's innovative "neighborhood team" structure and the philosophy of volunteer management underlying it that is best summarized by the field campaign's ubiquitous motto:
"Respect. Empower. Include."
snip
Lot's more~
**************************
I know, this last link is from 2008. Yet it continued for 2012.
Towards the end, when we were approaching the 2008 elections, I knew Obama was going to win. Yes, some will ridicule me for that. I have often been called an Obamabot here. Yet I had been paying attention. I read a lot and followed closely. You could feel it, you could here it, there was a ground swell that was happening.
Our soon to be President in 2008, The Community Organizer helped build a team of 'New Organizers.' As the article states, we must continue with this.
"Respect. Empower. Include."
And this~
And the only path to lasting peace is when people know that their dignity will be respected and that their rights will be upheld. And citizens, like nations, will never settle for a world where the big are allowed to bully the small. Sooner or later, they fight back.
Some try to say we can never win Congress in 2014 and will lose the Senate. That is correct, if you do not vote, that will happen. Yet for those who have had their rights taken away it is past time to stand up and make your voice heard. It is time to fight back.
I am a woman and I sure as hell am going to vote for my rights. The GOP tried to take away our dignity and I am saying no.
One last thing and I will stop boring you. I have another feeling right now, something that will make a change in 2014. Ferguson. That was a tipping point, a catalyst and a shot that was heard around the world. They tried to take away their dignity, not happening. They are going to vote and it is not stopping with Ferguson.
"Respect. Empower. Include."
****************
http://newsone.com/3050009/can-voting-empower-ferguson-residents/
And citizens, like nations, will never settle for a world where the big are allowed to bully the small. Sooner or later, they fight back.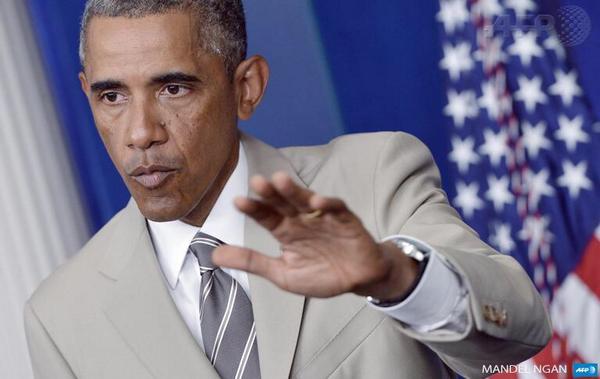 :large
Col. Morris Davis @ColMorrisDavis
Follow
I'll take the "Audacity of Taupe" over the "Mendacity of Dopes" (aka #RWNJs) any day.
5:37 PM - 30 Aug 2014 Gainesville, VA, United States
Comments @
http://theobamadiary.com/2014/08/30/first-family/
Posted on August 31, 2014 by SouthernGirl2
http://3chicspolitico.com/2014/08/31/photo-gallery-national-march-on-ferguson/
Their Demands

Call to Action: National March on Ferguson
Justice for Michael Brown Leadership Coalition Demands
1.We demand that Darren Wilson, the officer involved in the shooting death of Michael Brown be immediately fired from Ferguson police department instead of remaining on paid leave. We demand Darren Wilson be charged and vigorously prosecuted for the murder of Michael Brown.

2.We demand that Missouri Governor, Jay Nixon, under the emergency law clause he issued immediately remove St. Louis County Prosecutor Robert P. McCulloch from the case involving Michael Brown.

3.We call upon the United States Federal Attorney General, Eric Holder and Missouri state Attorney General Chris Koster to investigate the policies and practices of the local municipalities in Saint Louis City, Saint Louis County and other municipalities throughout the state of Missouri that have demonstrated a legacy of racial profiling. Accordingly, we call upon those officials to develop penalties/policies to put an end to those practices.

4.We call for the Missouri State Auditor Tom Schweich to do an audit of the funds of the local municipalities that have demonstrated a history of racial profiling. We demand accountability of how much revenue is being generated from traffic violations and how these funds are being spent.
snip
read More:
http://3chicspolitico.com/2014/08/30/call-to-action-national-march-on-ferguson/