Page: 1
sheshe2
sheshe2's Journal
Profile Information
Member since: Sat Oct 13, 2012, 08:33 PM
Number of posts: 80,796

Journal Archives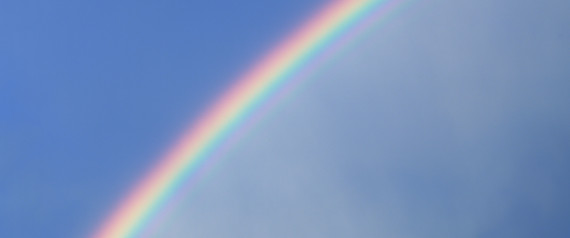 LGBT.
These letters stand for "lesbian, gay, bisexual, and transgender." They also stand for "love, grace, beauty, and truth." The challenges of, and the solutions to, creating a different world are intertwined in these two representations of these four letters. Peace, hope, faith, and dignity are the winners and losers, depending on whether or not ignorance, prejudice, closed-mindedness, and fear take part in the battle.
Love is the game changer. It fills the human heart with the joy that could and should belong to all people.
I have heard it said that a sorrow shared is a sorrow halved, and that a joy shared is a joy doubled. And I have seen people professing proudly and publicly in the name of God that two lesbian women are not entitled to the same kind of joy that is freely available to a man and a woman. It is the very essence of hate that two committed human beings should not be allowed to proclaim their love to their families and friends, to their neighbors and coworkers, to their communities, and to God for the petty reason that they are of the same sex.
Grace is the unspoken, moment-by-moment lifetime that takes place throughout our land when two gay men are not allowed to proclaim their love while walking in a society that feasts on the same joy they are denied.
It is like sitting in a restaurant, starving to death, and watching the other patrons devour a seven-course meal. The Merriam-Webster online dictionary includes this definition of "grace": "a controlled, polite, and pleasant way of behaving." This is the perfect analogy for the way the LGBT persons of the world are asked to face discrimination. Society essentially says to us, "You starve while I feast, and please be controlled, polite, and pleasant about it." We are asked to demonstrate a saint-like amount of grace on a daily basis.
"Beauty" is the spot-on synonym for "bisexual." Often the most misunderstood part of the "LGBT" acronym, bisexuality is typically defined as sexual attraction toward both males and females.
This description often inappropriately conflates bisexuality with infidelity, promiscuity, and noncommitment. The beauty is lost in the description and never allowed to shine. Love can sometimes transcend gender. It is love in its purest form. It is a love for a human being that is not contingent on that person's gender. Imagine looking at a rainbow and saying, "I love the rainbow because it contains the color blue," or, "I love the rainbow because it contains the color red." Now imagine looking at the rainbow and saying, "I love it not because of the colors it contains but because of the message it sends to the world."
"Truth" becomes the definition of "transgender" when a person stops pretending to be someone they are not.
I did not transition. I transitioned the way I present myself to you, and I transitioned your understanding of who I am, but I am the same woman I have always been. What I did was begin telling you the truth about me. And in the process, I bloomed like a flower finally allowed to live in the light.
Read More:
http://www.huffingtonpost.com/stephanie-mott/lgbt-what-does-it-really-mean_b_3971192.html
This is so beautifully written, so moving. In the end all of us are the same. Under the sun and the stars and the moon, we are all the same. We are all equal. No one will ever make me believe otherwise. In the end it's all about what is in our hearts.
And in the end, the love you take
Is equal to the love you make
~ The Beatles
John Howard Griffin gave readers an unflinching view of the Jim Crow South. How has his book held up?
By Bruce Watson
Smithsonian Magazine
John Howard Griffin, left in New Orleans in 1959, asked what "adjustments" a white man would have to make if he were black. (Don Rutledge)
John Howard Griffin had embarked on a journey unlike any other. Many black authors had written about the hardship of living in the Jim Crow South. A few white writers had argued for integration. But Griffin, a novelist of extraordinary empathy rooted in his Catholic faith, had devised a daring experiment. To comprehend the lives of black people, he had darkened his skin to become black. As the civil rights movement tested various forms of civil disobedience, Griffin began a human odyssey through the South, from New Orleans to Atlanta.
snip
"Black Like Me disabused the idea that minorities were acting out of paranoia," says Gerald Early, a black scholar at Washington University and editor of Lure and Loathing: Essays on Race, Identity, and the Ambivalence of Assimilation. "There was this idea that black people said certain things about racism, and one rather expected them to say these things. Griffin revealed that what they were saying was true. It took someone from outside coming in to do that. And what he went through gave the book a remarkable sincerity."
snip
Across the South in the summer of 1959, drinking fountains, restaurants and lunch counters still carried signs reading, "Whites Only." Most Americans saw civil rights as a "Southern problem," but Griffin's theological studies had convinced him that racism was a human problem. "If a white man became a Negro in the Deep South," he wrote on the first page of Black Like Me, "what adjustments would he have to make?" Haunted by the idea, Griffin decided to cross the divide. "The only way I could see to bridge the gap between us," he would write, "was to become a Negro."
snip
As the civil rights movement accelerated, Griffin gave more than a thousand lectures and befriended black spokesmen ranging from Dick Gregory to Martin Luther King Jr. Notorious throughout the South, he was trailed by cops and targeted by Ku Klux Klansmen, who brutally beat him one night on a dark road in 1964, leaving him for dead. By the late 1960s, however, the civil rights movement and rioting in Northern cities highlighted the national scale of racial injustice and overshadowed Griffin's experiment in the South.
Black Like Me, said activist Stokely Carmichael (Kwame Ture), "is an excellent book—for whites." Griffin agreed; he eventually curtailed his lecturing on the book, finding it "absurd for a white man to presume to speak for black people when they have superlative voices of their own."
Read more:
http://www.smithsonianmag.com/arts-culture/black-like-me-50-years-later-74543463/#ixzz2ulJcEouv
Count 1 – Murder One – Mistrial. Can be retried.
Count 2 – 2nd Degree Attempted Murder – Guilty – 20 years minimum sentence.
Count 3 - 2nd Degree Attempted Murder – Guilty - 20 years minimum sentence.
Count 4 - 2nd Degree Attempted Murder – Guilty - 20 years minimum sentence.
Count 5 - Deadly Missile charge carries a minimum penalty of 15 years.
Michael Dunn is 47 years old. This is in essence a life sentence.
Ronald Davis and Lucia McBath
Dowels show the trajectory of bullets that were fired during the shooting incident involving Michael Dunn and Jordan Davis JSO
http://theobamacrat.com/
About
the farmer's market at your door.
Description
fresh, local, organic food delivered weekly. anywhere in the pioneer valley and now BOSTON!
General Information
Our mission is to support local farms and producers, to help their products reach consumers, and to make local, healthy, delicious food as accessible as possible to a wide range of consumers.
Valley Green Feast has been a women owned business since 2008 and has been organized as a worker owned co-operative since 2010. That means that everyone that works for Valley Green Feast owns an equal share in the company. We make decisions by consensus and all have unique skills and areas of expertise to offer the co-op.
Our partners at Boston Collective Delivery bringing fresh flowers to some lovebirds today. We them!
Even though there is ice and snow everywhere we can't help but feel the warm fuzzies for some of today's deliveries. Happy Valentine's Day! #deliveredfresh
Happy Valentine's Day! Hope your day is filled with so much lovin'!
#Boston orders due into our website by noon today! Local, organic produce, meat, cheese, yogurt, baked goods and so much more delivered right to your door…even in a blizzard!
www.valleygreenfeast.coop
We made it through the wilderness, somehow we made through! What a wild, snowy day yesterday was but all of our orders made it safely from Western, MA to Boston and then to homes, tables, and bellies!
Grateful for our awesome partners at Boston Collective Delivery for braving the storm on their bikes!
https://www.facebook.com/ValleyGreenFeastCollective
The Tacoma Art Museum
Photographic Proof of Contemporary Indians:
Matika Wilbur's Project 562
[url=
http://postimage.org/
][img]
[/img][/url]
Washington photographer Matika Wilbur, a member of the Swinomish and Tulalip tribes, showcases her work-in-progress, a new collection of images of contemporary American Indians. Her goal is to photograph members of all 562 federally-recognized tribes in the United States. This artistic and spiritual journey has already taken Wilbur on a 1,000-mile adventure across the country. She began her project in the Northwest and has traveled extensively through California and the Southwest. Her work on Project 562 has been featured in Seattle Met Magazine, The Stranger, NBC.com, and Indian Country Today.
"I had this incredible experience at the bottom of The Grand Canyon. The elders appointed a teenage boy to help me carry my equipment to photo shoots (since there aren't cars down there, and I'm clumsy on a horse). He was kind of quiet at first, standoffish even.
But after the first interview and photoshoot, he was excited for the next one. He started suggesting ideas. I could see him listening as we spoke to his elders.
That evening, he revealed that he had walked a despairing path, having struggled with depression and his own sense of Tribal identity. As I was leaving, he shyly pulled me aside, and told me that this project gave him a new sense of hope. He said that he believed in me. He said that I was the first lady that he'd ever met that had went on to "do something". He thanked me for giving him hope. He said that his experience with Project 562 had meant more to him than he could articulate."
-Matika Wilbur
Organized by Tacoma Art Museum. This exhibition was generously sponsored by ArtsFund, KeyBank, and Tulalip Tribes Charitable Fund. Additional support provided by Helen and Peter Bing.
http://www.tacomaartmuseum.org/Page.aspx?nid=513
More than a century has passed since a photographic journey explored Native Americans with such a broad scope and in this amount of detail. In 1906, photographer Edward S. Curtis was commissioned by J.P. Morgan to capture the "disappearing" race.
In 2014, to change perceptions about Native Americans, photographer Matika Wilbur believes we have to update the kind of imagery we're looking at when we think of her race. It's a beautiful — and important — idea.
Watch the video here.
https://d2pq0u4uni88oo.cloudfront.net/projects/824212/video-331460-h264_high.mp4
http://www.upworthy.com/its-been-over-100-years-since-an-artist-has-done-this-in-america-about-time-someone-did-it-again?g=2&c=upw1
This was posted in GD, yet am posting it here~
In an assertion of same-sex marriage rights, Attorney General Eric Holder is applying a landmark Supreme Court ruling to the Justice Department, announcing Saturday that same-sex spouses cannot be compelled to testify against each other, should be eligible to file for bankruptcy jointly and are entitled to the same rights and privileges as federal prison inmates in opposite-sex marriages. The Justice Department runs a number of benefits programs, and Holder says same-sex couples will qualify for them. They include the September 11th Victim Compensation Fund and benefits to surviving spouses of public safety officers who suffer catastrophic or fatal injuries in the line of duty.
Tweets
Evan Pérez ✔ @evanperez
Follow
AG Eric Holder about to expand fed recognition of same-sex marriages "to the greatest extent possible under the law."
2:00 PM - 8 Feb 2014
Shimon Prokupecz ✔ @ShimonPro
Follow
More from AG Holder: "As Attorney General, I will not let this Department be simply a bystander during this important moment in history."
2:18 PM - 8 Feb 2014
Only4RM @Only4RM
Follow
.@glaad What PIONEERS look like. MT @TheObamaDiary They've done more for LGBT rights than anyone in American history. pic.twitter.com/GR0KKddoLp
4:58 PM - 8 Feb 2014
"In every courthouse, in every proceeding and in every place where a member of the Department of Justice stands on behalf of the United States, they will strive to ensure that same-sex marriages receive the same privileges, protections and rights as opposite-sex marriages under federal law," Holder said in prepared remarks to the Human Rights Campaign in New York. The advocacy group works on behalf of lesbian, gay, bisexual and transgender equal rights.
http://theobamadiary.com/
It's Our Time Now, to make this right! To love who we want when we want and how we want.
Thank you President Obama and AG Holder!