Page: 1
dsteve01
dsteve01's Journal
Profile Information
Member since: Mon Dec 19, 2011, 06:17 PM
Number of posts: 312

Journal Archives
Source:
Reuters
An 85-year-old Korean War veteran held for more than a month by North Korea as a war criminal arrived in San Francisco on Saturday to be reunited with his family.
North Korea detained Merrill E. Newman for crimes it accused him of committing during the conflict six decades ago as a member of the U.S. special forces. He was released for humanitarian reasons after he apologized, the country's state news agency said.
Newman flew to China, where he boarded an 11-and-a-half-hour flight home. His United Airlines airlines flight landed at about 9 a.m.
Accompanied by half a dozen police officers, Newman looked to be in good health and held his wife's hand before walking up to a podium to briefly address the press at the airport's arrivals hall.
Read more:
http://www.reuters.com/article/2013/12/07/us-korea-north-newman-idUSBRE9B601O20131207
Yesterday morning I received an email from the Warren Campaign. She's pushing hard for three new female candidates in the senate. It sounds like this is her plan to push for a liberal senate.
Warren, E. (2013, December 6). That's What Little Girls Do. (Personal Correspondence).
[. . .]

We need a lot more women to make the same decision I did - to run for office, to make thier voices heard, and to fight for what they believe in. We've got 20 women in the United States Senate. That's great - but we need a lot more.

That's why I'm happy to be supporting three smart, strong omen running for the Senate in 2013: Alison Grimes in Kentucky, Michelle Nunn in Georgia, and Natalie Tennant in West Virginia. They are in tough fights, and they need strong grassroots support.
Alright, Warren, I'll do my part and do a quick write up--for you. Also, because I have no idea who any of these people are.
Alison Grimes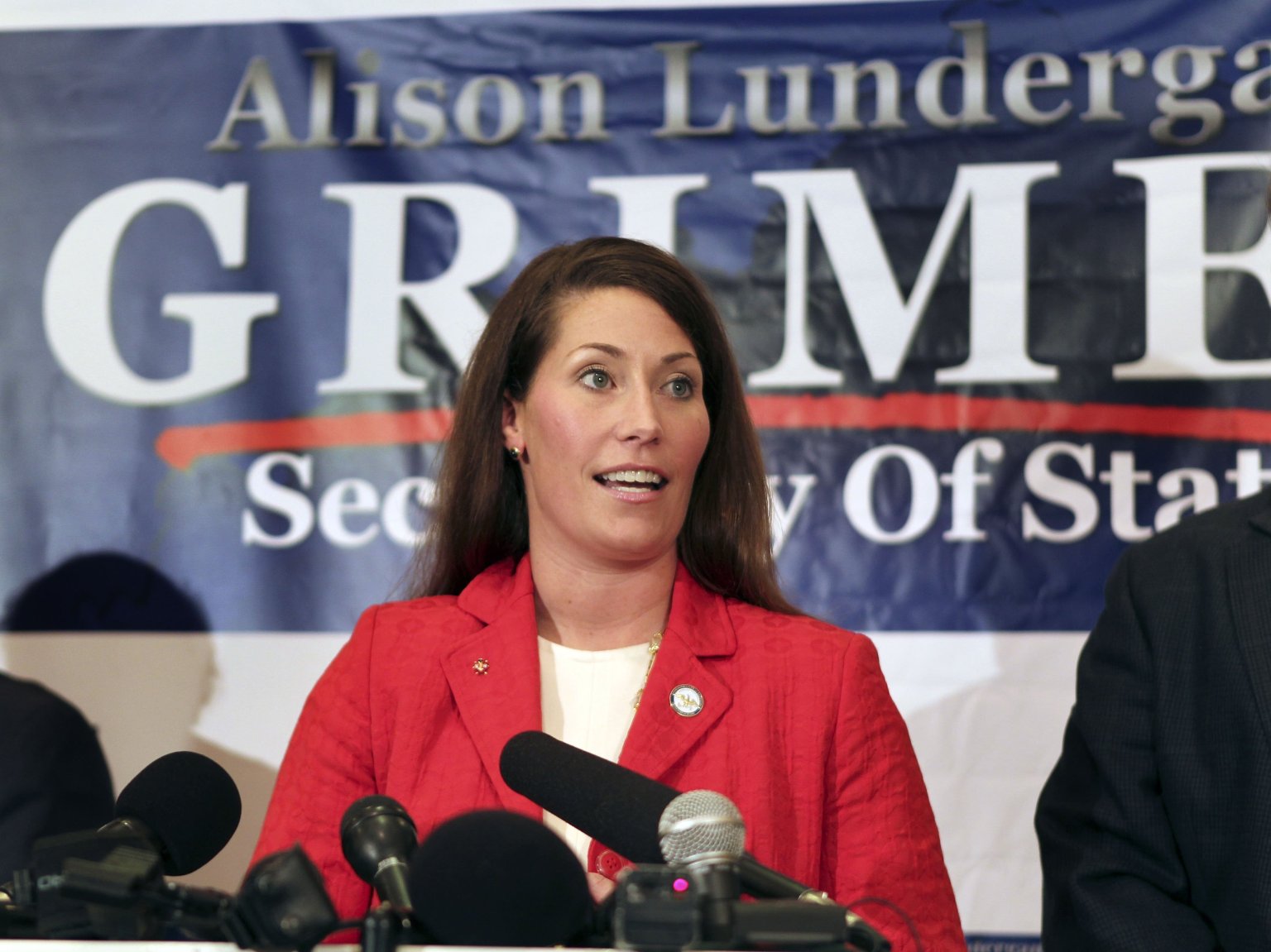 Fullname: Alison Lundergan Grimes. She used to be a practicing defense attorney from Lexington, Kentucky. She claims that her victory in a domestic abuse case is what inspired her to run for the Senate.
An in-depth poll from November puts her in a "dead heat" with Mitch McConnell. An upset here would spell disaster for the Republican party.
Lake Research Partners. (2013, November 8). New Poll Reveals McConnell Vulnerabilities. Retrieved from http://www.scribd.com/doc/183332001/New-Poll-Reveals-McConnell-Vulnerabilities?secret_password=1jhymfgobsfsd8do93tf
The data reveals a dead heat between Alison Lundergan Grimes and Mitch McConnell among likely voters. the sitting Senator attracts just 37% of the vote, putting him on equal footing with Grimes' 37%. Not only that, he lags slightly behind Grimes (27% to 29%) in strong support. Meanwhile, 19% of the voters are undecided, and the third party candidates absorb the rest of the vote (2% for Patterson, 4% for Marksberry).
For more context please consult the following article:

Horn, R. (2012, November 2). This Woman's Work: Secretary of State Alison Lundergan Grimes Goes to Frankfort. Retrieved from http://ctkschool.net/files/7113/5965/7643/Grimes_30-34.pdf
Michelle Nunn Fullname: Mary Michelle Nunn. She's a former non-profit CEO of Points of Light, an organization that, "bring[s] the power of people to bear where it matters most" as it's mission statement. She's been working as at least an executive of PoL since 1990. She is the daughter of former senator Sam Nunn.
Public Policy Polling. (2013, August 6). Georgia Senate Starts As Toss Up. Retrieved from
http://www.publicpolicypolling.com/main/2013/08/georgia-senate-starts-as-toss-up.html
Nunn herself is not all that well known- 61% of voters don't have an opinion about her and those who do have one are closely divided with 20% viewing her favorably and 19% unfavorably. But there's no doubt that the Nunn family brand remains very strong in the state- her father has a 56/12 favorability rating even after nearly 20 years out of office and his appeal cuts across party lines- he's at 64/7 with independents, 58/16 with Republicans, and 50/12 with Democrats.
Everyone seem to appreciate the work she does. See below citation:
Strauss, D. (2013, December 2). Conservative Georgia Newspaper Praises Senate Dem Candidate Michelle Nunn. Retrieved from http://talkingpointsmemo.com/livewire/conservative-georgia-newspaper-praises-michelle-nunn
Natalie Tennant
Fullname: Natalie E. Tennant. She's the current Secretary of State for West Virginia. Before that she worked as a television news anchor for several affiliates.
She clearly faces an uphill battle with Shelly Capito, but could easily win an election against Pat McGeehan.
Public Policy Polling. (2013, September 23). West Virginia Survey Results. Retrieved from http://images.politico.com/global/2013/09/23/senateresults.html
[. . .]

Q5 Do you have a favorable or unfavorable opinion of Natalie Tennant?

Favorable ----- 39%
Unfavorable ----- 32%
Not Sure ----- 20%

[. . .]

Q7 If the candidates for Senate next year were Republican Shelley Moore Capito and Democrat Natalie Tennant, who would you vote for?

Shelly Moore Capito ----- 50%
Natalie Tennant ----- 36%
Not Sure ----- 14%

[. . .]

Q9 If the candidates for Senate next year were Republican Pat McGeehan and Democrat Natalie tennant, who would you vote for?

Pat McGeehan ----- 32%
Natalie Tennant ----- 42%
Not Sure ----- 26%

Tennant will have to sell herself to a more conservative audience then Nunn and Grimes. She faces an uphill battle from the get-go there. However, her current Secretary of State roll let's her start the campaign cycle with the additional funding required for such an uphill battle--I hope.
No citation there. If she doesn't have campaign cash then she's probably screwed.
For the offical biography on Tennant, check her State-provided webpage below:
Harris, B. (2013). West Virginia Secretary of State Natalie E. Tennant. Retrieved from http://www.sos.wv.gov/secretary-desk/Pages/biography.aspx

When does the national security budget become a national security risk?
Now, I'll be the first to take Microsoft word with a grain of salt. I feel that Microsoft's legacy of awesome business decisions don't always equal technological advancement for the rest of society.
But today they made an excellent point.
Brad Smith, Executive Vice President for Microsoft's Legal and Corporate Affairs, summarized the situation on the official Microsoft blog. He cited the government as an "advanced persistent threat" which roughly translates to "cyber criminals". You can read the details below:
Smith, B. (2013, December 4). Protecting customer data from government snooping. Retrieved from http://blogs.technet.com/b/microsoft_blog/archive/2013/12/04/protecting-customer-data-from-government-snooping.aspx

Many of our customers have serious concerns about government surveillance of the Internet.

We share their concerns. That's why we are taking steps to ensure governments use legal process rather than technological brute force to access customer data.

Like many others, we are especially alarmed by recent allegations in the press of a broader and concerted effort by some governments to circumvent online security measures – and in our view, legal processes and protections – in order to surreptitiously collect private customer data. In particular, recent press stories have reported allegations of governmental interception and collection – without search warrants or legal subpoenas – of customer data as it travels between customers and servers or between company data centers in our industry.

If true, these efforts threaten to seriously undermine confidence in the security and privacy of online communications. Indeed, government snooping potentially now constitutes an "advanced persistent threat," alongside sophisticated malware and cyber attacks.

In light of these allegations, we've decided to take immediate and coordinated action in three areas:

· We are expanding encryption across our services.


· We are reinforcing legal protections for our customers' data.


· We are enhancing the transparency of our software code, making it easier for customers to reassure themselves that our products do not contain back doors.
All of these changes in policy I agree with [even though I hate Microsoft's guts]. It's a well documented fact that the federal government has been pouring NSA and CIA funds into silicone valley. This last year it was approximately 30 to 50 Billion dollars (the real number has been kept secret and the CIA cites "national security" rationale). Microsoft reported Microsoft reported $21.76 billion in profits for fiscal year 2012.** Microsoft needs to come up with a dynamic methods to prevent NSA agents from stealing their intellectual property. The NSA spends maybe twice (2x) as much money lobbying silicon valley as Microsoft reports as profits!
**Robertson, A. (2013, August 29). Unprecedented 'black budget' leak reveals the scope of $52 billion US spy complex. Retrieved from http://www.theverge.com/2013/8/29/4672414/leaked-snowden-documents-reveal-details-of-surveillance-budget
These points made by Smith are particularly poinent in the shadow of the recent revelations regarding NSA's claim that they no longer need search warrants for digital tracking as you can read below:
Soltani, A. & Gellman, B. (2013, December 4). NSA Tracking Cellphone Locations Worldwide, Snowden Documents Show. Retrieved from http://www.washingtonpost.com/world/national-security/nsa-tracking-cellphone-locations-worldwide-snowden-documents-show/2013/12/04/5492873a-5cf2-11e3-bc56-c6ca94801fac_story.html

The National Security Agency is gathering nearly 5 billion records a day on the whereabouts of cellphones around the world, according to top-secret documents and interviews with U.S. intelligence officials, enabling the agency to track the movements of individuals — and map their relationships — in ways that would have been previously unimaginable.

The records feed a vast database that stores information about the locations of at least hundreds of millions of devices, according to the officials and the documents, which were provided by former NSA contractor Edward Snowden. New projects created to analyze that data have provided the intelligence community with what amounts to a mass surveillance tool.
Kravets, D. (2013, December 6). NSA Wrongly Says Warrantless Mobile-Phone Location Tracking Is Legal. Retrieved from http://www.wired.com/threatlevel/2013/12/nsa-cell-site-data/

National Security Agency snoops are harvesting as many as 5 billion records daily to track mobile phones as they ping nearby cell towers across the globe.

That alarming scoop by The Washington Post via documents provided by NSA leaker Edward Snowden included wishful thinking from an unnamed government "intelligence lawyer" interviewed in the story. This official, according to the Post, said that the data "are not covered by the Fourth Amendment," meaning a probable-cause warrant isn't required to get it.

In reality, however, the case law on cell-site locational tracking — while generally favorable to the government — is far from clear, with federal courts and appellate courts offering mixed rulings on whether warrants are needed.
Overall, I'm glad to see that at least one multi-billion dollar enterprise standing in support of the 4th Amendment. I hope that they continue to push the government on why search warrants are necessary in our modern democracy--even if they are doing it out of their own self-interest.
This first video puts Bill Donohue in the perspective he deserves.
*Better cited version of that video at Media Matters. (2013, September 20). Watch As CNN's Cuomo Calls Out Bill Donohue's Homophobic, Anti-Semitic Smears. Retrieved from
http://mediamatters.org/video/2013/09/20/watch-as-cnns-cuomo-calls-out-bill-donohues-hom/196002
*
He claims to be an independent spirit of Christ, but he is among the most divisive members of the catholic community.
A few months later, we find that Bill Donohue is about to pick a fight with Dan Savage and Bill Maher over the clip below:
HBO. (2013, November 22). Bill Maher Interviews Dan Savage on Cheneys, Baldwin, and Kiddy F*cking Catholic Priests. Retrieved from
Which he posted this personal comment on the catholic league website:
Donohue, B. (2013, November 25).
http://www.catholicleague.org/cancel-bill-maher/
And then put this in context of his anti-liberal blogposts you can see at this website which proclaims itself as "Exposing and Combating Liberal Media Bias"
http://newsbusters.org/blogs/bill-donohue
I'm not buying. Why do conservatives get away with incendiary comments on the TV, but Martin Bashir can't even call out Sarah Palin for the foul slave master she is. Typical America.
Karades, D. (2013, December 2). Hempstead students say principal tried to ban them from speaking Spanish. Retrieved from
http://www.khou.com/news/local/Hempstead-students-say-principal-tried-to-ban-them-from-speaking-Spanish-234172961.html
"People don't want to speak it no more, and they don't want to get caught speaking it because they're going to get in trouble," said sixth-grade student Kiara Lozano.
A number of students believe the principal's announcement has given some teachers and fellow classmates a hall pass to discriminate.
"There's one teacher that said, if you speak Spanish in my class, I'm going to write you up," said eighth-grader Tiffani Resurez.
More than 50 percent of the students enrolled at Hempstead Middle School are Hispanic. That's according to greatschools.org.
Students said the school has not resolved the confusion surrounding the principal's attempt to ban the Spanish language in class.
"She was like no speaking Spanish," explained eighth-grader Yedhany Gallegos. "I was like that's my first language. She said, well you can get out."
Gallegos and many of her classmates grew up speaking Spanish at home. She said speaking Spanish with her friends at school comes as second nature.
Some parents feel the district has yet to get to the root of the problem.
"Why are you punishing our children like this?" asked mother Cynthia Zamora.
-----
Associated Press. (2013, December 3). Principal Forbids Students From Speaking Spanish. Retrieved
http://abcnews.go.com/US/wireStory/principal-forbids-students-speaking-spanish-21089080
A Texas middle school principal has been placed on paid leave after she banned the speaking of Spanish by students while in class.
A Hempstead school district spokeswoman confirms that Amy Lacey has been placed on leave pending investigation of her Nov. 12 announcement on the intercom at Hempstead Middle School.
More than 50 percent of the school enrollment of about 330 students is Hispanic. KHOU-TV (
http://bit.ly/...
) of Houston reports a letter sent by the district to school parents assured that neither the district nor any campus has any policy banning speaking Spanish.
-----
Edwards, D. (2013, December 4). Texas principal bans Hispanic students from speaking Spanish to 'prevent disruptions'. Retrieved from
http://www.rawstory.com/rs/2013/12/04/texas-principal-bans-hispanic-students-from-speaking-spanish-to-prevent-disruptions/
A group of students told KHOU that Hempstead Middle School Principal Amy Lacey announced over the intercom on Nov. 12 that they were no longer to use their native language in order to "prevent disruptions."
It was over two weeks later before the superintendent sent a letter home insisting that "neither the district or any campus has any policy prohibiting the speaking of Spanish."
But the students said that the effect of the ban had been chilling.
-----
Note from dsteve01:
Isn't the whole concept of a school to be a place of safety, cultural diversity for students? I met many young hispanics in my generation that cannot speak Spanish because the grandparents refused to teach them the language out of fear for the children ability to adapt.
Who are we to judge these people to the point of forced cultural conversion? Maybe if you actually sat down to learn some Spanish you could better accommodate your students? Examples like the Hempstead school district really bring down the quality of our education system as a whole.
The federal government awards you money to help your students, not force them to adopt your world view. What's the point of this whole exercise in education if you are not enabling your students to participate?
All the best,
Dsteve01
Rocha, A. (2005, May 15). Merrill Newman:They also serve. Retrieved from
http://www.paloaltoonline.com/weekly/morgue/2005/2005_05_18.mnewman18.shtml
Although he spent nearly 60 years volunteering for the American Red Cross, Merrill Newman never found himself at the scene of a fire. He never helped in a blood bank; never collected clothes for victims of a tragedy.
When people talk about American Red Cross volunteers, oftentimes it's the disaster teams who steal the spotlight. Everyone wants to hear harrowing tales of leaving on a dime and racing across the states or seas to lend a hand on the frontlines.
Of course, those volunteers are invaluable. There are, however, thousands of others working long hours behind the scenes, keeping the philanthropic machine fueled. They constantly evaluate the organization's services, making sure it's as efficient as possible. They manage the assets, deal with bad fund-raising years, hire the executive directors.
Newman, 76, was part of that quiet force. He served on the Palo Alto Area Chapter's board of the American Red Cross for almost three decades. He also taught CPR and first aid throughout the years and still does.
-----
CNN. (2013, November 20). 85-year-old American stuck in North Korea. Retrieved from
-----
Kleck, Z. (2013, November 21). The former NBA star believes his brand of vodka could be the perfect way to bring Obama and Kim Jong-Un together. Retrieved from
http://thediplomat.com/2013/11/dennis-rodman-hopes-his-vodka-will-help-us-north-korea-make-peace/
"Everyone knows (President Barack) Obama drinks beer. But you know what? I'm pretty sure he does have a cocktail here or there. I'd love to see him with a 'Bad Ass Vodka' shot in his hand, toasting to Kim Jong (Un) and me."
"That would be awesome," Rodman added.
[. . .]
"Just think, it's up to Dennis Rodman to break ground with North Korea," Rodman said referring to himself in third person (of course). "I'm the only one in the world who will go talk to this guy and try and find some common ground with these people."
While admitting that "people don't believe that," Rodman also notes that many people believe he should win a Nobel Peace Prize for his efforts.
"People put that label on me like it's my responsibility to save the world," he said in reference to the Nobel Peace Prize. Shockingly, he is prepared to accept such an honor, saying "If it happens to come to that, then yes, I guess I'm all for it. Let's just all get together and keep everything cool, man." This is not the first time he's raised the subject.
-----
JoongAng Daily. (2013, November 21). North may be holding man hostage, reports claim. Retrieved from
http://koreajoongangdaily.joins.com/news/article/Article.aspx?aid=2980799
North Korea may have detained an elderly American man last month who entered the country on a tourist visa, Kyodo News said on Wednesday, citing an unnamed diplomatic source.
Kyodo, in a report from Beijing, said the possible detention could become another diplomatic bargaining chip for North Korea, which has held Korean-American tour guide Kenneth Bae since November 2012. Bae has been sentenced by the regime to 15 years of hard labor.
U.S. Embassy officials in Beijing and Seoul said they were aware of the reports but could not confirm them.
North Korea claims the man, who allegedly is not of Korean descent, has broken the law, according to Kyodo. The man entered North Korea for sightseeing last month with a valid visa, the diplomatic source was quoted as saying.
"We are aware of reports that a U.S. citizen was detained in North Korea, but we have no additional information to share at this time," said Nolan Barkhouse, a spokesman for the U.S. Embassy in Beijing.
-----
CNN. (2013, November 21). California Man Pulled Off Plane In North Korea, Detained Son Says. Retrieved from
[video]
-----
Fisher, M. (2013, November 22). Why did North Korea arrest an 85-year-old American? Here are four possible reasons. Retrieved from
http://www.washingtonpost.com/blogs/worldviews/wp/2013/11/22/why-did-north-korea-arrest-an-85-year-old-american-here-are-four-possible-reasons/
Theory 1: North Korean authorities mistook him for another Merrill Newman.
[. . .]
Theory 2: Newman accidentally crossed some government red line.
[. . .]
Theory 3: North Korea just wanted a new hostage to use as a bargaining chip.
[. . .]
Theory 4: Newman crossed some unknown, more serious line.
-----
Currey, C. (2013, November 22). Did North Korea Detain The Wrong US Korean War Vet?. Retrieved from
http://abcnews.go.com/US/north-korea-detain-wrong-us-war-veteran/story?id=20981395
[. . .]
Authorities have kept Newman's situation quiet for weeks, but former New Mexico Gov. Bill Richardson, a former ambassador to the U.N., confirmed to ABC News today he has been in touch with his North Korean contacts working on the situation. The State Department has declined to release details about Newman's status.
Newman was a Korean War veteran, one of many that has gone back to visit North Korea in the decades after their service.
But another North Korean veteran named Merrill H. Newman, age 84, was, until recently, the better-known Merrill Newman. He received a Silver Star for his time in the Korean War.
"The thought entered my head," said Merrill H. Newman, reached at his home in Beaverton, Ore. "The name is the same and there's always that possibility, but I have no way of knowing."
"The thing that has been kicked around by media people, not me, is that I received a Silver Star for 60 years ago in Korea and I have the same name, so the question has come up, could it be that in the process of maybe Googling, like anybody can, and finding that perhaps they thought there was a connection there? I don't know. I have no way of knowing," he said.
-----
Pearson, J. & Dobuzinskis, A. (2013, November 22). American held in North Korea, a case of mistaken identity? Retrieved from
http://www.reuters.com/article/2013/11/22/us-korea-north-detention-identity-idUSBRE9AL06620131122
[. . .]
Merrill E. Newman's service record is not on the public record. All that is known is that he was an infantry officer during the war.
"The Korean War was discussed and my dad's role in the service, and the meeting concluded," Jeff Newman told CNN, describing a conversation between his father and North Korean officials the night before he was due to return home.
North Korea is technically at war with the United States after an armistice rather than a peace treaty ended the conflict.
It was not possible to confirm whether an internet search did take place with North Korean officials, although people who visit the North regularly said they had similar experiences with screening and there were cases of mistaken identity.
"I have been emailed before by someone from a DPRK embassy who has searched on the internet and found something they consider to be undesirable linked to someone with the same name as a tourist whose visa I have applied for," Hannah Barraclough, tourism manager at Beijing-based Koryo Tours, told Reuters.
-----
Rauhala, E. (2013 November 22). 85-Year-Old U.S. Veteran Detained in North Korea May Not Be Home for Thanksgiving. Retrieved from
http://news.yahoo.com/85-old-u-veteran-detained-north-korea-may-191835268.html
[. . .]
Glyn Davies, U.S. special representative for North Korea policy, seemed frustrated that the DPRK has yet to name their terms. Speaking to reporters in Beijing, he framed the incident as an opportunity to re-engage. "North Korea could send a very different signal about its interest in having a different sort of relationship with the United States were it to take that step of releasing our citizens," he said. "It's a matter of some wonderment to me that they haven't yet moved on that."
Newman's family, meanwhile, faces the prospect of the holidays without him. "All we want as a family is to have my father, my kids' grandfather, returned to California so he can be with his family for Thanksgiving." With no word from Pyongyang, that would be a miracle.
-----
Tuttle, S. (2013, November 23). 85-year-old Korean war vet detained in North Korea. Retrieved from
http://www.digitaljournal.com/article/362670
[. . .]
Information has yet to be released as to why Newman was detained or his physical treatment by North Korean authorities. As the U.S. has no diplomatic relations with North Korea, the Swedish Embassy has acted as a mediator between Newman and his family.
Newman was reported to have a heart condition and only brought with him a 10-day supply of his medication to last him through the trip. Though his family sent more of his prescribed medication through the Swedish Embassy, there has been no word yet on whether or not he received it or has access to it.
-----
Feldman, D. & Kearney, L. (2013, November 23). War vet's detention 'hostage taking'. Retrieved from
http://www.stuff.co.nz/world/asia/9435254/War-vets-detention-hostage-taking
[. . .]
"The family feels there has been some dreadful misunderstanding leading to his detention and asks that the DPRK (Democratic People's Republic of Korea) work to settle this issue quickly and to return this 85-year-old grandfather to his anxious, concerned family," she said.
The statement was issued through the retirement home where the Newmans live in the upscale northern California town of Palo Alto.
Their son, Jeff Newman, told Reuters the family remained concerned about his father's health, saying there had been no communication with him since he was taken.
The son's comments came as a State Department official in Washington told reporters that North Korea had confirmed through diplomatic channels its detention of a US citizen, but the official did not identify the person.
-----
CNN. (2013, November 24). Korean war vet detained by Pyongyang. Retrieved from
[video]
-----
Woodruff, B. (2013, November 25). Family of Detained American Merrill Newman Worried About His Health in North Korea. Retrieved from
http://abcnews.go.com/International/family-detained-korean-war-vet-merrill-newman-worried/story?id=21000290
Merrill Newman, of Palo Alto, Calif., was pulled from a plane Oct. 26 while preparing to leave the communist nation after a 10-day tour. Newman's family is now stressing over his health because the former finance executive has a heart condition and has run out of medication. Newman's family has sent new pills to officials in Beijing where they were picked up by the Swedish ambassador and flown to Pyongyang.
"We know that the Swedish ambassador picked that up in Beijing and brought it to North Korea and then delivered it to the Korean Ministry of Foreign Affairs, but we have no idea whether he's received it," Newman's son, Jeffrey, told ABC News. "We've no contact from him. We know nothing about his status."
-----
CNN. (2013, November 25). American Detained in North Korea—Mistaken Identity?. Retrieved from
[video]
-----
LeakSource. (2013, November 30). North Korea Releases Video of Detained US Veteran Merrill Newman Apologizing for Alleged Espionage/War Crimes. Retrieved from
https://leaksource.wordpress.com/2013/11/30/north-korea-releases-video-of-detained-us-veteran-merrill-newman-apologizing-for-alleged-espionage-war-crimes/
KCNA:
The Korean Central News Agency released the following report on Saturday:
A relevant institution of the Democratic People's Republic of Korea recently put in custody U.S. citizen Merrill Edward Newman who committed hostile acts against the DPRK after entering the country under the guise of a tourist.
After entering the DPRK as a member of tourists' group in October he perpetrated acts of infringing upon the dignity and sovereignty of the DPRK and slandering its socialist system, quite contrary to the purpose of tour.
He also committed such crime as trying to look for spies and terrorists who conducted espionage and subversive activities against the DPRK in the area of Mt. Kuwol during the last Fatherland Liberation War as well as their families and descendants and connect them with the "Kuwol Partisan Comrades-in-Arms Association," an anti-DPRK plot-breeding organization of south Korea.
According to the results of the investigation, he was active as adviser of "Kuwol Unit" of the UN Korea 6th Partisan Regiment part of the Intelligence Bureau of the Command of the U.S. Forces in the Far East since early in 1953. He is a criminal as he masterminded espionage and subversive activities against the DPRK and in this course he was involved in killings of service personnel of the Korean People's Army and innocent civilians.
The investigation clearly proved Newman's hostile acts against the DPRK and they were backed by evidence. He admitted all his crimes and made an apology for them.
-----
KCNA. (2013, November 30). Merrill Newman, American vet held in N. Korea, reads apology letter. Retrieved from
[Video]
-----
Park, J. & Pearson, J. (2013, December 1). Unforgotten fighter of Korean war: U.S. pensioner a POW at 85. Retrieved from
http://www.reuters.com/article/2013/12/01/us-korea-north-partisans-idUSBRE9AT06S20131201
Kim Chang-sun, the former rank-and-file partisan member, recalled Newman as a big American military officer with a warm heart who supervised their training and landing operations.
"He had this U.S. army food box and shared that with us. He stayed with us at a bunker," said Kim, now 81.
"They detained him because he served in the Kuwol regiment. He is just a very bad guy for them," Kim said, referring to the North Korean authorities.
It is not entirely clear why Newman took the risk of visiting North Korea. But evidently the war and his former comrades had left a deep impression on him.
"Kuwolsan was among the most effective guerrilla warfare units," he wrote in a congratulatory message attached to a book published by the Kuwolsan Guerrilla Unit Comrade Association in Seoul.
"I am proud to have served with you."
-----
PressTV. (2013, December 1). US Veteran Confesses To 'Hostile Acts' In North Korea. Retrieved from
http://www.presstv.ir/detail/2013/12/01/337578/american-admits-hostile-acts-in-n-korea/
[. . .]
"As I killed so many civilians and KPA (Korean People's Army) soldiers and destroyed strategic objects in the DPRK during the Korean War, I committed indelible offensive acts against the DPRK government and Korean people," he said.
"The investigation clearly proved Newman's hostile acts against the DPRK, and they were backed by evidence," KCNA added. "He admitted all his crimes and made an apology for them."
"If I go back to (the) USA, I will tell the true features of the DPRK and the life the Korean people are leading," the statement concluded.
-----
CCTV. (2013, December 01). US calls for release of 85-yr-old Korean War veteran. Retrieved from
http://english.cntv.cn/program/newsupdate/20131201/101041.shtml
The US is calling on the DPRK to release an 85-year-old American citizen who's been detained in the country for more than a month.
Retired finance executive Merrill Newman fought in the Korean War 60 years ago. He was taken off a plane on October 26th by DPRK authorities as he was about to leave the country, following a 10-day visit. A US National Security Council spokesperson called for Newman's immediate release and for him to be reunited with his family, citing his age and health. A US state department official says Swedish diplomats in Pyongyang have visited Newman.
There are reports that the Korean War veteran apologized for his wartime activities during his visit in the DPRK.
-----
DailyMail Online. (2013, December 1). American veteran, 85, held captive in North Korea and forced to read confession is allowed crucial medication. Retrieved from
http://www.dailymail.co.uk/news/article-2516573/Veteran-85-held-captive-North-Korea-getting-medication.html
The Kuwol Regiment was just one of many groups of anti-communist partisans that were under the command of the U.S. Army 8240th Unit, nicknamed the 'White Tigers'.
The White Tigers co-ordinated some of the most daring missions of the Korean War, embedding undercover agents deep in enemy territory - sometimes for months at a time - spying on and disrupting North Korean wartime operations, according to documented histories of the regiment.
The unit, whose existence was classified until the early 1990s, was the predecessor to U.S. special forces. Members of the White Tigers were handpicked from the U.S. Army, and not told about their mission until they arrived in Seoul.
-----
NBC News. (2013, December 1). North Korea Says Detained American Tourist Merrill Newman Apologizes.
http://www.nbcbayarea.com/news/local/N-Korea-Says-Detained-American-Tourist-Merrill-Newman-Apologizes-233893681.html
SkyNews. (2013, December 1). North Korea: Detained American 'Admits Crimes'. Retrieved from
http://news.sky.com/story/1175855/north-korea-detained-american-admits-crimes
Weiss, L. (2013, December 1). US urges North Korea to release detained tourist Merill Newman. Retrieved from
http://www.digitaljournal.com/article/363180
SkyNews. (20113, December 1). US Urges Release of Man in North Korea. Retrieved from
http://www.skynews.com.au/world/article.aspx?id=929749
SkyNew. (2013, December 1). US Urges 'Immediate Release' of American. Retrieved from
http://www.skynews.com.au/world/article.aspx?id=929852.
Pous, T. (2013, December 1). 10 things you need to know today: December 1, 2013. Retrieved from
http://theweek.com/article/index/253533/10-things-you-need-to-know-today-december-1-2013
Kumar, A. (2013, December 1). White House Urges N. Korea to Release US Christian Kenneth Bae, 85-Y-O Veteran Merrill Newman. Retrieved from
http://www.christianpost.com/news/white-house-urges-n-korea-to-release-us-christian-kenneth-bae-85-y-o-veteran-merrill-newman-109835/
Kim, L. & Gulezian, L. (2013, December 1). Palo Alto man detained in Nkorea served with secret group. Retrieved from
http://abclocal.go.com/kgo/story?section=news/local/south_bay&id=9345047
Rauhala, E. (2013, December 1). Detention of 85-Year-Old Hasn't Stopped Tourists From Traveling to North Korea. Retrieved from
http://world.time.com/2013/12/01/detention-of-85-year-old-hasnt-stopped-tourists-from-traveling-to-north-korea/
Wroughton, L. & Kim, J. (2013, December 1). U.S. calls on North Korea to release war veteran. Retrieved from
http://www.reuters.com/article/2013/12/02/us-korea-north-newman-veteran-idUSBRE9B001T20131202
Associated Press. (2013, December 1). Swedish ambassador visits 85-year-old US vet held in North Korea. Retrieved from
http://www.csmonitor.com/World/Latest-News-Wires/2013/1201/Swedish-ambassador-visits-85-year-old-US-vet-held-in-North-Korea
MacLeod, C. (2013, December 1). Analysts: U.S. vet held in N. Korea could soon be freed. Retrieved from
http://www.usatoday.com/story/news/world/2013/12/01/north-korea-newman-bae/3795137/
Fox News. (2013, December 2). Family of American vet, 85, detained in North Korea hopes for his release. Retrieved from
http://www.foxnews.com/world/2013/12/01/north-korea-says-detained-american-committed-hostile-acts-against-country/
May, P. (2013, December 2). New Details on California Grandfather Held Hostage in North Korea. Retrieved from
http://www.dailynews.com/general-news/20131202/new-details-on-california-grandfather-held-hostage-in-north-korea
-----
NBC News.(2013, December 2). Merrill Newman Family: He Is Well in North Korea. Retrieved from
http://www.nbcbayarea.com/news/local/Merrill-Newman-Family-He-Is-Well-in-North-Korea-233953471.html
[. . .]
We received a report from the State Department today that the Ambassador of Sweden in the DPRK was permitted to visit Merrill Newman on Saturday, November 30th, at the Yanggakdo Hotel in Pyongyang.
We were very pleased to hear that the Ambassador was allowed to pay this first visit to Merrill. We want to thank the Swedish Ambassador and also express appreciation for the cooperation of the DPRK government in allowing the visit to take place. As a result of the visit, we know that Merrill is in good health. He has received the medications that we sent him and medical personnel are checking on his health several times a day. Merrill reports that he is being well treated and that the food is good. As you can imagine, we had been deeply worried about all of these things and today's consular visit has eased our concerns.
Our focus now is on getting him home quickly to join his loved ones, who miss him deeply. We are asking that the DPRK authorities take into account his health and his age and, as an act of humanitarian compassion, allow him to depart immediately for home. All of us want this ordeal to end and for the 85 year-old head of our extended family to be with us once more.
Thank you,
The Newman Family