Page: 1
Jefferson23
Jefferson23's Journal
Profile Information
Gender: Male
Hometown: Connecticut
Home country: USA
Current location: nice place
Member since: Thu May 15, 2008, 04:37 PM
Number of posts: 30,099

Journal Archives
The pressure on President Obama to intervene in Syria is hyped -- and the pressure to stay out of the conflict is unjustly ignored.
Conor Friedersdorf Aug 28 2013, 6:36 AM ET
Intervention in Syria is extremely, undeniably unpopular.
"Americans strongly oppose U.S. intervention and believe Washington should stay out of the conflict even if reports that Syria's government used deadly chemicals to attack civilians are confirmed," Lesley Wroughton of Reuters reported August 24. "About 60 percent of Americans surveyed said the United States should not intervene in Syria's civil war, while just 9 percent thought President Barack Obama should act." And if there were proof that Bashar al-Assad's forces used chemical weapons? Even then, just one in four Americans favors intervention.
The citizenry wants us to stay out of this conflict. And there is no legislative majority pushing for intervention. A declaration of war against Syria would almost certainly fail in Congress. Yet the consensus in the press is that President Obama faces tremendous pressure to intervene. In fact, the same Reuters reporter, Lesley Wroughton, co-bylined another piece last week that began:
With his international credibility seen increasingly on the line, President Barack Obama on Thursday faced growing calls at home and abroad for forceful action against the Syrian government over accusations it carried out a massive new deadly chemical weapons attack ...
If allegations of a large-scale chemical attack are verified -- Syria's government has denied them -- Obama will surely face calls to move more aggressively, possibly even with military force, in retaliation for repeated violations of U.S. "red lines." Obama's failure to confront Assad with the serious consequences he has long threatened would likely reinforce a global perception of a president preoccupied with domestic matters and unwilling to act decisively in the volatile Middle East, a picture already set by his mixed response to the crisis in Egypt.
Where is this pressure coming from? Strangely, that question doesn't even occur to a lot of news organizations. Take this CBS story. The very first sentence says, "The Obama administration faced new pressure Thursday to take action on Syria." New pressure from whom? The story proceeds as if it doesn't matter. How can readers judge how much weight the pressure should carry? Pressure from hundreds of thousands of citizens in the streets confers a certain degree of legitimacy. So does pressure from a just-passed House bill urging a certain course of action, or even unanimous pressure from all of the experts on a given subject.
http://www.theatlantic.com/politics/archive/2013/08/how-an-insular-beltway-elite-makes-wars-of-choice-more-likely/279116/
** Going in the correct direction, good stuff.
By Michelle Diament
August 28, 2013
The Obama administration is pressing forward with a plan to urge companies doing business with the federal government to dramatically increase the number of employees with disabilities in their ranks.
Under a final rule announced Tuesday, most federal contractors will be expected to ensure that people with disabilities account for at least 7 percent of workers within each job group at their companies. If businesses meet that threshold, the U.S. Department of Labor estimates that it could mean as many as 585,000 jobs for people with disabilities within the first year.
"The need is clear," said Patricia Shiu, director of the Labor Department's Office of Federal Contract Compliance Programs, calling the unemployment rate for people with disabilities "unacceptably high."
The new rule would not establish a quota, but rather a goal that contractors would be expected to work toward. Firms with at least 50 employees and $50,000 in federal commitments would have to take specific steps with regard to recruitment, training, record keeping and policy dissemination — much like they are already required to do to encourage workplace equality for women and members of minority groups — in order to increase their employment of people with disabilities.
remainder:
http://www.disabilityscoop.com/2013/08/28/new-rule-employment/18604/
Governments in Washington, London and Paris should realise that in one respect the slaughter by chemical weapons of hundreds of people in Damascus on 21 August is an opportunity as well as a crime. It is an opportunity because the chemical weapons atrocity and the crisis it has provoked show that the Syrian civil war cannot be left to fester. The use of poison gas is the grossest sign, but not the only one, that the level of violence is spiralling out of control.
Patrick Cockburn
The Independent UK
August 26, 2013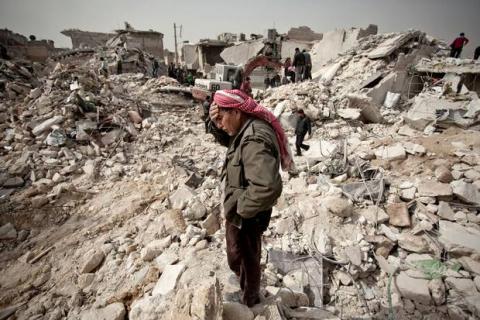 ?itok=BDTdHbZu
American, British and French air strikes by planes or missiles look probable in retaliation for the alleged use of poison gas by the Syrian army against people in rebel-held areas of Damascus. Controversy rages about whether or not this is the right thing to do, an argument coloured by memories of official mendacity over Iraqi Weapons of Mass Destruction in 2003 and Nato's destruction of Muammar Gaddafi's regime in 2011 under the guise of a limited humanitarian operation.
What armed intervention by foreign powers in Syria will not do is bring an end to the present bloody stalemate in the two-and-a-half-year-old civil war. But governments in Washington, London and Paris should realise that in one respect the slaughter by chemical weapons of hundreds of people in Damascus on 21 August is an opportunity as well as a crime.
It is an opportunity because the chemical weapons atrocity and the crisis it has provoked show that the Syrian civil war cannot be left to fester. Previously, there was a shallow belief that, like the 15-year-long Lebanese civil war between 1975 and 1990, the Syrian war was basically containable. This hope has ebbed over the past year as sectarian and ethnic violence in Syria has spread to Lebanon and Iraq. The use of poison gas is the grossest sign, but not the only one, that the level of violence is spiralling out of control inside Syria.
in full:
http://portside.org/2013-08-26/only-peace-conference-not-air-strikes-can-stop-further-bloodshed
And what if that coincidence has run its course?
By Benjamin Wallace-Wells
Published Jul 21, 2013
Picture this, arranged along a time line.
For all of measurable human history up until the year 1750, nothing happened that mattered. This isn't to say history was stagnant, or that life was only grim and blank, but the well-being of average people did not perceptibly improve. All of the wars, literature, love affairs, and religious schisms, the schemes for empire-making and ocean-crossing and simple profit and freedom, the entire human theater of ambition and deceit and redemption took place on a scale too small to register, too minor to much improve the lot of ordinary human beings. In England before the middle of the eighteenth century, where industrialization first began, the pace of progress was so slow that it took 350 years for a family to double its standard of living. In Sweden, during a similar 200-year period, there was essentially no improvement at all. By the middle of the eighteenth century, the state of technology and the luxury and quality of life afforded the average individual were little better than they had been two millennia earlier, in ancient Rome.
Then two things happened that did matter, and they were so grand that they dwarfed everything that had come before and encompassed most everything that has come since: the first industrial revolution, beginning in 1750 or so in the north of England, and the second industrial revolution, beginning around 1870 and created mostly in this country. That the second industrial revolution happened just as the first had begun to dissipate was an incredible stroke of good luck. It meant that during the whole modern era from 1750 onward—which contains, not coincidentally, the full life span of the United States—human well-being accelerated at a rate that could barely have been contemplated before. Instead of permanent stagnation, growth became so rapid and so seemingly automatic that by the fifties and sixties the average American would roughly double his or her parents' standard of living. In the space of a single generation, for most everybody, life was getting twice as good.
At some point in the late sixties or early seventies, this great acceleration began to taper off. The shift was modest at first, and it was concealed in the hectic up-and-down of yearly data. But if you examine the growth data since the early seventies, and if you are mathematically astute enough to fit a curve to it, you can see a clear trend: The rate at which life is improving here, on the frontier of human well-being, has slowed.
If you are like most economists—until a couple of years ago, it was virtually all economists—you are not greatly troubled by this story, which is, with some variation, the consensus long-arc view of economic history. The machinery of innovation, after all, is now more organized and sophisticated than it has ever been, human intelligence is more efficiently marshaled by spreading education and expanding global connectedness, and the examples of the Internet, and perhaps artificial intelligence, suggest that progress continues to be rapid.
But if you are prone to a more radical sense of what is possible, you might begin to follow a different line of thought. If nothing like the first and second industrial revolutions had ever happened before, what is to say that anything similar will happen again? Then, perhaps, the global economic slump that we have endured since 2008 might not merely be the consequence of the burst housing bubble, or financial entanglement and overreach, or the coming generational trauma of the retiring baby boomers, but instead a glimpse at a far broader change, the slow expiration of a historically singular event. Perhaps our fitful post-crisis recovery is no aberration. This line of thinking would make you an acolyte of a 72-year-old economist at Northwestern named Robert Gordon, and you would probably share his view that it would be crazy to expect something on the scale of the second industrial revolution to ever take place again.
"Some things," Gordon says, and he says it often enough that it has become both a battle cry and a mantra, "can happen only once."
in full:
http://nymag.com/news/features/economic-growth-2013-7/
July 29, 2013, 11:36 am
by Scott Horton
In Friday's New York Times, Charlie Savage takes a closer look at the judges hand-picked by John Roberts for the Foreign Intelligence Surveillance Act (FISA) court.
Ten of the court's 11 judges — all assigned by Chief Justice Roberts — were appointed to the bench by Republican presidents; six once worked for the federal government. Since the chief justice began making assignments in 2005, 86 percent of his choices have been Republican appointees, and 50 percent have been former executive branch officials.
Not surprisingly, the Times review shows that Roberts has fashioned a court in his own image: movement conservative, Republican, largely consisting of persons who previously worked in the government. In sum, Roberts has picked a court that can be relied upon to quickly approve any government request for surveillance, through whatever instruments and according to whatever rules the government wishes.
The two chief justices who preceded Roberts, William H. Rehnquist and Warren E. Burger, were also conservative Republicans, and like Roberts they also ensured that a majority of the FISA court's judges were conservative Republicans. However, neither of his predecessors was nearly so obsessive about it as Roberts — two-thirds of their selections were Republicans, while for Roberts, all but one have been Republican.
Equally consequential, to my mind, are the legal backgrounds of the judges selected.
As Connecticut senator Richard Blumenthal, a career prosecutor, has explained, "Judges who used to be executive-branch lawyers were more likely to share a 'get the bad guys' mindset and defer to the Justice Department if executive-branch officials told them that new surveillance powers were justified."
in full:
http://harpers.org/blog/2013/07/the-gops-surveillance-judiciary/
** Good stuff
By Shaun Heasley
July 31, 2013
The president and first lady will serve as honorary chairs when the Special Olympics World Games return to the United States in 2015, organizers say.
President Barack Obama and First Lady Michelle Obama will lend their support to the international competition when the summer games are held in Los Angeles in two years.
"Michelle and I are so honored to serve as co-chairs of this inspiring event," the president said in a video statement released Tuesday announcing the couple's new role. "The athletes coming to these games represent the grit and determination that is at the very root of the American spirit. They keep working when the challenges seem greatest. They see opportunity where some see limitation."
The games scheduled for July 25 through August 2, 2015 are expected to draw some 7,000 athletes with disabilities from 170 countries around the world in addition to 500,000 spectators. Organizers say it will be the largest event held in Los Angeles since the city hosted the Olympic Games in 1984.
http://www.disabilityscoop.com/2013/07/31/obamas-special-olympics/18424/
on edit for link.