Page: 1
OneGrassRoot
OneGrassRoot's Journal
Profile Information
Gender: Do not display
Current location: NC
Member since: Fri Aug 5, 2005, 08:14 AM
Number of posts: 21,042

About Me
www.wishadoo.org
Journal Archives
Edit to add disclaimer, though not sure it's necessary here. Just in case: I was previously given permission by Skinner to post periodically about http://www.wishadoo.org, especially when it involves DUers, with this required disclaimer: "The administrators of Democratic Underground have given permission for one discussion thread on this topic. The administrators of Democratic Underground make no claims regarding the legitimacy or illegitimacy of this fundraising effort. Permission was granted by Skinner on 8/6/2010, and the moderators have been notified."
TUESDAY MORNING UPDATE: Even though the segment aired on Dr. Drew last night, most of the action items noted below are still valid and in need of our attention, and this thread needs recs to get on the Greatest Page today, please. Thanks!
See DUer, HillWilliam's post here for backstory:
http://www.democraticunderground.com/?com=view_post&forum=1002&pid=1400466
and/or the Wishadoo Wishlist post about his friend, Cindi's, situation with more links, including to donation page to help with medical expenses:
http://bit.ly/QbMN3y
Cindi is appearing on Dr. Drew's Headline News show tonight at approximately 9:30 PM EST. I'm sorry, but I have no idea what channel that is; hopefully you can search to see if you get it.


There is a list of specific action-oriented things we can all do right now to help this situation, including keeping this kicked and rec'd!


1. Sign the Change.org petition:
http://www.change.org/davishome
(Note that the Change.org people created a shorter URL; it's the same petition though
)
2. If you're on Facebook *like* Cindi's page:
https://www.facebook.com/SaveCindiDavisFromForeclosure/posts/201012506697308
3. Share both of the above via twitter, email, Facebook...anyway you can think of to gain exposure.
4. Regarding the Dr. Drew segment, there are several links that were shared for people who want to take part in it in some way, tonight and no doubt after the segment airs:
A. If you're on twitter, Dr. Drew is asking the question: "Would you pay medical bills or your mortgage"
https://twitter.com/drdrewhln
B. This link is to the HLN blog about tonight's segment with Cindi, where you can leave comments:
http://www.hlntv.com/shows/dr-drew
C. Leave comments re: the segment at Dr. Drew's Facebook Page:
https://www.facebook.com/DrDrewHLN/?adid=drdrew
D. Phone poll: Pay medical bills or mortgage-what would YOU do? 1-855-DRDREW5, email with your phone number
http://on.hln.tv/1SZ9PG
EXPOSURE IS WHAT IS NEEDED RIGHT NOW. Let's keeping it going so the attention manifests in COMPASSIONATE ACTION....and JUSTICE.
(I was previously given permission by Skinner to post periodically about
http://www.wishadoo.org,
especially when it involves DUers, with this required disclaimer: "
The administrators of Democratic Underground have given permission for one discussion thread on this topic. The administrators of Democratic Underground make no claims regarding the legitimacy or illegitimacy of this fundraising effort. Permission was granted by Skinner on 8/6/2010, and the moderators have been notified.
")
* * * * *




YOU GUYS ARE GOOD!!!!!!! THE GOAL HAS BEEN REACHED. PLEASE SEE POST #137, WHERE KBLAGBURN EXPRESSES HIS APPRECIATION AND GRATITUDE!!!


DUer, KBlagburn, has been here from THE BEGINNING, people.
He has kindly shared many pictures and personal information with me about his life, so I would know with whom I was interacting as we worked toward getting the Wishlist post together to share with you all.
His situation is, unfortunately, not uncommon. Many veterans are facing dire financial situations, especially those who suffer with medical conditions that have rendered them disabled. People assume benefits cover everything, but they don't. While KBlagburn (
Vet in Alabama
@Wishadoo) is grateful for the benefits he does receive, his family is still in a mess right now.
PLEASE HELP IN ANY WAY YOU CAN
PER KBLAGBURN:
I am a disabled vet and I haven't worked since I had a heart attack in Dec 2011. I do get 70% disability from the VA and that mostly helps cover the bills. I am very grateful to receive that benefit.
But there is nothing left.
Last month I did get behind a little on my rent for the first time and am now trying to play catch up. I currently have a pending claim with the VA, which we filed in Feb. and have recently learned that it is sitting on someone's desk just waiting for a signature. It has been there since aug 21. We applied to the VA for a hardship but that did not seem to make a difference.
One of the hardest parts of this situation is that I am constantly having to cancel my doctors appts at the VA for lack of gas to get there. I am currently rated for PTSD and struggle with depression. I also suffer from severe migraines, fibroymalgia, bad knees, among others. I am supposed to see my VA therapist and psychologist regularly but cannot see them for lack of funds to get there.
I have 4 kids, 2 boys, 2 girls. My 17-year-old son got a job at McDonalds to try to help, but they are only giving him about 8 hours a week. We do get food stamps but with 6 people they dont stretch very far and they last about 2 1/2 weeks.
We are just trying to hang on until my claim is finalized. My vet rep feels that I stand a good chance of getting 100%. I normally don't reach out to strangers but have run out of places to turn. If you like, I can provide any verification you need on any info. I have my VA ID card, DD214, rent receipts, copies of utility bills, anything you need. I have nothing to hide from anyone.
It's very hard to do, but I'm asking for any help you can provide.
Ideally, if we could raise $1000 through the kindness of strangers and fellow DUers, that would help the situation I'm in since I've gotten so behind with everything. But I am extremely grateful for any help that is offered.
Thank you for reading this.
EDIT: His PayPal email is: kblagburn64@bellsouth.net

There is a link at the bottom of the Wishlist post that has worked for some people.
Note that the receipt may say "Magnolia Memories" and that
*is* confirmed
to be the correct PayPal account.
Click this link:
http://www.wishadoo.org/wishlist/127/i-am-a-vet-we-need-help-please
We both would GREATLY appreciate it if you would kindly:
* Recommend this thread and keep it kicked

* Share the Wishlist post with your social networks (or share from here, of course)

* Offer whatever support you can (financial support, information, advice, well wishes, etc.)


You can contact him here at DU through PM or at Wishadoo.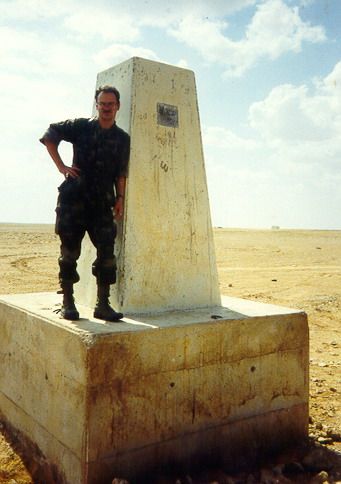 This is a picture of KBlagburn on the Saudi-Iraq Border 1991

* * * * * * *

PLEASE NOTE: Anyone is welcome to use the tools at Wishadoo, so long as the Terms of Service are adhered to (basically "play nice" and don't lie). This includes creating posts in the Wishlist, a "craigslist of compassion." Most of us are struggling with one thing or another, and as you'll see, there are many categories in the Wishlist to cover a variety of issues/needs.

Wishadoo! is a portal of sorts, where there are tools to create more compassionate, cooperative communities; the Wishlist is where we can ask, offer, give, receive and pay it forward. If you create a Wishlist post, let me know your DU name, and I can start to do weekly or biweekly threads such as this to highlight DUers' needs and offerings.

Any contributions to Wishadoo! goes toward the cost of maintaining the site, NOT toward any Wishlist posts. That takes place one on one, between Wishadoo! members. If you are able to help with costs to keep the site going, we all appreciate your generosity tremendously. Thanks to those who have already helped support Wishadoo! ~ OneGrassRoot



"We, the people recognize that we have responsibilities as well as rights; that our destinies are bound together; that a freedom which asks only, what's in it for me, a freedom without a commitment to others, a freedom without love or charity or duty or patriotism, is unworthy of our founding ideals, and those who died in their defense.

As citizens, we understand that America is not about what can be done for us. It's about what can be done BY us, together, through the hard and frustrating but necessary work of self-government. That's what we believe." -- President Obama, Charlotte 2012
I've been working on a project for years
, one which some of you were perhaps just introduced to yesterday in
this thread
.
I started working on this project called
Wishadoo!
even before President Obama was elected. In truth, I've been working towards this my entire life. (read more
HERE
)
When I hear him speak, it always serves to reinforce that I'm on the right track. (I also remind myself that I must be on the right track if Glenn Beck dissed Wishadoo! on his now-defunct Fox show.) I do wonder sometimes though, as it's been a long, hard road and I'm barely making it myself (many of us share that struggle); keeping the site going and trying to promote it on my own has been extremely difficult.
I've posted about it before, inviting people to make use of the various tools there. I haven't done so in a while, so I hope you'll allow me to share Wishadoo! with you again.
There is a LOT involved with Wishadoo!, and there are many spin-off projects waiting to be birthed (such as a
one-stop national resource directory for assistance
, something that, amazingly, doesn't exist, and various co-op ideas).
The puzzle pieces are in place but, just as President Obama tells us, it's not a one-person job. Creating more compassionate, cooperative communities is a joint effort. I've done my best to create the space, with tools, where this can begin to take shape with all aspects of communities working together: businesses, organizations, neighborhoods, schools, and anyone who resonates with the idea.
But I need help. Your help. I'm sharing the infographic below to try to give you a mere glimpse into Wishadoo! and what currently exists and is waiting to be put to use and developed further.
Would you kindly share Wishadoo! with your networks, *like* the Facebook page, follow on twitter, and sign up to be a member? I would GREATLY appreciate it.
If you'll indulge me, rather than overwhelm with tons of information and ideas here, I may post replies to this OP with very specific tasks we can do together NOW to move toward this vision President Obama speaks of and with which most progressives resonate:
A vision where The Common Good is a priority, where we are our brothers' and sisters' keepers, where personal and collective responsibility toward the world we are creating is embraced, with compassion and integrity.
Thanks for reading!
]
"Don't tell me where your priorities are. Show me where you spend your money and I'll tell you what they are." - James Fricke

"The poverty of our century is unlike that of any other. It is not, as poverty was before, the result of natural scarcity, but of a set of priorities imposed upon the rest of the world by the rich." - John Berger
(
The graphics were created last year, thus more up-to-date info could be included, but you get the point...and hopefully others who cheer vulture capitalism do, too
.)