Page: 1
polly7
polly7's Journal
Profile Information
Gender: Do not display
Hometown: Saskatchewan
Home country: Canada
Member since: Sat Jul 9, 2005, 11:46 PM
Number of posts: 20,582

Journal Archives
by Jan Oberg / April 28th, 2015
"Seeking a better life"?
Add to that the now often repeated but totally misleading wording – that these refugees are coming "to seek a better life" in Europe – as if their lives were already good but they want it better.

It's plain nonsense. The issue is not what they flee to but what they flee from. Refugees are on the run from some version of hell.
Civilisation: What about this instead?
Imagine EU leaders had instead stated something like this:
"We have found that refugee numbers are increasing due mainly to arms trade and wars and therefore we are going to invest in early conflict warning and violence-prevention, in educating experts in these fields, in using smart civilian means including dialogue, mediation and negotiations.

Further, we shall increasingly put up arms embargoes instead of intensifying arms deliveries to these and future conflict areas."
Humankind has abolished slavery, absolute monarchy, cannibalism and, in principle, child labour. To solve, or at least reduce, the mounting refugee problem, we should begin to discuss how to increase human civilisation by criminalising arms trade and by abolishing war – as stated in the UN Charter Preamble.

But there are taboos on such common sense ideas in all the countries which consider themselves civilised compared with the morally weak and uncivilised countries they destroy, one after the other.
http://dissidentvoice.org/2015/04/behind-every-refugee-stands-an-arms-trader/
?itok=NmwTEdzw
This week, the IFC said it had no ongoing water concession projects in Africa, and was working on very few in developing countries generally. From a high of 85 major projects in 2007, only 22 were recorded as starting in 2013. Moreover, 63 projects, representing 28% of the IFC's total water investments over the past 20 years, have failed or are in difficulty, according to the bank.

"In the last five years the failure rate of water and sewerage privatisations has increased to 34%, compared with a failure rate of just 6% for energy, 3% for telecommunications and 7% for transportation, during the same period", said Anna Lappé, director of the Small Planet Institute
But this is disputed by some water activists. "It is clear that PPPs in the water sector boost corporate profits at the expense of people. Privatisation, including PPPs, just doesn't work. Where near-universal access to water has been achieved, it has virtually always been through a public commitment to build and maintain infrastructure, which represents 75% of the cost of delivering water to residents. It invariably results in raised prices, water shutoffs for those unable to pay and drastic workforce reductions, says Corporate Accountability International's water senior organiser, Nathaniel Meyer.

"Public officials often claim that due to government budget constraints they are being forced to pursue 'partnerships' with the private sector. But this justification is dangerously misleading, since the private sector consistently relies on the government or taxpayers to fund infrastructure, while extracting a profit, the margin of which can even be guaranteed in concession contracts," he said.
Full article:
http://www.stopcorporateabuse.org/news/water-privatisation-worldwide-failure
Would you rather get your water from your city government - or from a corporation?
?itok=tfhiF-EY
Water privatization in poorer countries has been criticized for leading to exploitation and destabilization of local infrastructures, particularly under "free trade" systems that encourage pro-market reforms. But in US cities too, water systems are being bled by market forces. And in nations rich and poor, when water is corporatized, CAI warns, injustice tends to flow freely:

Private water corporations frame water in business terms, placing economic outcomes over social objectives, preventing prioritization of the poor and vulnerable. Treating water as a mere commodity also relegates it to the whims of the market and bypasses the accountability and transparency of the public sector.

But the cruel effects of water commodification are felt worldwide. With the water shutdown, Detroit exhibited the sort of neoliberal politics that foster both "austerity" and the usual policy response—privatization. When the water got shut down last summer—collectively punishing supposedly "delinquent" customers who were behind on their bills—CAI and community groups expressed fears about the city's move to consult with a premiere water multinational, Veolia, about revamping the water system and cutting costs. CAI Media Director Jesse Bragg believes Veolia may be looking to seize control of its public water infrastructure, as it has done in other regions, and that with Detroit's finances in a desperate state, "Veolia may recommend privatization and use this contract as a foot in the door."

Until now, much of the anti-privatization advocacy has centered on the Global South. For example, in regions of India and the Philippines, neoliberal foreign investment combined with impoverished infrastructure has led to a World Bank water scheme that CAI blames for high costs, constraints on access, polluted water and failing infrastructure.
Full article:
http://www.stopcorporateabuse.org/news/would-you-rather-get-your-water-your-city-government%E2%80%94or-corporation
Are African Land Grabs Really Water Grabs?
By Jennifer C Franco and Lyla Mehta and Gert Jan Veldwisch
Source: CNN Wednesday, March 27, 2013
(CNN) -- Millions of hectares of land have been acquired in the past few years across Africa by investors who are moving into large-scale agriculture to take advantage of potential windfall gains. Popularly these deals have become known as "land grabbing," but they could just as well have been framed as "water grabs."
All around the world powerful actors (transnational as well as national) are pointing out that the lands in which they invest are "marginal" and "unproductive" lands. This has been shown to be untrue for many cases; either the land is already used by small-scale food producers, or is of prime quality and associated with good (potential) access to water.
Full Article:
https://zcomm.org/znetarticle/are-african-land-grabs-really-water-grabs-by-jennifer-c-franco/
http://www.cnn.com/2012/07/05/business/op-ed-africa-land-grab/index.html
Abstract
Global Land And Water Grabbing
http://www.pnas.org/content/early/2013/01/02/1213163110.abstract
[IMG]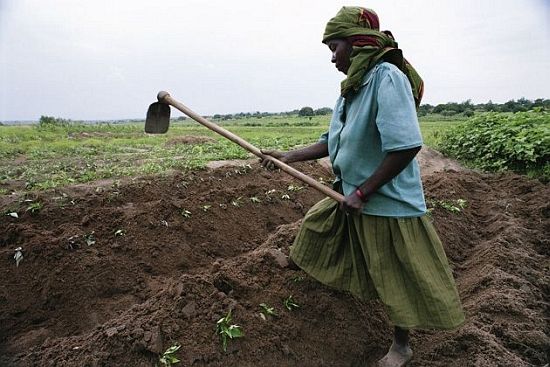 [/IMG]

In 2010, a former Wall Street trader flew into war-torn Sudan to negotiate a deal with a thuggish general. He had his eye on a 1 million acre tract of fertile land fed by a tributary of the Nile in the southern section of the country, a region that later claimed its independence as South Sudan. The investor, who planned to profit by developing and exporting agricultural commodities, boasted about how the region's instability was a principal variable in his financial model: "This is Africa," he told reporter McKenzie Funk, who shadowed him for a riveting piece in Rolling Stone (PDF). "The whole place is like one big mafia. I'm like a mafia head."

Over the last decade (and especially during the last four years) wealthy nations have increasingly brokered deals for huge swathes of agricultural land at bargain prices in developing countries, installed industrial-scale farms, and exported the resulting bounty for profit. According to the anti-hunger group Oxfam International, more than 60 percent of these "land grabs" occur in regions with serious hunger problems. Two-thirds of the investors plan to ship all the commodities they produce out of the country to the global market. And droughts, spikes in food and oil prices, and a growing global population have only made the quest for arable land more urgent, and the investments that much more alluring.

[IMG]
[/IMG]
Data within the PNAS report also indicate that the "mafia head" approach of targeting vulnerable countries for investments is not just the strategy of a lone land-grabbing cowboy, but standard practice. It's easier to wrest land and displace small-scale farmers in countries with a weak rule of law, according to Oxfam. In many cases, the land is developed to export crops or commodities for biofuels, and in other cases, left to sit idle so it can increase in value before it's sold.

Of the countries that lost the highest percentages of their cultivated land, nine out of 10 have malnourishment rates of 5 percent or more (see chart below). And according to Foreign Policy and Fund for Peace's Failed States Index, all the states in the graph below, with the exception of Uruguay, are categorized as unstable.