Welcome to DU!
The truly grassroots left-of-center political community where regular people, not algorithms, drive the discussions and set the standards.
Join the community:
Create a free account
Support DU (and get rid of ads!):
Become a Star Member
Maru Kitteh
Maru Kitteh's Journal

Maru Kitteh's Journal

November 13, 2020

https://nbcmontana.com/news/local/car-plows-through-columbia-falls-grocery-store

MISSOULA, Mont. — Columbia Falls police confirm a suspect is in custody after a car plowed through the Super One grocery in Columbia Falls Thursday evening.

The man is believed to be 40 to 50 years old. Investigators say they do not have a motive. Witnesses say they are amazed no one was injured.

Witnesses tell us they watched a white car drive up and down the aisles.

We have a crew on the scene and talking with witnesses who say they ran and tried to hide behind the bakery counter.

Stunning video shows widespread damage in the aftermath of the incident.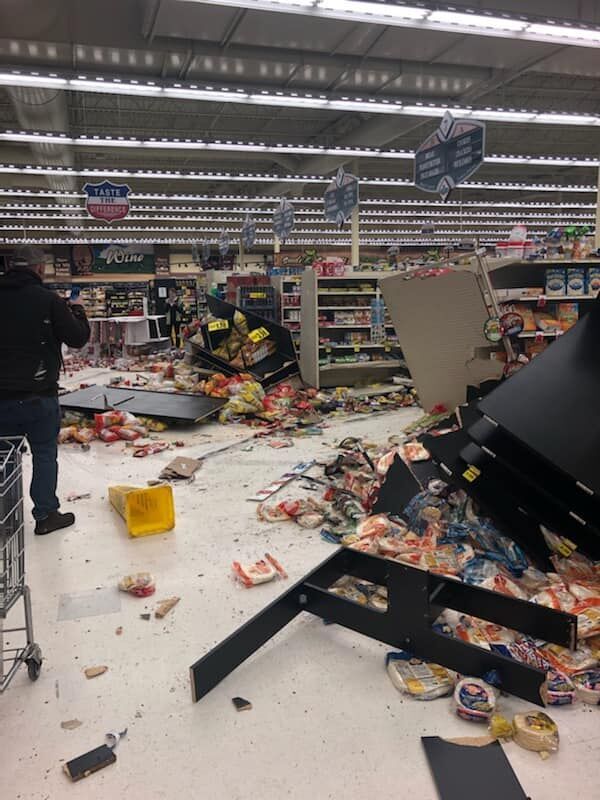 More at link above, including video
UPDATE:
https://www.kpax.com/news/western-montana-news/man-drives-through-columbia-falls-grocery-store
Looks like drugs. Lots and lots of drugs.
COLUMBIA FALLS — UPDATE: 10:14 a.m. - Nov. 13

A man was taken into custody on Thursday after driving through a Columbia Falls grocery store before crashing his vehicle and fleeing on foot.

Columbia Falls Police Chief Clint Peters said a man in his 50s drove his vehicle, a 1995 Chevrolet Lumina, into Super 1 Foods around 5:50 p.m.

After coming in through the front doors, the man then drove down an aisle to the back of the store, before turning around and driving down another aisle. He then left through the front doors and crashed the vehicle across the highway.

Within minutes, Chief Peters said police were advised of a nude male running down a hallway of a nearby retirement home that was near the area where the Chevrolet Lumina was abandoned.

Peters said the nude male fled on foot but was eventually taken into custody near the Columbia Falls mini-storage area. Peters said a short investigation determined that the nude male was in fact the driver of the Chevrolet Lumina that had driven through Super One.

Peters said the man showed signs of drug impairment at the time of his arrest.

The suspect was transported to a local hospital for non-injury medical issues and will be transported to the Flathead County Detention Center when he is medically cleared.

More at link above re UPDATE

Profile Information
Member since: Thu Dec 23, 2004, 10:06 PM
Number of posts: 28,047

About Maru Kitteh
Greetings from the last best place! The Crown of the Continent.