Page: 1
stillcool
stillcool's Journal
Profile Information
Gender: Do not display
Hometown:
Home country: United States
Current location: here
Member since: Wed Nov 10, 2004, 06:51 PM
Number of posts: 32,605

Journal Archives
Russia is 'amplifying' claims of mail-in voter fraud, intel bulletin warns
Bulletin: "Russian malign influence actors" targeted absentee voting process.
By Josh Margolin and Lucien Bruggeman
September 3, 2020, 3:09 PM

Russia has sought to "amplify" concerns over the integrity of U.S. elections by promoting allegations that mail-in voting will lead to widespread fraud, according to an intelligence bulletin obtained by ABC News, again echoing a frequent and unfounded complaint raised by President Donald Trump.

Analysts with the Department of Homeland Security's intelligence branch issued the warning on Thursday to federal and state law enforcement partners after finding with "high confidence" that "Russian malign influence actors" have targeted the absentee voting process "by spreading disinformation" since at least March.

"Russian state media and proxy websites in mid-August 2020 criticized the integrity of expanded and universal vote-by-mail, claiming ineligible voters could receive ballots due to out-of-date voter rolls, leaving a vast amount of ballots unaccounted for and vulnerable to tampering," the bulletin notes.
https://abcnews.go.com/Politics/russia-amplifying-claims-mail-voter-fraud-intel-bulletin/story?id=72799959
I would not put it past cops to set their cities on fire. Gladly.

FBI warned of white supremacists in law enforcement 10 years ago. Has anything changed?
Nation Oct 21, 2016 4:10 PM EDT

In the 2006 bulletin, the FBI detailed the threat of white nationalists and skinheads infiltrating police in order to disrupt investigations against fellow members and recruit other supremacists. The bulletin was released during a period of scandal for many law enforcement agencies throughout the country, including a neo-Nazi gang formed by members of the Los Angeles County Sheriff's Department who harassed black and Latino communities. Similar investigations revealed officers and entire agencies with hate group ties in Illinois, Ohio and Texas.
================================

Problems with white supremacists in law enforcement have surfaced since that report. In 2014, two Florida officers — including a deputy police chief — were fired after an FBI informant outed them as members of the Ku Klux Klan. It marked the second time within five years that the agency uncovered an officer's membership in the KKK. Several agencies nationwide have also launched investigations into personnel who may not be formal hate group members, but face allegations of race-based misconduct.
==================
Policing in America has historically had racial implications. The earliest forms of organized law enforcement in the U.S. can be traced to slave patrols that tracked down escaped slaves, and overseers assigned to guard settler communities from Native Americans. In the centuries since, many law enforcement agencies directly participated in antagonizing communities of color, or provided a shield for others who did. But in the 10 years since the FBI's initial warning, little has changed, Jones said.

Neither the FBI nor state and local law enforcement agencies have established systems for vetting personnel for potential supremacist links, he said. That task is left primarily to everyday citizens and nonprofit organizations like the Southern Poverty Law Center, one of few that tracks the growing number of hate groups in America.

https://chicago.suntimes.com/crime/2020/6/1/21277363/lets-start-riot-galesburg-man-federal-charge-related-rioting-chicago
'Let's start a riot': Galesburg man hit with federal charge related to rioting in Chicago
The charges come as U.S. officials seek to determine if extremist groups infiltrated protests nationwide and tipped peaceful demonstrations toward violence.
By Jon Seidel and Frank Main
Updated Jun 1, 2020,
6:03pm CDT
Matthew Lee Rupert, 28, has been charged in an eight-page criminal complaint in federal court in Minnesota with civil disorder, carrying on a riot and possession of unregistered destructive devices. The complaint alleges Rupert participated in looting and rioting in Minneapolis in response to the police killing of George Floyd before moving on to Chicago.
==============
Still, a Chicago police officer told the Chicago Sun-Times that a sizable number of people looting in the Loop on Saturday night had Southern accents, indicating they were from out of town.
The officer was only involved in one arrest, of a person from Tennessee. "A lot are not from Chicago," the officer said.
==================
Allegations in the criminal complaint against Rupert largely revolve around a Facebook account for "El Ricco Rupert." Rupert allegedly used that page to announce Thursday night that, "I'm going to Minneapolis tomorrow who coming only goons I'm renting hotel rooms."
The next day, Rupert allegedly posted video to his Facebook account suggesting he was in Minneapolis. The video appeared to be filmed by Rupert while he was holding his cell phone, according to an FBI special agent's affidavit. The video was marked "live" and lasted roughly two hours, records show. Authorities allege he passed out explosives, encouraged others to throw explosives at police and appeared to light a building on fire.
At one point, Rupert allegedly said, "There are SWAT trucks up there. They got SWAT trucks up there . . . I've got some bombs if some of you all want to throw them back . . . bomb them back . . . here I got some more . . . light it and throw it." As he made the comments, Rupert allegedly handed out an item with brown casing and a green wick to others.
Man in Joker mask set Chicago police car on fire during George Floyd protests, feds say
Timothy O'Donnell, of Pilsen, was connected to the incident downtown through a tattoo on his neck that said "PRETTY," according to a criminal complaint.
O'Donnell is now among at least five people facing federal charges in connection with the rioting and looting in Chicago last weekend.

A video of the incident that allegedly involved O'Donnell Saturday in the 200 block of North State was given to law enforcement by a witness, according to the complaint. It allegedly shows O'Donnell wearing the Joker mask, holding a lit object and placing it in the gas tank of the CPD vehicle. Prosecutors said the vehicle burst into flames.
By Jon Seidel Updated Jun 2, 2020, 6:25pm CDT

O'Donnell is now among at least five people facing federal charges in connection with the rioting and looting in Chicago last weekend.

A video of the incident that allegedly involved O'Donnell Saturday in the 200 block of North State was given to law enforcement by a witness, according to the complaint. It allegedly shows O'Donnell wearing the Joker mask, holding a lit object and placing it in the gas tank of the CPD vehicle. Prosecutors said the vehicle burst into flames.
LAS VEGAS (AP) —
Three Nevada men with ties to a loose movement of right-wing extremists advocating the overthrow of the U.S. government have been arrested on terrorism-related charges in what authorities say was a conspiracy to spark violence during recent protests in Las Vegas
Federal prosecutors say the three white men with U.S. military experience are accused of conspiring to carry out a plan that began in April in conjunction with protests to reopen businesses closed because of the coronavirus and later sought to capitalize on protests over the death of a Minneapolis man in police custody
They were arrested Saturday on the way to a protest in downtown Las Vegas after filling gas cans at a parking lot and making Molotov cocktails in glass bottles, according to a copy of the criminal complaint obtained by The Associated Press.
https://news3lv.com/news/local/three-men-tied-to-white-extremist-group-arrested-on-terrorism-related-charges-in-las-vegas
Postal Service warns 46 states their voters could be disenfranchised by delayed mail-in ballots
By Erin Cox, Elise Viebeck, Jacob Bogage and Christopher Ingraham
August 14, 2020 at 4:44 p.m. EDT
https://flowingdata.com/tag/washington-post/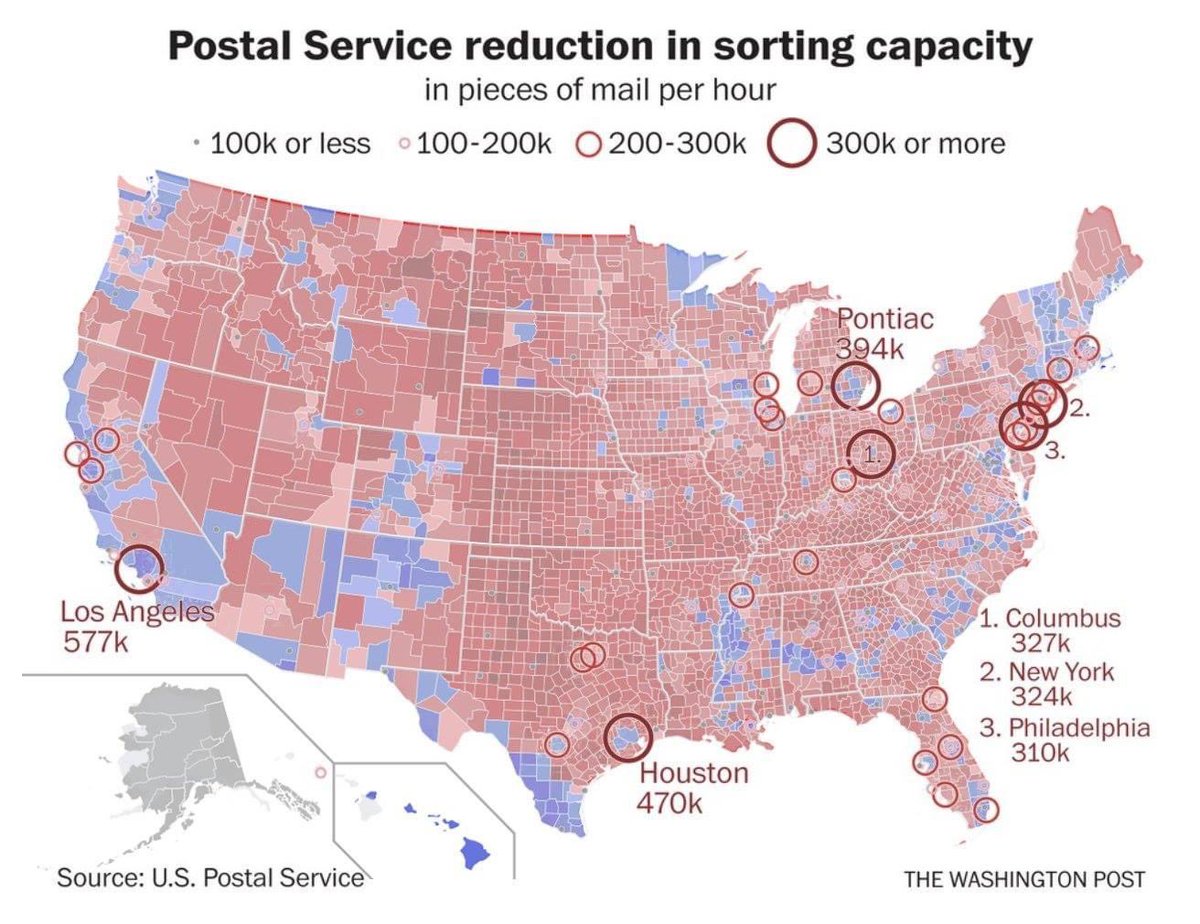 The Postal Service Scandal Doesn't Belong Only To Donald Trump. Mitch McConnell Played A Big Role
https://crooksandliars.com/2020/08/postal-service-scandal-doesnt-belong-only
8/17/20 3:37am
The Postal Service Scandal Doesn't Belong Only To Donald Trump. Mitch McConnell Played A Big Role
Trump isn't the only Republican who's been visiting with DeJoy, and DeJoy isn't the only Postal Service leader who can thank Republicans for his sudden rise.
By Mark Sumner
Before stepping into the top job in May, DeJoy had a total of zero time with the actual USPS.
However, he did have two decades of experience as CEO of a freight company that competed against the Postal Service
—making it no surprise that his stock portfolio is full of reasons to destroy the institution where he works. Much more importantly in terms of landing his current position, DeJoy has long been a big fundraiser for the Republican Party in general and for Donald Trump in particular. In fact, DeJoy was named one of four finance chairs for the Republican Party, along with such luminaries as Steve Wynn and Michael Cohen. And DeJoy's contact with Republican leadership didn't end with cutting checks for their campaigns.
But Trump isn't the only Republican who's been visiting with DeJoy, and DeJoy isn't the only Postal Service leader who can thank Republicans for his sudden rise. As Yahoo! News reports, DeJoy is in "in frequent contact with top Republican Party officials."
Presumably that means Mitch McConnell. Which is quite the coincidence seeing that every single member of the current all-white, all-male Postal Service board of governors can thank McConnell for that role.
=============================
As it turns out, since 1970, members of the board of governors have served in staggered 9-year terms. The idea is to have a board whose membership is spread across multiple administrations and which owes allegiance to no particular White House. That should mean that about half those currently seated on the board are left over from Obama's term in office, with others appointed by Trump. But that's not what happened.
In 2015, Obama re-nominated most of the existing board members for a second term, including those members appointed under Bush. Those six members should all still be on the board. None of them are.

That's because McConnell did what he did so often—blocked those nominations. By the time Trump stepped in, the number of remaining Bush- and Obama-appointed board members was exactly zero.
Then, as with federal judges, McConnell abruptly got out of the way. That means that every single current member of the United States Postal Service board of governors was appointed by Donald Trump. That board then officially ousted lifelong Postal Service employee Megan Brennan, and replaced her with Republican fundraiser Louis DeJoy.
USPS will stop removing letter collection boxes in Western states until after the election, spokesman says
CNN Expansion NYC 2017 PH: JOHN NOWAK Paul Murphy
By Paul P. Murphy, CNN
Updated 10:43 PM ET, Fri August 14, 2020
https://www.cnn.com/2020/08/14/politics/usps-removes-letter-collection-boxes-reduces-post-office-operating-hours/index.html
In a statement Friday night, Rod Spurgeon -- a USPS spokesperson for the service's the Western region -- told CNN that the service will
stop the removal of letter collection boxes in 16 states and parts of two others until after the election.
That means, according to Spurgeon, the
USPS will stop collecting the letter collection boxes only in:
Washington, Oregon, Nevada, Arizona, New Mexico, Utah, Idaho, Montana, South Dakota, North Dakota, Wyoming, Colorado, Kansas, Iowa, Alaska, Nebraska and small parts of Wisconsin and Missouri.
It's not clear if the removal freeze would go into effect across the nation.
Kim Frum -- a spokeswoman for USPS based at headquarters -- could not say if the freeze would go into effect across the country and would not comment on the freeze in the Western region.
Officials say that in the last week the
USPS has removed letter collection boxes in at least four states: New York, Oregon, Montana and Indiana.
The USPS has also begun notifying postal workers in at least three states -- West Virginia, Florida and Missouri -- that they will start to reduce their retail operating hours, according to union officials.

USPS closing some posts offices for lunch, ending extended evening hours
In the St. Louis area, some post offices that had been open until 6:30 p.m. -- specifically to serve people getting off-work -- would start to close at 5:00 p.m, according to Rebecca Livingston, American Postal Workers Union president of the St. Louis Gateway chapter.
Union officials in West Virginia, Florida and Missouri also said workers are being told that post offices must close an hour for lunch.
Lunch "is historically their busier times," Sinikka Melvin, the president of the Clarksburg, West Virginia, local American Postal Worker Union, told CNN.
People often come in during their own lunch hour to send mail or purchase USPS retail products like stamps, according to Melvin. USPS reducing the retail hours worries union officials, who believe it could create long lines at clerk windows during the election season.
The White House says USPS isn't removing mail-sorting machines. Postal workers say it is.
Mark Meadows denied reports that hundreds of mail-sorting machines are being taken offline as part of a new initiative.
By Zeeshan
[email protected]
Aug 16, 2020, 3:40pm EDT
White House Chief of Staff Mark Meadows said in an interview on Sunday that US Postal Service
mail-sorting machines will not be taken offline between now and Election Day
— a statement at odds with reports that the Postal Service is decommissioning 10 percent of its machines this year under a new policy.
But
reports from NBC News, CNN, and the Washington Post indicate that 671 machines are being taken offline under a new policy.
NBC reports that, according to internal Postal Service documents it obtained, the new postmaster general appointed by Trump in May, Louis DeJoy, is the one responsible for the decommissioning initiative. And postal workers say the process of taking machines out of service under this initiative began in June.
A Postal Service spokesperson told NBC News that the decommissioning was due to "Normal business adjustments!" and that equipment was being adjusted due to a decline in the volume of mail and an increase in the volume of packages.
But that policy has some postal workers concerned about their ability to process mail-in ballots, which are expected to surge to unprecedented levels this year due to the coronavirus pandemic. The Washington Post reports that the
American Postal Workers Union has filed a grievance claiming that the decommissioning of the machines — which are "concentrated in high-population areas"
— could hinder processing of election mail
https://www.vox.com/2020-presidential-election/2020/8/16/21370963/usps-postal-service-mail-sorting-machines-trump-meadows-2020-election-ballots
Voters in North Carolina have received absentee ballot request forms in the mail with Trump's face on them
CNN Expansion, Fernando Alfonso
By Fernando Alfonso III, CNN
Updated 4:32 PM ET, Sun August 16, 2020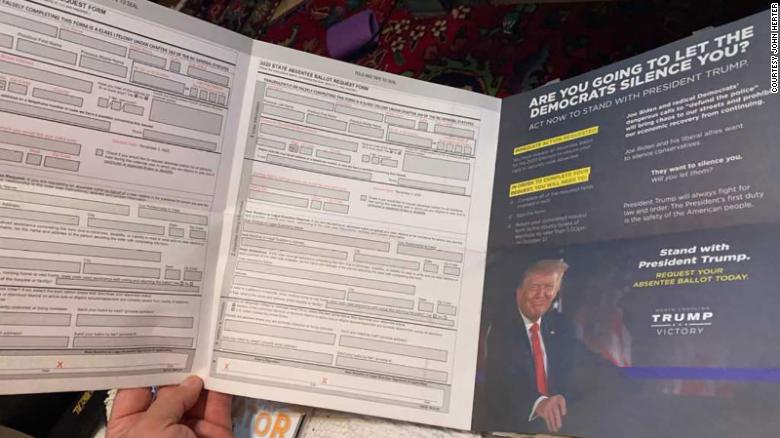 (CNN)Given the crisis facing the United States Postal Service before a presidential election, the last thing John Herter expected to receive in the mail Saturday was an
absentee ballot request form with President Donald Trump's face on it.
"Is this a joke?" Herter said his wife told him as she opened up the mailer to reveal a photo of Trump grinning underneath the words, "Are you going to let the Democrats silence you? Act now to stand with President Trump."
--------------
While it is common for candidates and political parties to send mail to voters, especially those who don't have access to TV or the internet, Real Facts NC, a non-profit dedicated to researching and telling the stories about issues facing North Carolinians, has never seen a mailer like this before, messaging director Jazmynne Williams told CNN.
https://www.cnn.com/2020/08/16/politics/postal-service-trump-absentee-ballot-request-mail-usps/index.html