Page: 1
rpannier
rpannier's Journal
Profile Information
Gender: Male
Current location: Boseong
Member since: Fri Jan 30, 2004, 04:44 AM
Number of posts: 23,876

Journal Archives
It is barely four months until Kyrgyzstan holds parliamentary elections and the party that currently has the most seats in parliament -- the Social Democratic Party of Kyrgyzstan (SDPK) -- has suffered another split.
It is the sort of sideshow the party does not need so close to the elections, as it now has three different versions of itself.
The SDPK has long been one of the most prominent parties in Kyrgyzstan -- the only country in Central Asia where democratic elections are held -- and its practical implosion will leave many questions for the political future of the country.
snip
On May 21, Irina Karamushkina, a member of the SDPK's political council and a deputy in parliament, wrote on Facebook that two of ex-President and longtime SDPK leader Almazbek Atambaev's sons -- Seyitbek and Kadyr -- are joining a new party: the Social Democrats of Kyrgyzstan (SDK).
https://www.rferl.org/a/the-biggest-party-in-kyrgyzstan-continues-to-splinter-amid-infighting/30641640.html
1. Spain minimum income: Socialist government backs benefit for 850,000 vulnerable families
Spain's government on Friday approved the introduction of a "minimum vital income" to be dolled out to 850,000 of the country's most vulnerable families.
Prime Minister Pedro Sanchez, from the ruling Socialist Party, described it as "historic measure", adding: "a country does not prosper if it leaves out part of its population".
He said that it will "protect those who are having the worst time, fight poverty and contribute to the economic recovery of the country".
Deputy Prime Minister Pablo Iglesias, from the left-wing Podemos Party, which has championed such a scheme for over a year, said that the implementation of the measure has been accelerated due to the economic crisis ushered in by the COVID-19 pandemic.
https://www.euronews.com/2020/05/29/spain-minimum-income-socialist-government-backs-benefit-for-850-000-vulnerable-families
2. 'They've Been Killing Him For Years': Russian Activist Sergei Mokhnatkin Is Dead At 66
"There was a man who lived like a little sparrow stuck in the throat of a snake," wrote Russian human rights activist Aleksei Polokhovich on Facebook on May 29.
Russia's liberal opposition and human rights community is mourning the death of Sergei Mokhnatkin, an accidental dissident who over the last decade became a respected standard-bearer for those opposed to the authoritarian government of Vladimir Putin. Mokhnatkin died in Moscow on May 28 after a long illness at the age of 66.
"They have been killing him for many years," columnist and Kremlin critic Viktor Shenderovich wrote on Facebook. "[Now] they have killed him."
Relatives and supporters say that Mokhnatkin died of complications from injuries suffered at the hands of guards in 2016 when he was serving 4 1/2 years in prison in the Arkhangelsk region. That incident left him with a fractured spine.
https://www.rferl.org/a/they-ve-been-killing-him-for-years-russian-activist-sergei-mokhnatkin-is-dead-at-66/30641934.html
3. Bosniak-Croat Federation PM Detained Over Deal To Buy Respirators From China
The prime minister of Bosnia's autonomous Bosniak-Croat Federation has been questioned in a potential corruption case involving the purchase of 100 respirators from China for coronavirus patients.
Fadil Novalic was questioned as part of an investigation into suspected corruption and fraud by federal police on May 28, according to media reports.
Neither the police nor the prosecutor's office would comment on the matter, but they said more information about the case would be released later.
The chairman of Novalic's Party of Democratic Action (SDA), the main Bosnian Muslim party, confirmed on May 29 that Novalic was in custody and asked the prosecutor's office to "urgently present the evidence" against him.
https://www.rferl.org/a/bosniak-croat-federation-respirators-china-coronavirus-corruption/30642876.html
4. Operation underway to remove 40ft dead whale from Essex beach
An operation is underway to remove a 40ft long dead whale from a beach in Essex.
The large mammal, which is believed to be a fin whale, washed up on the shore at Clacton-on-Sea on Friday and the area has since been cordoned off.
It was first seen in shallow water at around 5.30am, locals said.
Essex Police has advised the public to stay away while authorities plan on how to remove the whale.
https://www.independent.co.uk/news/uk/home-news/dead-whale-beach-essex-clacton-on-sea-a9539216.html
5. Pussy Riot and Chilean group join forces against state repression
Governments around the world are using the coronavirus as an excuse to step up repression and push back civil liberties, warns a new song by Pussy Riot, released alongside a new manifesto written with the Chilean feminist collective Lastesis.
The Russian activists and the Chilean group – whose song A Rapist In Your Path became a viral feminist anthem in 2019 – released the manifesto against police violence and state repression on Friday.
snip
The song – whose title 1312 is a numerical representation of the anti-police acronym ACAB (All Cops Are Bastards) – strays into nu-metal dissonance, with singer Nadya Tolokonnikova howling "ACAB try to catch me wow!".
The song refers to the wave of popular protest which erupted in Chile last year – and the violent police response which left thousands injured, including 445 people blinded by anti-riot weapons, and at least 30 dead.
https://www.theguardian.com/world/2020/may/29/pussy-riot-lastesis-chilean-group-release-manifesto-against-state-repression
U.S. congressional lawmakers have complained to the White House about the shipment of dozens of U.S.-built ventilators to Russia, saying the move was done without justification and could potentially deprive coronavirus-infected Americans of treatment.
The May 22 letter, signed by five Democratic lawmakers in the House of Representatives, was the latest development in the ongoing story of how and why medical supplies were shipped by Russia to the United States, and the reciprocal gesture made to Russia by the U.S. administration this week.
The State Department announced that around 200 ventilators, valued at around $5.6 million, were being sent to Russia in what was described as a "humanitarian donation." A military plane carrying the items arrived in Moscow on May 21.
https://www.rferl.org/a/u-s-lawmakers-criticize-white-house-on-shipment-of-ventilators-to-russia/30630103.html
1. Harutyunian Sworn In As President Of Disputed Nagorno-Karabakh Region
Arayik (Ara) Harutyunian has been sworn in as de facto president of Nagorno-Karabakh, the unrecognized breakaway Azerbaijani region.
snip
Nagorno-Karabakh was seized by Armenian-backed separatists who declared independence amid a 1988-1994 conflict that killed at least 30,000 people and displaced hundreds of thousands.
snip
Since a fragile, Russian-brokered truce in 1994, the region has been under the control of ethnic Armenian forces that Azerbaijan says include troops supplied by Armenia. The region's claim to independence has not been recognized by any country.
snip
Russia, the United States, and France are the co-chairs of the Minsk Group of the Organization for Security and Cooperation in Europe (OSCE), which acts as a mediator in resolving the crisis. The group has been struggling for years to mediate a solution.
https://www.rferl.org/a/harutyunian-sworn-in-as-president-of-disputed-nagorno-karabakh-region/30626130.html
2. France announces new date for second round of elections, delayed due to coronavirus
French Prime Minister Édouard Philippe says the second round of the country's municipal elections will take place on June 28.
The first round was held on March 15th two days before France entered a nationwide coronavirus lockdown.
snip
Around 5,000 cities or towns will need to hold a second round due to an inconclusive first round. That means that 16 million voters in France will head to the polls on June 28.
Philippe said it was necessary to continue democratic processes "with the virus and despite the virus", adding that the law requires that the election occurs in June.
https://www.euronews.com/2020/05/22/france-announces-new-date-for-second-round-of-elections-delayed-due-to-coronavirus
3. The Brief: Outrage over reports EU-funding linked to forced labour in Eritrea
Human Rights Watch (HRW) has criticised the European Union over its funding of an infrastructure project in the brutal dictatorship of Eritrea.
The scheme, which received €20 million from Brussels, was partially built by forced labour, according to the New York Times.
snip
"For the EU to rely on the government to do its monitoring, I think it is incredibly problematic, especially when obviously some of the issues the EU will be discussing with the government are around labour force," said Laetitia Bader from HRW.
snip
"And the EU has put more emphasis on developing its instruments to support democratic reforms. But the context now for democracy support in Africa and globally is a very different one because there is more of a competition of political models with China and other actors."
https://www.euronews.com/2020/01/10/outrage-over-reports-eu-funding-linked-to-forced-labour-in-eritrea
4. Putin Signs Law Allowing Voting By Mail And Internet
Russian President Vladimir Putin has signed into law a new measure that allows elections at all levels and referendums to be conducted by mail and via the Internet, according to the Kremlin's website.
The law was rushed through all three readings in the State Duma on May 13 and approved by the Federation Council, the upper house of the legislature, one week later.
Although the bill was introduced by lawmakers from the ruling United Russia party, media reports have asserted that it was drafted by the presidential administration.
The new law will not apply to the planned national vote on proposed constitutional amendments -- including a provision that would allow Putin to seek two more terms as president. That vote was set for April 22, but was postponed due to the coronavirus pandemic.
https://www.rferl.org/a/putin-signs-law-allowing-voting-mail-internet/30630536.html
5. Boris Johnson forced to reduce Huawei's role in UK's 5G networks
Boris Johnson has been forced to cave into to Conservative backbench rebels opposed to the presence of Huawei in 5G networks and has drawn up plans to reduce the Chinese company's involvement to zero by 2023.
The prime minister's retreat is designed to stave off what could have been an embarrassing defeat when his existing proposal to reduce Huawei to a 35% market share was to be voted on in the Commons.
Although Johnson boasts an 80 strong majority, the number of Conservative MPs willing to rebel on the issue is now estimated to be 50 – enough in theory to defeat the government – as anti-Chinese sentiment hardens in the light of the coronavirus crisis.
The mooted retreat will delight the White House which has been relentlessly campaigning against Huawei, but is likely to provoke a hostile reaction from Beijing, which has believed the UK was open to inward investment until now.
https://www.theguardian.com/technology/2020/may/22/boris-johnson-forced-to-reduce-huaweis-role-in-uks-5g-networks
Moldova's Orthodox Church Lashes Out At 'Anti-Christ Plot' To Develop Virus Vaccine
The Moscow-affiliated Moldovan Orthodox Church has called on the country's leadership to ensure that a potential future anti-coronavirus vaccine will not be made compulsory, claiming conspiracy by a "world anti-Christ system" that will allegedly insert microchips into humans to control them via 5G technology.
snip
Some of the theories promoting false claims that billionaire U.S. philanthropist Bill Gates is the alleged mastermind behind the pandemic have been gaining traction online since the beginning of the outbreak, with experts warning they could hamper efforts to curb the virus.
Such accusations are also present in the Moldovan church's statement, which says that "Bill Gates is considered the man responsible for the creation of a technology allowing people to be microchipped through a vaccine that would insert in their bodies nanoparticles that interact with 5G waves and allow people to be remotely controlled."
snip
Hungarian-American billionaire and philanthropist George Soros has also been blamed for creating the virus, which has infected almost 5 million people and killed more than 323,000 around the world.
https://www.rferl.org/a/moldova-s-orthodox-church-lashes-out-at-anti-christ-plot-to-develop-virus-vaccine/30624250.html
They, the anti-vaxers, the conspiracy theorists, etc get a foothold and find enough adherents.
I found this group of photos hard to choose from. So, I posted most of them.
https://www.rferl.org/a/pre-soviet-uzbekistan-in-perfect-color-photos/30608080.html
Sergei Prokudin-Gorsky (second from left) waiting in vain for a break in the clouds to observe a solar eclipse from Central Asia's Tien-Shan mountains on January 1, 1907.
Several years before he was famously commissioned by the tsar to photograph the Russian Empire in color, chemist Prokudin-Gorsky set off on an expedition to what is now Uzbekistan to observe a solar eclipse.
A carpenter strips bark from fresh timber on a back road in Samarkand.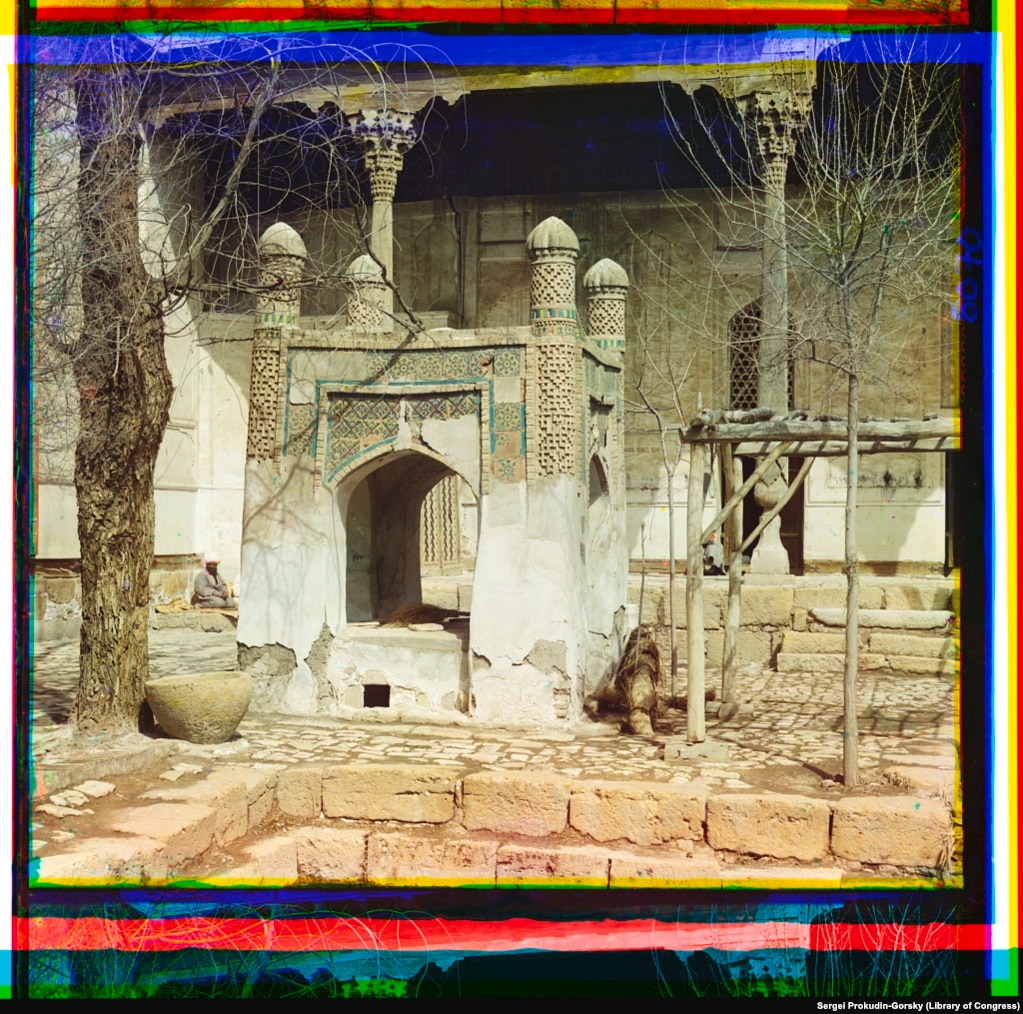 An Islamic shrine stands inside the Bahoutdin Architectural Complex on the outskirts of Bukhara. The heavily-restored shrine still stands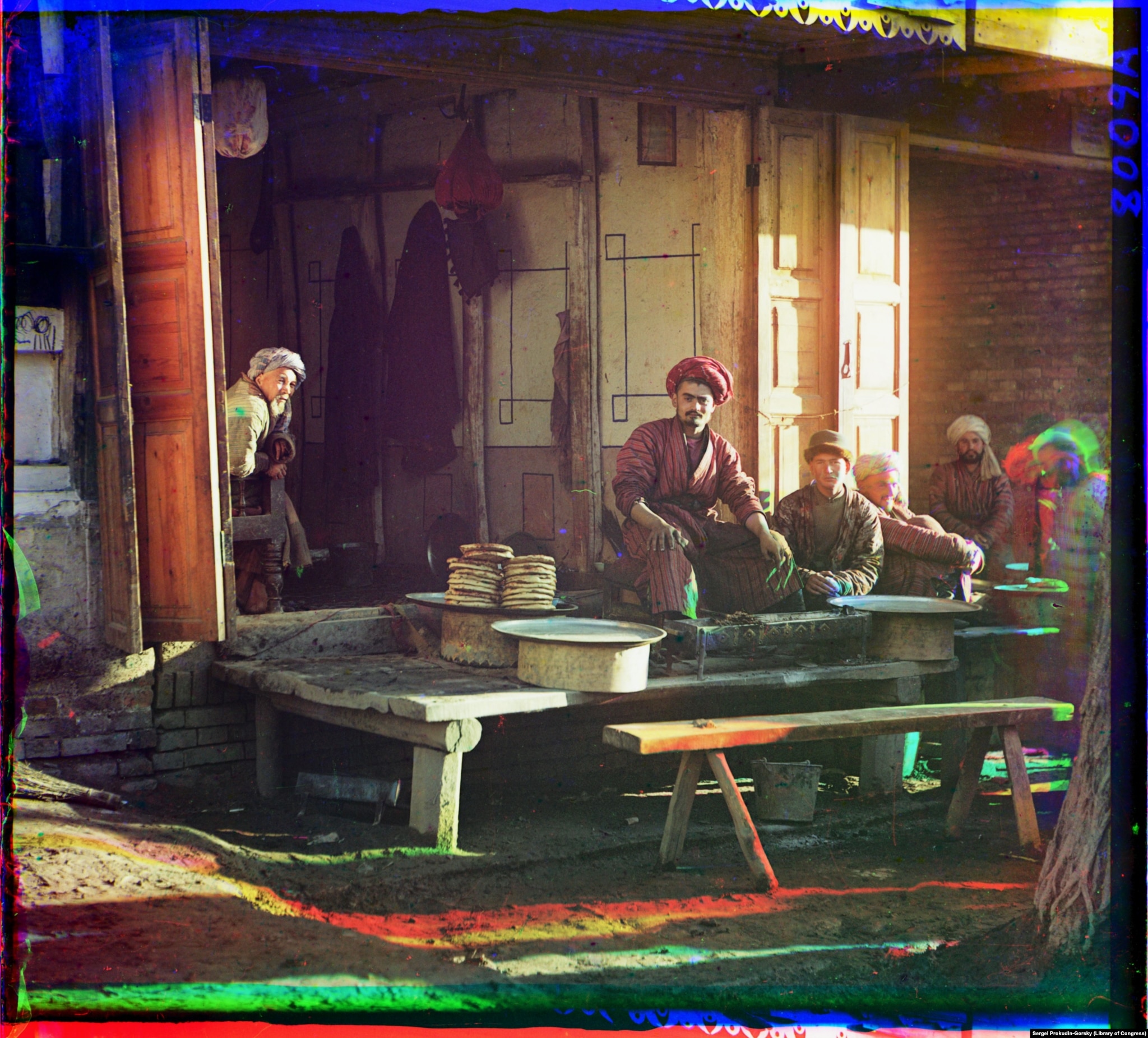 A man pauses a moment from grilling meat over hot coals at a restaurant in Samarkand.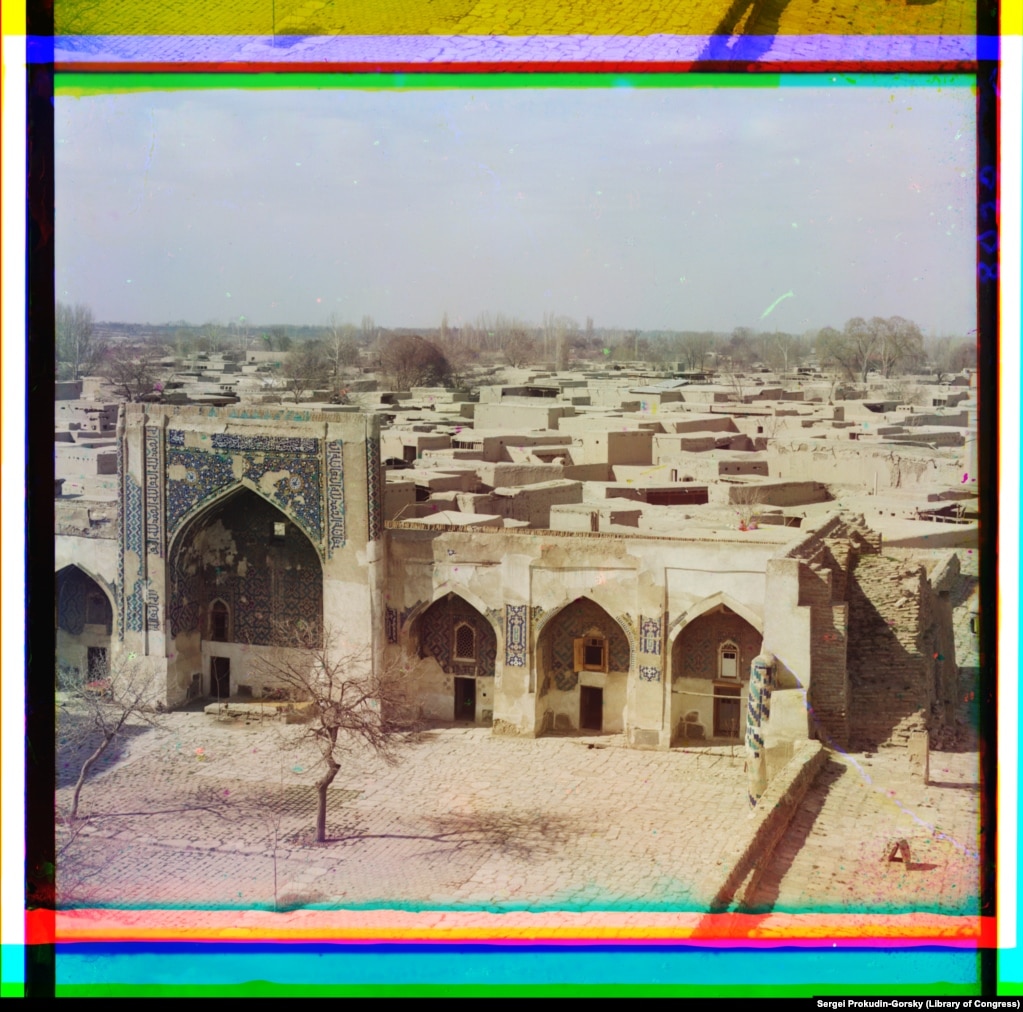 A view over central Samarkand from Registan Square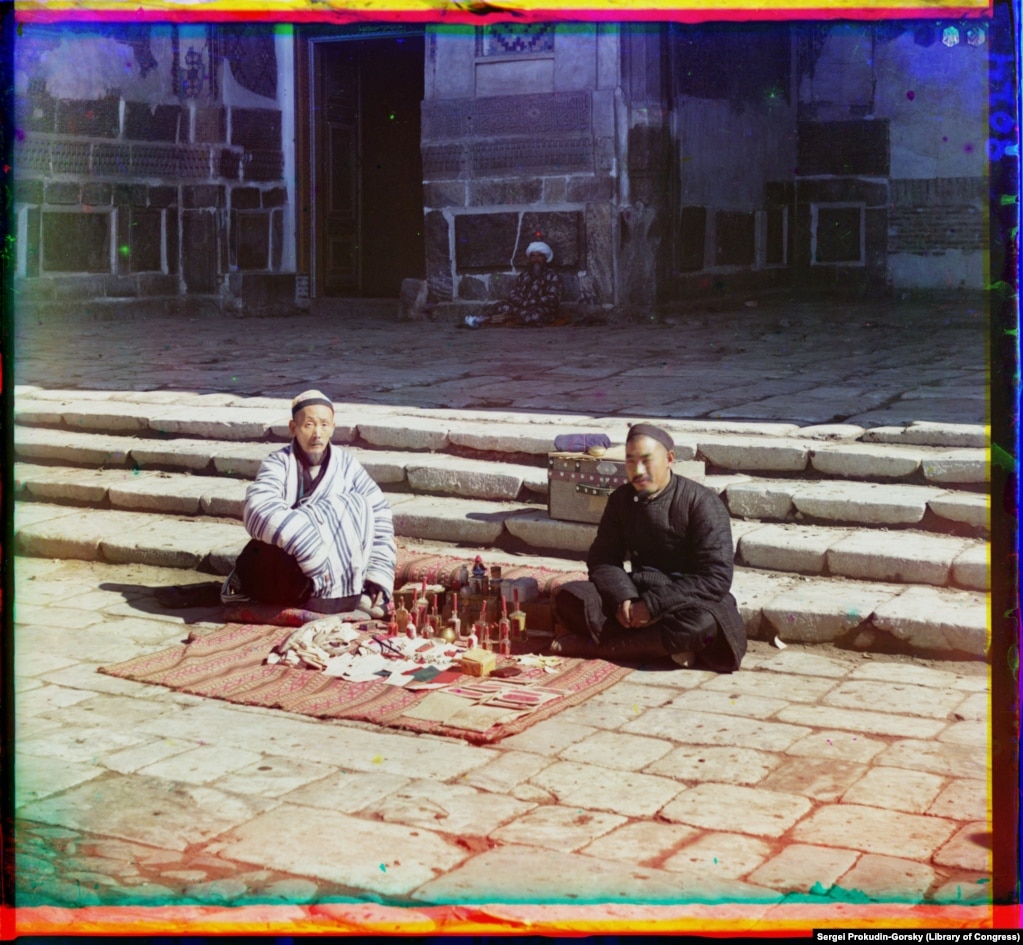 Men sell medicinal products in Samarkand.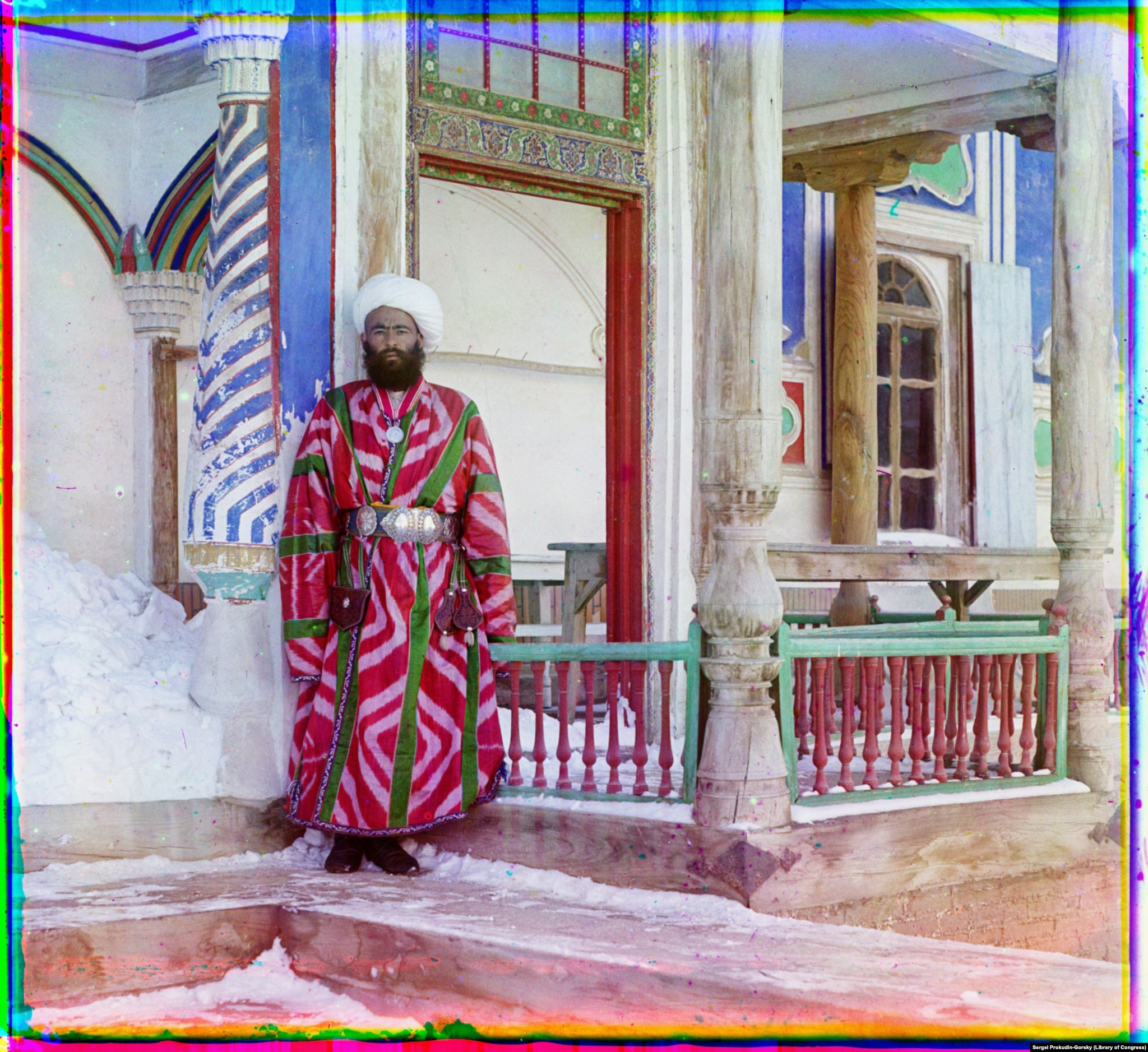 A bureaucrat stands outside the emir's palace in Bukhara.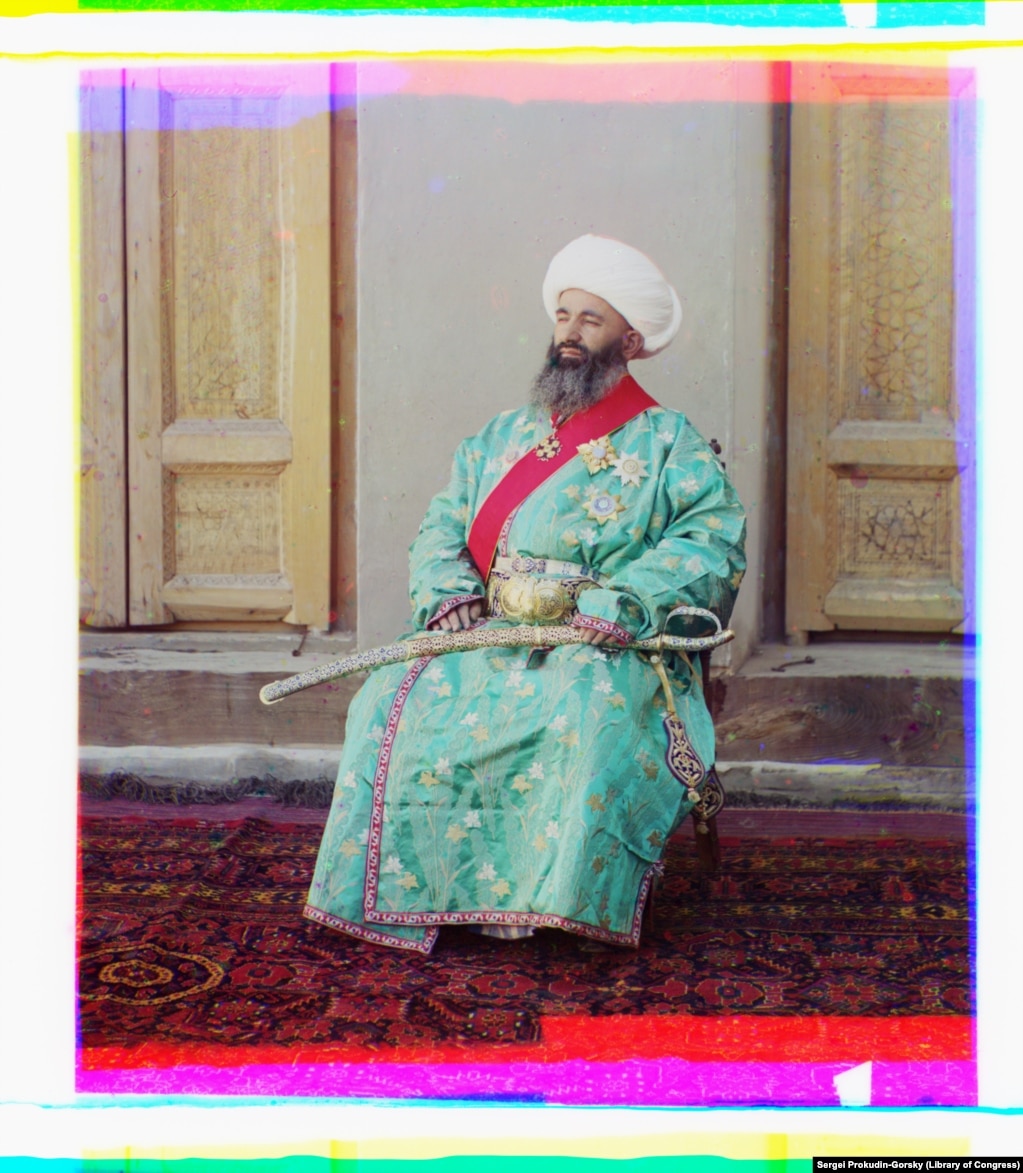 It's unclear when the more than 200 photos Prokudin-Gorsky shot in Central Asia were taken, but photos like this -- of Bukhara's interior minister with a ceremonial sword, which required access to government buildings -- were probably made during the 1911 expeditions, when the photographer had a letter of recommendation from the tsar.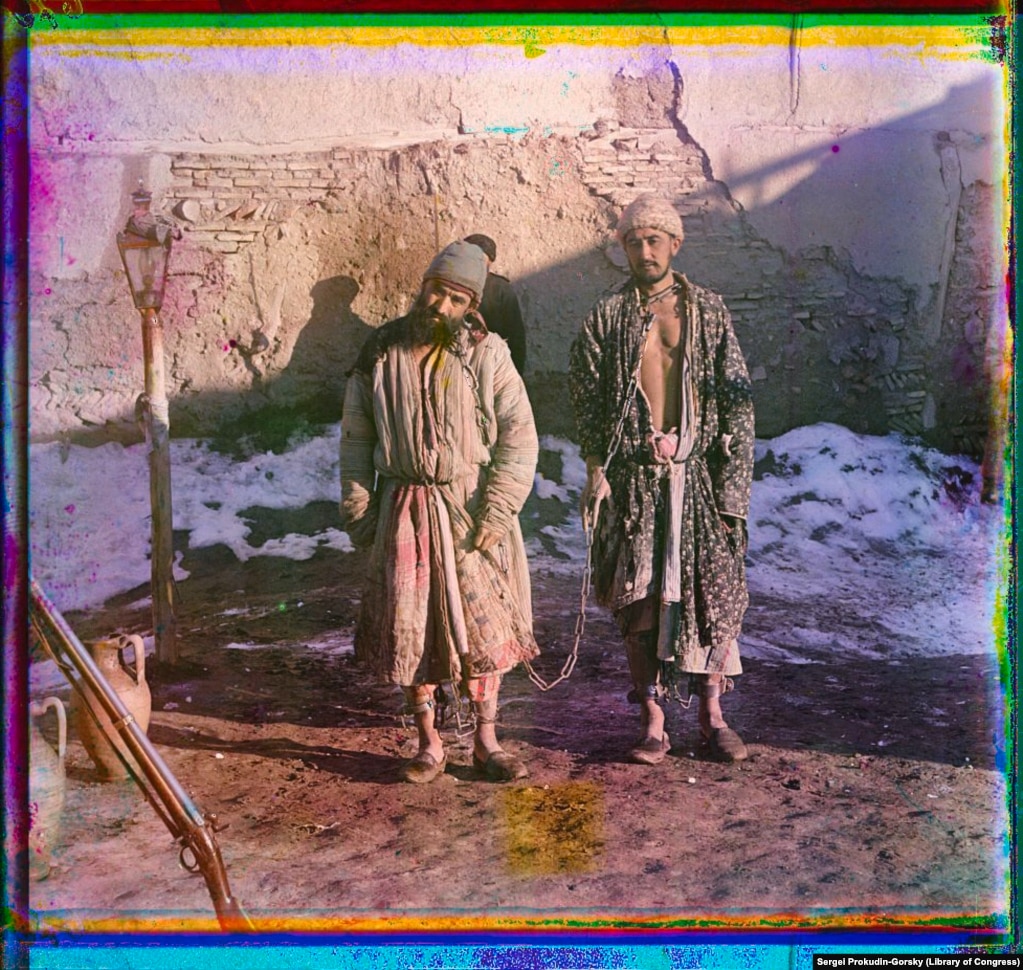 Two shackled prisoners from Bukhara's notorious dungeon
The photo was taken just a few meters from the "bug pit" where two British officers were tortured before eventually being beheaded in 1842 by the emir of Bukhara.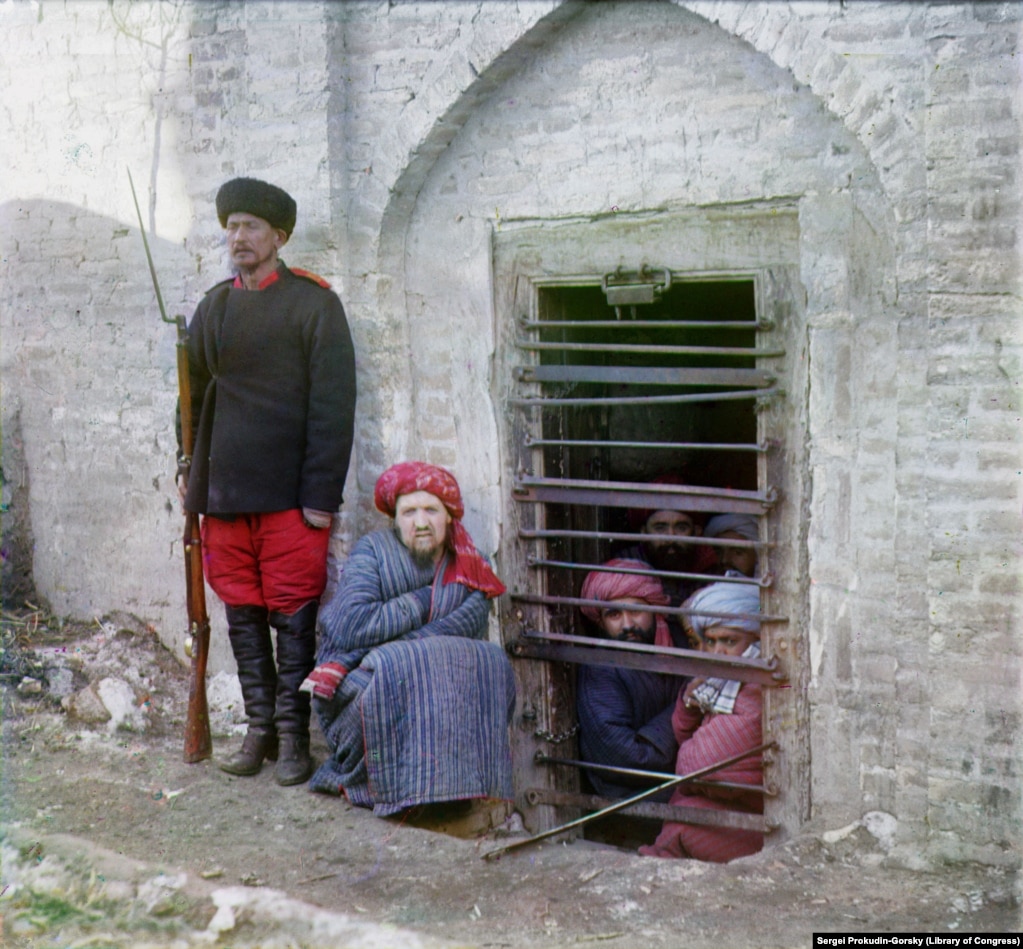 Men are held in the "debtors prison" inside the Bukhara dungeon.
Bukharans who owed either taxes to the government or money to other people were held in the prison but allowed out to work until they had repaid their debts.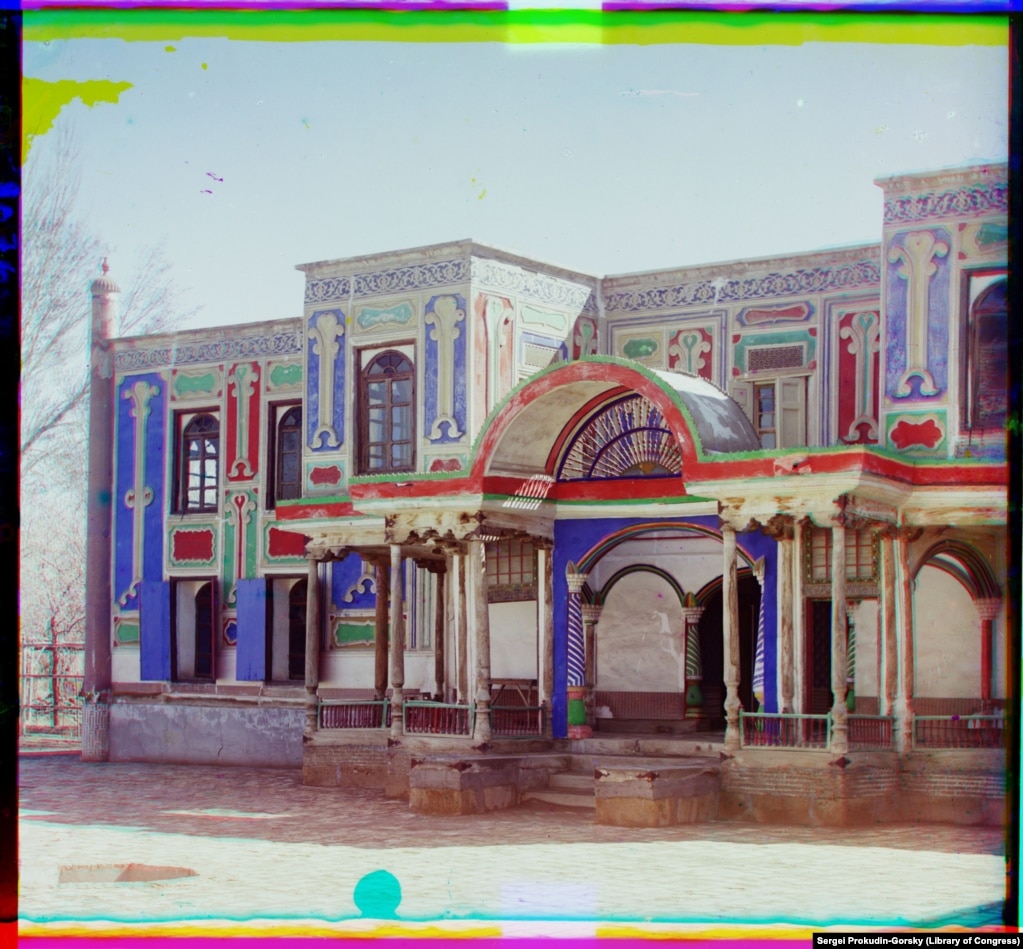 A building inside the emir's palace in Bukhara
1. Belarus Pushes Aside COVID-19 Fears To Hold Victory Day Parade
Thousands of people jammed the center of the Belarusian capital to watch soldiers and military units march as part of celebrations marking the defeat of Nazi Germany, celebrations that took place despite serious concerns about the coronavirus.
President Alyaksandr Lukashenka, who brushed aside warnings from the World Health Organization and criticism from many Belarusian political figures, made passing reference to the coronavirus in his public address during the May 9 events.
"Belarus celebrates this significant date at a difficult time," he said. "However, our current difficulties are dimmed by the hardships and losses that befell the heroic generation that saved the world from the brown plague" -- a reference to the Nazis.
Victory Day has long been a major secular holiday in Belarus, as in Russia and some other former Soviet republics. Fading memories, however, have changed the way the war's end is marked from country to country. Ill will among Russia's neighbors following Moscow's interference in Ukraine in 2014 has also changed how countries mark the day.
https://www.rferl.org/a/belarus-pushes-aside-covid-19-fears-to-hold-victory-day-parade/30602550.html
2. Poland's top politician defends policy after election crisis
The leader of Poland's ruling coalition has defended the government amid questions of how it plans to handle a political crisis over the country's postponed presidential election, according to excerpts of an interview published Sunday.
The election set to take place Sunday was suspended following debate over how and when voting could be done safely during the coronavirus pandemic. The government had proposed an all-postal vote, but criticism of the plan and infighting complicated preparations and led to the postponement announced late Wednesday.
In excerpts from an interview with a weekly newspaper, Law and Justice party leader Jaroslaw Kaczynski said Poland was "changing for the better" under the coalition government led by his party and two smaller parties. At the same time, Kaczynski said it was no secret the coalition was divided.
snip
One of the junior parties in the coalition wanted the election delayed and warned last week that it would vote against the legislation authorizing the postal vote. Under pressure, the ruling coalition said the election would be declared void and new date set.
https://www.euronews.com/2020/05/10/poland-s-top-politician-defends-policy-after-election-crisis
3. Viktor Orban provokes neighbours with historical map of Hungary
Viktor Orbán has generated fresh controversy by posting a historical map of 'Greater Hungary' on Facebook.
Hungary's prime minister posted his support for students taking their examinations on Wednesday, accompanying the message with an image of Hungary's former territory before the end of the First World War.
This historical territory included large parts of modern Croatia, Serbia, Romania and Slovakia – which were all lost under the Treaty of Trianon of 1920 following the collapse of the joint Austro-Hungarian state.
snip
Romania remains home to a large ethnic Hungarian community, but on Wednesday, the country's parliament rejected an initiative to declare the Hungarian language official in Transylvania.
The decision had generated an angry response from the Democratic Union of the Hungarians in Romania (UDMR), who are closely related to Viktor Orbán's Fidesz party.
https://www.euronews.com/2020/05/08/viktor-orban-provokes-neighbours-with-historical-map-of-hungary-thecube
4. Coronavirus: Three bears kept in cages for tourism rescued after Covid-19 shuts business
Three bears that were being kept in cages as a tourist spectacle at a restaurant have been rescued after coronavirus forced the business to close.
The owner of the restaurant, in Armenia, said he no longer had any use for the animals and could not afford to feed them.
The mother bear and her two five-year-old sons are part of a series of rescue missions of wild bears held captive for "entertainment" in the country, after a government crackdown.
It is not uncommon to see bears in cages at restaurants or shopping centres in Armenia. They are often caught as cubs and spend their lives in captivity to attract tourists.
https://www.independent.co.uk/news/world/europe/bears-armenia-coronavirus-cage-animal-rescue-saved-covid19-restaurant-a9506211.html
5. Armenian Parliamentarians Exchange Blows After Coronavirus Aid Criticism
YEREVAN -- Armenian parliamentarians from opposing parties exchanged blows amid a disagreement over the government's economic response to the coronavirus crisis.
During a debate on May 8, Edmon Marukian, the leader of the Bright Armenia opposition faction, accused the ruling My Step faction loyal to Prime Minister Nikol Pashinian of failing to help ordinary citizens amid the economic shutdown.
The opposition has called for larger cash payments to citizens.
Marukian's criticism triggered angry remarks from My Step lawmakers, including Sasun Mikaelian. Displeased by what he heard, Marukian stepped down from the podium midway through his speech and approached Mikaelian, who stood up from this seat. The two threw punches at each other before it was broken up by other members of parliament.
https://www.rferl.org/a/armenian-parliamentarians-exchange-blows-after-coronavirus-aid-criticism/30601694.html