Page: 1
H2O Man
H2O Man's Journal
Profile Information
Member since: Mon Dec 29, 2003, 08:49 PM
Number of posts: 56,651

Journal Archives
"The original instructions direct that we who walk about the earth are to express a great respect and affection and a gratitude toward all the spirits that create and support life. We give a greeting and thanksgiving to the many supporters of our own lives – the plants, the animals, the water, the air, and the sun. When people cease to respect and express gratitude for these many things, then all life will be destroyed, and human life on this planet will come to anend."
John Mohawk, Ha-de-no-sau-nee.
On Friday, I was bringing my best friend & wonderful wife home, after she spent a rough week in the hospital. As we approached our driveway, the vehicle in front of us began to slow down, and I noticed its blinker indicating it was also turning into our driveway. It had an out-of-state plate, which I did not recognize.
My driveway, which is a section of an old turnpike from the late 1700s, is long. When we reached the top, I got out to see who our visitors were, and what they wanted. It was two women, both retired university professors, who were looking for me. One, who taught English and literature, lived in central New York. In the early 1980s, I had been acquainted with her; we used to be an undefeated team in a once-popular board game known as Trivial Pursuit. The other, from the southwest, I recognized as one of the top archaeologists in North America.
They had sought me out because they had read an article that Will Pitt had posted on TruthOut, regarding my recent hunger strike. They had then followed the event on the internet site, Facebook. This pair of former-1960s politica;/social activists-turned university professors had come to offer any assistance that I might need in the struggle to protect the environment from the horrors of hydrofracking.
We talked for about 90 minutes, before I had to leave to a board meeting in Broome County, to plan future actions in the struggle. I opened the meeting with a traditional "greeting" that Onondaga Chief Paul Waterman had taught me. And then, I spoke about something that Gandhi taught: that when you are doing the right thing, for the right reasons, the right people will enter your life at exactly the right time.
And so it is.
(Note: This is an alert going out in NYS. I told the author that I would post it on DU, in hope that people here -- including non-NYS residents -- would be willing to make the requested contacts.
I have a series of medical tests scheduled next week. I'm anticipating the "go-ahead" to engage in a second hunger strike, this time at Robert F. Kennedy, Jr.'s office. I hope to post an OP soon that documents why the grass roots is unhappy with Robert, who is splitting the coaltion of grass roots groups & the larger "environmental advocacy" corporations/organizations.
Thanks for your support! Your friend, Pat)
NYRAD EMERGENCY ACTION ALERT!!!
Governor Cuomo says a decision to allow Marcellus Shale horizontal hydrofracking might be made in as little as 8 short weeks!!!
The National Resources Defense Council (NRDC), in their RDSGEIS comments to the DEC, suggest 2 disturbing alternatives, both of which could endanger the Southern Tier: 1) - A "Demonstration Project" alternative in which up to 300 wells could be drilled in 3 years prior to adopting a statewide HVHF drilling program and 2) - A "Special Places Off Limits to Drilling" alternative that would protect NYC, Syracuse, Catskills, Fingerlakes, Delaware River Water Gap and Cooperstown Corridor but NOT protect the Southern Tier.
The grassroots are 100% UNITED: No FRACKING Demonstration Project, and EQUAL PROTECTION FOR ALL NEW YORKERS
Call and email Kate Sinding and Eric Goldstein (please see their contact info below) and
1. DEMAND that they retract the comments and
2. Publicly declare opposition to ANY Demonstration project, anywhere in NYS,
in an open letter to Gov. Cuomo.
3. Tell them to sign THE WITHDRAW THE DSGEIS COALITION LETTER
4. Request that they sign the Defacto Moratorium Pledge. Accept No Excuses: Tell them that if they are truly interested in protecting us there is no reason for them to NOT sign the pledge!!!
The de facto moratorium pledge:
Given the irreparable harm that shale gas extraction could wreak on New York's environment and public health, I request that Governor Cuomo maintain DEC's de facto moratorium on Marcellus Shale horizontal hydrofracturing until there is a consensus among all local, state and federal authorities as well as potentially impacted parties that the 17 major shortcomings documented in the Withdraw the Revised Draft SGEIS Coalition Letter have been fully resolved.
The full coalition letter with over 22,000 signatures can be found at:
http://toxicstargeting.com/MarcellusShale/cuomo/coalition_letter/2011
In addition to Robert F. Kennedy's position as lead attorney for NRDC and with Riverkeeper and Catskill Mountain Keeper, He and Kate Sinding also are members of Gov. Cuomo's Hydrofracking Advisory Panel. We Need EVERY ONE of the members of this panel to sign the pledge.
Please Call and Email at least these 4 of them. Be polite but firm:
Robert F. Kennedy, Jr., Esq.
Senior Attorney for Natural Resources Defense Council,
Clinical Professor/Supervising Attorney at Pace University School of Law's Environmental Litigation Clinic.
Chief Prosecuting Attorney, Riverkeeper
Webform:
http://www.robertfkennedyjr.com/contact.html
Phone: 914-422-4343 (Pace University - please ask for his secretary, Mary Beth Postman)
Kate Sinding, Esq.
Deputy Director of the Urban Program, Natural Resources Defense Council
Email: ksinding@nrdc.org
Phone: 212-727-2700
Assemblywoman Donna Lupardo
New York State Assembly Representative, 126th District
Email: LupardoD@assembly.state.ny.us
Phone: 607-723-9047 (Binghamton), 518-455-5431 (Albany)
Senator Thomas W. Libous
New York State Senator, 52nd District
Email: senator@senatorlibous.com
Phone: 607-773-8771
Eric A. Goldstein, Esq.
Environmental Director, Natural Resources Defense Council
Email: egoldstein@nrdc.org
Phone: 212-727-2700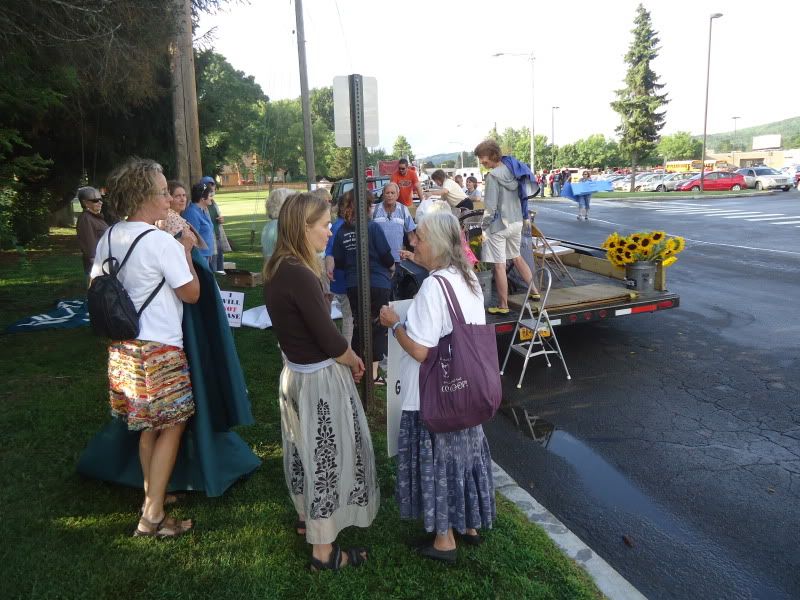 "Warriors are not what you think of as warriors. The warrior is not someone who fights, because no one has the right to take the life of another. The warrior, for us, is one who sacrifices himself for the good of others.
"His task is to take care of the elderly, the defenselss, those who cannot provide for themselves, and above all, the children, the future of humanity."
Totank Yotank (Sitting Bull); Hunkpapa Lakota
In the past two months, I have written a half-dozen or more papers for the grass roots groups I have been working with in New York and Pennsylvania. These are pro-environment, and anti-hydrofracking organizations.
While the pro-hydrofracking politicians refer to us as "tree-huggers," and the internal gas corporation documents I've read call us "insurgents," I tend to view us as human beings. We are university professors and high school students; doctors and lawyers; farmers and factory workers; young and old; and military veterans and other patriots.
One of the things I've noticed in the past year or so, is that many people who are becoming politically active today, do not have the past foundation of experience that some of us old-timers have. Thus, for example, I found that many intelligent people were hestitant to write a letter-to-the-editor, or had questions about the best way to approach a politician.
I made a few suggestions. There are two basic formats that increase the likelihood of a LTTE being published. If a letter to an elected representative includes a request for a personal response, to be used in LTTEs, a politician (or their staff) will usually send something more than a form letter. People can hold small "house parties" to compose letters to the press and politician. And on and on.
We are also having the experience of having more questionable individuals attempting to join our groups. This happens. A high-profile group will attrack an assortment of individuals. Some may be shy, or lack self-confidence. Some may have the types of personality disorders that disrupt group processes.And some may be from the dark side. How do you spot them? How do you deal with them? Again, some of us have experiences from the 1960s, '70s, '80s, and beyond.
How can relatively small groups best coordinate efforts with similar groups? What tensions are normal between such small groups, and some of the larger, more established environment advocacy organizations?
Other issues ranging from voter registration drives, civil disobedience, and other community organizing and political activism, also deserve close attention. These same general issues, by no coincidence, confront those grass roots groups that are engaged in other parts of the struggle for social justice. Indeed, these other groups can potentially be united to create an alliance that is essential for us to achieve in the Good Fight.
A few people have suggested that I write a small "grass roots community organizing" handbook. This might be distributed among other pro-environment, anti-hydrofracking organizations, and potentially other similar groups.
Hence, my question to you: What types of things do you think are important to include in such a book?
Thank you for your consideration.
Peace,
H2O Man
Dear Friends:
Josh Fox, the director of the powerful documentary "Gasland," asked me this evening to get the following message out. This is something that everyone can do. And it is extremely important.
I'll add that "Gasland 2" is going to knock the socks off of the professional liars from the gas corporations, and their parrots and puppets in the government and media.
Please help us on this! It really is more important than I can say at this time. But I'm going to have more – much more – to say in the next few days.
Who knows? Maybe we'll have a DU interview with Josh Fox.
Thank you for your support on this.
Peace,
Pat
NEWSFLASH. URGENT. Tomorrow there is an important fracking hearing in DC. The House Subcommittee on Energy and the Environment will hold hearings on EPA's testing in Pavillion Wyoming. Josh and his crew are being told they cannot film the hearing. CALL OR EMAIL CONGRESS NOW! Tell them Josh should be allowed in to film the hearing. It's guaranteed in the first amendment! Call tonight thru tomorrow morning. Thank you! Please repost!
Committee Phone:
202-225-8844
Committee Contact Form:
http://science.house.gov/contact-us/email-us
(Entire Committee)
Email Us | Committee on Science - U.S. House of Representatives