Welcome to DU!
The truly grassroots left-of-center political community where regular people, not algorithms, drive the discussions and set the standards.
Join the community:
Create a free account
Support DU (and get rid of ads!):
Become a Star Member
Rhiannon12866
Rhiannon12866's Journal

Rhiannon12866's Journal

October 28, 2012
Photo: Smath/Flickr
Sweden, a recycling-happy land where a quarter of a million homes are powered by the incineration of waste, is facing a unique dilemma: The nation has run out of much-needed fuel.
Sweden, birthplace of the Smörgåsbord, Eric Northman, and the world's preferred solar-powered purveyor of flat-pack home furnishings, is in a bit of a pickle: the squeaky clean Scandinavian nation of more than 9.5 million has run out of garbage. The landfills have been tapped dry; the rubbish reserves depleted. And although this may seem like a positive — even enviable — predicament for a country to be facing, Sweden has been forced to import trash from neighboring countries, namely Norway. Yep, Sweden is so trash-strapped that officials are shipping it in — 80,000 tons of refuse annually, to be exact — from elsewhere.
You see, Swedes are big on recycling. So big in fact that only 4 percent of all waste generated in the country is landfilled.
Good for them! However, the population's remarkably pertinacious recycling habits are also a bit of a problem given that the country relies on waste to heat and to provide electricity to hundreds of thousands of homes through a longstanding waste-to-energy incineration program. So with citizens simply not generating enough burnable waste to power the incinerators, the country has been forced to look elsewhere for fuel. Says Catarina Ostlund, a senior advisor for the Swedish Environmental Protection Agency: "We have more capacity than the production of waste in Sweden and that is usable for incineration."
http://www.mnn.com/lifestyle/recycling/blogs/sweden-runs-out-of-garbage-forced-to-import-from-norway
October 21, 2012
NEW YORK (CNNMoney) -- A recall is underway for Banana Boat products that could give new meaning to the word sunburn.

Energizer Holdings (ENR), the consumer goods conglomerate that produces Banana Boat products, announced Friday that certain of the brand's sunscreen sprays may potentially burst into flames on users' skin if they come in contact with a flame or spark before the spray is completely dry.

Energizer said it has received reports of four "adverse events" in which the sprays have caused burns in the U.S., and one in Canada. The company said it believes the problem stems from the fact that the spray valves on the products in question dispense more than is typical in the industry, meaning that the spray takes longer to dry.

"If a consumer comes into contact with a flame or spark prior to complete drying of the product on the skin, there is a potential for the product to ignite," Energizer said in a statement.


http://money.cnn.com/2012/10/19/news/companies/sunscreen-recall-flames/index.html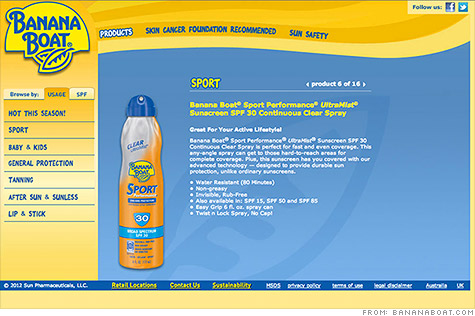 Maybe not so great for your active lifestyle.


October 15, 2012
Source: (Albany) Times Union

NEW YORK — Sen. Chuck Schumer says scammers are stealing thousands of senior citizens' Social Security payments, often with just one phone call.

The New York Democrat on Sunday urged the federal Social Security Administration to take safety measures to curb the fraud.

As of August, the senator says, there have been more than 19,000 reports of attempted identify thefts. That's about 50 each day.

The payments are directly deposited into private bank accounts. Scammers divert payments by obtaining account information, then making a phone call to reroute the money to their own accounts.

Read more: http://www.timesunion.com/news/article/Schumer-calls-for-Social-Security-safety-measures-3948279.php


---
As if seniors didn't have enough to worry about from the Republicans...
Profile Information
Gender: Female
Hometown: NE New York
Home country: USA
Current location: Serious Snow Country :(
Member since: 2003 before July 6th
Number of posts: 194,650