Page: 1
regnaD kciN
regnaD kciN's Journal
Profile Information
Gender: Male
Hometown: Maple Valley, Washington
Member since: 2001
Number of posts: 25,204

Journal Archives
Time for my annual photo retrospective. For those of you who haven't seen one of these before, I always have two rules in building this collection:
1) One photo per month.
2) None of which has been shown on DU before.
Normally, at this point, I gripe about how difficult it's been to choose this year, because I tend to post every good image I shoot here. This has been an unusual year, though. Through about mid-July, I was keeping up to my normal pattern of posting after most of my shoots. From that point onward, however, I pretty much dropped out of the loop in the Photo Group. Maybe it was because I had less opportunities for photo trips out of the area, maybe because most of my visits to this political site were, in the autumn of a preisdential election year, concerned overtly with politics. However, the upshot is that much of this material will be completely new for DU -- not just the shots themselves, but any photos from those shoots.
January
began with a bang -- literally, in the form of a once-every-hundred-years ice storm that culminated with the crown of a large maple tree breaking off and crashing through our bedroom ceiling at four in the morning. Needless to say, after that, photography got pushed to the back burner for awhile while I concerned myself with matters such as having part of the house rebuilt. The photo here was from the early part of the storm, back when it was just an average winter snowfall, before things got seriously weird. (NOTE: This was
not
the tree that fell on the house.)
As I indicated above,
February
was largely spent with contractors and insurance adjusters rather than photography. However, I did have time to get this predawn image of a snowy Mount Rainier.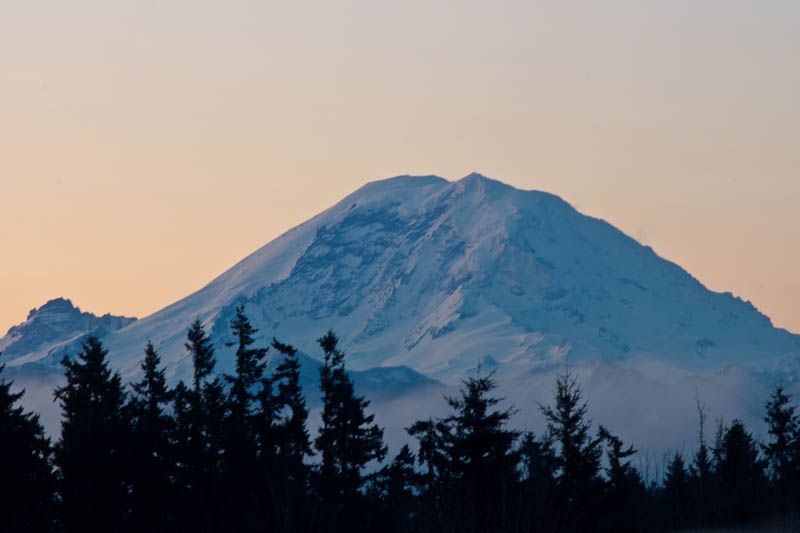 As usual,
March
was the beginning of flower season in the Northwest, with the Skagit daffodil fields coming into bloom.
April
brought us tulips in the same farming area.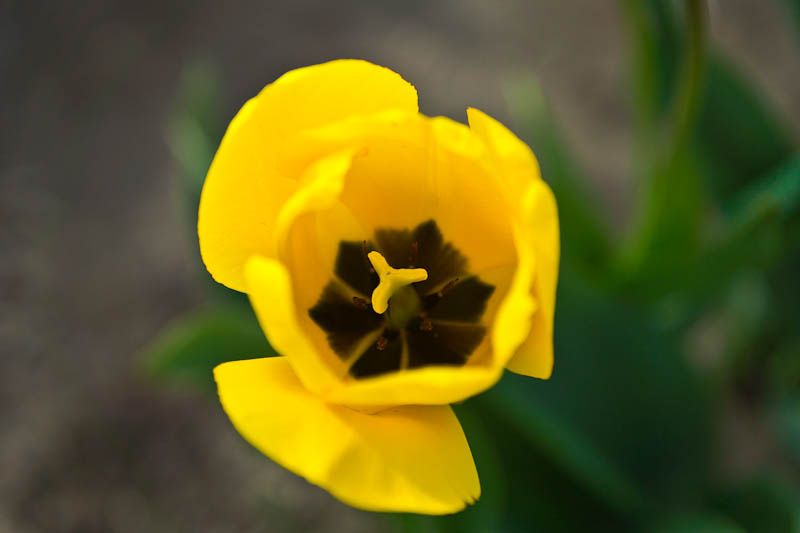 Finally, the azaleas and rhododendrons came into bloom in
May
.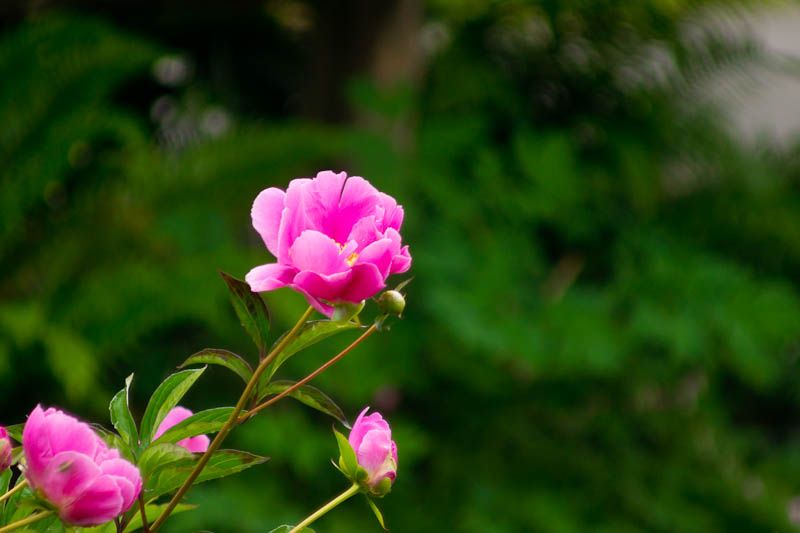 June
marked our long-anticipated trip to Yosemite.
July
found me experimenting with nighttime photography, with this view of the galaxy captured near the entrance to Mount Rainier National Park.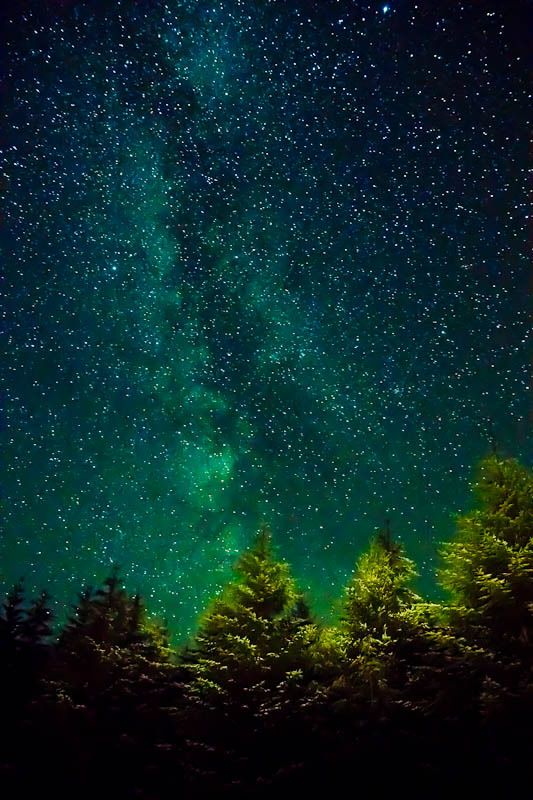 August
marked a return to Rainier, and the shocking discovery that the National Park Service, in the spirit of "we had to destroy the village in order to save it," had paved over a large strip of wildflowers at Reflection Lakes in the name of building a barrier...to prevent people from trampling on the wildflowers. Since the location was one where I had long planned to shoot, but always been stymied by bad weather, early road closures, or other obstacles, this was an especially hard blow. Eventually, I found a position on the barrier where I was able to capture the sunrise vista, along with the flowers that were left. Nice, but...you should have seen it a few years ago!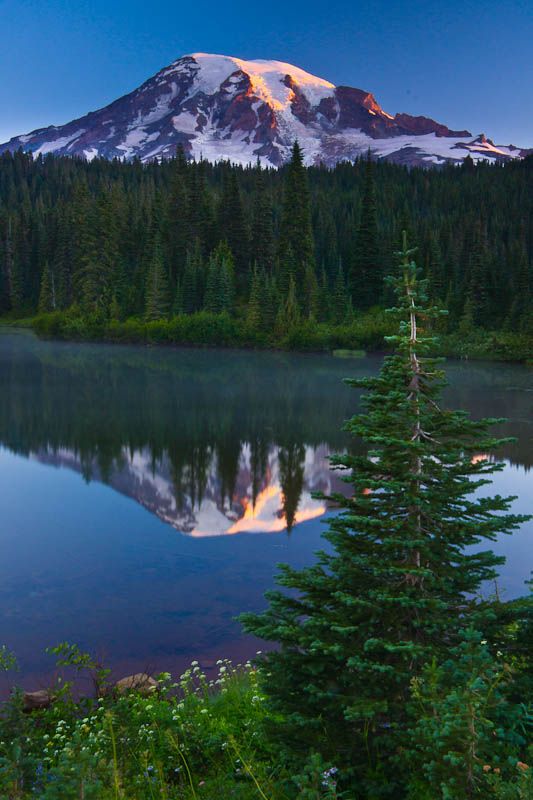 September
brought the beginning of autumn foliage, as found in these dwarf maples.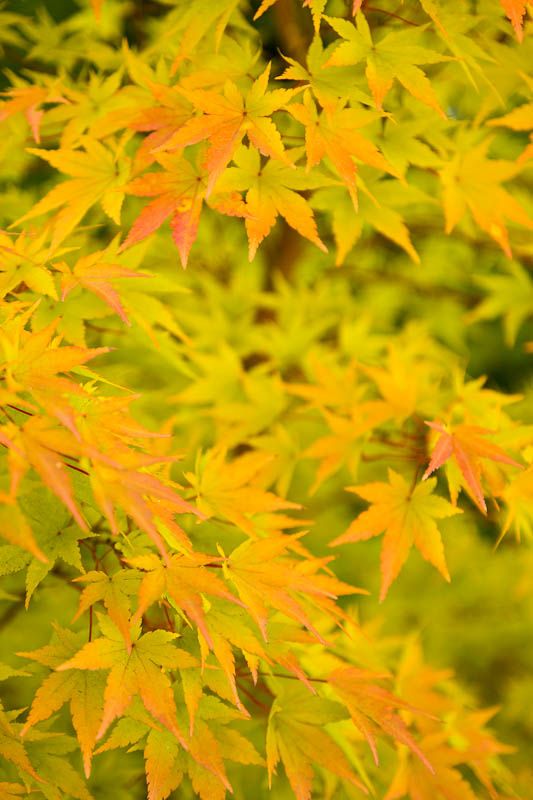 October
saw me returning to Kuboda Garden, where this scene was waiting.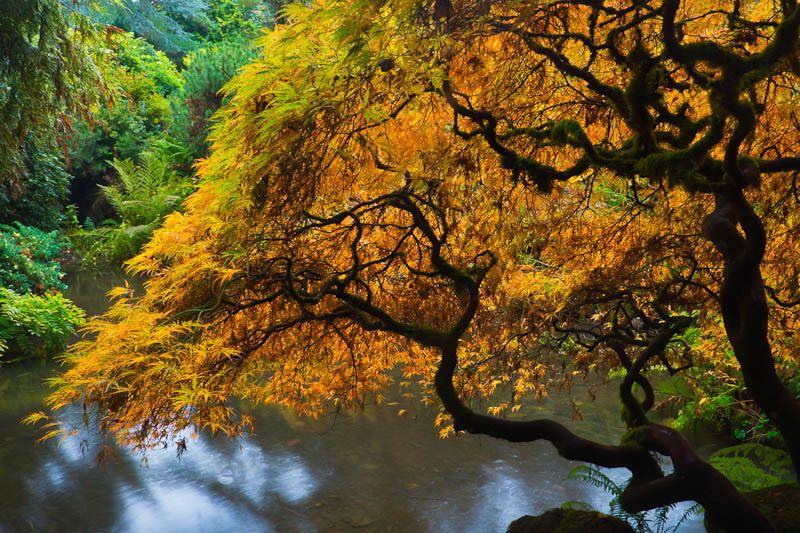 By
November
, the leaves were gone, and we were back to bare trees.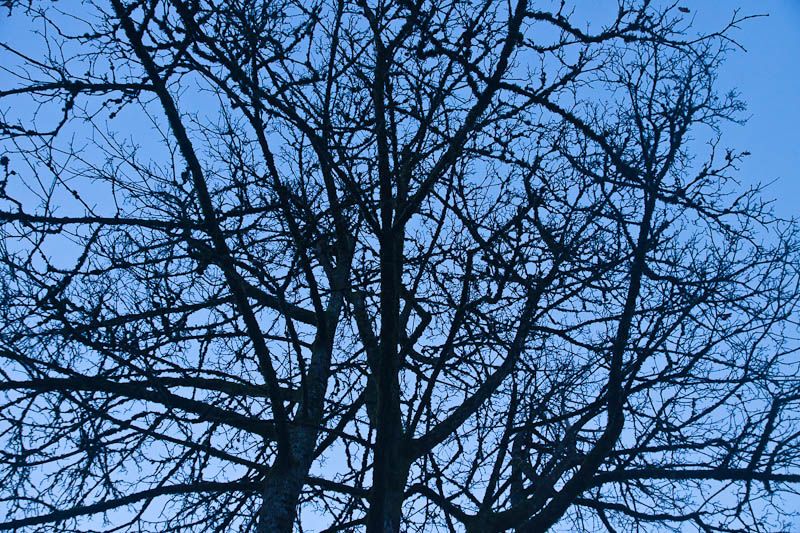 And
December
culminates with an "urban landscape" -- the holiday-bedecked Space Needle against the nighttime Seattle skyline.
Forty-nine years.
It was Easter vacation of 1963 when my family and I made what we assumed would be merely another in a long line of annual trips to Yosemite National Park, in a tradition started the year before. Even at age 6, I could tell that Yosemite was an incredibly special and beautiful place, and felt an almost spiritual connection to it. (The night before we left for our home in Los Angeles, I got to see snow for the first time in my life.) Needless to say, at that age, I didn't take any photographs; my camera at the time was a Kodak Brownie loaded with Verichrome Pan, and I left it home both times I visited. In any event, there was really no need to rush things; for surely we'd be back again and again for years to come.
The next January, my father's employer transferred us to Europe. When that stint was over, we were sent to the East Coast, where we settled for the rest of my youth. Any trips out west were restricted to visiting family and friends in L.A.
Even when I became an adult, and lived in Southern California and then the Pacific Northwest for decades, I never returned to Yosemite. Why? Mainly because, due to work, school, and family responsibilities, the only time I could get away for enough time would have been in late summer, just at the time when the Park is at its hottest, driest, most-crowded, and least-photogenic. Besides, even though I would wish every year that I could return, I figured I still had lots of time to make it back there...didn't I?
Well, over the past year, as I find myself more and more on "the back side of the hill," circumstances caused me to begin to realize that "lots of time" is not something anyone can count on. (No, I don't have any terminal illness or anything dramatic like that; just the realization that, as every year passes, I have a little less time to accomplish whatever I might want to do.) And so it was that, this year, I decided I had to
make
the time to return to Yosemite, rather than assuming that the time was going to be granted me sometime down the road.
And so, in the late afternoon of June 22, a little more than forty-nine years and two months after I last passed through the entrance gates, I found myself driving into Yosemite Valley...and, instantly, finding myself "at home" once again...this time,
with
my camera.
The iconic Wawona Tunnel View, usually a late-afternoon shot, but this time seen through dramatic skies at sunrise.
El Capitan from Cathedral Beach.
Cathedral Rocks
Early-morning view from Swinging Bridge.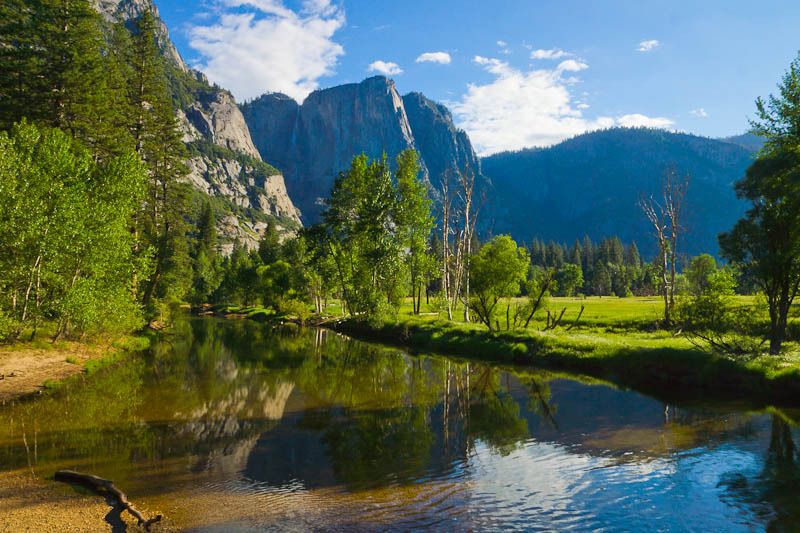 A bit later in the day, Upper Yosemite Falls from the same location.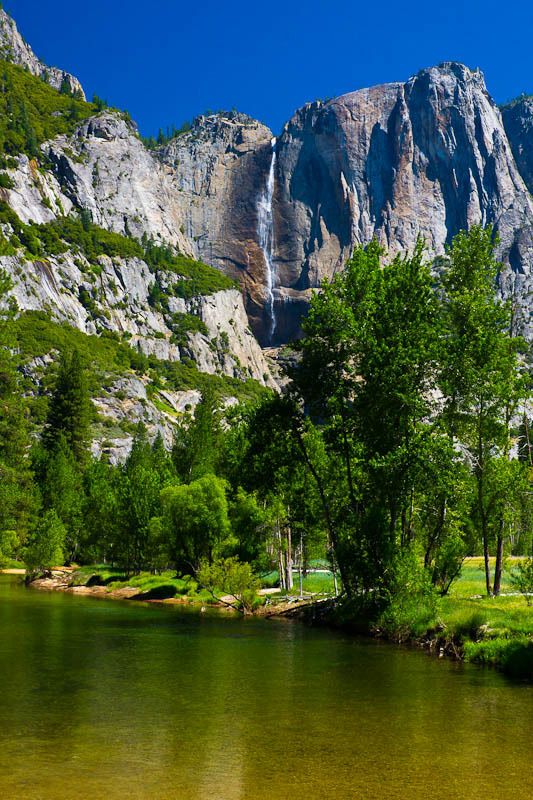 Gates of the Valley -- I couldn't decide if a horizontal or vertical view was better.
Back to Tunnel View -- this time, with a rainbow on Bridalveil Falls. (I understand this is a fairly-common occurrence; which makes it surprising for me that I've seen practically no other images showing the rainbow from this vantage point.)
In fact, the phenomenon was quite common; here's a rainbow visible from Gates of the Valley.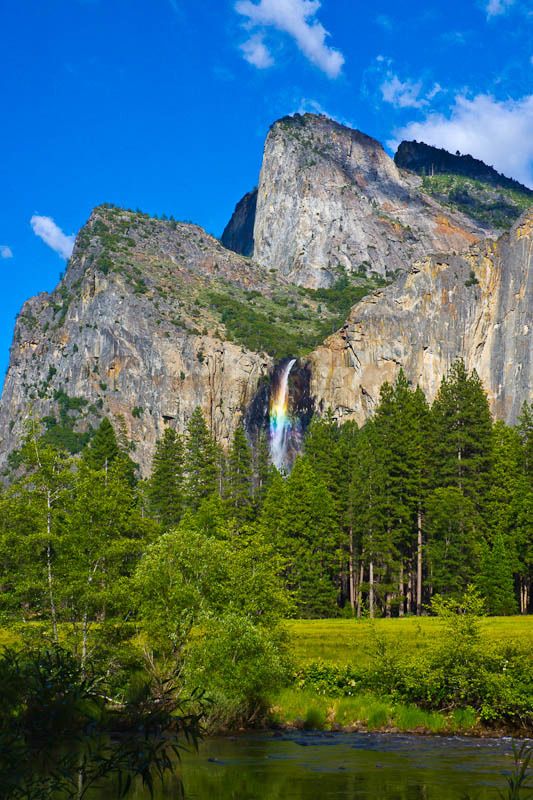 From the base of Bridalveil, you even get a
double
rainbow.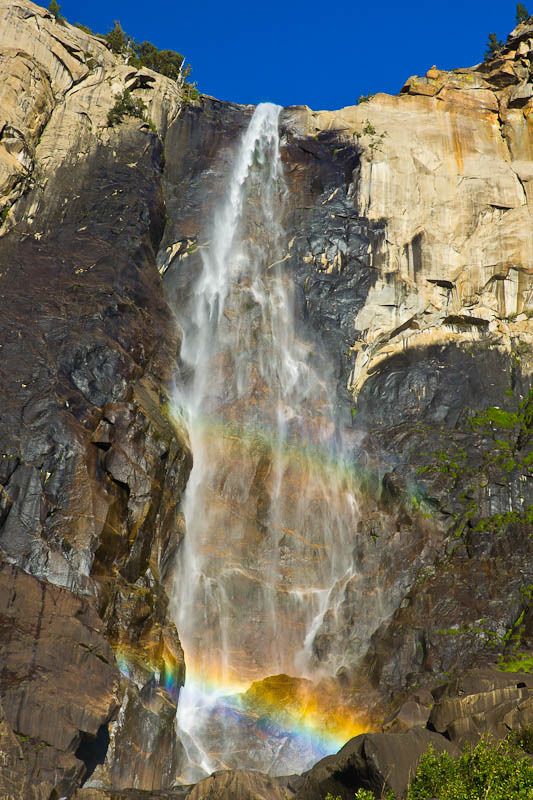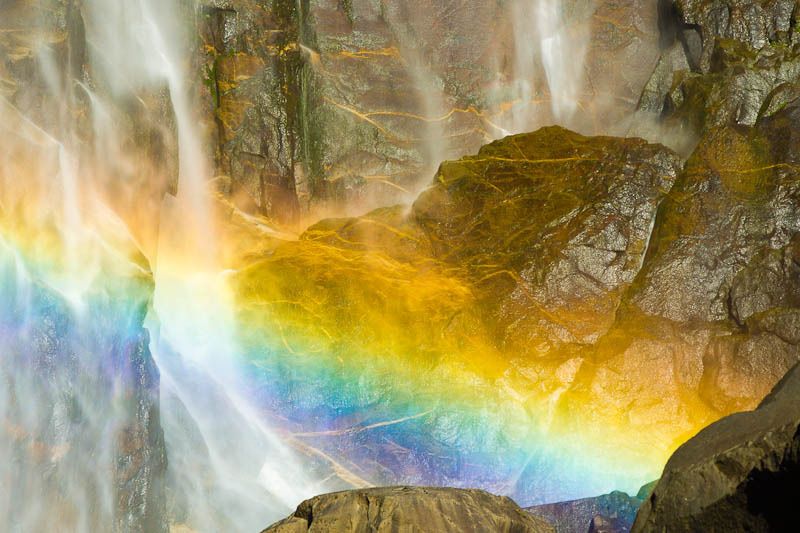 Some views of Bridalveil Creek beneath the falls.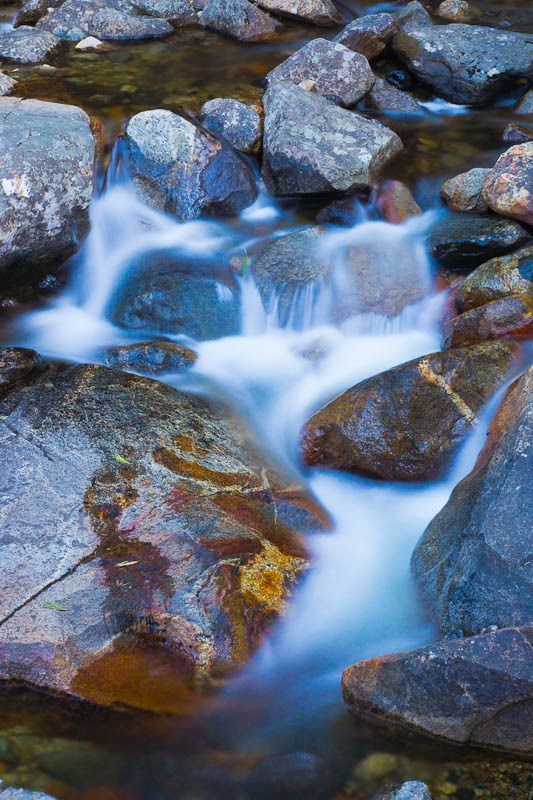 Upper Yosemite Falls from Cook's Meadow.
Lower Yosemite Falls.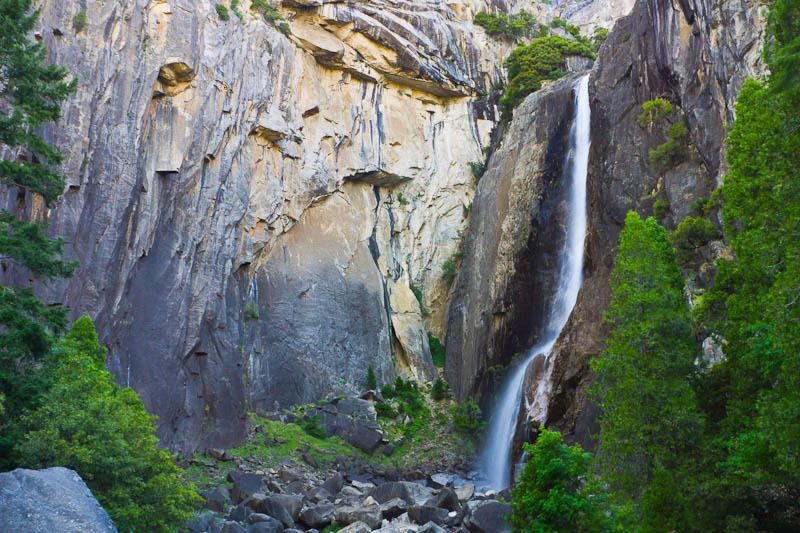 Sunset light on Half Dome from Sentinel Bridge.
Giant Sequoias at the Mariposa Grove (shot under light that was precisely wrong for the subject, but the A77 managed to capture a contrasty scene without my needing to resort to HDR).
"Shadow of a Giant" -- the Grizzly Giant, supposedly the largest tree on earth.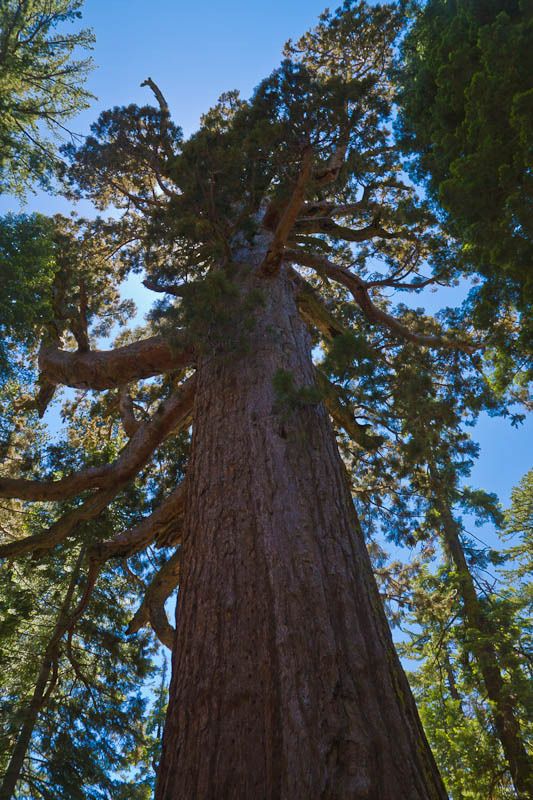 A panorama from Glacier Point. (After looking up at Half Dome for several days, it was a bit of a shock to be looking
down
at it for once.)
This view shows the two other main waterfalls of Yosemite Valley, Nevada Falls (the large waterfall to the right of Half Dome) and Vernal Falls (the smaller, partially-shaded fall just below and to the left of Nevada), the trail to which I had neither the time nor the stamina to hike.
Later in the afternoon, the same view bathed in the setting sun.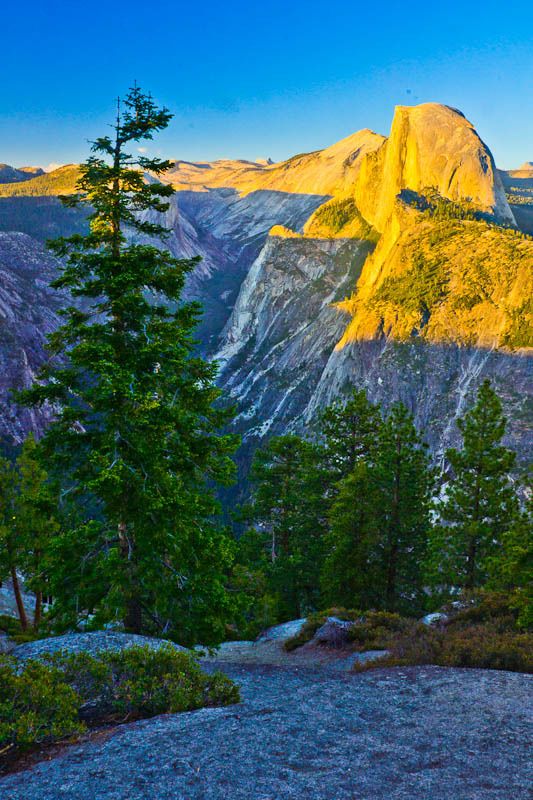 Fearless squirrel flopped at my feet on the terrace at Curry Village.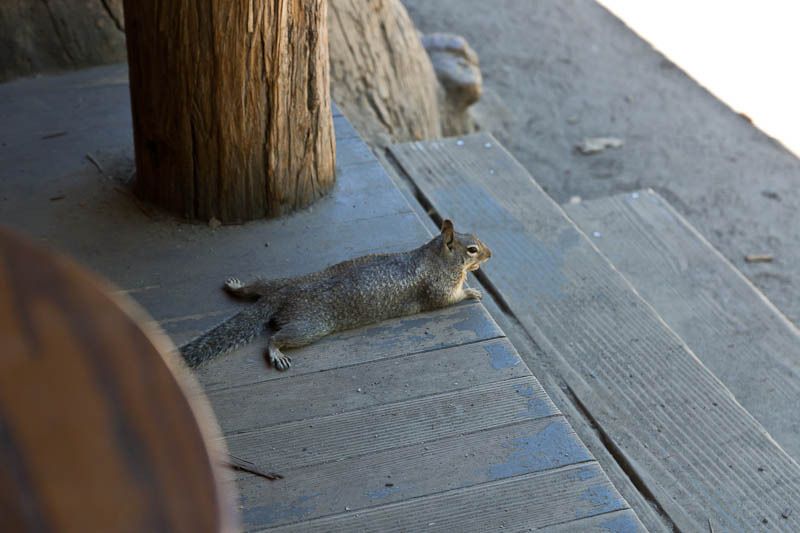 Half Dome from the opposite vantage point, Olmsted Point on the high-country Tioga Road.
Tenaya Lake.
Tuolumne Meadows.
Tuolumne River.
Another sunset on Half Dome, this time taken from River Bend behind Yosemite Lodge.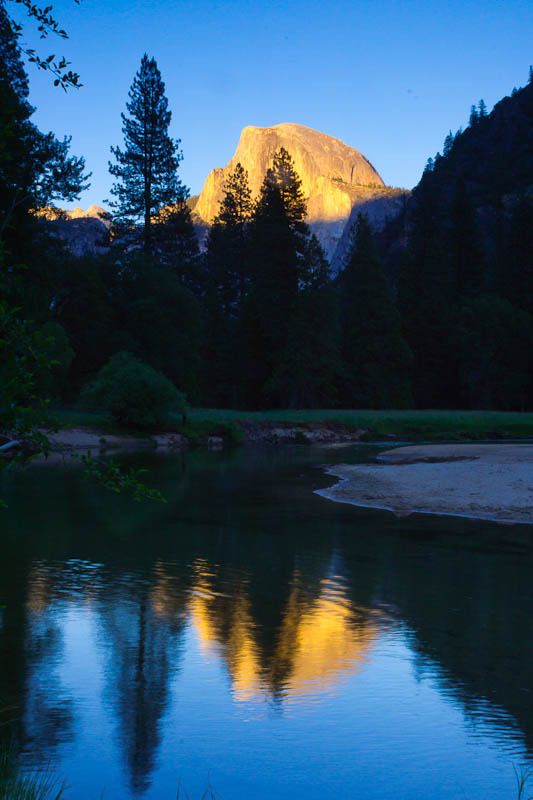 Looking up from near the base of El Capitan.
The upper and lower levels of Yosemite Falls (there is a Middle Cascades between the Upper and Lower Falls, but it's hard to find a vantage point that captures all three in good light).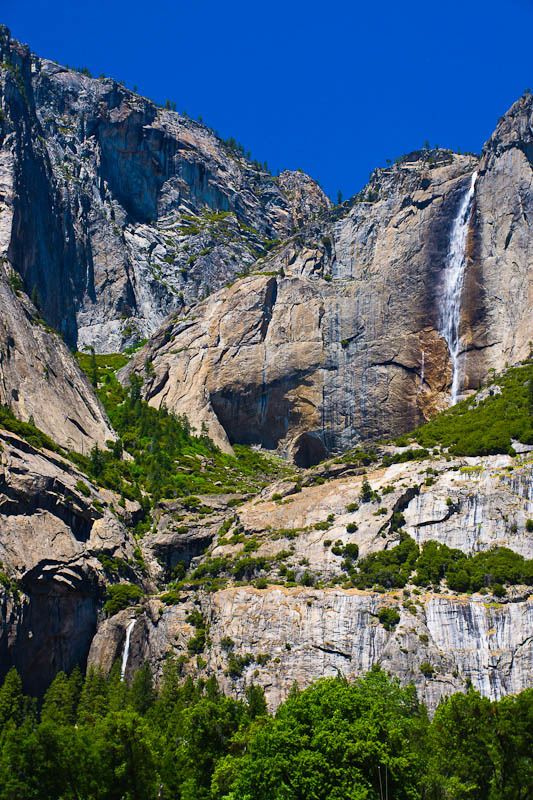 One last visit to Lower Yosemite Falls.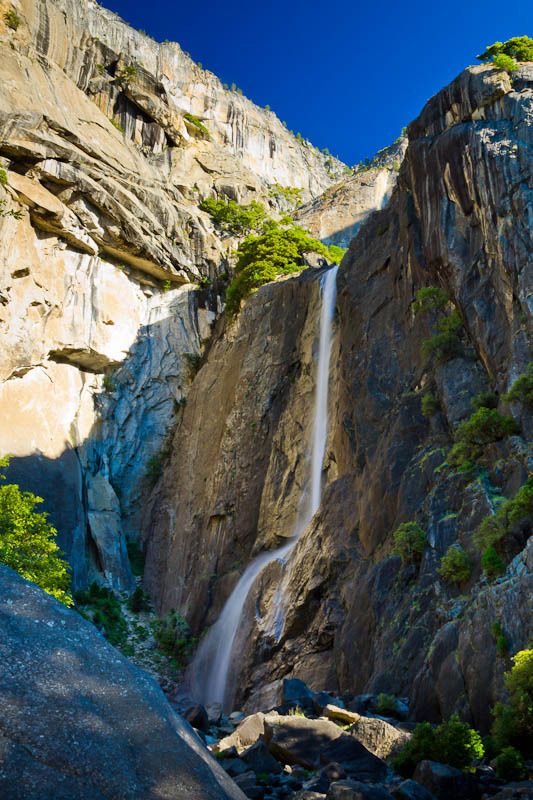 The Merced River.
Last night sunset on Half Dome, seen from Curry Village.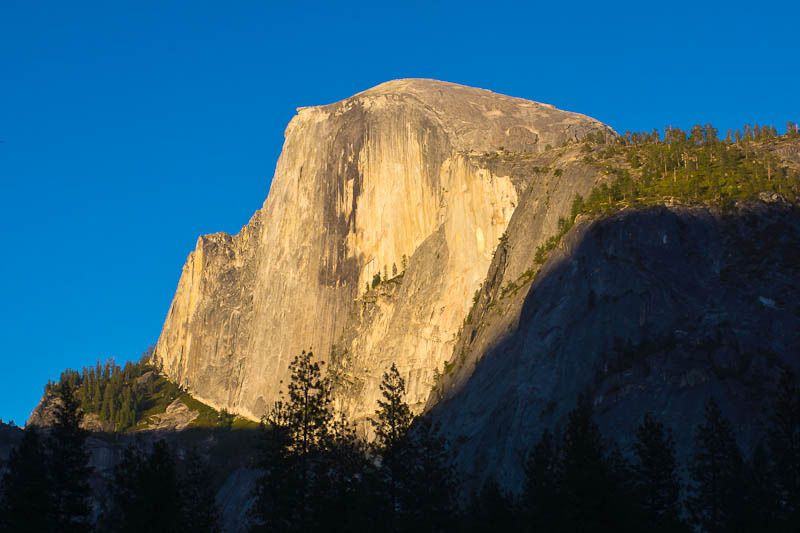 And the series ends where it began, at Wawona Tunnel View, this time under night skies just before we left the Park for the last time (this visit). If you look closely enough, you'll see a couple of tiny points of light on El Capitan -- those are rock climbers on the multi-day climb of the cliff, bivouacked in sleeping bags hung from the rock face.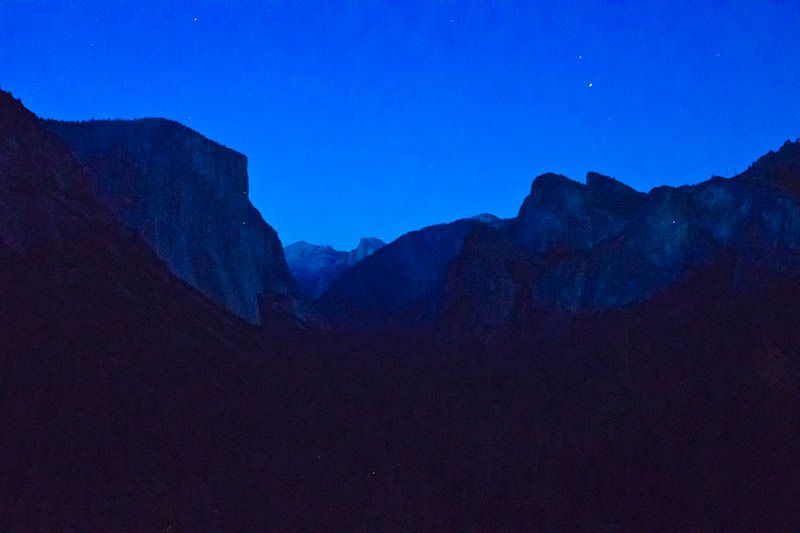 I have decided (and all of you here in the DU Photo Group are witnesses of this) that, when it's finally my turn to leave this earth, I want my ashes scattered somewhere in Yosemite Valley. I want my final earthly resting place to be surrounded by all this beauty -- and if, following my passing, my spirit finds itself in a place as wonderful as Yosemite, I'll consider myself truly blessed.
It seems like one of the traditions I've had over the past seven years or so has been shooting one or another of the local fireworks displays, then rushing back to process the images through the night so that they could be posted here along with everyone else's photos from their own local displays throughout the country before morning. Well, I made the usual mad dash...but where were everybody else's? It seems we only got a couple of other members posting them this time around. Oh. well, I guess it's up to me to make up the shortage... (All these were taken, as has been the case for the past couple of years, at the Lake Wilderness celebration in Maple Valley.)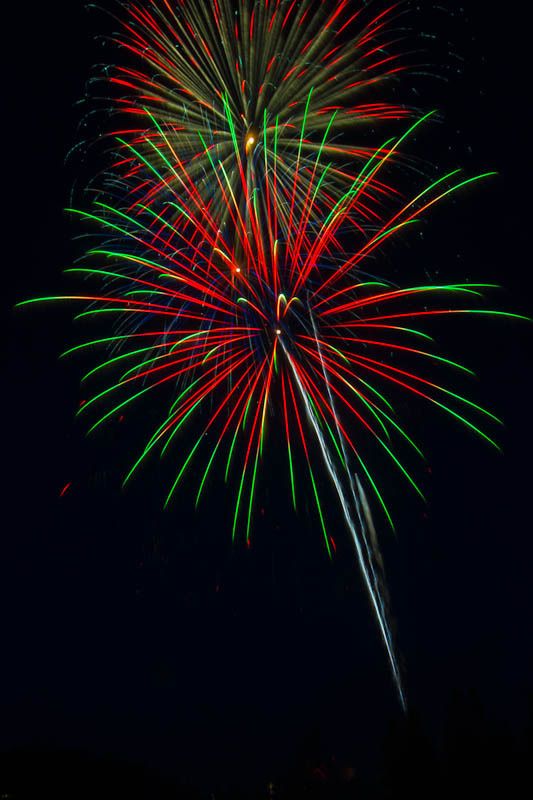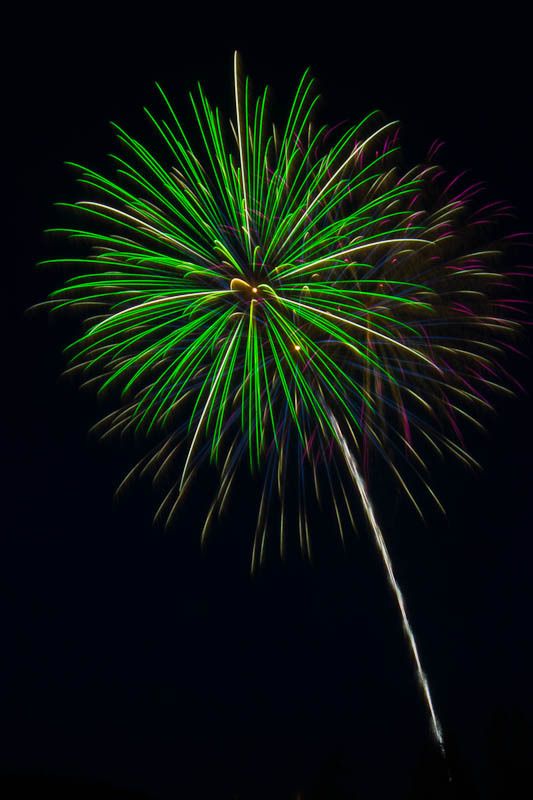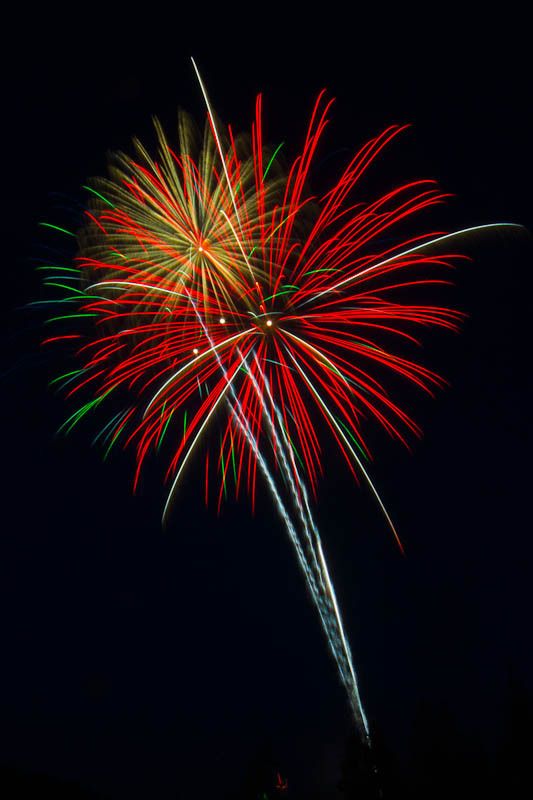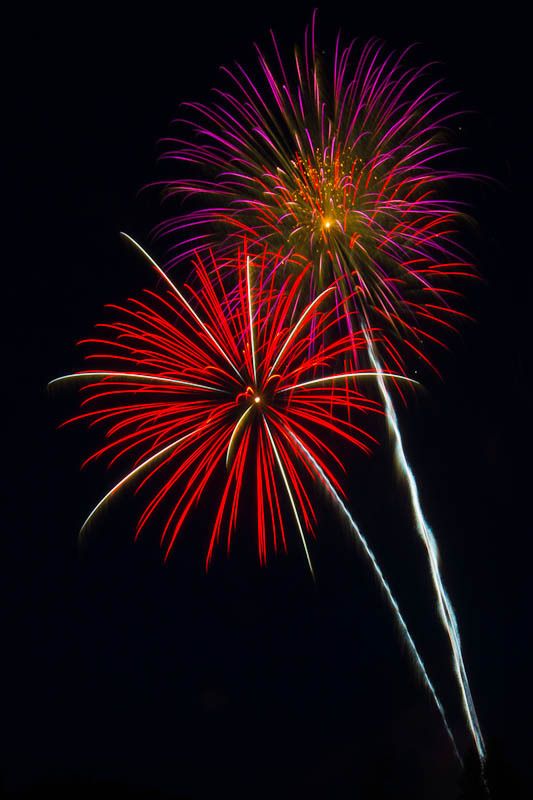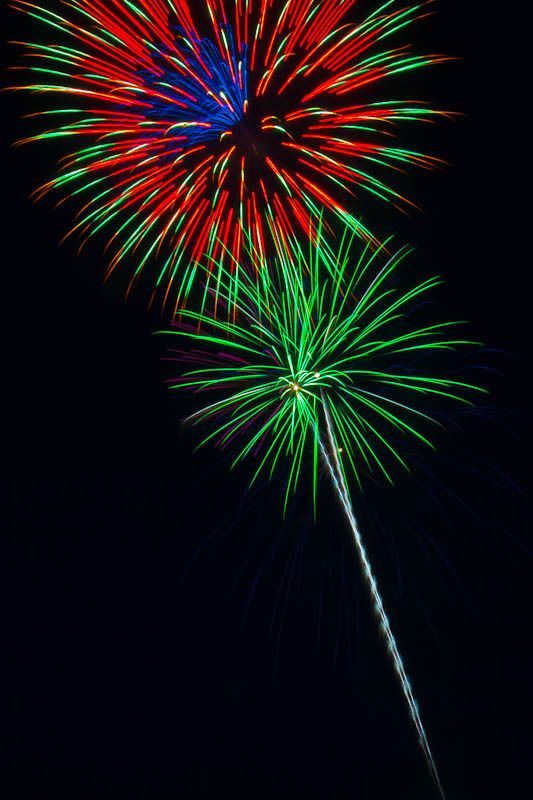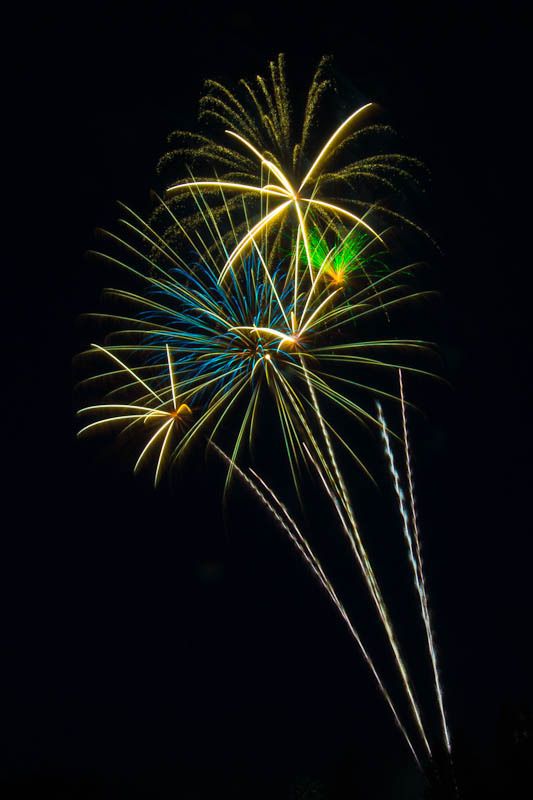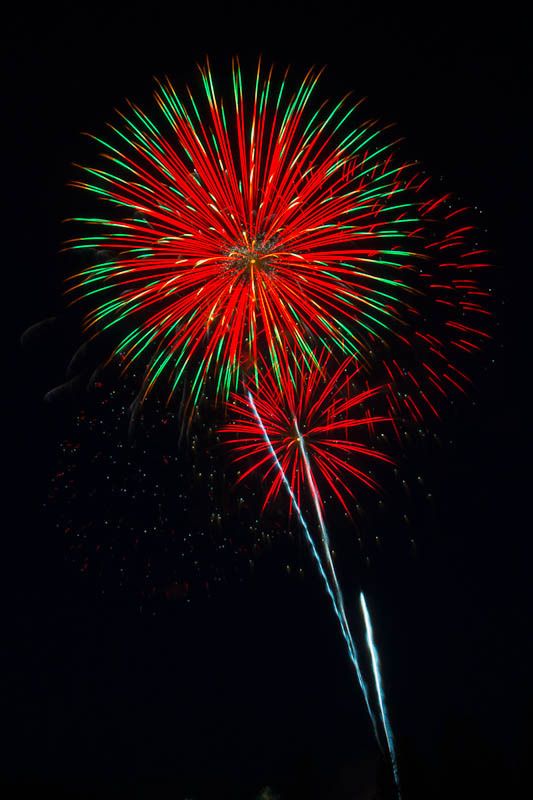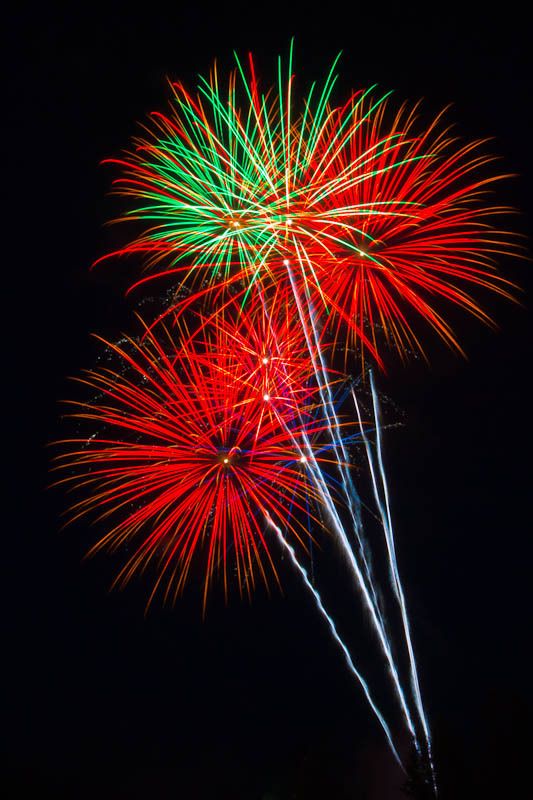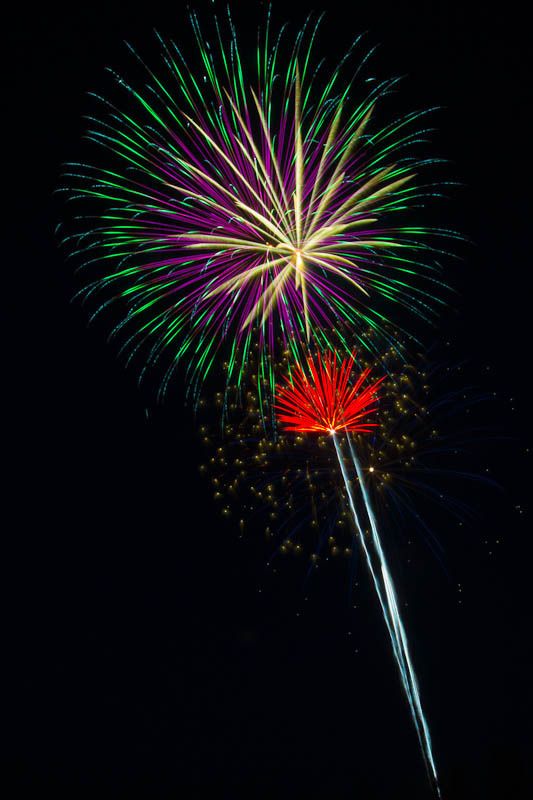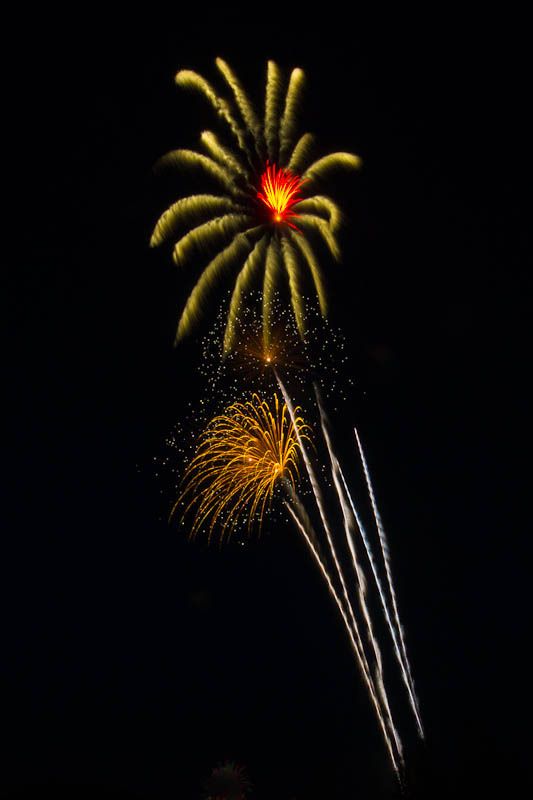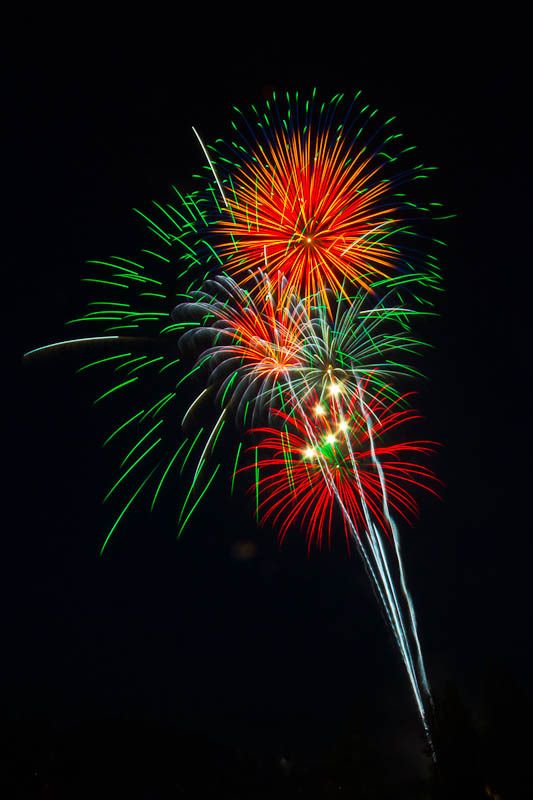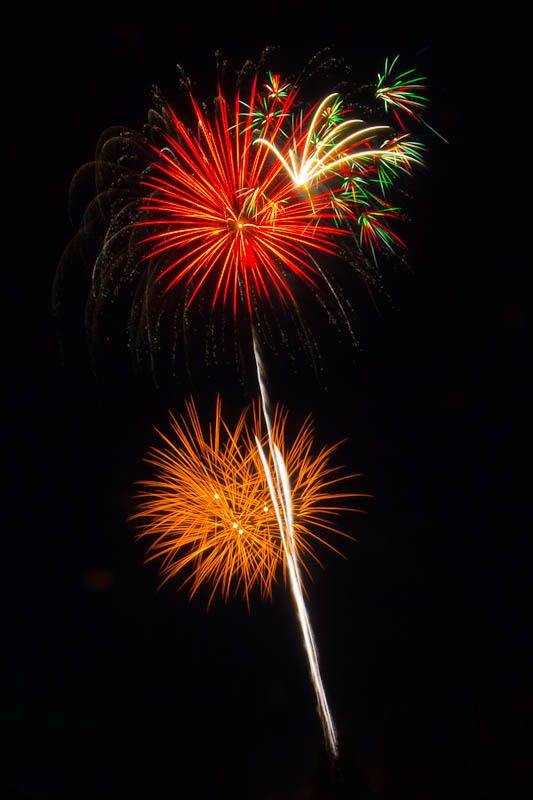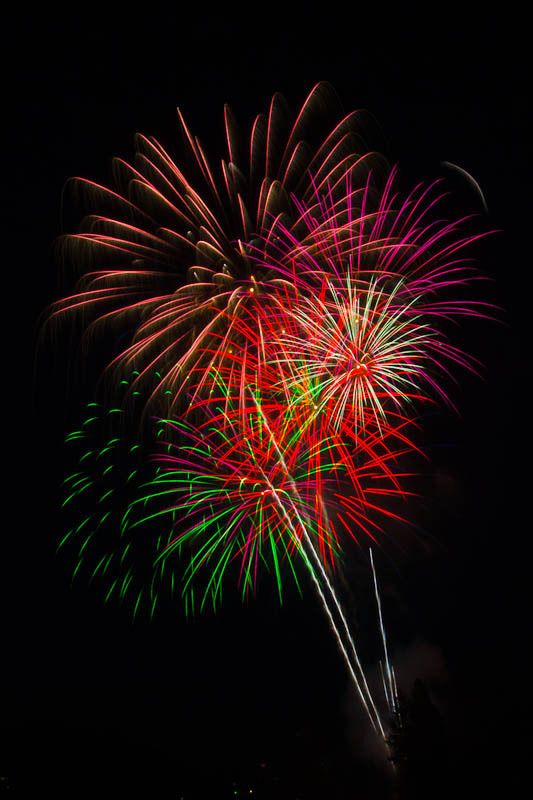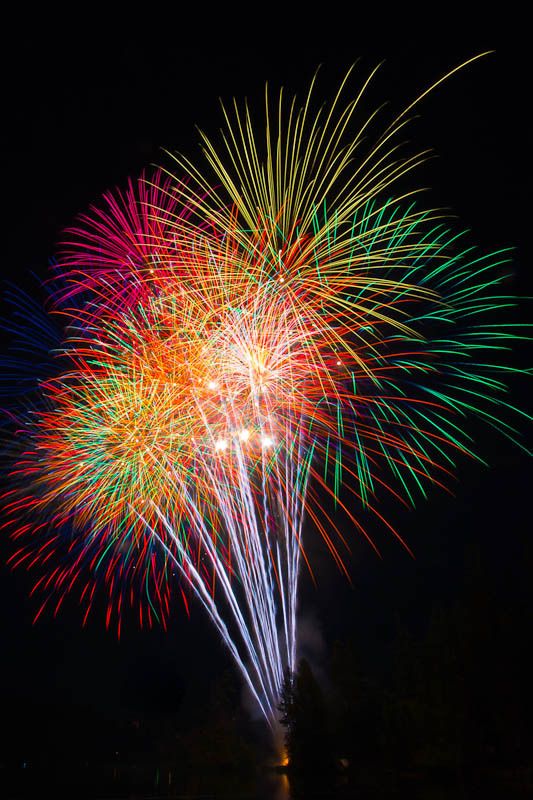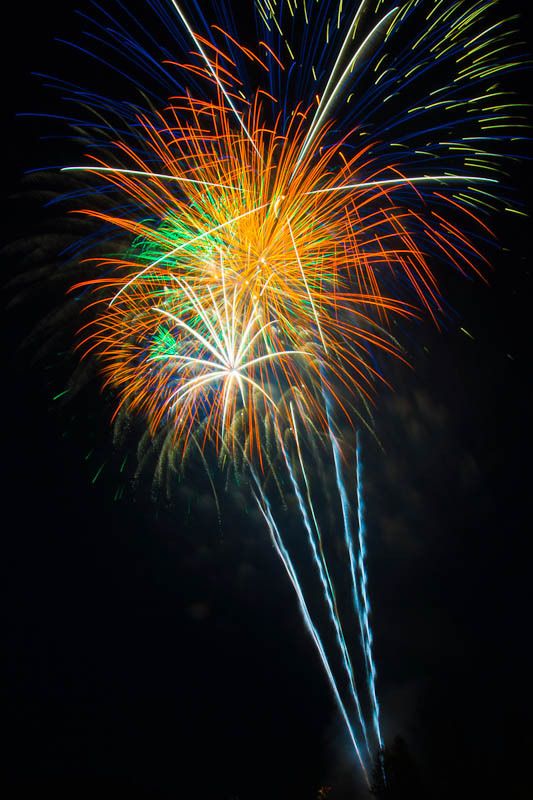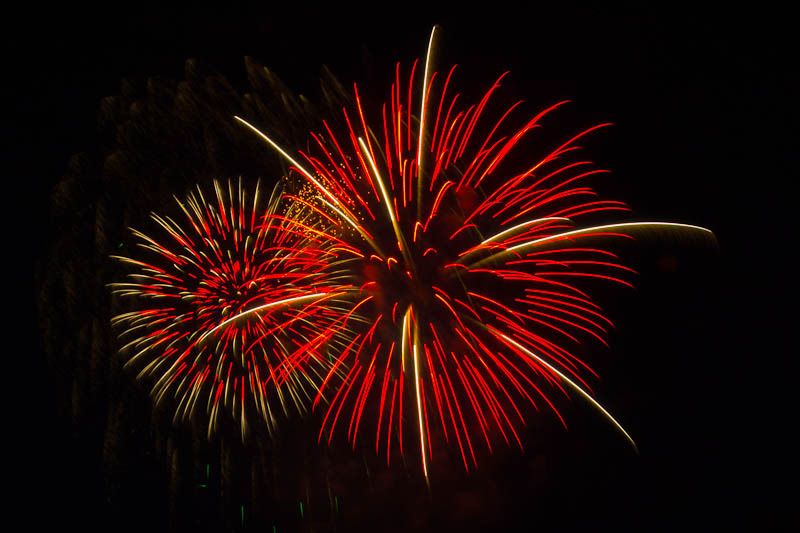 It has been too long since my last installment of WFOT, but, for varying reasons relating to my schedule and the weather, opportunities for waterfall shooting were few and far between this spring. (I had hoped for at least one trip to the Columbia Gorge, but the weather every flippin' weekend was either bright and sunny or torrential downpours.) I finally decided to just grab the camera and head up the reopened east side route to Rainier, and try my hand at a couple of falls I've visited many times before.
First up was
Skookum Falls
.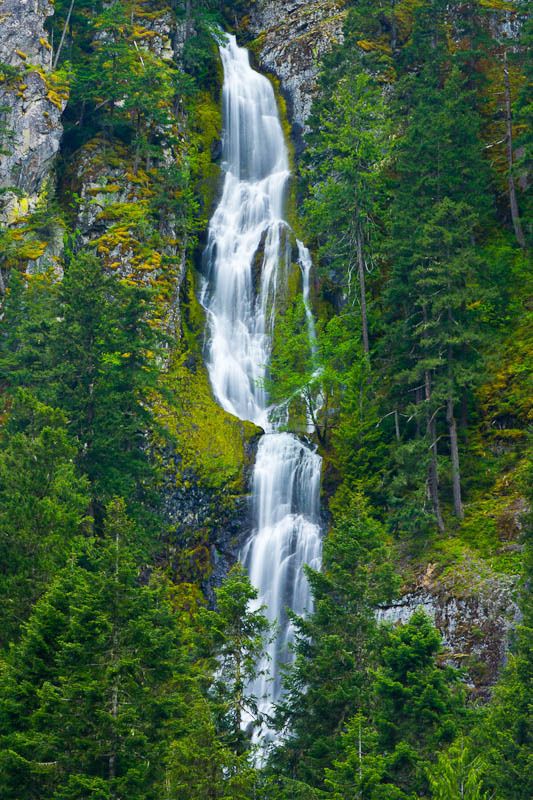 Now, if you've seen any of my other photos of this fall, you're probably thinking "it looks just the same." True -- the fact is, there's only one real vantage point for this waterfall, and so pretty much every photo is going to look like another, except for winter shots where the fall has frozen over. Since this is the case, I decided to put away the telephoto, go wide, and show the "big picture" of the fall and the White River in the foreground.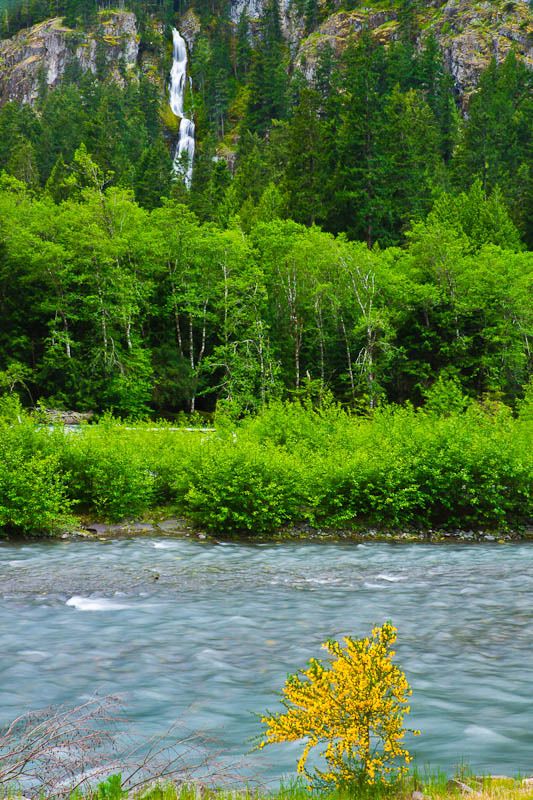 My second destination was
Pass Falls
, or, as I call it, "That Fall With The Blasted Curved Tree In Front Of It, Blocking The View."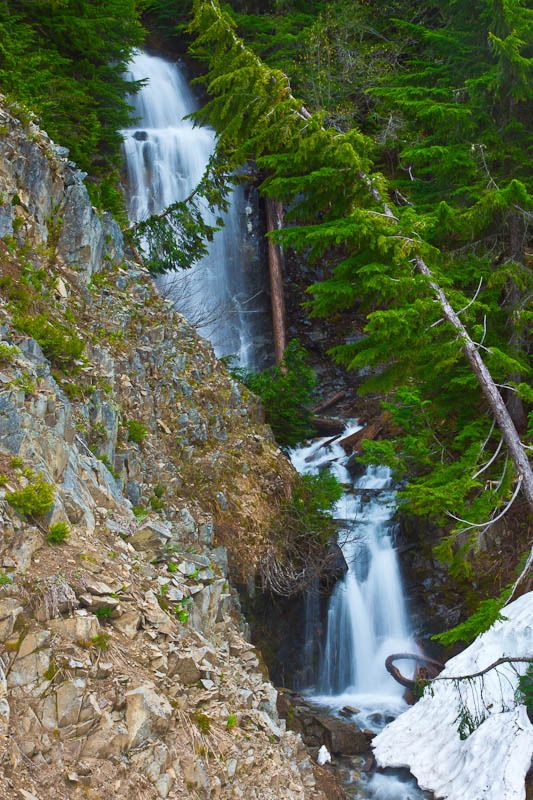 Fact: When I first visited this waterfall, that tree was straight. Since then, however, the weight of the winter snow has made it more and more curved, so that, each year, it's more in the way. The
good
news is that it's finally bent so much, you can move a bit up the road and get a decent view around the other side of the tree. Unfortunately, at this point of the year, there is still snow at the base, causing contrast problems and general distraction. I'll have to get up here again soon, after the snow melts but before the falls starts to dry up in summer, as I get the feeling that this vantage point will wind up looking real good by then.
Next up, in two or three weeks,
Deo Volente
: WFOT2K12 Part II, with some major waterfalls from quite a bit further afield than is usual for me.
First come the daffodils...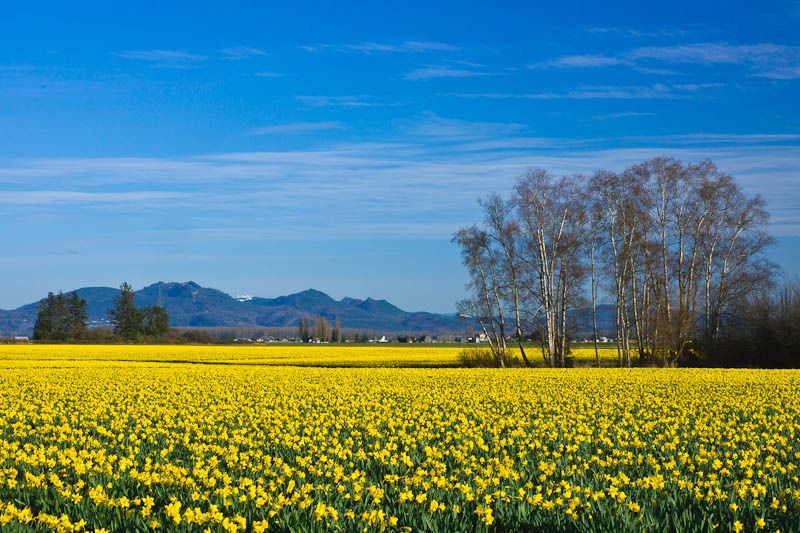 ...then the tulips...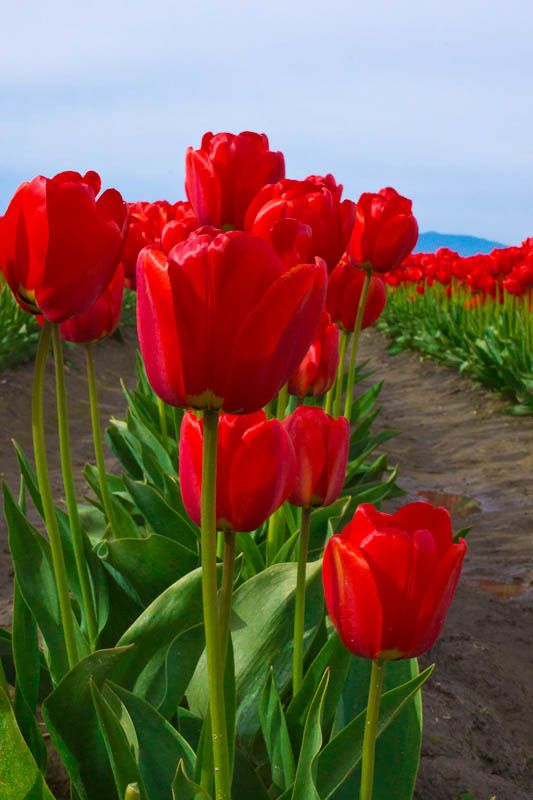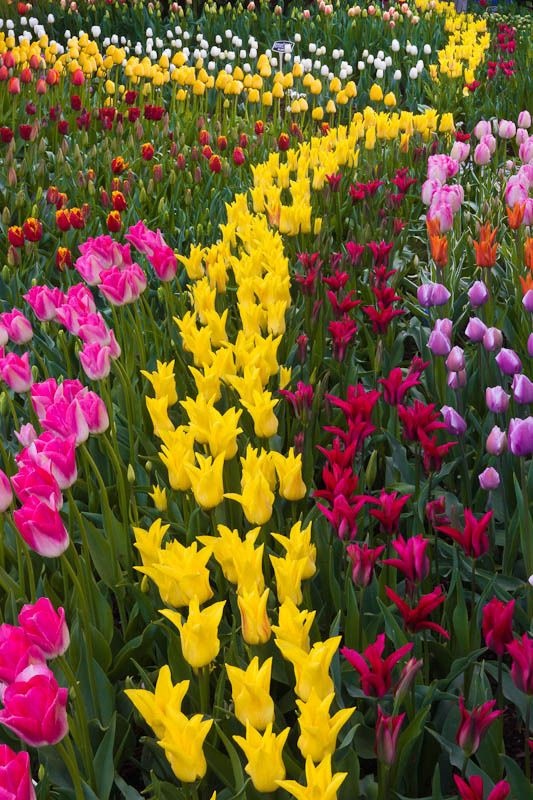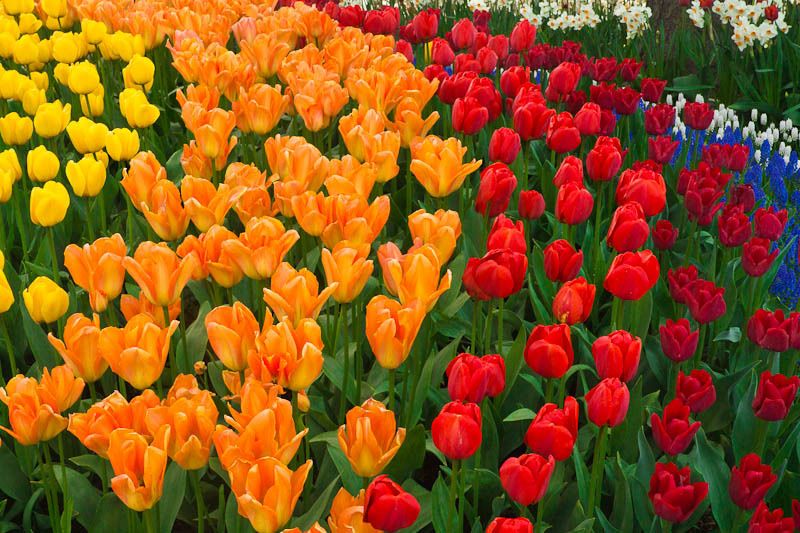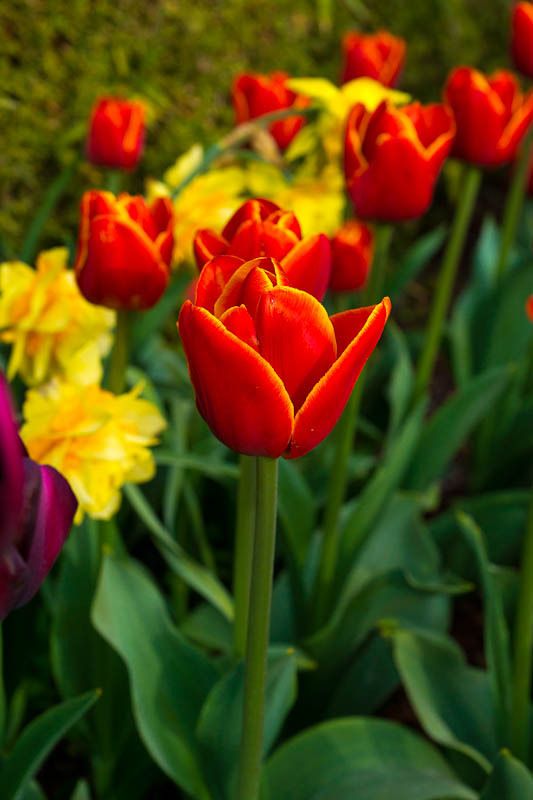 ...and, finally, the rhododendrons and azaleas.