Replies to this discussion thread
| | | | |
| --- | --- | --- | --- |
| 4 replies | Author | Time | Post |
| Fire powered cell phone chargers spotted near NYU in Downtown Manhattan. (Original post) | Fire Walk With Me | Nov 2012 | OP |
| | Life Long Dem | Nov 2012 | #1 |
| | sabrina 1 | Nov 2012 | #2 |
| | felix_numinous | Nov 2012 | #3 |
| | sabrina 1 | Nov 2012 | #4 |
---
---
Response to Fire Walk With Me (Original post)
Sun Nov 4, 2012, 12:05 AM
sabrina 1 (62,325 posts)
2. They definitely are resourceful. Who would have thought to do that?
---
Response to Fire Walk With Me (Original post)
Sun Nov 4, 2012, 04:28 AM
felix_numinous (5,198 posts)
3. Coooool!
first time I saw one of these
Want.
---
Response to Fire Walk With Me (Original post)
Sun Nov 4, 2012, 06:05 PM
sabrina 1 (62,325 posts)
4. I just read that the energy group who rigged
the bicycles for Zuccotti Park to keep the power going (remember volunteers had to keep pedalling to do so) after the Mayor ordered their power to be cut off, had saved the bicycles in the back of one of the guy's bicycle store, rather than dismantling them.
They have taken them out again and are using them, with volunteers, to let people charge their cell phones and even pump water out of basements etc.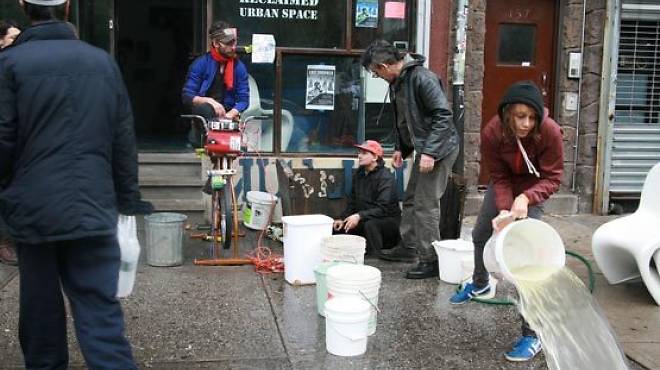 Hurricane Sandy blackout: Where to find power, Wi-Fi and more amenities
Times Up! at ABC No Rio

The environmental group will be transporting their energy bikes (previously used to power Zuccotti Park for Occupy Wall Street) to the Lower East Side community center (Nov 2 noon–6pm). Volunteers will pedal to generate electricity so residents can charge their phones and laptops.

Already, the bike's been used to pump water out of the Museum of Reclaimed Urban Space's basement (where it was on display), power the lighting for a downtown bike-repair class and provide juice to residents of the East Village. Times Up!, we tip our hats. Follow @nyctimesup for updates. ABC No Rio, 156 Rivington St between Clinton and Suffolk Sts (212-254-3697, abcnorio.org)

I am so in awe of how inventive people are, being so inept myself!
That site has some good info for people looking for help and they keep updating it also.