Tue Nov 10, 2015, 06:38 PM
nc4bo (17,651 posts)
X-Post BSG The 1st Democratic Debate and HRC "won" meme.
Special thanks to the African-Americans For Bernie Sanders FB page for leading me on an interesting Tuesday afternoon search.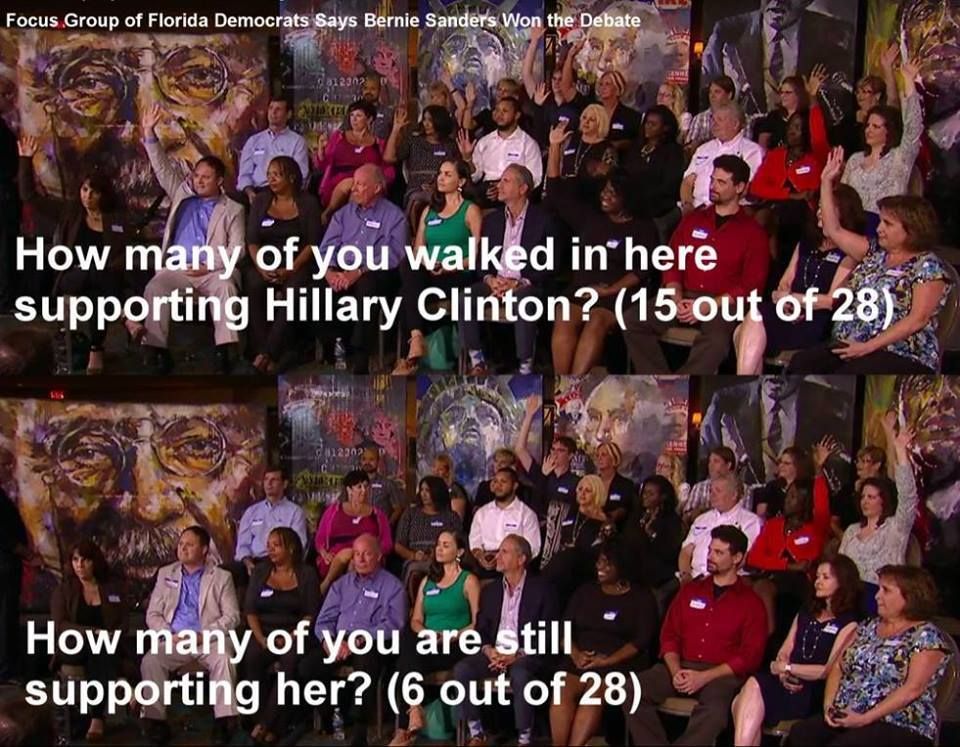 That graphic led me to Google, which led me to this one among many efforts to excuse away (or spin) the obvious:
http://www.vox.com/2015/10/14/9530799/focus-groups-democratic-debate
Political reporters and pundits think Hillary Clinton won the first Democratic presidential debate. The focus groups called it for Bernie Sanders. But the reason for the split should be discouraging for fans of either candidate.

It wasn't because of Bernie's policy ideas but because of his demeanor: he was "strong," "direct," and "powerful," where Clinton was "too tame," focus group members said. This was true across the board. CNN's panel of undecided voters in Nevada, Fox News's group of Florida Democrats facilitated by pollster Frank Luntz; Fusion's focus group of millennial voters in Miami: All went strongly for Bernie, and style was the number one reason.
So I did a little more googling and found the videos of three focus groups; CNN, Fox and Fusion (age groups 18-34)...more about Fusion after the video links. If you haven't seen them (which I had not) - check them out.
CNN
FOX
Fusion Focus
After Fusion's Focus Group there is a very enlightening continuation which highlights the lack of any real physical outreach from ANY of the Democratic primary candidates INCLUDING HRC. Please get a cuppa coffee or tea and watch it through to the end. It'll take about an hour and you won't regret it. It may even give someone on/in Bernie's camp an idea or two or three.
Back to who really won...
First thing I notice among ALL the focus groups was that Bernie Sanders won, but many already knew that. It was the pundits themselves that ignored or lessened the results of the focus groups. I guess these people forget these are real live people who will be voting.
All this to say is keep plugging away!! The impossible is NOT as impossible as some would have you, me, us believe!
(spellcheck edit correction)
1 replies, 1893 views
Replies to this discussion thread
| | | | |
| --- | --- | --- | --- |
| 1 replies | Author | Time | Post |
| X-Post BSG The 1st Democratic Debate and HRC "won" meme. (Original post) | nc4bo | Nov 2015 | OP |
| | nc4bo | Nov 2015 | #1 |
---
Response to nc4bo (Original post)
Thu Nov 12, 2015, 02:37 PM
nc4bo (17,651 posts)
1. :kick:
Sorry. Needed to be done.