Tue Jul 28, 2015, 09:36 AM
marmar (72,733 posts)
Will Hillary Clinton Adopt Hedgie Billionaire John Arnold's Schemes for Retirement Insecurity?
Will Hillary Clinton Adopt Hedgie Billionaire John Arnold's Schemes for Retirement Insecurity?
By Lambert Strether of Corrente
.
The front-running scheme for "retirement security" — backed by billionaire John Arnold — looks an awful lot like it's "on the table" because it guarantees that middlemen collect fees for "managing" what we used to call your "nest egg." Will Hillary Clinton's campaign platform support it?
Hillary Clinton Has Ruled Out Expanding Social Security
This was the line in Talking Points Memo, back in April:
Hillary Clinton is not taking a position just yet on Social Security expansion, an issue with growing support in the Democratic Party that several of her prospective presidential primary rivals have endorsed.

The Clinton campaign told TPM on Thursday, in response to a query, that the Democratic frontrunner "will have a lot to say" about the issue and emphasized her opposition to privatizing Social Security.
But here' s Clinton's platform today: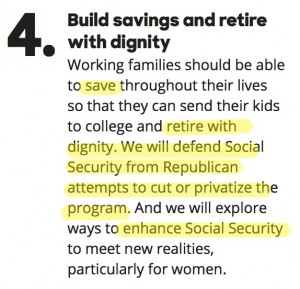 "Explore ways to enhance" most definitely does not mean "expand," especially when Clinton plans to include "saving" in any plan to allow working people — since "working families" doesn't include those who aren't married — to "retire with dignity."
.....(snip).....
Clinton May Be Leaning Toward "Guaranteed Retirement Accounts"
(GRAs)
Check out this beat sweetener for potential charismatic technical spokesperson, Teresa Ghilarducci, in the National Journal (hat tip AH), where we see the Clinton code of omerta fully operative:
(Ghilarducci) will not talk about how many times—or when, or where—she has met with Clinton … Though Clinton has begun her campaign on a decidedly liberal note, it's anything but clear how far she'll go in adopting the kind of agenda that Ghilarducci advocates. Clinton gave "retirement security" a shout-out in her campaign launch speech on Roosevelt Island, but there were no specifics.
.................(more)
http://www.nakedcapitalism.com/2015/07/will-hillary-clinton-adopt-hedgie-billionaire-john-arnolds-schemes-for-retirement-insecurity.html
9 replies, 861 views
Replies to this discussion thread
| | | | |
| --- | --- | --- | --- |
| 9 replies | Author | Time | Post |
| Will Hillary Clinton Adopt Hedgie Billionaire John Arnold's Schemes for Retirement Insecurity? (Original post) | marmar | Jul 2015 | OP |
| | cocainecowboy | Jul 2015 | #1 |
| | Wellstone ruled | Jul 2015 | #2 |
| | djean111 | Jul 2015 | #3 |
| | Cheese Sandwich | Jul 2015 | #4 |
| | daybranch | Jul 2015 | #5 |
| | olddots | Jul 2015 | #6 |
| | raouldukelives | Jul 2015 | #7 |
| | Adrahil | Jul 2015 | #9 |
| | antigop | Jul 2015 | #8 |
---
Response to marmar (Original post)
Tue Jul 28, 2015, 09:49 AM
cocainecowboy (45 posts)
1. If she refuses to expand Social Security when it's really needed
then I'm not even remotely interested in Clinton.


---
Response to marmar (Original post)
Tue Jul 28, 2015, 09:58 AM
Wellstone ruled (34,661 posts)
2. That was one of Barry Goldwater's
ideas that everyone should have their own retirement savings plan. And Clinton was one of the Goldwater Girls back in the day. Wondering when this POS would pop it's head up again. Only took 51 years.
---
Response to marmar (Original post)
Tue Jul 28, 2015, 10:41 AM
djean111 (14,255 posts)
3. Like the ACA, it is all about the fees.
I have learned to run the other way when any politician says "improve" Social Security.
---
Response to marmar (Original post)
Tue Jul 28, 2015, 11:35 AM
Cheese Sandwich (9,086 posts)
4. Most people can't save for retirement because we have no money.
We work for less than we can afford to live on.

Social Security should be expanded and not cut in any way.
---
Response to marmar (Original post)
Tue Jul 28, 2015, 01:16 PM
daybranch (1,309 posts)
5. Is it just me or do others see Hillary playing the gender card everywhere.
I too believe social security should be expanded and I believe and support a way to ensure unpaid caregivers can receive adequate social security and medicare benefits as their work has been an unpaid way of providing home care saving the government billions in exorbitant fees to nursing homes, many of whom in an effort to wring as much profit as possible, deliver services and care in the most profitable manner. This usually results in under staffing and little attention to the sick, is an extra charge for the individual service rendered. Yet in spite of the great financial savings created by these unpaid caregivers they do not have opportunity and ability to pay into medicare and social security. As a result their abilities to receive adequate social security and or private pensions is very compromised because of what is often years out of the workforce, not to mention affects on their earnings on return since they often need to get skills updated or take lesser paid positions than they left.
Most of these caregivers are women but men often perform this unpaid role. I see this as an area wherein social security could be expanded resulting in additional savings in the medicare/medicaid programs while providing benefit for everyone involved except nursing homes and their owners. But I just am aware of how women as a gender need enhancement of social security anymore than men. There are federal guidelines in government programs to recognize and ensure women receive their fair share under the assumption that women are wives not working outside the home and in that role must be protected. I agree with this where it applies but it often places men in positions where they are assumed responsible even when women have actually generated more income. However I want to protect wives too, so we may alter rues a little to make them work more in tune with the workforce of today but lets not throwout the baby with the bathwater.
Until I see what enhancements Hillary wants for women and why, I just see this as saying look at me, I wear a pant suit and go get my hair fixed, so I am a woman and I must actually understand. So Hillary picking of positions which alienate thinking people in the general populace when it comes to the greatest issue of day is tossing of a few non-controversial crumbs designed to soothe her target audience and continue the governmental and economic depression wrought by her elite donor class. Words tailored to and claiming planned enhanced benefits for women ring very hollow without specifics. There is no such thing as a free lunch, somebody pays, and unless Hillary can bite the hand that feds her, her elite class, and turn away to the needs of the other 98 percent, she cannot be trusted. You can put lipstick on a pig ( I have always felt Hillary was unfairly derided as unattractive) but most can see it is still a pig and Hillary has joined the class best defined by their following of their piggish greed. Right now she meets them and talks to them everyday. They invest in her as a loyal supporter of their never ending greed for more money and more profitable investment in government. They have had a good run of the last 40 years and they clearly see the bailout with the people's money demonstrating for millions they got billions n return.
Does anyone besides me see Hillary expressing any real convictions that put her in favor of the 98 percent or that allows us to believe her election would actually provide any benefit more than claiming a historic first of a woman President. She will serve those that feed her, she is working now trying to divide the sexes in order to win the democratic primaries. She forgets that economic justice must be family justice and families , at least larger families include men, children, the young, the old, and the ill as well as women. Women are important and must be honored and respected but Hillary seems to believe their concerns start with me and end with me ( me being an individual woman's ). Her divisive tactics are not going to work especially as both male democratic candidates have demonstrated a broader and longer record of support for women and the rest of society.
What Hillary really needs is a timeout inflicted on Bernie and O'Malley . Every time either speaks they gain and Hillary loses supporters, and also she needs a time out for herself so she will not have to take positions in support of her class who control our oligarchy. But alas there are months before the primary and Main Stream Media ahas failed to keep all the attention on the oligarchies entertainment( read oligarchy's republican candidates-Trump and Cruz are great actors and make great sideshows) designed to make Hillary unfairly criticized as a woman, look caring for tossing some crumbs to women, Latinos,and African American or at least pretend she wants to. But the emperor has no clothes and we also know if you lie with pigs, you are going to get dirty ( not initially meant to remind you of her marriage to Bill) and Hillary's backers are nothing if not pigs whose greed hurts this its people. I cannot see Hillary turning out people to the polls unless she can personally identify which ones will promise to vote for her and stand of have her followers pay then half of a significant amount when they enter the polls and the rest upon their promise that they voted for Hillary on the way out. Her backers already control main stream media including MSNBC and Fox news, Washington Post, Wall Street Journal etc but they also know that Bernie and O'Malley create the buzz and covering them brings in more advertising as they discuss this horse race. Hillary tries to control her campaign but as she speaks for her class, she cannot hide and her motives become more visible to those with their eyes open who by word of mouth, in person and on phone or using social etc media especially reddit and facebook, Twitter etc. Exclusion of the words men just seems more division to me and it makes me angry. Call out the injustice and how it affects both men and women,call out the perpetrators both men and women but please do not forget the benefactors of gender discrimination and racial discrimination are not men as a whole but rather Hillary's donor class in their efforts to keep the populace needy and working for a smaller and smaller part of the ever increasing profits.
---
Response to daybranch (Reply #5)
Wed Jul 29, 2015, 04:42 AM
olddots (10,237 posts)
6. the people who should take this to heart are lacking in depth of charactor .
---
Response to daybranch (Reply #5)
Wed Jul 29, 2015, 11:39 AM
raouldukelives (5,178 posts)
7. So many falling through the cracks. It is scary and sad out there. nt
---
---
Response to marmar (Original post)
Wed Jul 29, 2015, 02:55 PM
antigop (12,778 posts)
8. she'll only tell you if she's elected. nt