Fri Jan 25, 2013, 04:32 PM
Bill USA (6,436 posts)
Barbara Boxer infuriated at Rand Paul's exhibition at Sec of States expense - Politico
http://dyn.politico.com/members/forums/thread.cfm?catid=1&subcatid=1&threadid=7361722&sort=1


"When I heard him say those words, I walked out of the hearing room and listened to him from behind the stage because I was so infuriated at what that man said," Boxer told the Rev. Al Sharpton on MSNBC's Politics Nation on Wednesday. Boxer sits on the the Senate Foreign Relations Committee, which was hosting one of Clinton's hearings on the Hill. "To suggest that she's retiring from this post after traveling a million miles and being one of the greatest secretaries of state because of Benghazi is unbelievable."
.. I commented:
The whole thing was an opportunity for the GOP to act out in public (well, without an audience it's not worth it!)
Whole 'show' was a farce
The whole show was a farce. The Republicans are typical reality show exhibitionists. What they say doesn't mean anything. They live for a chance to make outrageous criticisms of Democrats just to get attention of the air-heads they appeal to.
THE GOP 'questions' the Secretary of State
When it comes to getting anything done or running a Government, the Geo. 'the shrub' Bush's administration was a typical example. The Repubs got everything they wanted. Tax cuts mainly for the rich, making the tax code even more regressive, and Deregulation of the financial services industry (thank you Phil Gramm). What was the inevitable result? we would have had a second Great Depression without the TARP and stimulus efforts (though greatly compromised and sabotaged by the GOP) by President Obama.
I don't remember hearing these Repugnants raising any questions about the lies that got us into Bush's 'Excellent adventure' going after Saddham Hussein...."WEapons of mass destruction", paid for phony intelligence - which the CIA told that administration was not to be trusted. That whole ecapade into invading IRAQ cost several thousand U.S. soldiers lives and helped add to the the World economy's Near Death experience.
When it comes to incompentence the GOP has no equal.
and...
Rand Paul joining in at the Punk Hillary party: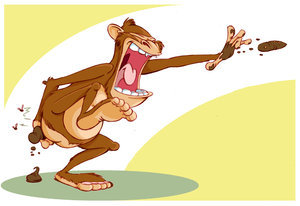 Paul isn't a quarter the 'man' that Hillary is and he has all of 1/10th her smarts. He never fails to be the funniest clown in the Party of Clowns.
4 replies, 2935 views
Replies to this discussion thread
| | | | |
| --- | --- | --- | --- |
| 4 replies | Author | Time | Post |
| Barbara Boxer infuriated at Rand Paul's exhibition at Sec of States expense - Politico (Original post) | Bill USA | Jan 2013 | OP |
| | Flashmann | Jan 2013 | #1 |
| | Bill USA | Jan 2013 | #2 |
| | Kath1 | Jan 2013 | #3 |
| | trueblue2007 | Jan 2013 | #4 |
---
Response to Bill USA (Original post)
Fri Jan 25, 2013, 04:40 PM
Flashmann (2,140 posts)
1. I commented in a thread
During the live airing of the hearings,that the teabaglicons were little more than shit slinging apes...Nice to see it in illustration....
---
Response to Flashmann (Reply #1)
Fri Jan 25, 2013, 04:57 PM
Bill USA (6,436 posts)
2. Glad you got that observation made during the live internet 'broadcast'! That's an image I think
should be mentioned whenever appropriate (which is just about all the time!).


---
Response to Bill USA (Original post)
Fri Jan 25, 2013, 06:28 PM
Kath1 (4,309 posts)
3. Good for Barbara!
I would have done the same thing! Yes, this was a tragedy but the Repukes are just using this to try to discredit Hillary and the Obama administration. If we really want to talk about incompetence and failed policies let's talk about George Bush and his illegal, immoral and criminal war in Iraq.l
---
Response to Bill USA (Original post)
Fri Jan 25, 2013, 07:11 PM
trueblue2007 (12,928 posts)
4. RAND PAUL IS NOT A MAN.
HE is a stoopid little boy