Thu Dec 13, 2012, 03:54 PM
Democrats Ramshield (139 posts)
Are you ready for a 2nd Wall Street crash and taxpayer bailout?
Updated and republished (by Democrats Ramshield)
Written by an American Expat living in the E.U.
The mainstream publication Der Spiegel truthfully reported that the Wall Street banksters committed "a monumental insider bank robbery" for which no one went to jail.
Since the date of publication, 2 years ago the US for-profit plutocrat owned media has ignored this story but more to the point perhaps is the fact that not only did they ignore the story, they failed to report it in the first place.
Why is that?
Here's why, because it's going to happen again. The needed regulation to prevent it from happening again has never been put in place. There's too much money to be made by too many people for it not to happen again. Therefore as it is incentivized, it will happen again. In fact the only question the smart money is asking is when will the next crash occur?
Just like the last time, there's no downside for the banksters, no one will go to jail and it will be tax payer bailouts, bonuses for CEOs and golden parachutes as far as the eye can see.
As an American expat who holds an MBA degree in marketing, currently living in European Union, I was struck once again by the reality that the job of the American media doesn't seem to be about really informing us but rather to sell commercial advertising space as a marketing profit center. I've learned through truthful reporting to rely on the European mainstream media sources like Germany's Der Spiegel and Britain's BBC networks. What I have also learned is that we have to reach out to our fellow Americans and citizens of the world in alternative media and ask each of our readers to help us get the word out through email and social networking sites like Facebook in order to get the truth out. The truth is, we have just gone through the most expensive elections in history that cost $2 billion dollars, paid for by private capital, primarily Wall Street financial capital. Exactly what did Wall Street get for their money. Clearly they got the financially deregulated market that existed in 2008, now in 2012, therein leaving us vulnerable again. Just like the Spiegel article points out.
To that end, will you help us get the word out?
The reason we need your help is because the German Spiegel magazine also reported that the Wall Street banksters are at it again, behaving just as shamelessly as they did before the crash. To which I would ask how long before a second Wall Street crash and how long before a second tax payer bail out?
Why don't we have new regulations to prevent a 2nd crash?
Why?
(
To continue reading my diary further, please click on the link below and feel free to post your comments and thoughts. Thank you.)

Link to my Daily Kos diary:
http://www.dailykos.com/story/2012/12/13/1169423/-Are-you-ready-for-a-2nd-Wall-Street-crash-and-taxpayer-bailout


4 replies, 1306 views
Replies to this discussion thread
| | | | |
| --- | --- | --- | --- |
| 4 replies | Author | Time | Post |
| Are you ready for a 2nd Wall Street crash and taxpayer bailout? (Original post) | Democrats Ramshield | Dec 2012 | OP |
| | lsewpershad | Dec 2012 | #1 |
| | Democrats Ramshield | Dec 2012 | #2 |
| | bvar22 | Dec 2012 | #3 |
| | progressoid | Dec 2012 | #4 |
---
Response to Democrats Ramshield (Original post)
Thu Dec 13, 2012, 05:56 PM
lsewpershad (1,913 posts)
1. If WS crashes
Their fault... no bailout.....period.
---
Response to lsewpershad (Reply #1)
Thu Dec 13, 2012, 06:02 PM
Democrats Ramshield (139 posts)
2. Obviously I agree
Problem is that Wall Street has bought so many of our politicians, the public may have little to say about bailing out Wall Street again (after a second crash).
---
Response to lsewpershad (Reply #1)
Thu Dec 13, 2012, 06:27 PM
bvar22 (39,909 posts)
3. That is easy for YOU to say,
..but THESE people have 1% "
Portfolios"
that might be damaged in a crash.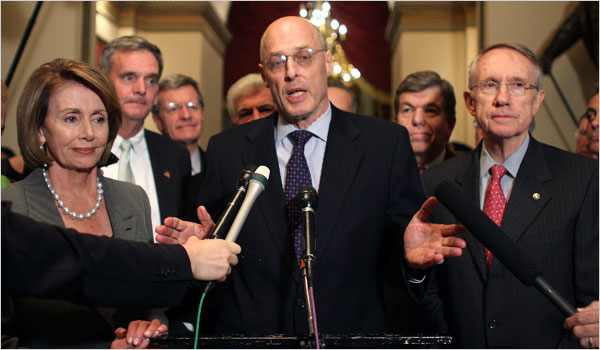 For those who insist that our government is too monolithic and top heavy to act quickly,
let THIS put an end to your fantasy.
Our government (Congress, The Senate, and The White House),
in Bi-partisan co-operation seldom seen in Washington,
delivered a $TRILLION DOLLARS to Wall Street less than a WEEK
after
their
portfolios were threatened in a 3 page Ransom Note.
You will KNOW them by their WORKS!
---
Response to bvar22 (Reply #3)
Thu Dec 13, 2012, 07:13 PM
progressoid (41,242 posts)
4. God I hate that picture.
"We saved the economy. Some of it might trickle down to you proles eventually".