Wed Nov 28, 2012, 12:40 AM
Cali_Democrat (30,439 posts)
House GOP committee chairs named, all white men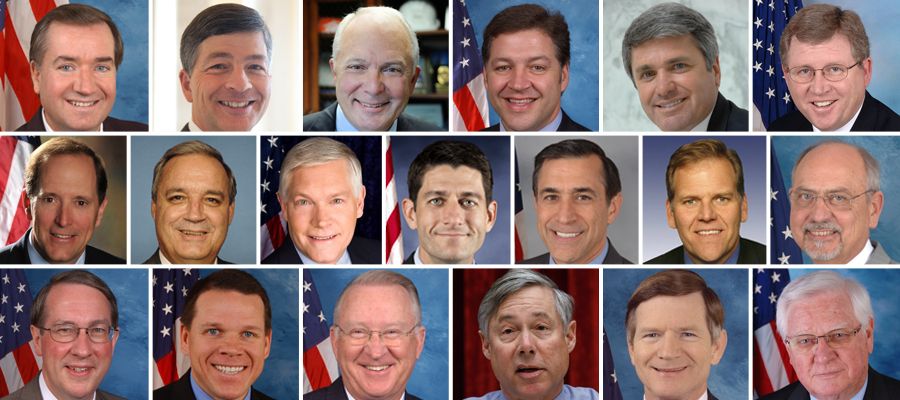 By
Leigh Ann Caldwell
CBS News/ November 27, 2012, 7:07 PM
As House Democrats are proclaiming 2012 the year of the minority because for the first time white men will not make up the majority of their caucus when the new Congress assembles in January, Republicans have a long way to go to get to that point.
House Speaker John Boehner released the proposed recommendations for chairmen in 19 of the 21 House committees - powerful posts that set legislative agenda and priorities in respective issue areas - and there's not one woman or minority on the list.
In the current congress, one Hispanic woman led a committee: Ileana Ros-Lehtinen, R-Fla., who is chair of the House Foreign Affairs Committee through the end of the year. She's stepping down as chairman due to caucus-imposed term limits on committee chairmen.
In fact, most of the chairmen from the 112th Congress are returning to their posts in the 113th - there are only six new chairmen out of the 19 announced.
http://www.cbsnews.com/8301-34222_162-57555284-10391739/house-gop-committee-chairs-named-all-white-men/
7 replies, 2472 views
Replies to this discussion thread
| | | | |
| --- | --- | --- | --- |
| 7 replies | Author | Time | Post |
| House GOP committee chairs named, all white men (Original post) | Cali_Democrat | Nov 2012 | OP |
| | hrmjustin | Nov 2012 | #1 |
| | Angry Dragon | Nov 2012 | #2 |
| | Samjm | Nov 2012 | #3 |
| | 2naSalit | Nov 2012 | #4 |
| | Tx4obama | Nov 2012 | #5 |
| | Tutonic | Nov 2012 | #6 |
| | davidpdx | Nov 2012 | #7 |
---
---
Response to Cali_Democrat (Original post)
Wed Nov 28, 2012, 12:51 AM
Angry Dragon (34,162 posts)
2. republicans break rules again
'House committee chairs are term-limited, so all of the new chairmen are replacing someone who had to step down. Still, one lawmaker obtained a waiver to go around House rules and stay on as committee chair in the next Congress, despite his term being up: Rep. Paul Ryan (R-Wisc.) will remain atop the House Budget Committee.'


The republicans love LOSERS more than rules
---
Response to Cali_Democrat (Original post)
Wed Nov 28, 2012, 12:52 AM
Samjm (320 posts)
3. Ahhh
What a lovely looking bunch.....
---
Response to Cali_Democrat (Original post)
Wed Nov 28, 2012, 02:08 AM
2naSalit (19,225 posts)
4. Im' not a bit surprised
The Rs rule the House so they are going to keep their death grip on their misogynist value overlordship. Funny, Ryan is the only one with that
undead look
, the rest kind of look humans while he's looking like he's definitely not.
---
Response to Cali_Democrat (Original post)
Wed Nov 28, 2012, 02:44 AM
Tx4obama (36,974 posts)
5. Because of seniority...
From HuffPo article
House GOP Committee Chairs Will All Be White Men In Next Congress
-snip-
To be fair, House committee chairs are typically chosen based on their seniority on the committee, and most committees don't have Republican women or minorities at senior levels. In addition, there just aren't that many House Republican women and minorities to go around. In the 113th Congress, which kicks off in January, House Republicans will have 20 women in their camp, compared to 61 House Democratic women. You can count on two hands the number of House Republicans who are minorities. By contrast, in the new Congress, the House Democratic Caucus will have a majority of women and minorities for the first time in history.
Still, that doesn't mean Republican leaders couldn't have picked at least one woman or minority for a committee leadership post. Rep. Candice Miller (R-Mich.), who is currently eighth in seniority on the House Homeland Security Committee, had a decent shot at taking over that committee. Instead, the chair post went to Rep. Michael McCaul (R-Texas), who is ranked fifth in seniority.
-snip-
http://www.huffingtonpost.com/2012/11/27/house-committee-chairs-all-white-men_n_2201136.html
---
Response to Cali_Democrat (Original post)
Wed Nov 28, 2012, 04:10 AM
Tutonic (2,522 posts)
6. Bhaaawwwh!
Wonder how ole Marsha Blackburn and Michelle Bachmann feel now. They let themselves get used as mouthpieces for these loons over the past year and this is the thanks that they get.
---
Response to Cali_Democrat (Original post)
Wed Nov 28, 2012, 05:08 AM
davidpdx (22,000 posts)
7. It looks like a vile version of the Brady Bunch