Sun Nov 25, 2012, 09:58 PM
powergirl (2,393 posts)
John McCain: Abortion Issue Should Be Left Alone By Republicans
I guess the Repubs blow off the Evangelicals until the next election cycle?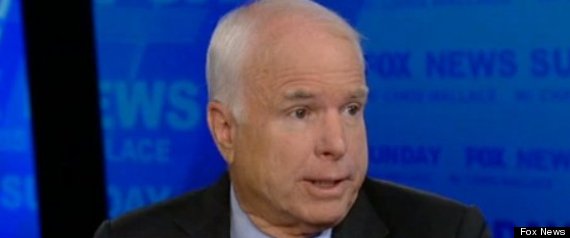 ?4
"Sen. John McCain (R-Ariz.) on Sunday
urged members of his party to leave abortion discussions "alone
," warning that focusing on the issue puts the Republican Party at risk of alienating young and female voters.
"As far as young women are concerned, absolutely, I don't think anybody like me -- I can state my position on abortion but, other than that, leave the issue alone, when we are in the kind of economic situation and, frankly, national security situation that we're in," McCain said during an appearance on "Fox News Sunday."
"Fox host Chris Wallace asked McCain if that meant he would support "freedom of choice."
"I would allow people to have those opinions and respect those opinions," McCain responded. "I'm proud of my pro-life position and record. But if someone disagrees with me, I respect your views."
<cut>
"McCain stressed that the Republican party woud have to make changes to attract the voting groups that put President Obama over the edge, including young voters and women.
"The demographics are not on our side," he said. "We're going to have to give a much more positive agenda. We can't just be against the Democrats ... We have to be for things."
http://www.huffingtonpost.com/2012/11/25/john-mccain-abortion_n_2189064.html
8 replies, 1577 views
Replies to this discussion thread
| | | | |
| --- | --- | --- | --- |
| 8 replies | Author | Time | Post |
| John McCain: Abortion Issue Should Be Left Alone By Republicans (Original post) | powergirl | Nov 2012 | OP |
| | DonViejo | Nov 2012 | #1 |
| | Iggo | Nov 2012 | #3 |
| | TheOther95Percent | Nov 2012 | #2 |
| | CTyankee | Nov 2012 | #4 |
| | Myrina | Nov 2012 | #5 |
| | Sunlei | Nov 2012 | #6 |
| | Bake | Nov 2012 | #7 |
| | Sheepshank | Nov 2012 | #8 |
---
Response to powergirl (Original post)
Sun Nov 25, 2012, 10:10 PM
DonViejo (30,112 posts)
1. "We can't just be against the Democrats ... We have to be for things."...
Dawn breaks on distant mountain.

But if he's supposed to be a leader, how come he doesn't know it's about women's health, not just abortion? Can't see the forest for the trees either. Geeeez!
---
Response to DonViejo (Reply #1)
Mon Nov 26, 2012, 09:42 AM
Iggo (34,904 posts)
3. He can see it's about that.
He just knows they have to stop talking about it so young women won't see that's what it's about.
---
Response to powergirl (Original post)
Mon Nov 26, 2012, 12:06 AM
TheOther95Percent (794 posts)
2. The Republicans are for "things" like...
and I'm pulling from this article concerning the 2012 Platform:
http://www.huffingtonpost.com/2012/08/28/platform-abortion_n_1837571.html
MARRIAGE:
The platform affirms the rights of states and the federal government not to recognize same-sex marriage. It backs a constitutional amendment defining marriage as the union of one man and one woman.
___
VOTER INTEGRITY:
"Voter fraud is a political poison," the platform says. It praises legislation to require photo identification for voting and to prevent election fraud.
ABORTION:
The party states that "the unborn child has a fundamental individual right to life which cannot be infringed." It opposes using public revenues to promote or perform abortion or to fund organizations that perform or advocate abortions. It says the party will not fund or subsidize health care that includes abortion coverage.
MEDICARE and MEDICAID:
The platform pledges to move both Medicare and Medicaid away from "the current unsustainable defined-benefit entitlement model to a fiscally sound defined-contribution model." It supports a Medicare transition to a premium-support model with an income-adjusted contribution toward a health plan of the enrollee's choice. Age eligibility in Medicare must be made more realistic in light of longer life spans.
Medicaid services for low income people would be transformed into a block grant program in which the states would be given the flexibility to determine the best programs for their residents.
---
Response to powergirl (Original post)
Mon Nov 26, 2012, 10:22 AM
CTyankee (50,175 posts)
4. I was hoping they'd start coming around on women's issues like they've done on immigrants.
For YEARS, they've been saying that the American people are getting MORE pro-life when actually the opposite is the case. Most Americans want abortion to be legal and only outlawed in the most extreme (and extremely dubious) cases.
---
Response to powergirl (Original post)
Mon Nov 26, 2012, 10:52 AM
Myrina (12,296 posts)
5. Hey Gramps, how 'bout y'all just decide ...
... that personal health issues are NOT political issues after all, and that no party has grounds to have a stance one way or another ... that the only decisions to be made are between a patient and their doctor.
---
Response to powergirl (Original post)
Mon Nov 26, 2012, 11:52 AM
Sunlei (19,299 posts)
6. McCain and Boehner should swap jobs. McCain's crankie but at least hes not in nutter-chains.
Let Boehner run Arizona, that state will make him cry.
---
Response to powergirl (Original post)
Tue Nov 27, 2012, 04:55 PM
Bake (21,977 posts)
7. He doesn't mean the GOPs should change its position.
He just means they shouldn't TALK about their position. Avoid the question, so to speak. Hide their position.

Bake
---
Response to powergirl (Original post)
Tue Nov 27, 2012, 05:10 PM
Sheepshank (12,504 posts)
8. Republicans have already fucked up abortion/Planned Parenthood/Contraception laws
It does not body any bloody good to leave it all alone now. There are myriad of things that need to be reversed first. THEN they can leave well enough alone.