Sun Oct 23, 2016, 12:05 PM
DonViejo (56,970 posts)
Busted: Jake Tapper unearths clip of Kellyanne Conway saying Trump 'whines' about rigged elections
DAVID EDWARDS
23 OCT 2016 AT 10:22 ET
CNN host Jake Tapper on Sunday reminded Trump campaign manager Kellyanne Conway that she had been against her bosses "rigged" election claims in April before he paid her to to start defending them.
On Sunday's
State of the Union
, Tapper noted that there was "no real evidence" to support Donald Trump's claim that the election is being "rigged" against him.
"Back in April when you were working against Donald Trump, when you were working for Ted Cruz and advising his super PAC, you had some tough words for Mr. Trump when he was lashing out at the time against the system being rigged," Tapper told Conway before refreshing her memory with a video clip.
"We hear from the Trump campaign, the rules change, it's not fair," Conway had said in April. "He can whine and complain all he wants that he didn't know the rules."
-snip-
http://www.rawstory.com/2016/10/busted-jake-tapper-unearths-clip-of-kellyanne-conway-saying-trump-whines-about-rigged-elections/
8 replies, 2341 views
Replies to this discussion thread
| | | | |
| --- | --- | --- | --- |
| 8 replies | Author | Time | Post |
| Busted: Jake Tapper unearths clip of Kellyanne Conway saying Trump 'whines' about rigged elections (Original post) | DonViejo | Oct 2016 | OP |
| | Achilleaze | Oct 2016 | #1 |
| | Dem2 | Oct 2016 | #3 |
| | Hortensis | Oct 2016 | #4 |
| | Buns_of_Fire | Oct 2016 | #2 |
| | JI7 | Oct 2016 | #5 |
| | ScienceIsGood | Oct 2016 | #6 |
| | Rorey | Oct 2016 | #7 |
| | thucythucy | Oct 2016 | #8 |
---
Response to DonViejo (Original post)
Sun Oct 23, 2016, 12:23 PM
Achilleaze (14,424 posts)
1. Whiney Republicans are such a massive energy suck on America
---
Response to Achilleaze (Reply #1)
Sun Oct 23, 2016, 01:35 PM
Dem2 (6,788 posts)
3. Sometimes is seems there isn't any other sort of Republican
I'm so tired of the whining.
---
Response to Dem2 (Reply #3)
Sun Oct 23, 2016, 05:27 PM
Hortensis (38,728 posts)
4. Maybe, but Trump has no ideology except himself.
Thus, he is not a "Republican." He has to believe he is a "winner," that his decisions were all superior, and that the only way he could possibly lose would be by massive cheating. That's what's behind this. It's all about him, not about the party.

As for the genuine "whining Republicans," they deserve what they get.

But then there are the others, nonwhiners who want to do good, who deserve some results of their foolish partisanship, but not all that the deplorable others bring them...
---
Response to DonViejo (Original post)
Sun Oct 23, 2016, 01:24 PM
Buns_of_Fire (13,148 posts)
2. Hope she got her cash up front.
I found this official portrait of the entire Trump campaign staff, along with their internal campaign motto: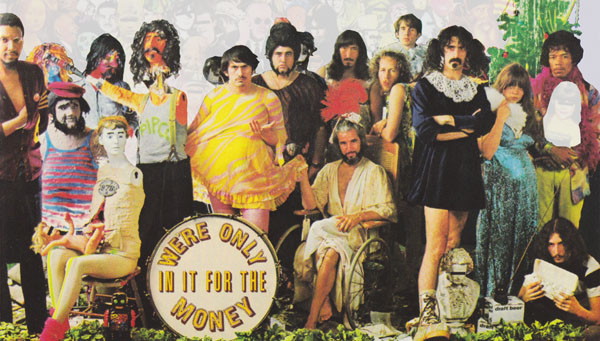 ---
Response to DonViejo (Original post)
Sun Oct 23, 2016, 05:30 PM
JI7 (76,447 posts)
5. this is why i Don't feel bad for her
It might be different for those who started out when things were ok but stayed out if loyalty.

With her it was all about money .
---
---
Response to ScienceIsGood (Reply #6)
Mon Oct 24, 2016, 08:23 PM
Rorey (3,938 posts)
7. There's a word for people like her
She'll do whatever is asked of her in exchange for money.

I can't stand her, and can't stand the way she rattles on and on and on and on, saying NOTHING. And I wish that somebody would correct her on her pronunciation of "surrogate". She pronounces it "sAIRagate". Drives me up the wall.
---
Response to DonViejo (Original post)
Tue Oct 25, 2016, 11:08 AM
thucythucy (4,776 posts)
8. Did Trapper just say Pennsylvania
was a state that hasn't gone Democratic for decades? He meant Republican, didn't he? I notice Conway smiled when he said that, and of course didn't correct him.

Ugh.