Wed Nov 7, 2012, 06:18 PM
boingboinh (290 posts)
CNN now Saying they Knew all along Obama would Win
No surprise its Wolf Blitzer crowing their genius. And saying all the polls were virtually precise and only the gop pundits were wrong. Awww...for the last month CNN was saying it was a tie and leaning to a Romney win. And now today, they are saying they knew all along Obama was going to win. Bullshit.
At least he did bring up Nate Silver's name in quick passing. So that's good. Outside these 3 statistician academics (Drew Linzer -- likely to be the most accurate of the 3 when FL is decided for 2012, and Sam Wang were the only other two that got it 50 out of 50 + DC) it was a bloodbath in shitty pollsters. How can anyone with a straight face say they all were very precise?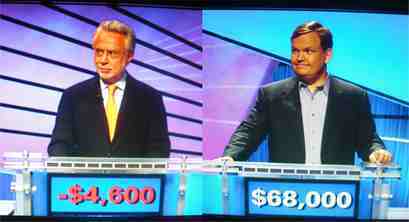 12 replies, 2319 views
Replies to this discussion thread
| | | | |
| --- | --- | --- | --- |
| 12 replies | Author | Time | Post |
| CNN now Saying they Knew all along Obama would Win (Original post) | boingboinh | Nov 2012 | OP |
| | TTUBatfan2008 | Nov 2012 | #1 |
| | Cosmocat | Nov 2012 | #4 |
| | LTR | Nov 2012 | #2 |
| | colsohlibgal | Nov 2012 | #3 |
| | ready2go83 | Nov 2012 | #5 |
| | fugop | Nov 2012 | #8 |
| | ProudProgressiveNow | Nov 2012 | #10 |
| | democrattotheend | Nov 2012 | #6 |
| | TheZug | Nov 2012 | #7 |
| | jaseycake | Nov 2012 | #9 |
| | Spitfire of ATJ | Nov 2012 | #11 |
| | OldDem2012 | Nov 2012 | #12 |
---
Response to boingboinh (Original post)
Wed Nov 7, 2012, 06:19 PM
TTUBatfan2008 (3,590 posts)
1. Wolf is full of crap
Last night he got sooooooo excited when Romney pulled ahead by 500 votes in Florida with around 75% counted. He was pushing the "close race" angle very hard. Too bad for him Broward and Miami-Dade still had to be counted.
---
Response to TTUBatfan2008 (Reply #1)
Wed Nov 7, 2012, 06:43 PM
Cosmocat (10,639 posts)
4. LOOK AT THIS!
he was BREATHLESS when noting a state Romney won.

LOOK AT THIS, North Dakota, with -12 electoral votes for Mitt Romney!

The standard MO for mainstream idiots - SLIGHT 3 lead for the President in Wisconsin, while Mitt Romney maintains a 1 point lead in North Carolina.
---
Response to boingboinh (Original post)
Wed Nov 7, 2012, 06:25 PM
LTR (13,227 posts)
2. Too close to call
---
Response to boingboinh (Original post)
Wed Nov 7, 2012, 06:35 PM
colsohlibgal (3,161 posts)
3. Nice Revisionist History
The amazing thing about last night is that Obama could have lost both Ohio and Florida and still won. It's nice that he didn't lose either though - it's just a matter of time with FLA but it's inevitable, Jeb Bush knew it last night.

If the republicans keep tacking John Birch right they will go the way of the Whigs. Every year tons of old white men depart this earth while tons of young people reach voting age, all bad for the right. Add in the changing demographics that will soon put Texas and Arizona in play and the R's have big problems.


---
Response to boingboinh (Original post)
Wed Nov 7, 2012, 06:46 PM
ready2go83 (80 posts)
5. They knew that
They knew all along, but they put in place a horserace for ratings. After all, they are a business.
---
Response to ready2go83 (Reply #5)
Wed Nov 7, 2012, 06:59 PM
fugop (1,828 posts)
8. + a gazillion!
They lied. They gleefully helped bring Obama's numbers down by setting the narrative, cherrypicking polls unfavorable to Obama, and amped up the horserace. Today pundits acted all offended by outlier polls like Ras and Gallup, but at the time they propped up every bad news poll they could find. Todd on MSNBC this morning got hailed by the MJ panel for his great Marist Polls, leaving out how he barely reported them or even unskewed them so he could continue the farce.

Now we're supposed to reward them for the polls they ignored for weeks? Screw them!

(And I believe every one if them knew Obama was killing it last night from exits, but ... RATINGS!!! Notice after the fact quite a dew had the "Two hours ago my source told me but I couldn't report it." Which I get. What pisses me off is the dragging out and dramatizing of things they already know are mostly over.)

Sirry for the rant. I'm just so disappointed in them all.)
---
Response to fugop (Reply #8)
Wed Nov 7, 2012, 07:08 PM
ProudProgressiveNow (5,383 posts)
10. +1000 nt
---
Response to boingboinh (Original post)
Wed Nov 7, 2012, 06:50 PM
democrattotheend (10,151 posts)
6. They probably did
But they never want to treat an election like a foregone conclusion before people vote or be accused by either side of depressing their enthusiasm by writing them off.
---
Response to boingboinh (Original post)
Wed Nov 7, 2012, 06:51 PM
TheZug (966 posts)
7. And Chuck Toad was crowing about NBC's polling too.
---
Response to boingboinh (Original post)
Wed Nov 7, 2012, 07:05 PM
jaseycake (58 posts)
9. i can't stand him.
wolf blitzer is useless. cnn has been dead to be for such a long time.
---
Response to boingboinh (Original post)
Wed Nov 7, 2012, 08:42 PM
Spitfire of ATJ (32,723 posts)
11. Hey Wolf, not only will we remember this but you have me to deal with,...
I remember your constant fear mongering after 9/11. Your tag line going into commercial was "Stay tuned to CNN for all of your security needs" as you twisted EVERYTHING to make it sound like the terrorists were EVERYWHERE. You even tried to leave viewers with the impression that a bank robbery was terrorist related, claiming that's how they fund themselves.
A local sheriff told you that you were full of shit and you twisted it to sound like he had contacted homeland security when he didn't because it was a fucking BANK ROBBERY that had NOTHING to do with terrorism.
You had people afraid to go out of the house.
A little trip down the memory hole,...a popular web strip called "User Friendly" from Halloween 2002...
---
Response to boingboinh (Original post)
Wed Nov 7, 2012, 08:51 PM
OldDem2012 (3,526 posts)
12. Lying sacks of elephant dung. nt.