Wed Oct 24, 2012, 07:27 PM
Adenoid_Hynkel (13,637 posts)
Paul Ryan: Let's Reduce Poverty... By Slashing Poverty Programs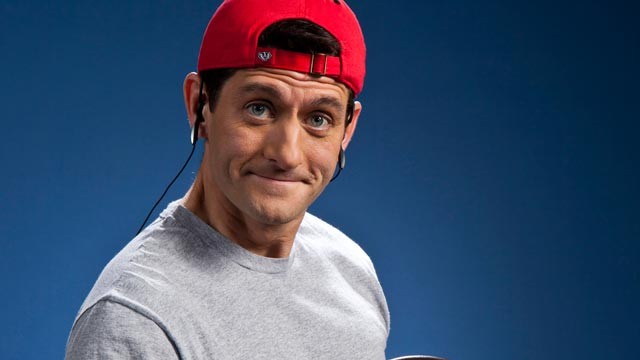 With the debates out of the way and no need to defend his lunacy from Joe Biden, the little freak goes back to embracing his Ayn Rand-ian cult:
As a congressman, Ryan has authored several proposals to slash spending on programs for poor people by turning them into block grants. According to an analysis by the centrist Urban Institute, Ryan's proposal to repeal health care reform and block grant Medicaid, which provides health insurance to people below near-poverty income levels, would reduce federal spending by $1.7 trillion and Medicaid enrollment by 50 percent, resulting in a loss of insurance for 35.7 million Americans.

Ryan also proposed dramatic cuts to the Supplemental Nutrition Assistance Program, known as food stamps, in place of looming cuts to defense spending. (During the third presidential debate on Monday, Romney said he did not support cutting food stamps.)

Part of the problem with programs that haven't received the block grant treatment, Ryan said, is that they perpetuate "government dependency." But he also said government spending itself is a threat to people who rely on safety net programs for food and health care.
http://www.huffingtonpost.com/2012/10/24/paul-ryan-poverty-speech_n_2010827.html
3 replies, 764 views
Replies to this discussion thread
| | | | |
| --- | --- | --- | --- |
| 3 replies | Author | Time | Post |
| Paul Ryan: Let's Reduce Poverty... By Slashing Poverty Programs (Original post) | Adenoid_Hynkel | Oct 2012 | OP |
| | Jennicut | Oct 2012 | #1 |
| | amborin | Oct 2012 | #2 |
| | CurtEastPoint | Oct 2012 | #3 |
---
Response to Adenoid_Hynkel (Original post)
Wed Oct 24, 2012, 07:30 PM
Jennicut (25,415 posts)
1. Is Paul Ryan alive? I have not heard or seen much of him since
the VP debate. I guess Mittens has decided to hide him since he is pretending to be "moderate Mitt" now.

None of this article should surprise anyone here about Paul Ryan.
---
Response to Jennicut (Reply #1)
Wed Oct 24, 2012, 07:35 PM
amborin (16,631 posts)
2. supposedly he was in cleveland today spreading his lies
---
Response to Adenoid_Hynkel (Original post)
Wed Oct 24, 2012, 09:46 PM
CurtEastPoint (7,609 posts)
3. Oh, he came to ATL at rush hour and totally f'ed traffic up as they closed the freeways
as if he were the f'ing president. On his way north to ... you guessed it... Cobb County. Smarmy little f'er.