Tue Apr 12, 2016, 10:03 PM
RiverLover (7,830 posts)
Bill's Blunder Reveals the Fight for the Democratic Party's Soul (If It Still Has One)
TIME
9:35 AM ET
Bill Clinton's Blunder Reveals the Fight for the Democratic Party's Soul
by Eddie S. Glaude, Jr., the Chair of the Department of African American Studies at Princeton University, & the author of
Democracy in Black.
His response to protesters shows he's two-faced on America's race problems
.........snip........
.......Last week in response to protests during a rally in Philadelphia, Clinton vehemently defended the Violent Crime Control and Law Enforcement Act of 1994 and the Personal Responsibility and Work Opportunity Act of 1996.
Insisting that the protesters listen to the "truth," he claimed that the crime bill led to a 25-year low in crime and a 33-year low in the murder rate. He argued that welfare reform resulted in the largest drop in African-American poverty in history.
And in one startling moment, red-faced and finger wagging," he shouted:
"I don't know how you would characterize the gang leaders who got 13-year-old kids hopped on crack and sent them out into the street to murder other African American children. Maybe you thought they were good citizens…. You are defending the people who kill the lives you say matter. Tell the truth!
Here, distilled for all to see, Clinton revealed one of his contrasting sides. Not the smooth, white Southern politician who moves among African Americans with ease and grace, but the smug and paternal Southern white boy who simply wants you to hush and swallow his lies whole.
We know, and so does Bill Clinton, that the 1994 crime bill was not the reason for the reduction in crime during this period. In her book, The First Civil Right: How Liberals Built Prison America, Naomi Murakawa has powerfully demonstrated the impact of Clinton's emphasis on "punishment, police, and protection," and its role in expanding the carceral state.

We know, and so does Bill Clinton, that welfare reform actually expanded the misery of the poorest of the poor. People living in extreme poverty increased more than twofold as a result of that legislation.
...snip.......
Clinton, our so-called first black president, reveals the lie. His Janus-faced approached to black communities, an approach that has defined the Democratic Party for generations now, has only deepened our racial neurosis, and he and it are finally being held to account.
The devastating effects of the crime bill, welfare reform, deregulation, NAFTA, strategies of triangulation (crime was, after all, a "realignment issue"), and the racial dog whistles around personal responsibility can't be ignored by those who have borne the brunt of these policies and this rhetoric.
The Great Recession of 2008 wiped away most of the economic gains of the 1990s for African Americans. Perhaps, it dispelled our illusions, too.
Many of the protesters don't want to wear the mask anymore.
They don't want to do the racial jig that it requires. Instead, they want a politics that addresses directly and honestly the crisis in their communities. So the protests and interruptions weren't just about "good television," as Bill Clinton suggested.
They cut much deeper. They reveal a fight, in part, over the soul of the Democratic Party—if the Party still has one.

Please read in full here~
http://time.com/4288491/bill-clintons-blunder/
4 replies, 637 views
Replies to this discussion thread
| | | | |
| --- | --- | --- | --- |
| 4 replies | Author | Time | Post |
| Bill's Blunder Reveals the Fight for the Democratic Party's Soul (If It Still Has One) (Original post) | RiverLover | Apr 2016 | OP |
| | tularetom | Apr 2016 | #1 |
| | RiverLover | Apr 2016 | #3 |
| | Cheese Sandwich | Apr 2016 | #2 |
| | beam me up scottie | Apr 2016 | #4 |
---
Response to RiverLover (Original post)
Tue Apr 12, 2016, 10:49 PM
tularetom (23,664 posts)
1. "...hopped up on crack..."
Who even talks like that anymore. It sounds like a line from the old "Dragnet" TV show, or something my dad might have said to us back in the '50's.

I sort of knew he was clueless but I didn't realize it was this bad. Been hanging around with Daddy Bush too much I guess.
---
Response to tularetom (Reply #1)
Tue Apr 12, 2016, 11:11 PM
RiverLover (7,830 posts)
3. Maybe that's it.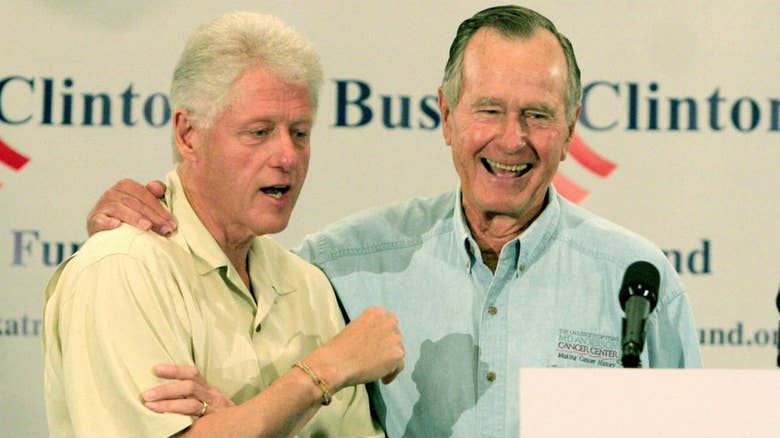 Or its just too hard at his age to maintain the facade. Props to him for doing such a stand up con job as a younger man though. And playing sax on Arsenio Hall was the brilliant cherry on top.
---
---
Response to RiverLover (Original post)
Tue Apr 12, 2016, 11:13 PM
beam me up scottie (57,349 posts)
4. It was part of a pattern with them, look at the execution of Ricky Ray Rector.
If it was just one thing it could be written off as a mistake but it wasn't.
On Stone Mountain White Supremacy and the Birth of the Modern Democratic Party
Last month, in an article for The Nation on "Why Hillary Clinton Doesn't Deserve the Black Vote," Michelle Alexander detailed the toxic consequences for black families and communities of President Bill Clinton's 1994 criminalization bill and his 1996 welfare-to-workfare act—and the first lady's vigorous lobbying for both pieces of legislation. Considering these bills alongside Hillary Clinton's blithe description of black youth as "superpredators" in need of being brought "to heel," Alexander concludes that the Clintons did not "courageously stand up to right-wing demagoguery about black communities," as they have claimed. Neither did they "take extreme political risks to defend the rights of African Americans" nor "help usher in a new era of hope and prosperity for neighborhoods devastated by deindustrialization, globalization, and the disappearance of work."
The title of Alexander's article positions readers to anticipate a clear-eyed, full-throated endorsement of Bernie Sanders. Yet Alexander offers no such thing. "The biggest problem with Bernie," Alexander writes, "is that he's running as a Democrat—as a member of a political party that not only capitulated to right-wing demagoguery but is now owned and controlled by a relatively small number of millionaires and billionaires. . . . I am inclined to believe that it would be easier to build a new party than to save the Democratic Party from itself."
To this end, the real power of Alexander's critique is in using the Clintons as a lens through which to consider larger questions about the modern Democratic Party. Is it capable of offering a truly progressive political vision that reflects the needs of working women and men and aspirations of communities of color? Indeed, how did it move so far to the right?
https://bostonreview.net/us/christopher-petrella-stone-mountain-white-supremacy-modern-democratic-party