Sun Oct 7, 2012, 09:09 PM
99th_Monkey (19,326 posts)
The Revenge of Big Bird
THE REVENGE OF BIG BIRD (true story)
Decades ago, as a young lass in my early 20s, I was happily employed as a Child Care Worker at a residential treatment center for "emotionally disturbed" children. It was an idyllic job, common sense humanistic values of love, acceptance, compassion, and generosity prevailed at all levels from the Director to the peons like me, the cook, and even the janitors. Each child had a "treatment team" consisting not only of parents, CCWs, family counselor, etc. but also frequently one of the cooks or janitors. Consensus was highly valued, and seldom breached.
This was all fine and good, until some "higher ups" somewhere decided to change everything, without regard to what any "lesser than"s thought about it. The new "cure-all treatment" these "experts" rolled out all over us, had a name: behavior modification. This was the new "big idea" that supposedly produced remarkably consistent "positive" results, by systematically punishing "undesirable behaviors" and rewarding "desired behaviors". Undesirable or desired by whom? ... and for what reason? These matters were "irrelevant", i.e. not allowed to clutter the mind or soul of behavior modifiers. Their job is
only
to manipulate the sticks and carrots just so, as to systematically impose (by force if necessary) behaviors deemed by others as "appropriate", like eye contact, lack of "self-stimulation", compliance with directions from staff, etc. The use of cattle prods was seriously discussed on at least one occasion as a possible "negative" reinforcement.
I don't recall the exact moment when I decided to resign in protest. Actually I think it was a more gradual process, of plowing through layers of disbelief, shock, grief, feelings of betrayal, fear of unemployment: in short, kind of like I imagine a factory worker might feel, working in a US manufacturing plant that had just been purchased by Bain Capital. Everything was reduced to a commodity, i.e. tokenism: tokens for eye contact, tokens for compliance, etc. to produce token behavior designed to comply with someone else's idea of what is "appropriate".
I didn't leave quietly, and I was not the only one. We (myself and a close friend and co-worker, John Green, who also was feeling similarly impacted by the invading behaviorists) decided to put on a skit, at that years Christmas party. Our little swan song, as it were. I played Mr. Hooper (
http://en.wikipedia.org/wiki/Mr._Hooper
), and John G. played Big Bird.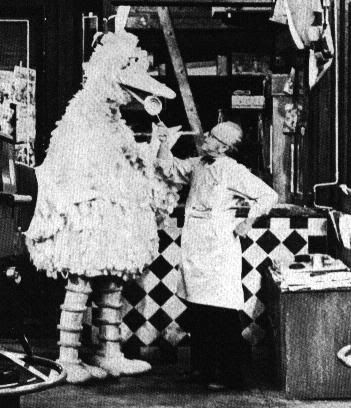 The story line was quite straight forward. Big Bird was wanting to buy one of his dear friends a gift from Mr. Hooper's store, but he just didn't have quite enough tokens. There was wrangling and haggling about the price, during which Mr. Cooper delivered a punch line: "It's a dog-eat dog world Big Bird! Get over it!". We managed a last-minute conversion by Mr. Cooper "just this once" to achieve a semblence of a "happy ending". Everyone "got it", including many of the kids I think.
Imagine my surprise and delight, when Big Bird bursts onto the Campaign 2012 scene, during the first debate no less. Now I can't help but think, that this is Big Bird's revenge at long last: a devastating blow to the Forces of Evil that only know domination, exploitation, manipulation, degradation, and meanness as their MO.
We love you Big Bird!!!! Your voice is being heard across the nation. "SAVE PBS and BIG BIRD"
You are kicking Rethuglican ass for our planet, our children, and our grandchildren. May you prevail.
12 replies, 3421 views
Replies to this discussion thread
| | | | |
| --- | --- | --- | --- |
| 12 replies | Author | Time | Post |
| The Revenge of Big Bird (Original post) | 99th_Monkey | Oct 2012 | OP |
| | dogman | Oct 2012 | #1 |
| | Warpy | Oct 2012 | #2 |
| | 99th_Monkey | Oct 2012 | #3 |
| | Warpy | Oct 2012 | #8 |
| | 99th_Monkey | Oct 2012 | #10 |
| | cr8tvlde | Oct 2012 | #4 |
| | 99th_Monkey | Oct 2012 | #5 |
| | cr8tvlde | Oct 2012 | #6 |
| | 99th_Monkey | Oct 2012 | #7 |
| | bushisanidiot | Oct 2012 | #9 |
| | Rosa Luxemburg | Oct 2012 | #11 |
| | 99th_Monkey | Oct 2012 | #12 |
---
Response to 99th_Monkey (Original post)
Sun Oct 7, 2012, 09:18 PM
dogman (5,460 posts)
1. Big Bird is now an albatross awarded to the winner of the debate.
---
Response to 99th_Monkey (Original post)
Sun Oct 7, 2012, 09:22 PM
Warpy (94,883 posts)
2. Obviously those "behaviorists" had never really read B. F. Skinner's works
because if they had, they'd know that negative reinforcement (punishment) just destroys trust. Positively reinforcing good behavior is the only thing that works and it doesn't have to be consistent. Actually, his pigeons taught him that inconsistent reward worked better than consistent reward.

They sound like a bunch of corporate drones who hated kids and saw the world in terms of cost and reimbursement.

I suppose that's why Romney took his shot at Big Bird rather than at the wonkish political stuff. Kids never had to pay Big Bird to love them.
---
Response to Warpy (Reply #2)
Sun Oct 7, 2012, 09:33 PM
99th_Monkey (19,326 posts)
3. It was chilling to the bone.
the vibe of the BMod peeps.

I appreciate the distinction you make between my experience and Skinner. I don't claim
to be a scholar of Skinner, but I don't doubt what you say either.

I think when BMod was being inseminated into professional practice and popular thought,
there was a lot of slippage between the fork and the mouth, i.e. there were lots of different
agendas, motifs, and this was, after all, during the 60s which was all about "experimentation" ...


---
Response to 99th_Monkey (Reply #3)
Mon Oct 8, 2012, 03:04 AM
Warpy (94,883 posts)
8. I'm no great expert
but I've read enough of his articles to know what he was all about and it was modifying behavior through reward.
---
Response to Warpy (Reply #8)
Sat Oct 13, 2012, 05:23 PM
99th_Monkey (19,326 posts)
10. Re: Skinner's view of the world
I just ran across this on Alternet and thought of you and our exchange about BF Skinner:
This helps me remember more vividly why I was so repulsed by the Skinnerians, having to do
with their self-aggrandizement, as the new Masters of the Universe who --in their Utopian zeal--
were discovering how to control the masses ... all with the best of intentions of course.
During the height of Skinner's fame in the 1970s, it was obvious to anti-authoritarians such as Noam Chomsky ("The Case Against B.F. Skinner") and Lewis Mumord that Skinner's worldview—a society ruled by benevolent control freaks—was antithetical to democracy. In Skinner's novel Walden Two (1948), his behaviorist hero states, "We do not take history seriously," to which Lewis Mumford retorted, "And no wonder: if man knew no history, the Skinners would govern the world, as Skinner himself has modestly proposed in his behaviorist utopia."
snip
In the mid-1970s, as an intern on a locked ward in a state psychiatric hospital, I first experienced one of behavior modification's staple techniques, the "token economy." And that's where I also discovered that anti-authoritarians try their best to resist behavior modification. George was a severely depressed anti-authoritarian who refused to talk to staff, but for some reason, chose me to shoot pool with. My boss, a clinical psychologist, spotted my interaction with George, and told me that I should give him a token—a cigarette—to reward his "prosocial behavior." I fought it, trying to explain that I was 20 and George was 50, and this would be humiliating. But my boss subtly threatened to kick me off the ward. So, I asked George what I should do.

George, fighting the zombifying effects of his heavy medication, grinned and said, "We'll win. Let me have the cigarette." In full view of staff, George took the cigarette and then placed it into the shirt pocket of another patient, and then looked at the staff shaking his head in contempt.
snip
Skinner's operant conditioning? Rewards, like money, are "positive reinforcements"; the removal of rewards are "negative reinforcements"; and punishments, such as electric shocks, are labeled in fact as "punishments." Operant conditioning pervades the classroom, the workplace and mental health treatment.
Great article:
http://www.alternet.org/why-are-americans-so-easy-manipulate-and-control?paging=off
---
Response to 99th_Monkey (Original post)
Sun Oct 7, 2012, 09:37 PM
cr8tvlde (1,185 posts)
4. Perhaps we could use a good dose of Miss Piggy's "wisdom" these days.
---
Response to cr8tvlde (Reply #4)
Sun Oct 7, 2012, 09:46 PM
99th_Monkey (19,326 posts)
5. Of course! Makes perfect sense.
So are you offering to channel Miss Piggy for us cr8vide?

We're all ears.
---
Response to 99th_Monkey (Reply #5)
Sun Oct 7, 2012, 10:26 PM
cr8tvlde (1,185 posts)
6. Oh really, I couldn't begin to do Her Majesty justice...she's speaks best for herself...
---
---
Response to 99th_Monkey (Original post)
Mon Oct 8, 2012, 04:14 PM
bushisanidiot (8,056 posts)
9. Big Bird will have his day!
---
Response to 99th_Monkey (Original post)
Sat Oct 13, 2012, 05:28 PM
Rosa Luxemburg (28,622 posts)
11. Big Bird saw the Chinese flag flying above the US flag at Sansata!
---
Response to Rosa Luxemburg (Reply #11)
Sat Oct 13, 2012, 05:49 PM
99th_Monkey (19,326 posts)
12. Big Bird is none too pleased about this, for sure.
Neither is Miss Piggy, who just arrived on her Harley, ready to kick some Repuglican ass.
<a href="
http://photobucket.com/images/miss%20piggy"
target="_blank"><img src="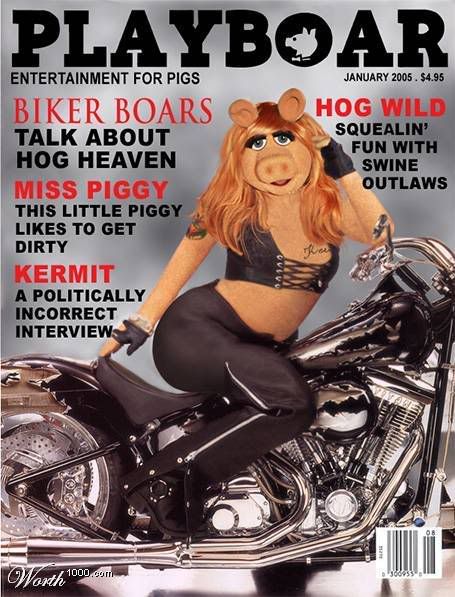 " border="0" alt="Miss Piggy Pictures, Images and Photos"/></a>