Thu Jan 3, 2013, 03:53 AM
AsahinaKimi (20,776 posts)
9 replies, 14989 views
Replies to this discussion thread
| | | | |
| --- | --- | --- | --- |
| 9 replies | Author | Time | Post |
| Japan's most famous Katana maker Kobayashi (Original post) | AsahinaKimi | Jan 2013 | OP |
| | OffWithTheirHeads | Jan 2013 | #1 |
| | intaglio | Jan 2013 | #2 |
| | Art_from_Ark | Jan 2013 | #3 |
| | AsahinaKimi | Jan 2013 | #4 |
| | AsahinaKimi | Feb 2013 | #5 |
| | AsahinaKimi | Feb 2013 | #6 |
| | discntnt_irny_srcsm | Mar 2013 | #7 |
| | AsahinaKimi | Mar 2013 | #8 |
| | discntnt_irny_srcsm | Mar 2013 | #9 |
---
---
Response to AsahinaKimi (Original post)
Thu Jan 3, 2013, 04:07 AM
intaglio (8,170 posts)
2. Damn, another reference I missed
---
Response to AsahinaKimi (Original post)
Mon Jan 7, 2013, 11:11 PM
Art_from_Ark (27,247 posts)
3. Today's nearly useless bit of trivia:
Although "katana" is a Japanese word meaning "sword", those types of swords are usually called "Nihon-to" in Japan
---
Response to AsahinaKimi (Original post)
Tue Jan 8, 2013, 03:26 PM
AsahinaKimi (20,776 posts)
4. Its my profound wish to some day
Go and actually watch the process of the Nihon to being made, even though I have watched many films on the process, to see it live and in person, would be nothing short of awesome.
---
Response to AsahinaKimi (Original post)
Sat Feb 2, 2013, 03:40 PM
AsahinaKimi (20,776 posts)
5. PBS NOVA - Secrets of the Samurai Sword DOCU (2007)
---
Response to AsahinaKimi (Original post)
Wed Feb 13, 2013, 11:28 PM
AsahinaKimi (20,776 posts)
6. I just had to post this photo.
I am in love
want!!!!!!
---
Response to AsahinaKimi (Reply #6)
Sat Mar 2, 2013, 10:08 PM
discntnt_irny_srcsm (13,548 posts)
7. Years ago...
...I studied Shotokan karate. One evening I arrived and noticed most of the students talking to our head teacher. Two of those students were friends of mine from school. I went to see what was being discussed. Apparently one of my friends, Joe, had acquired a Japanese sword in the course of his work at a gun shop. A customer had sold it to him to raise enough money to buy a rather expensive pistol.
Joe was really nice guy. He let everyone that was interested take a close look at it. It was really an amazing thing to see. It was so well balanced and in tremendous shape but looked really old. The seller told Joe that a relative had brought it back from WW II. No one could tell exactly what Joe bought for his $100. Our head teacher was very intrigued and the day after that class, contacted a few Shotokan masters looking for information on how learn more about this sword.
During a class the following week, Joe brought the sword again and showed it to Japanese man who Mark, our head instructor, had invited. Joe's sword looked much the same as the one pictured in your post. This man was rather impressed and offered to bring it to NYC where he contacts that would be able to evaluate the sword and maybe learn a bit more about it. The one thing this man was able to tell Joe for sure is that it was worth far more than $100.
Two weeks later I arrived at a class a saw Joe with his sword again talking to Mark. Joe was obviously very happy. I asked him about the sword later after class. Joe said that the sword was genuine and from Japan. He also had an offer from someone in NYC to buy it for $7000. He declined. The sword was made in the 15th century.
Last I heard, it was in his will to go to his eldest heir or to be returned to Japan.
---
Response to discntnt_irny_srcsm (Reply #7)
Sat Mar 2, 2013, 10:35 PM
AsahinaKimi (20,776 posts)
8. Well.. I have a story I could tell but...
To make a long story short, my father went back to Japan many years ago to visit his brother and to attend his mothers funeral. While they were going though my grandmothers house, they found some wonderful boxes that had some items wrapped up in some very old silk.. Opening them up, they realized they found some items that have been passed down from one generation to another in the Asahina Family household. My father had to make special arrangements to have them shipped out of Japan, as it is currently against Japanese law to have such items taken from Japan, as they are considered official works of art, and not allowed to leave Japan.
A few years back I displayed them at our annual Sakura Matsuri (Cherry Blossom Festival). My dad had given them to me, and chose not to carry them to New York where my parents now reside.
I had taken them to the San Francisco Sword Society, who also had their display there, and they told me these are "very old" and in fairly great shape. He guessed also around the 15th or 16th Century, in the Edo Era. I know that my father has spoken that our family has "Kansai blood" and that there have been Samurai in our family tree. These blades confirm it, and not only that but the Asahina family kamon had been carved on the Saya (wood scabbard).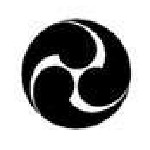 Asahina Kamon.
---
Response to AsahinaKimi (Reply #8)
Sat Mar 2, 2013, 11:05 PM
discntnt_irny_srcsm (13,548 posts)
9. That's a very rich history