Tue Jan 1, 2019, 10:28 AM
left-of-center2012 (18,258 posts)
Kannon Bosatsu Statue Finds Home In Japanese Friendship Garden
On December 20, 2018 a small group of distinguished guests attended the dedication of the latest enhancement to the Japanese Friendship Garden in Balboa Park, San Diego, CA
:
A beautifully restored statue of
Kannon Bosatsu
, now installed as a permanent outdoor feature in the northeast corner of the lower garden.
Dating from 1735, the beautiful statue was cast in bronze by renowned craftsman Tokumi Obata. Currently the restored statue greets visitors with the right hand raised to bestow fearlessness and the left hand resting open to support a long-stemmed lotus blossom, suggesting the peace of enlightenment.
The bronze statue, weighing nearly three tons and standing 12 feet high, depicts Kannon on a lotus throne. It is a bequest of the Marian and Eugene Gabrych Trust.
Before coming to the United States, the statue spent several peaceful centuries at Kotoku-in, the Temple complex in Kamakura Japan. Kotoku-in is the home of the famous outdoor seated
Daibutsu (large Buddha)
, a popular tourist destination. The giant bronze seated Buddha is identifiable as Amida by reason of his hand position.
More photos and full article at this link:
http://www.buddhisttemplesandiego.org/all-the-latest/6azhen3ma37pdhctjkrj683dsbys6j?fbclid=IwAR3WHcRsMSJ4mU1WMs4RATuLbrdleZHiMgTkmfSb7zaWQ6BUDRMRyocFgmA
Related article:
300 year old Kannon statue in Balboa Park!
https://coolsandiegosights.com/2018/12/23/300-year-old-kannon-statue-in-balboa-park/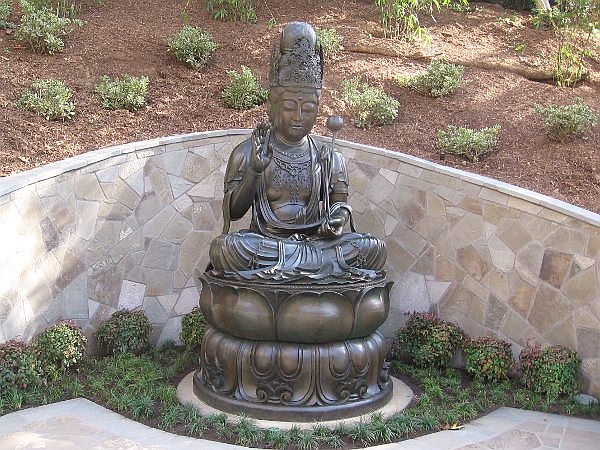 4 replies, 645 views
Replies to this discussion thread
| | | | |
| --- | --- | --- | --- |
| 4 replies | Author | Time | Post |
| Kannon Bosatsu Statue Finds Home In Japanese Friendship Garden (Original post) | left-of-center2012 | Jan 2019 | OP |
| | left-of-center2012 | Jan 2019 | #1 |
| | Nitram | Jan 2019 | #2 |
| | left-of-center2012 | Jan 2019 | #3 |
| | Docreed2003 | Jan 2019 | #4 |
---
Response to left-of-center2012 (Original post)
Tue Jan 1, 2019, 10:35 AM
left-of-center2012 (18,258 posts)
1. Kanzeon Bosatsu
Kanzeon Bosatsu -
https://www.japanvisitor.com/japanese-culture/kannon
One of the most common figures encountered around Japan, especially at temples, will be a slender figure either distinctly female, or somewhat androgynous, known popularly as Kannon-sama, but the proper Japanese name is Kanzeon Bosatsu, in English often called a goddess of compassion and mercy.
Kannon is not a Buddha, but a Bodhisattva, a being who is able to achieve Nirvana but delays doing so through compassion for suffering beings, but many in Japan do not make that distinction.
Another extremely popular bosatsu, the Japanese word for Bodhisattva, is Jizo, whose often childlike statues are also very popular and can be found everywhere in Japan.
---
Response to left-of-center2012 (Reply #1)
Tue Jan 1, 2019, 11:08 AM
Nitram (13,267 posts)
2. A Bodhisattva is indeed a Buddha, which means "the enlightened one." A Bodhisattva is
a Buddha who has decided to stay on Earth to help unenlightened beings achieve Nirvana.
---
Response to Nitram (Reply #2)
Tue Jan 1, 2019, 11:47 AM
left-of-center2012 (18,258 posts)
3. yep
---
Response to left-of-center2012 (Original post)
Tue Jan 1, 2019, 11:58 AM
Docreed2003 (9,685 posts)
4. Beautiful! Thank you for sharing