Tue Feb 19, 2013, 09:48 AM
Viva_La_Revolution (28,791 posts)
Gram died Saturday night.
Maxine H. Miller, age 89 of Portland, Oregon died February 16, 2013. She passed peacefully at home surrounded by her family and loved ones.
Hattie Maxine was born to the late Seaborn Miles Findley and Era Leola Belle Bloodworth on October 13, 1923 in Dangerfield, Texas. She attended school in Oklahoma, and while working for the Defense Department during WWII, she met and married the late Edward James Faubel.
She made many friends while living in California, Colorado, Kansas and Washington before making her permanent home in Oregon.
She married the late Kenneth Charles Miller in 1979. She was an active member of the West Portland United Methodist Church for many years and Burlingame Baptist Church most recently.
She is survived by her son, VivaDaddy, granddaughter Viva_La_Revolution, grandsons Joshua, Brandon and Nicholas Revolution, all of Portland; and great-grandson Mini-Revolution of Tigard.
Memorial services will be held at Willamette National Cemetery (date, time). In lieu of flowers the family requests a donation in Maxine's name to your local food bank.
She 'got sick' 2 weeks ago. She had a low grade fever at first, then her temp went up and down, and she was coughing. We know now it was the first sign of her body shutting down, then we just thought it was a cold. She was dehydrated and my first thought was to get her to the hospital, get her juiced up and she'd be ok. Dad had to gently remind me that that's not what she wanted. He was right, she signed a DNR 5 years ago. A few days later when she started talking in her sleep and was difficult to wake we called Hospice.
The nurses were amazing, even though we had waited so long to call. They brought in oxygen, made sure she was comfortable, and talked us through every change and let us know what to expect. By the next day, she couldn't swallow pills anymore so they got her new liquid meds and then she was much more comfortable.
By Thursday she was no longer responding to us much, but was aware enough to swallow and aware enough to be very uncomfortable when we had to shift her or change her. By Friday, almost no response and was swallowing by reflex.
By Saturday, we had the ball rolling to get the middle son home from school, I thought she had a few days left. He talked to her over the cell phone we held to her ear, told her he loved her and would be home soon. Her mouth moved then for the only time that day. Her adopted granddaughter came over and said goodbye. Mini_Revolution spent the day with us, and we left her door open so she could hear him running around and playing. He's only 6 and her breathing by that time was in a word "scary" so he didn't visit with her, but she knew he was here.
About 7 in the evening I decided I'd better get a few hours sleep so I could take over at Midnight so Dad could get some sleep. I checked her hands and feet. They were still warm, ashy and a little dark, but no mottling, so I figured I would be okay laying down for awhile.
At 8 I was still laying there awake when he came in to tell me that she had stopped breathing.
She is at peace now, and catching up with her parents and siblings I'm sure. She was the last of them to go to heaven.
We love you Gram and will always hold you in our hearts.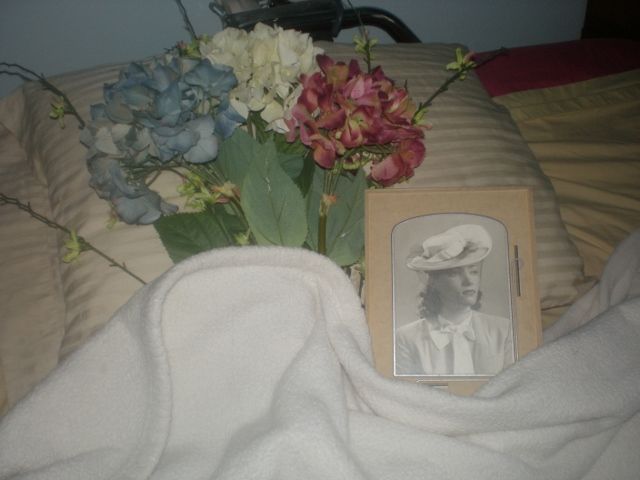 7 replies, 1923 views
Replies to this discussion thread
| | | | |
| --- | --- | --- | --- |
| 7 replies | Author | Time | Post |
| Gram died Saturday night. (Original post) | Viva_La_Revolution | Feb 2013 | OP |
| | auntAgonist | Feb 2013 | #1 |
| | Viva_La_Revolution | Feb 2013 | #2 |
| | cate94 | Feb 2013 | #3 |
| | Viva_La_Revolution | Feb 2013 | #6 |
| | livetohike | Feb 2013 | #4 |
| | Viva_La_Revolution | Feb 2013 | #5 |
| | livetohike | Feb 2013 | #7 |
---
Response to Viva_La_Revolution (Original post)
Tue Feb 19, 2013, 10:11 AM
auntAgonist (17,190 posts)
1. A beautiful tribute to someone well loved. You and your family are in my thoughts today
May you find comfort and peace from all of these wonderful memories that will flood your hearts.
The picture you posted, simple and beautiful.
Thank you for sharing with us.
I'm terribly sorry for your loss Viva_La_Revolution
aA
kesha
---
Response to auntAgonist (Reply #1)
Tue Feb 19, 2013, 10:41 AM
Viva_La_Revolution (28,791 posts)
2. I think we are feeling peacefull, already.
She was so unhappy the past few years, after fracturing a hip, taking pain meds all the time. She just wanted to 'go home' and said so a few times over the last year.
We've spent the last few days going through pictures, poking around in drawers and remembering. learning so much too, now that it's too late to ask her about the things we find.
Having the nurses come in was a huge part of getting me through this, especially when they commented on how well we had taken care of her. After years of round the clock care and no time for ourselves, I feel more blessed today than sad.
We still have to tell my nephew, he's 7 and has spent his whole life with her. that little pic I posted has become a bed covered with pictures of her and family and friends, many include him. His mom is bringing him over in a few hours so he can say goodbye. That's going to get me weepy again.
---
Response to Viva_La_Revolution (Original post)
Tue Feb 19, 2013, 11:37 AM
cate94 (1,129 posts)
3. I am sorry for your loss.
Light and love to you and your family.
---
Response to cate94 (Reply #3)
Thu Feb 21, 2013, 09:51 AM
Viva_La_Revolution (28,791 posts)
6. We're doing well, thanks.
It was harder before, because she was so unhappy and ready to go home. she's resting now.
---
Response to Viva_La_Revolution (Original post)
Thu Feb 21, 2013, 08:56 AM
livetohike (19,304 posts)
4. My sympathy to you and your family Viva_La_Revolution
Grandmas are so special.....I think of mine often and always with a smile. May your memories of the good times with your Gram live in your heart and may they comfort you and bring you peace. She sounds like a wonderful person and the portrait of her is so stunning....
---
Response to livetohike (Reply #4)
Thu Feb 21, 2013, 09:49 AM
Viva_La_Revolution (28,791 posts)
5. VivaDad said that picture looks a little like me
a few others commented about it too. I wish I'd noticed that when she was still here.
---
Response to Viva_La_Revolution (Reply #5)
Sat Feb 23, 2013, 08:20 AM
livetohike (19,304 posts)
7. I've had the same said about me and my paternal Grandmother and
especially when I post family pics on FB. I never noticed the resemblance when she was alive....and she's been gone since 1986.