Thu Oct 25, 2012, 06:09 AM
Judi Lynn (115,535 posts)
Pre-Columbian Stone Spheres Still a Mystery
Pre-Columbian Stone Spheres Still a Mystery
Thursday, 25 October 2012 02:31
Last Updated on Tuesday, 23 October 2012 18:20
Written by Rod Hughes
Costa Rican archeologist Ifigenia Quintanilla confesses those mysterious pre-Columbian stone spheres found in the country's southern Pacific zone still stump her after two decades of study.
The scientist has lived in Spain since 1998 but confesses her fascination with the spheres that apparently were made and then abandoned by indigenous tribes. But she isn't alone.
This past Sept. 27, the National Museum proposed that the spheres, ranging in size from several yards in diameter to small enough for one person to lift, be declared a patrimony of humanity under UNESCO auspices. It is hard to imagine their being rejected.
The national newspaper La Nacion interviewed Quintanilla last month on a visit to this country to examine stone and ceramic artifacts unearthed in a National Museum archaeological dig.
More:
http://www.fijatevos.com/latest-articles/getting-along/1857-pre-columbian-stone-spheres-still-a-mystery.html
[center]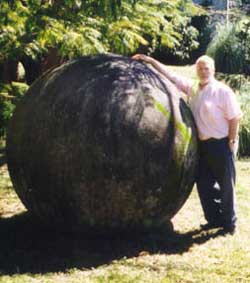 [font size=5]ETC. [/font]
4 replies, 3468 views
Replies to this discussion thread
| | | | |
| --- | --- | --- | --- |
| 4 replies | Author | Time | Post |
| Pre-Columbian Stone Spheres Still a Mystery (Original post) | Judi Lynn | Oct 2012 | OP |
| | jonpaulprime | Oct 2012 | #1 |
| | Judi Lynn | Oct 2012 | #2 |
| | a la izquierda | Oct 2012 | #3 |
| | Sunlei | Nov 2012 | #4 |
---
Response to Judi Lynn (Original post)
Thu Oct 25, 2012, 12:40 PM
jonpaulprime (104 posts)
1. mystery
I've read about these before, and they are intriguing. I would point out that the image of the spheres in the swamp looks photoshopped to my untrained eye.
---
Response to jonpaulprime (Reply #1)
Thu Oct 25, 2012, 04:42 PM
Judi Lynn (115,535 posts)
2. You may be right. I went back to check the link, can't tell:
The Stone Spheres of Costa Rica
By Rajiv Varma N on September 20, 2012
One of the strangest mysteries in archaeology was discovered in the Diquis Delta of Costa Rica. Since the 1930s, hundreds of stone balls have been documented, ranging in size from a few centimetres to over two meters in diameter.
Some weigh 16 tons. Almost all of them are made of granodiorite, a hard, igneous stone. These objects are monolithic sculptures made by human hands.
The spheres number over 300. The large ones weigh many tons. Today, they decorate official buildings such as the Asamblea Legislativa, hospitals and schools. You can find them in museums.
You can also find them as ubiquitous status symbols adorning the homes and gardens of the rich and powerful.
More:
http://beyondgood.in/1652/the-stone-spheres-of-costa-rica/
They do look especially spooky in the swamp. I'm not familiar enough with photo-shopping to even make an intelligent guess.
Thanks.
---
Response to Judi Lynn (Original post)
Sat Oct 27, 2012, 06:20 PM
a la izquierda (9,895 posts)
3. Ancient crossfitters and strongmen competitors
---
Response to Judi Lynn (Original post)
Sun Nov 4, 2012, 08:09 AM
Sunlei (20,195 posts)
4. to roll down from your home community and crush invaders
That's why many were clustered on the beach or in the swamps.