Sat May 29, 2021, 01:14 AM
Judi Lynn (148,453 posts)
New map shows how dark matter "bridges" tether galaxies
Nicole Karlis 7 hrs ago
© Provided by Salon Massive black holes in nebula
Massive black holes in nebula Getty Images
Dark matter is one of the universe's most enduring mysteries. Its existence can be intuited by how it affects gravity, and yet no one knows exactly what it is, even though it makes up 27 percent of the universe's total mass and energy — far more than the 5 percent of the universe that "normal" matter, like planets and stars, comprises.
Yet despite not knowing what kind of particles constitute dark matter, astronomers have been able to use telescopes to intuit where dark matter sits in the universe. That's in large part because, true to its name, dark matter is hard to directly observe but has a huge gravitational effect and a lot of mass wherever it appears in bulk.
Now, astronomers are using this data to create a detailed map of dark matter in the universe.
First, astronomers from the University of Waterloo published a study four years ago in the
Monthly Notices of the Royal Astronomical Society
mapping out filaments of dark matter stretching between galaxies. Then more recently, a team of international researchers published a new map that was published in the
Astrophysical Journal
.
More:
https://www.msn.com/en-us/news/technology/new-map-shows-how-dark-matter-bridges-tether-galaxies/ar-AAKuSFz
1 replies, 544 views
Replies to this discussion thread
| | | | |
| --- | --- | --- | --- |
| 1 replies | Author | Time | Post |
| New map shows how dark matter "bridges" tether galaxies (Original post) | Judi Lynn | May 29 | OP |
| | Judi Lynn | May 29 | #1 |
---
Response to Judi Lynn (Original post)
Sat May 29, 2021, 01:37 AM
Judi Lynn (148,453 posts)
1. New dark matter map reveals cosmic mystery
By Pallab Ghosh
Science correspondent
Published 1 day ago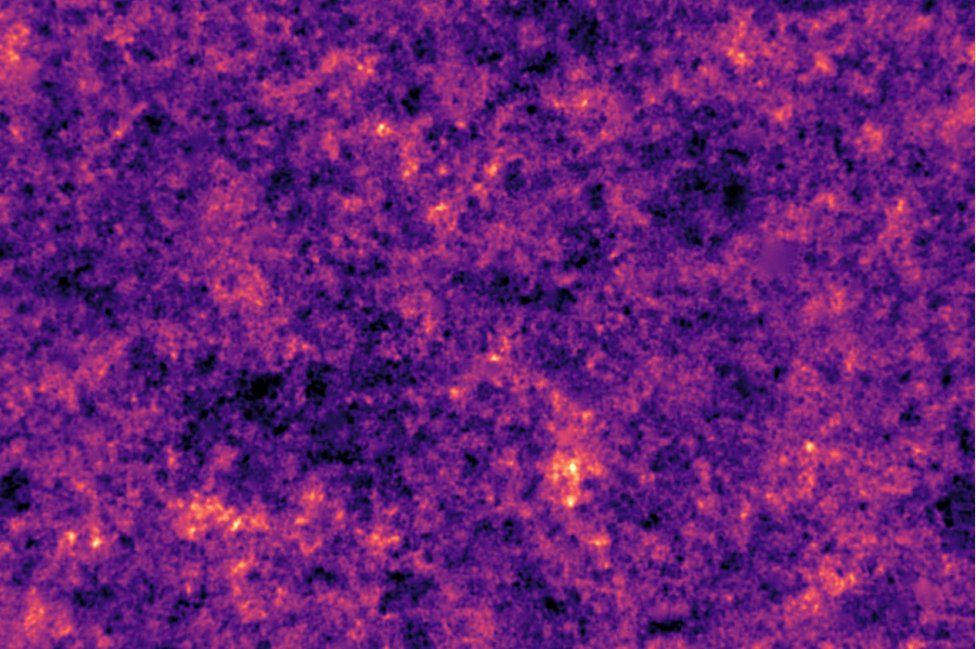 N JEFFREY/DARK ENERGY COLLABORATION
This is the most detailed map of of the distribution of dark matter in the Universe. The bright areas represent its highest concentrations - which is where galaxies form
An international team of researchers has created the largest and most detailed map of the distribution of so-called dark matter in the Universe.
The results are a surprise because they show that it is slightly smoother and more spread out than the current best theories predict.
The observation appears to stray from Einstein's theory of general relativity - posing a conundrum for researchers.
The results have been published by the Dark Energy Survey Collaboration.
Dark Matter is an invisible substance that permeates space. It accounts for 80% of the matter in the Universe.
Astronomers were able to work out where it was because it distorts light from distant stars. The greater the distortion, the greater the concentration of dark matter.
More:
https://www.bbc.com/news/science-environment-57244708